BART
Clipper Update and the Potential to Rationalize Fares
4:27 PM PST on February 14, 2017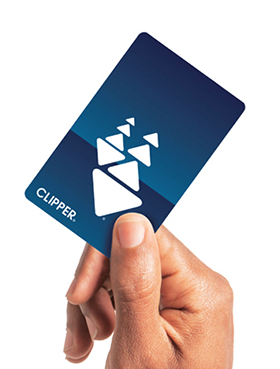 Yesterday evening, at the San Francisco Transit Rider's new digs on Folsom Street in downtown, Sara Barz of the Metropolitan Transportation Commission (MTC) and Arielle Fleisher, with the San Francisco Bay Area Planning and Urban Research Association (SPUR), gave presentations about the move to replace the Clipper fare-collection system with a new generation of technology and opportunities to create a more rational fare system for the 27 transit operators across the Bay Area. Some 30 people attended.
Barz of MTC presented first. "I have a love of all things transportation-nerdy, in particular, the customer experience," she said. That, she explained, motivated her to work on MTC's Clipper 2 project, which will revamp and replace the system. "Clipper was previously known as Translink and it provides seamless transfers, calculates the costs automatically, and settles payments to 20 different operators," she explained. "It can hold cash, and it can hold Muni passes, Caltrain monthly passes, and all the products that transit agencies create."
MTC started planning for a chip-card system back in 1996. It took ten years to get everything ready, and it launched in 2006. Since then, the demand for paperless, seamless transfers has grown. "In January, 2017, we had 925,000 unique cards used," explained Barz,"and we settled $45 million in revenue." She said surveys showed that 93 percent of transit users said they would recommend Clipper and, in another survey, riders said the thing they like most about BART was Clipper.
Aside from being more reliable, it's hoped the new system will bring on more transit operators and will be usable for things such as commuter parking and Bay Area Bike Share. The hope is to phase out all paper tickets eventually (Clipper accounts for about half of all fare-payments now). In a few weeks, MTC plans to launch a public survey to find out what customers most want to see with Clipper 2. They will also be looking at bids from companies to operate the new system, since the contract with Cubic, which currently runs things, expires soon. "We want electronic payment to be the primary method," she said. And, yes, many of those fares on Clipper 2 may actually be paid with a phone app, not a plastic card (although there are no plans to phase the cards out as an option).
Adina Levin, Director of Friends of Caltrain, was the first to point out the elephant in the room. It's nice to make it easy to pay, but it'd be nicer still--essential in fact, to grow ridership--for the payment structure to make sense. "Clipper lets you pay for all the systems, but that doesn't mean you don't end up paying three times, if you take three different transit vehicles," she said.
Arielle Fleisher, Transportation Policy Associate with SPUR, addressed that issue in her presentation. "This is an opportunity to make a change in our fare policy," she said. "The physical card has dominated too much of the conversation; we need to talk about the fare policies that feed into it."
Fleisher talked about SPUR's "Seamless Transit Report," which looked at so-called "soft barriers" to using transit. That means schedules that don't coordinate and fare systems that make sense to the operators, but are confusing as hell to riders. "When I use Uber, there's no learning curve--but with transit we make you learn it over and over and over again," she said, speaking of all the different pass structures and tickets. For example, "Depending on age, I can be a youth on BART--but not a youth on Muni." Fleisher mentioned how, in Paris, it doesn't matter which service one rides--as long as it's within the right fare zone, the cost is the same to the customer. She imagined a system where downtown SF to West Oakland might all be "fare zone one" and it wouldn't matter if one took BART, a ferry, a bus, or light rail--it would always cost the same within each zone. "How do we create fare products that are consistent among different operators?" She said the type of fare structure isn't the issue as much as making it all consistent. "Simplicity wins" in growing ridership, she said.
One simple first step she suggested is adding an "accumulator" model to the new Clipper system. That would put a cap on how much one spends on transit in a given day. So if someone takes Caltrain, and then BART, and then a Muni bus, when the customer pays more than, for example, $7, all the remaining trips that day are free. That means customers don't have to spend time thinking about what kind of ticketing options are best (and, with that, whether it might be more economical to drive). She mentioned that London has successfully used an accumulator model for its Oyster Card, which is the same technology as Clipper. She also implied that some kind of congestion pricing, like Uber uses, might help smooth out loads on transit.
From Streetsblog's perspective, the takeaway was simple: the regional transit agencies have to get beyond "revenue neutrality"--the idea that every transit agency that signs on is guaranteed there won't be any change in how much they take in from their fare boxes. Clipper needs to make regional transit agencies invisible to the user, and guaranteeing that the right agency gets the fare from every single trip on its vehicles simply isn't always compatible with that objective. It's also short-sighted--if more people ride transit as a whole, everyone in the Clipper system should see more revenue than they do now.
Whether MTC and the residents of the Bay Area ultimately decide on a distance-based fare policy, like BART already has, or some kind of zone system like those of London and Paris, the fares and passes should work consistently on any system in Clipper. And then Clipper would disburse fares based on whose trains, buses and ferries people are actually riding--not on a trip-by-trip basis, but based on percentages of ridership. And that should be reflected in the compensation of the employees and staff at each transit agency. That, at least, will give operators the incentive to woo customers.
Something else that came out of the meeting: any future funding measure that goes before the voters simply must include a mandate that no funds can be spent until the operator signs onto a unified fare structure for the region. The voters have to make it clear that having 27 transit agencies each with its own fare structure, is unacceptable. Before spending more money on improving infrastructure, this "soft" barrier to using transit has got to go. They've figured this out in European cities. The Bay Area can do it too.
That said, it's impressive to see how the San Francisco Transit Riders is growing in membership and influence and developing the means to get these kinds of improvements done. As Fleisher told the people in the room, if they want to see a rational fare structure, then they need to "get loud to transit operators, boards of directors, politicians, etc." So far, it looks as if advocates for the SFTR are doing just that.
Stay in touch
Sign up for our free newsletter