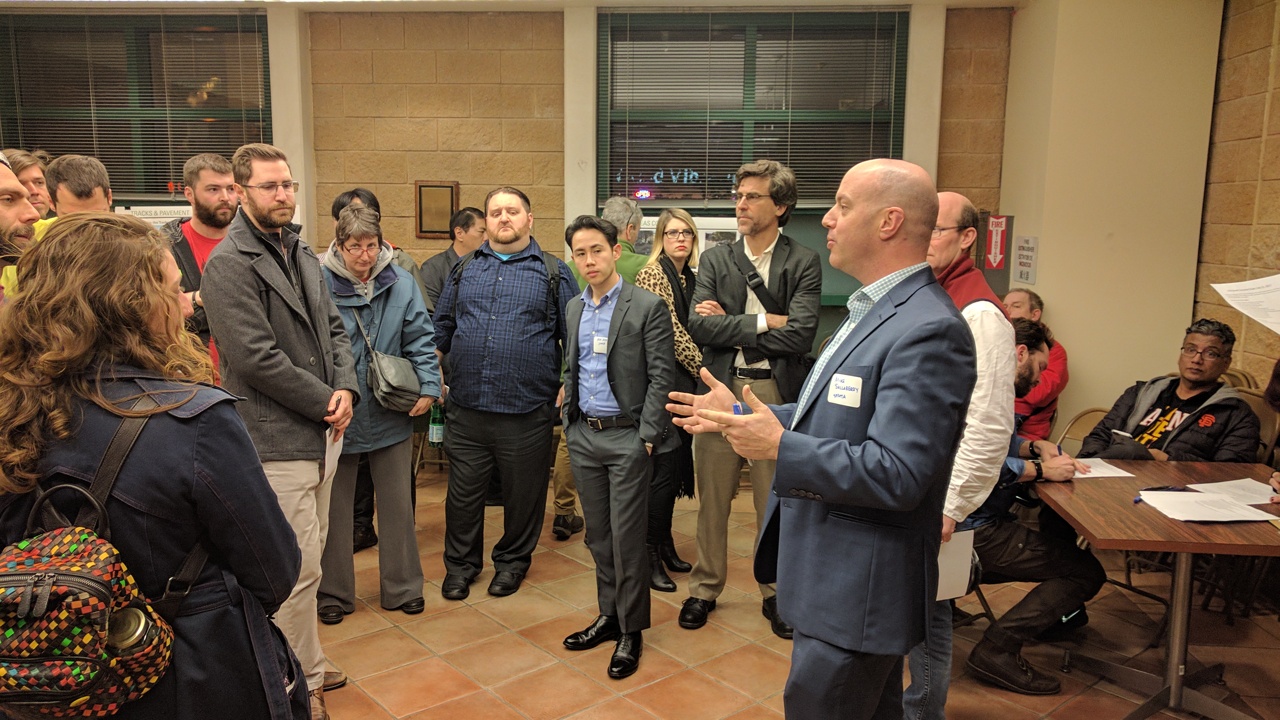 Last night, at the Mission Police Station on Valencia, the San Francisco Municipal Transportation Agency (SFMTA) held an open house on making 17th Street, between Church and Sanchez, safer for cyclists. As many Streetsblog readers are aware, the railway tracks and the width of the street make for particularly hazardous conditions for cyclists traveling between the Mission and Castro neighborhoods.
"My front tire went into the track," said Kathe Hashimoto, who lives nearby. She crashed her bike on 17th some four years ago. "I went over the handlebars and hurt my chin." She considers herself lucky she didn't sustain more serious injuries. Her crash is part of a pattern, as seen in this surveillance video of 17th, featured in a piece in Hoodline:
"Where 17th Street meets Church Street, several rail lines come together, forming a complicated intersection that is difficult to navigate for people biking between the Mission and the Castro. This location has a history of crashes," wrote Janice Li, Advocacy Director for the San Francisco Bicycle Coalition, in a blog post calling on SFMTA to fix the street.
So what are the proposed solutions?
One thing that often comes up is the idea of filling the flangeway--the groove along the inside of the train rails--with an elastomer that would be strong enough to support the weight of a cyclist and keep a bike wheel from falling into the rut, but would bend out of the way when a train wheel's flange passed over it.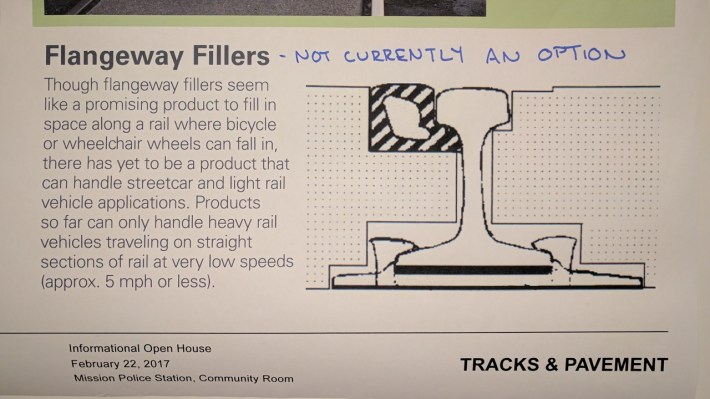 It's a nice idea and Mike Sallaberry, Project Manager in the Livable Streets Division of SFMTA, said they are in contact with other cities and are looking at possible materials, but so far they've yet to find a product that would work for the conditions on 17th. As is noted on the placard pictured above, flangeway fillers, as least so far, only work with heavy rail, on straightaways, at low speeds. Streetsblog pointed out that even if they found a material for the straight sections of track, there would still be gaps at switches and cross-overs, which require much larger flangeways.
The other proposal that often comes up is to remove the tracks. But SFMTA made it clear that those tracks are essential to positioning trains and maintaining service on the F-line. Ben Jose, a spokesman for SFMTA, said removing the tracks is just not an option.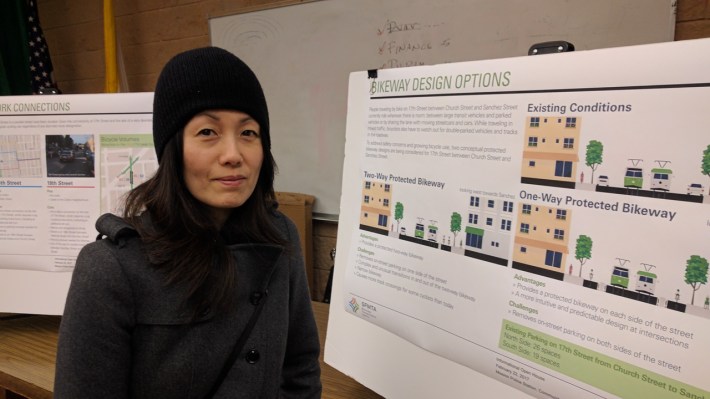 So what is the solution? Jose said the meeting, at this point, is just to solicit ideas. But protected bike lanes are definitely on the table--and the consensus in the room seemed to be that this was the only real answer, even if it means losing parking. That would, at least on the straight-away, eliminate any chance of a cyclists's wheels falling into the tracks.
"I work in FiDi and travel the route two times a day...I've seen lots of people wipe out," said David Gouldin. "I wiped out once when I was new to the city...I generally support protected bike lanes; we've seen it's safe and it makes people feel safe."
Of course, protected bike lanes would be less necessary if it weren't for the scourge of double parking--as seen in the video, double-parking and streetcar tracks make a lethal combination. But the best solution to that--perhaps the only one--is again, protected bike lanes. "Drivers only understand physical separation," said Gouldin.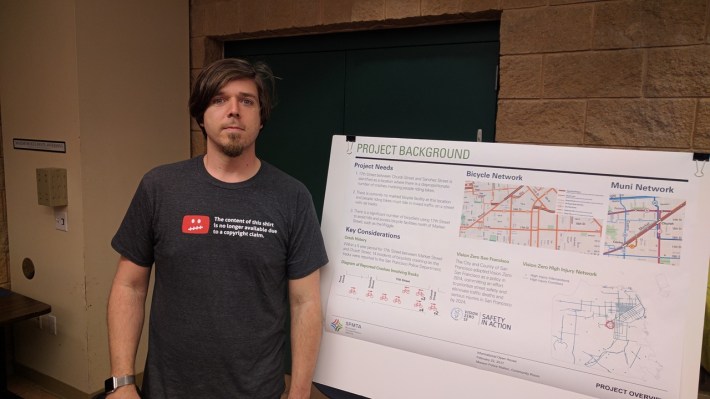 But that means removing street parking--also known as free car storage--and that might not go down so well. Even Hashimoto wasn't sure. "I drive also, and as a motorist, I don't advocate for getting rid of parking," she said, adding that she would support a compromise that made up for lost parking by adding angled parking spots on an adjoining street.
While that's being worked out though, Jon Hamiga, who also rides through the intersection on his commute, would like to see better markings. "It's ironic that there are no warning signs..." about the tracks, he said. Streetsblog remarked that LEDs, embedded in the pavement, could help guide cyclists safely through the crisscross of tracks. At night, it's especially easy to misjudge the angle when crossing so many curving rails.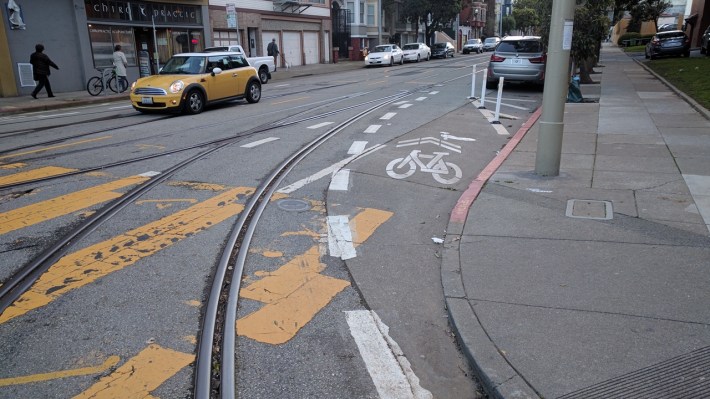 SFMTA could also do better with some of its current placement of safe hit posts and sharrow markings--as seen in the photo above, where the markings seem to point cyclists first onto the sidewalk, and then off the curb and directly into the flangeway. In the short term, Streetsblog hopes SFMTA can at least improve the painted markings and perhaps remove a few more parking spots closest to the intersection, to give cyclists more time to transition from the turn to the straight away. Perhaps SFMTA can borrow some elements of the protected intersection they recently opened at 9th and Division.
Either way, it's unclear how this route can be made truly safe while preserving the parking on 17th. As Adam Long, cycling advocate and occasional Streetsblog contributor put it at the meeting, "the only stumbling block to protected bike lanes is preserving parking...for the safety of people, it seems worth removing it."
Stay in touch
Sign up for our free newsletter