Dumbarton
Dumbarton Study Update with SamTrans Planning Director
3:38 PM PST on March 8, 2017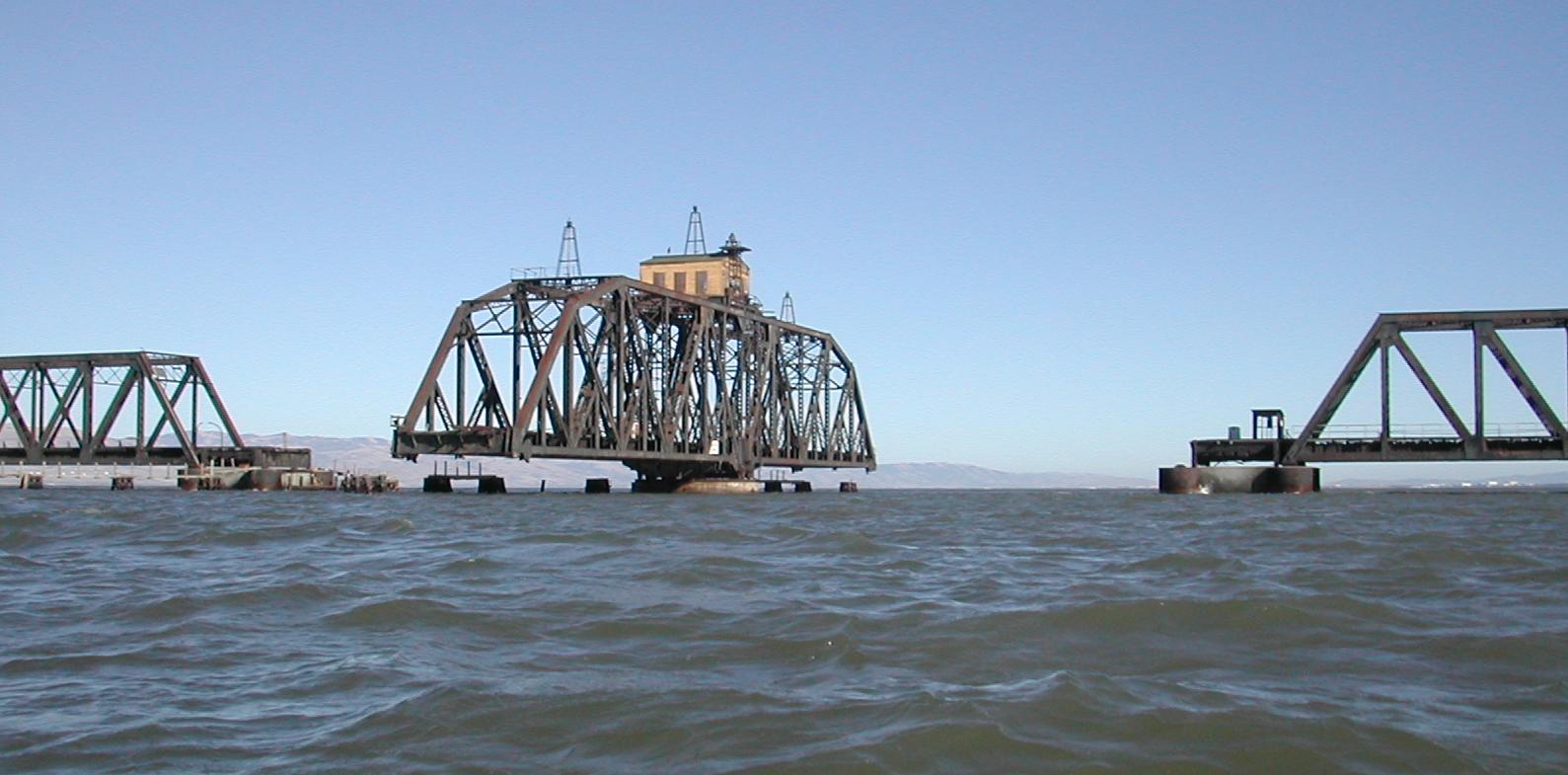 Last January, Streetsblog reported on a Facebook-SamTrans collaboration to study transit uses for the Dumbarton rail corridor. The study is now about halfway completed and it's already inspiring some intriguing ideas about how to use this asset.
As Streetsblog readers may know, the Dumbarton corridor is a 20-mile stretch of old railway tracks that runs from Caltrain's mainline in Redwood City, continues past Facebook's Menlo Park campus, and then runs across the fire-damaged Dumbarton Rail Bridge to the East Bay.
It's always been a tantalizing bit of old infrastructure--re-activating the tracks could be used for a host of things, including allowing Caltrain to connect San Francisco and the cities of the Peninsula directly with southern Alameda County. Unfortunately, funds for any such possibility were drawn away to other projects back in 2014.
This new study, funded by a $1 million grant from Facebook, renews the effort. Believe it or not, there are some funding streams that may make it possible to restore rail on the corridor.
Streetsblog sat down with Douglas Kim, SamTrans Planning Director, to get a preview of the study, to talk about some of the initial finding, and to dream big about providing a whole new mass-transit link between San Mateo County and the East Bay.
***
Streetsblog: So tell me about the Dumbarton study.
Douglas Kim: It's a million dollar Facebook-funded study, a holistic multi-modal look at both bridges.
SB: Meaning the old rail bridge and the current car bridge?
DK: Right. Past studies have looked at either one. We have multi-modal dreams, because even before Caltrans created Caltrain, we envisioned a cross-bay bridge to south Alameda County.
SB: What happened with that?
DK: We got focused on getting BART into San Mateo County. Meanwhile, the Dumbarton bridge continues to crumble. So Facebook and SamTrans have a mutual interest in making an east-west corridor work.
SB: Because their campus also happens to be right on the corridor.
DK: [nodding] We told Facebook: look this is not about taking transit riders to your front door, it's about the whole corridor. They agreed. They've been really good partners about being holistic and looking at the big picture.
SB: Okay, but they still get a stop, right?
DK: They've said if it makes sense, but they also said to do the study and tell us what you think works. We've looked at a dozen different combinations of rail, bus, bike and managed lanes...carpool lanes, toll lanes...we're about five months away from finalizing our alternatives analysis and defining what we think is the preferred.
SB: How's it looking for a rail alternative?
DK: There will be a short term and a long term component. Long term...using the rail bridge is many years away. You have to basically reconstruct that bridge.
SB: Will that cost billions all in itself?
DK: [nods] We don't want to wait and do nothing in the interim.
SB: Are the tracks from Redwood City to the start of the burned-out bridge actually used for anything today?
DK: A couple of miles are used for marginal freight activity.
SB Like once a week midnight delivery?
DK: We don't even know if it's that much.
SB: So you could, conceivably, do some minor upgrades, and drop a self-propelled train car, such as a diesel multiple unit, and have it zip commuters back and forth between Caltrain in Redwood City to the start of the bridge?
DK: We're seriously looking at it. In the short term, there are logical things we can do to beef up express bus service and add bikeway enhancements with 84 and its approaches.
SB: Not the best place to bike.
DK: The bridge isn't bad, it's the approaches that are tricky. It's not a user-friendly experience. It can be improved.
SB: Getting back to transit, tell us how a full rail option could get funded.
DK: If we went with rail, it is likely to have a capital costs starting at a billion. You've got the cost of rebuilding that bridge and we're trying to figure out if anything can be salvaged, but between that and the super structure on top and all the approaches, it's going to be a major capital project. What we know is, in order to make any kind of capital investment work on the corridor, we have to engage with the private sector and do some kind of P3 arrangement.
SB: Public-Private Partnership. Who do you envision partnering up, besides Facebook I guess?
DK: We know there's a lot of public support among the cities in the South Bay and East Bay for doing some type of rail system. We're doing the ridership modeling right now to see about the bang for the buck, but construct-ability is a big factor for us, and if we believe we can attract private investment to help...that means a lot. We're going to be spending a lot of time seeing what can attract Wall Street investment to help pay for the capital costs...then we're also looking at all kinds of arrangements for who would operate it and maintain it. It could be Caltrain, but we're looking at a private consortium as well.
SB: It occurs to me that if you could get that simple rail shuttle going from Redwood City to the start of the bridge, as a first phase, that would help build political support for fixing the bridge too.
DK: [nodding] Then if you were to do some kind of East-West rail service, there's the fundamental question--do you interline with Caltrain and go all the way to San Francisco, or do a shuttle service that requires a cross-platform connection? There are pros and cons to each.
SB: The now open question of electrification on Caltrain makes this a little more complicated I'd imagine. Would there even be space for more trains on the Caltrain mainline?
DK: [nods] With scheduling, and electrification still being discussed, we are looking hard at a shuttle that does not interline. That will affect ridership.
SB: In a bad way, I'd imagine?
DK: There are so many moving parts on Caltrain, not to mention High-speed rail, that it's hard to get into that mix and complicate things further. But there's a decent chance for the rail shuttle idea.
SB: A huge chunk of funding has to come from government? How's that going to work?
DK: This summer we need to, as a region, have a collective conversation over whether we are all in on making something happen. We are talking to the Metropolitan Transportation Commission, to try and get RM3 money.
SB: Regional Measure Three?
DK: A proposal to jack up bridge tolls. RM3 could raise $3-4 billion. It would be on the November 2018 ballot. It could fund Dumbarton, a second Transbay crossing. There are lots of hands out there right now for the money.
SB: But if you can get political support for Dumbarton?
DK: That's why we are talking with Facebook and other Silicon Valley interests to see if Dumbarton is something that's important to them. We're going to call for the question this summer and say look MTC, look Alameda County, look advocates, is this important to you? If so, we need to put together an innovative funding and finance package.
SB: SamTrans can put this together?
DK: We're doing some soul searching right now whether or not we want to take on this major a Multi-modal investment. It's a massive capital project, and we have to determine if we're positioned to take it on.
SB: So when does the study come out exactly?
DK: Summer of 2017.
SB: Good luck.
DK: Thanks.
Portions of this interview were edited
Stay in touch
Sign up for our free newsletter