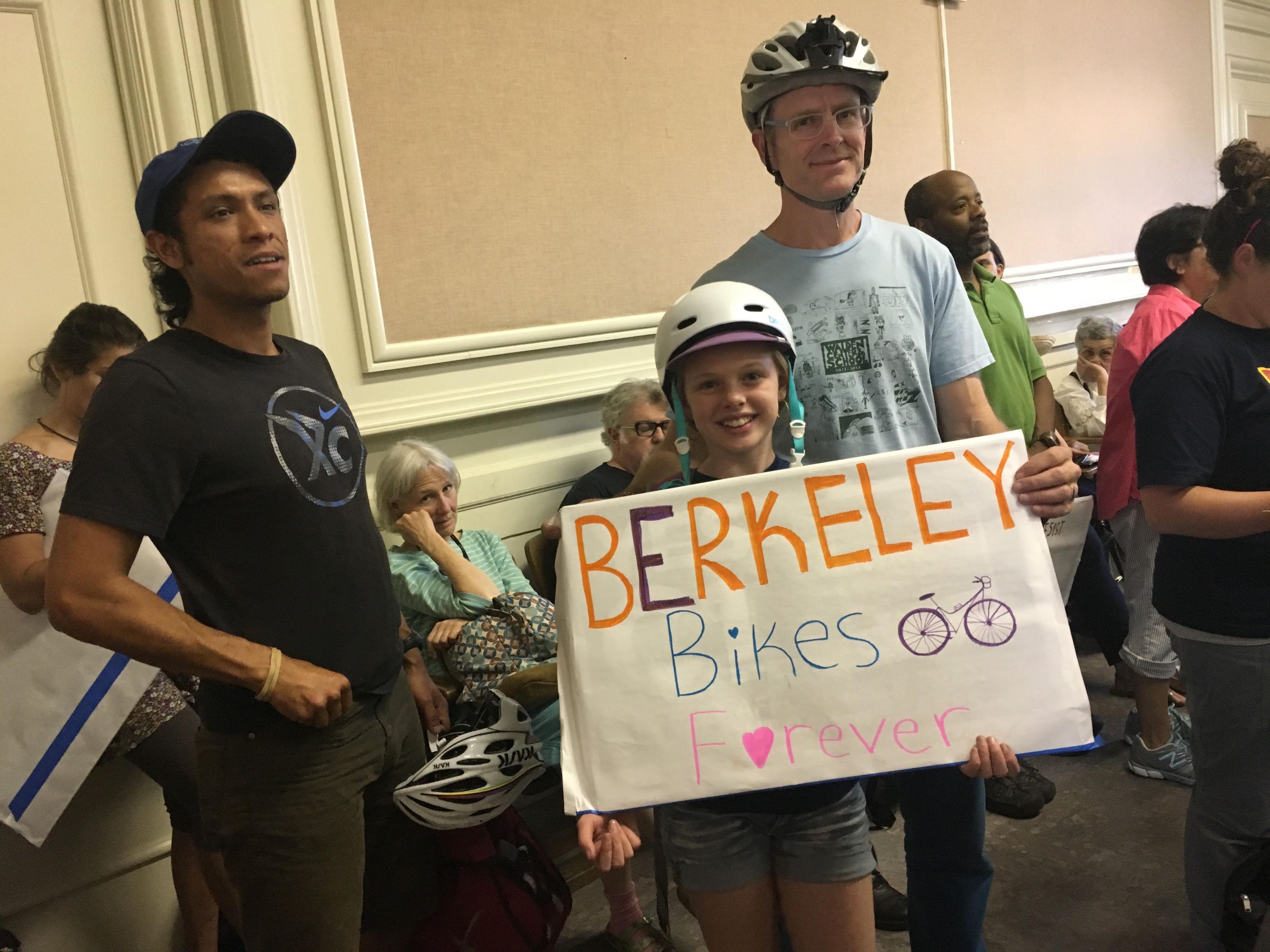 At close to midnight last night, the Berkeley City Council unanimously approved the Berkeley Bike Plan, which seeks to build a network of safe, connected bikeways throughout the city to encourage more people to ride bikes.
The children who had accompanied their parents to support the plan had long gone home to bed, and other members of the public drifted out the door as the hour grew late and the council kept moving to extend the meeting. Motions were made and countered, amendments were severed, rewritten, and reattached to motions, until even city staff lost track of what councilmembers were voting on.
The late-hour negotiations focused on minutia over whether an amendment proposed by Councilmember Sophie Hahn did anything more than reiterate something that was already required—that is, individual projects approved in concept in the plan would undergo further public outreach and discussion before being implemented. Kris Worthington called it "insulting to our staff and the people who've worked on the plan," who had conducted extensive public outreach, as well as "extremely intensive, and demanding specifics that go too far."
Karen Parolek, a member of the Berkeley Transportation Commission, was concerned that Hahn's amendment could endanger one of the strongest aspects of the bike plan—that it seeks to create a network of connected, safe bikeways—by requiring a more piecemeal approach wherein each individual piece of each project could potentially be argued over endlessly. She recommended that the plan include wording that emphasized that "for the network in this plan to work, it must be complete, without gaps."
"When this goes in front of other needs," she said, it's likely that "the bike plan will be the first thing to go. I want to make sure the network is a priority."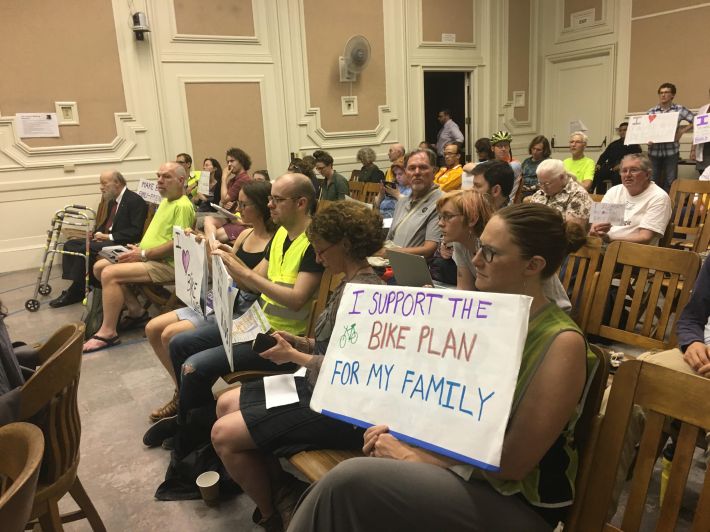 In the end, the council piled on competing directives for staff to reckon with. The plan was approved with some of Hahn's language calling for strong public outreach on individual projects, while including acknowledgement that a safe bike network is a priority. It also included new language calling for Milvia Street to be a first priority project, while adding a sentence requiring staff to take into account the special needs of businesses in commercial and manufacturing districts.
The council specifically asked staff to accommodate the parking and loading needs of Ace Hardware, which recently moved into a space on Milvia Street in downtown. The owner of Ace had appeared at the meeting to ask for Milvia to be removed as a priority project altogether. But that wasn't likely to happen. Milvia stands for all that is good and bad about biking in Berkeley. It is a heavily-used bike corridor that crosses through downtown and passes many busy destinations, including city offices and the high school. It is also typical of bike boulevards in Berkeley: it is full of gaps, interrupted by disappearing bike lanes and busy intersections that don't feel safe to cross.
Staff had already done a remarkable job on the plan, so maybe council sees them as superhumans who really can meet these competing priorities. They worked on public outreach for over a year and a half, holding workshops and meetings to gather feedback on what they see as a "vision plan" for the future of biking in Berkeley. The process included conducting an extensive in-person, door-to-door survey, in which it was discovered that more than seventy percent of the Berkeley population doesn't currently ride a bike but is interested in doing so—hesitant because of safety concerns. Staff decided to focus  the goals of the plan on addressing those "interested but concerned" potential riders.
They mapped out the current bike network, which includes quiet bike boulevards crisscrossing through town, against data on pedestrian and bicycle traffic injuries. They saw that the "low-stress network" of bike boulevards are fine, within neighborhoods, but they have gaps where they cross busy intersections, and they ultimately don't lead directly to many destinations.
Berkeley Transportation Commissioner Ben Gerhardstein called the plan a way to create "joyful, not scary or tragic, experiences while riding in Berkeley."
"The plan will make biking more convenient and comfortable for everyone in Berkeley," he said, "Young and old, confident and not so confident."
Ironically, the major amendments to the plan, which had been made by staff in response to late-hour input from AC Transit and the Alameda County Transportation Commission, were not controversial—or at least, they were not discussed at the meeting. AC Transit, complaining that it hadn't been properly consulted in the long public outreach process, had written a last-minute letter seeking revisions. "The bike plan should be redrafted so it does not seek to create bike lanes on the six principal transit corridors in Berkeley," said the letter, so as not to "compromise transit performance and operations."
The letter pushed for the bike plan to define "transit-priority" streets, or what it called "layered networks" rather than "complete streets." But it's a bike plan, not a transit plan, and many of those "principal transit corridors" are the places that people on bikes want to go to. Staff agreed to clarify what it meant by "complete streets," leading to more verbiage:
"Complete Streets" describes a comprehensive, integrated transportation network with infrastructure and design that allows safe and convenient travel along and across streets for all users, including people walking, people bicycling, persons with disabilities, people driving motor vehicles, movers of commercial goods, users and operators of public transportation, emergency responders, seniors, youth, and families. Providing a complete network does not necessarily mean that every street will provide dedicated facilities for all transportation modes, but rather that the transportation network will provide convenient, safe, and connected routes for all modes of transportation within and across the City.
Staff also reiterated in clearer language that projects recommended in the plan, including those on major corridors, would undergo further study, including a look at impacts to transit and the environment, and include a public process to gather feedback.
A draft of the bike plan itself can be downloaded in three huge PDFs from the city's website here (item 27 of the city council agenda). The final plan will incorporate changes made by the City Council.
Streetsblog California editor Melanie Curry has been thinking about transportation, and how to improve conditions for bicyclists, since her early days commuting by bike to UCLA long ago. She was Managing Editor at the East Bay Express, and edited Access Magazine for the University of California Transportation Center. She also earned her Masters in City Planning from UC Berkeley.
Read More:
Stay in touch
Sign up for our free newsletter