Bicycle Infrastructure
Bikes for the Poor, Bikes on Trains, Biking to Google: Golden Wheel Winners Tell their Stories
2:59 PM PDT on June 8, 2017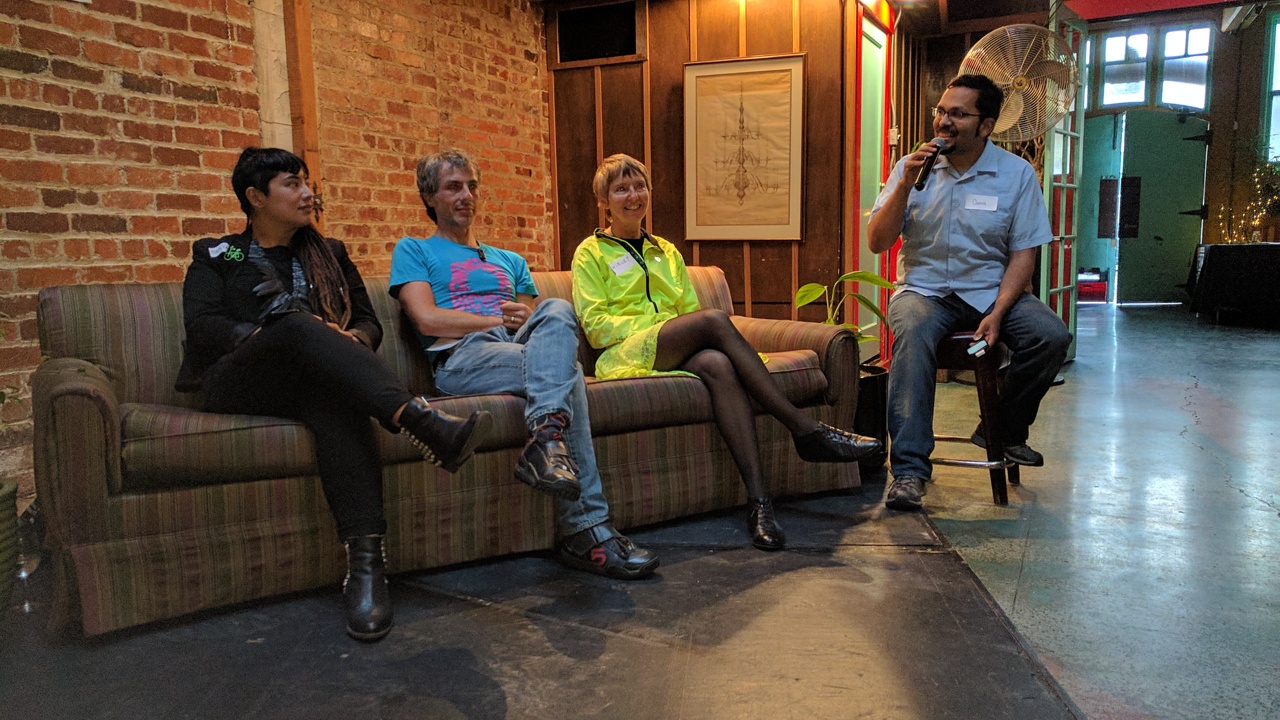 Like taking your bike on BART and Caltrain? Thank Shirley Johnson, the BIKES ONBoard group she helped form, and the San Francisco Bicycle Coalition, which helped support her work.
How her group helped get more space for bikes on Caltrain and lifted the arcane bike restrictions on BART was just one of three advocacy success stories discussed at a panel discussion hosted by the San Francisco Bicycle Coalition (SFBC) Tuesday night in the Mission, honoring past winners of the Golden Wheel Awards.
Mary Kay Chin, a 2015 Golden Wheel awardee, talked about her work to co-found the San Francisco Yellow Bike Project. "Along with my co-founder, Nathan Woody, I had this vision of everyone in San Francisco having access to a bicycle," said Chin, who lives in the Tenderloin. "So he and I worked together to start a grassroots non-profit bike co-op, currently located in the Tenderloin." They opened their shop in 2011.
For Streetsblog readers not familiar with the Yellow Bike Project, the idea is to help poor families provide safe, ride-able bikes for their children. "Bikes, locks, helmets ... they cost money," said Chin. "For everyone to have access to this machine that we all love ... we have to take these barriers down."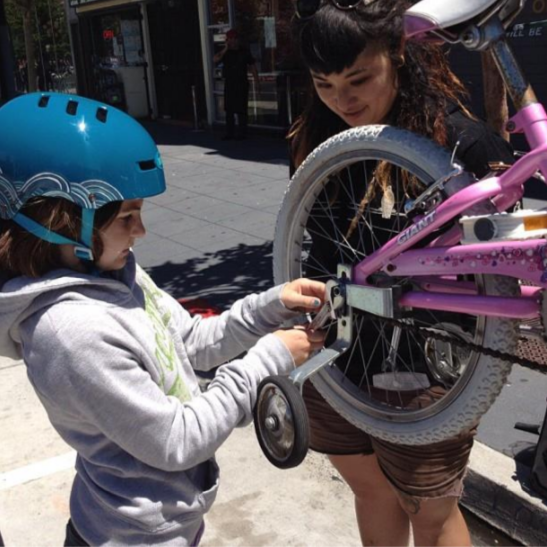 The Yellow Bike Project also helps families in the neighborhood pass down bikes from child to child--so as a kid gets too big for his bike, he can swap it for a new one. The Project services and repairs them to make sure they'll all safe and in working order. Chin takes great pride in watching the children grow up riding their bikes. "I live a block and half from the shop, so I get to see our neighbors--young children, because the Tenderloin has one of the highest numbers of children in our city."
She recalls how they helped a Bodega shop owner get a bike for his child from the shop. That child is now a young adult, who, thanks to their work, grew up biking. "Now I see him doing food deliveries by bike and helping to provide for his family." Chin hopes through their work and the help of the Bicycle Coalition, all children in San Francisco will grow up riding and then ride as adults. "That's the future I want to live in."
Some of those same kids, no doubt, will grow up, land jobs on the Peninsula, and want to ride to work--at least occasionally. That was the situation for Peter Colijn back in 2005, who lived in the Mission but worked in San Mateo at Google. "The commute means sitting in traffic ... it's frustrating," said Colijn, who also won his Golden Wheel award in 2015. Even for people who take Caltrain, it's an hour or so sitting when one could be getting in a long, exhilarating ride. "You could skip the gym. Skip the traffic. It's a lot more fun to ride."
But how? He reminded the audience that in 2005 there were no smart phones and mapping programs to whip out and plan a route in seconds. And although there are relatively safe and flat ways to get between San Francisco and San Mateo, "it's hard to remember 40 or 50 turns." So a group of Google employees started a club called SF2G, for 'San Francisco to Google.' They started to figure out good routes and planned organized rides for Google employees. "Figuring out a route was actually pretty hard," he said. "People would ask: 'how do you go? Do you just go down 101?' No, we don't go down 101!"
Over time, the group found more and more members, and it quickly expanded beyond Google employees. "It got so popular and we created a new mailing list and decided to make it public." The rest is history. The group now organizes rides on three different routes, the "Bayway" along the eastern shore of the Peninsula, the "Skyline," which largely follows El Camino Real, and the 'Half Moon Bayway' which is a scenic, 60-mile route that follows the western shore before turning east towards San Mateo at Lobitos.
And although that sounds pretty hard core, Colijn said they try to make it as accessible as possible. Colijn said the rides take about two hours and that on Bike to Work Day they go out ahead of time and put signs and stickers on the route to make sure newbies don't get lost.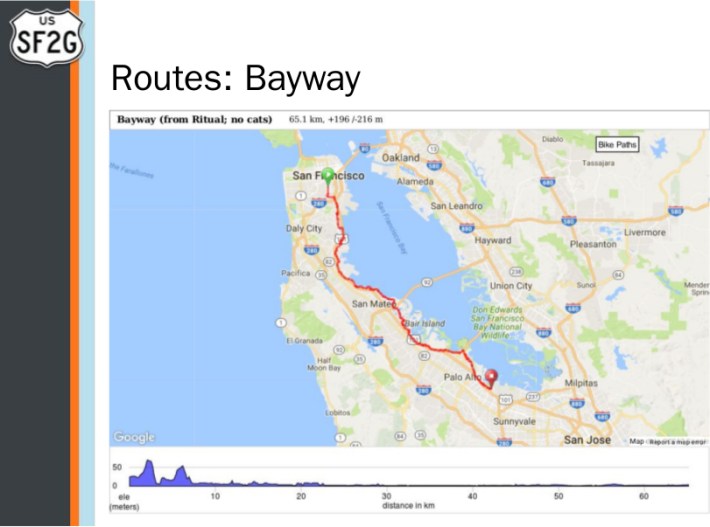 Meanwhile, for people who don't want to ride all the way to the Peninsula, Johnson, who won her Golden Wheel in 2014, just wanted to make more room for bikes on Caltrain. "I spoke to SFBC about my frustration about getting bumped from Caltrain," she said. "And they gave me a list of people who might be interested in helping." Back then, Caltrain only carried 16 bikes on some trains. The result was people who needed their bikes to solve the "last mile problem" of getting to and from stations, would end up having to wait for the next train. Many abandoned Caltrain altogether for their commutes.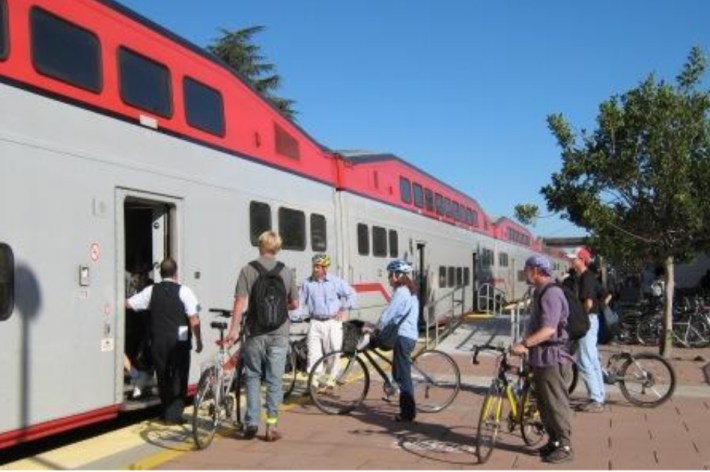 Johnson's group started lobbying Caltrain to add more space for bikes, but "Caltrain said we can't because 'the trains are full' and we said really, and we got our cameras and started taking pictures." The pictures showed, in fact that the bike car was full--but there were empty seats, meaning Caltrain was actually reducing ridership by forcing cyclists away. From then on, Johnson said every time they brought evidence to Caltrain officials for why it would make sense to provide more space for bikes, they'd just make more excuses.
"Caltrain said 'bikes increase dwell time' and it's important to try and keep the trains on time," was the next one. So she asked to see evidence of that. When they couldn't provide it, the group went to stations with stop watches and timed how long it took to load a train when there were a lot of bikes boarding, and when there weren't--there was no difference. Next Caltrain said it was too expensive to convert more seating into bike space. But Johnson's group looked at ridership and how it dropped off as soon as the bike spaces were taken. They calculated that in 2006 "Caltrain lost a $1 million in ticket revenue..." because of a lack of space for cyclists. They calculated how much it would cost for Caltrain to provide more bike space and then how long it would take to earn the money back from the increased ridership. "So we found a six month payback period," she said. And, after enough rounds of unqualified objections, and fact finding, Caltrain finally relented and got to work providing more bike space.
She said she went through a similar process with BART, which used to ban bikes on an arcane assortment of rush-hour trains that had a "no bikes" symbol next to them on the schedule. The group wanted them to allow bikes on all trains, or to at least pilot allowing bikes during rush-hour. But, as with Caltrain, there were immediately unsupported objections. "BART said on-board space is expensive! And we asked, compared with what?" Johnson said they compared the cost of building parking garages and providing spots, with what it costs to have spots on the trains for a few more bikes--which allows more people to leave their cars at home. Parking spots "...cost at least $40,000 per spot," she said. And then a car is sitting there, occupying the spot all day. "Or you have a bike on the train for half an hour."
Bikes, she said, self-regulate--if a rush-hour train truly is too crowded for a bike to fit on, BART is frequent enough that riders normally just wait for the next train. "Caltrain and BART shot down every argument," she recalled. And finally they both just said: "It's a safety issue. And we would said, where's the data? They could produce no data."
Chema Hernández Gil, who hosted the forum, thanked the panelists for sharing their presentations and pointed out that their efforts are what the Bicycle Coalition is all about--a collaboration of different groups and people, working together, to increase biking and make it safer and more convenient. We're sure nearly everyone who reads Streetsblog has benefited from the work of Chin, Colijn, and Johnson, either directly or indirectly, and we thank them for their work.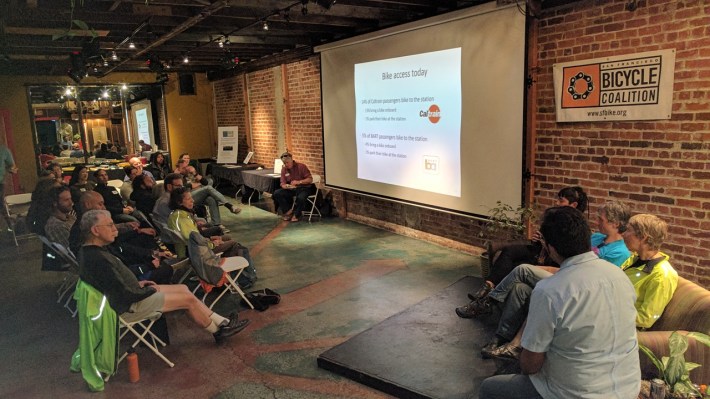 Stay in touch
Sign up for our free newsletter