Transit
BART to Close Lake Merritt Station for Labor Day Weekend Maintenance
4:45 PM PDT on August 30, 2017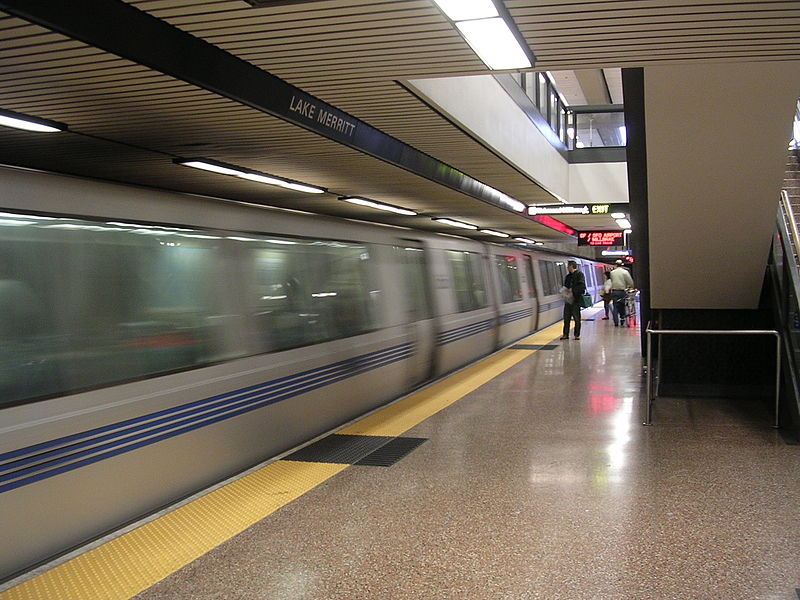 Count on an extra twenty to forty minutes for your trip if you plan to travel on BART between West Oakland and Fruitvale, or between 19th Street and Fruitvale, this Labor Day weekend. "That's our advice to riders," said Assistant General Manager for Operations Paul Oversier at a BART press conference this morning in Oakland. He said with a planned bus bridge, it should really only add twenty minutes to a typical trip, but he cautioned people connecting to flights to add extra time. "The forty minutes is if you're flying from Oakland or SFO." He added that BART will run more frequent train service than normal between SF and Oakland.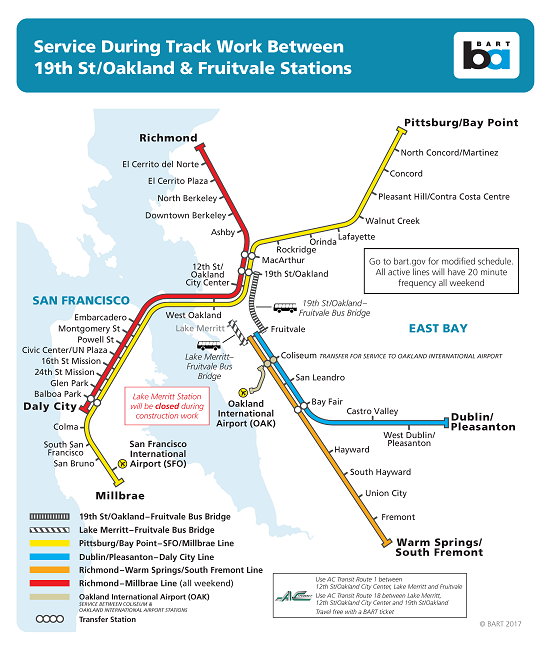 BART is working with AC Transit to have frequent buses at shuttling between Fruitvale and Lake Merritt stations, and Fruitvale and 19th Street/Oakland. Oversier added that the buses have bike racks, but since those can only carry a couple of bikes, he advised cyclists to lock their bikes up rather than take them with them, if possible. Streetsblog asked if BART has made arrangements with Ford GoBikes to allow BART riders travelling to places around Lake Merritt station to use them either for free or at a discount, and he said they had not, but that he would talk with them about making some arrangement during future closures.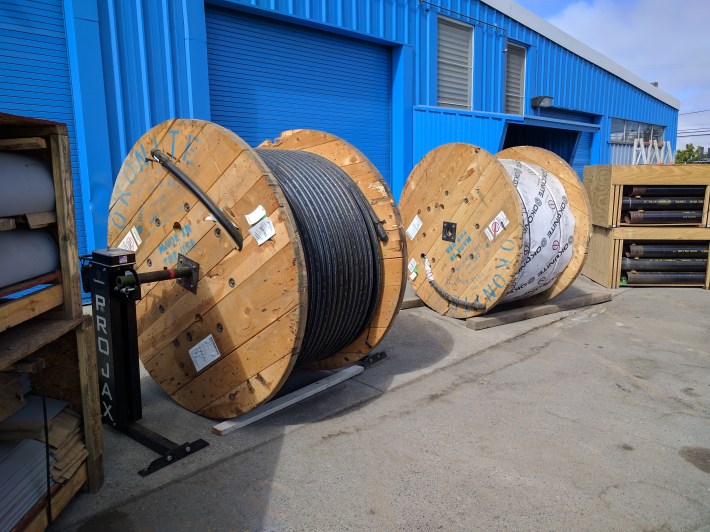 BART will begin work after midnight on Friday and continue until 4 a.m. Tuesday morning. The work, which is funded by last year's $3.5 billion bond measure to rebuild the system, will involve installing 3,100 feet of new welded rail, some of which, said a BART spokesman, replaces rails that are over forty years old. Workers will also replace some 1,000 feet of "guard rails," which help make sure trains stay securely on the tracks on sharp turns. In addition, this unglamorous work will replace insulators and other important third-rail parts. They will also install new high-voltage conduit and train-control antennas.
BART officials said they opted to close the Lake Merritt stretch of track during the Labor Day weekend because, historically, ridership is much lower during the holiday. They also said they will take advantage of the down time to do all sorts of other work, including putting in better signs.
This is just the latest in a series of weekend closures to repair and upgrade tracks and supporting infrastructure on various sections of BART.
BART workers, meanwhile, have staged the necessary materials and work trains at its Oakland maintenance facility, across from Peralta Community College, and next to the Union Pacific railroad mainline. Materials, such as rail segments, are delivered by freight train directly to BART's facility and then placed on the maintenance trains that take materials and workers into the tunnels.
The transit agency is also working on a new storage track for a track maintenance train that will eventually go into the Transbay Tube, as seen below.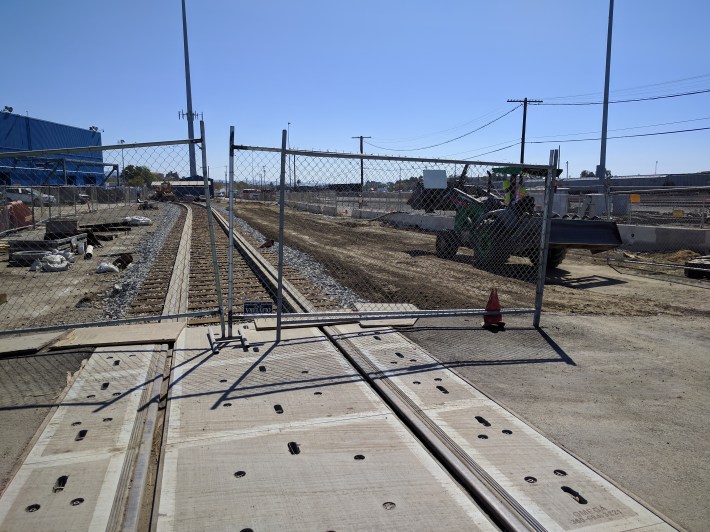 Shane Edwards, Assistant Chief Mechanical and Engineering Officer, also at this morning's Oakland BART shop press conference, said the Labor Day weekend closure is necessary to do heavy work that won't fit in the normal two-hour overnight maintenance window, or "blanket," as BART workers call it. "A three-day shut down is equivalent to eight weeks of normal nighttime track maintenance." Oversier added that, depending on how long it takes to get track workers into place, overnight work often only translates to only ninety minutes of "wrench time"--meaning time that workers can actually work on tracks before they have to get back on their work trains and get off the right of way in time for the first morning trains, which start at 4 a.m.
Heavy maintenance work will continue over the next two years, and will include replacing 105,600 feet of track, installing a high-capacity elevator at Embarcadero Station, and replacing escalators in downtown San Francisco, among other things.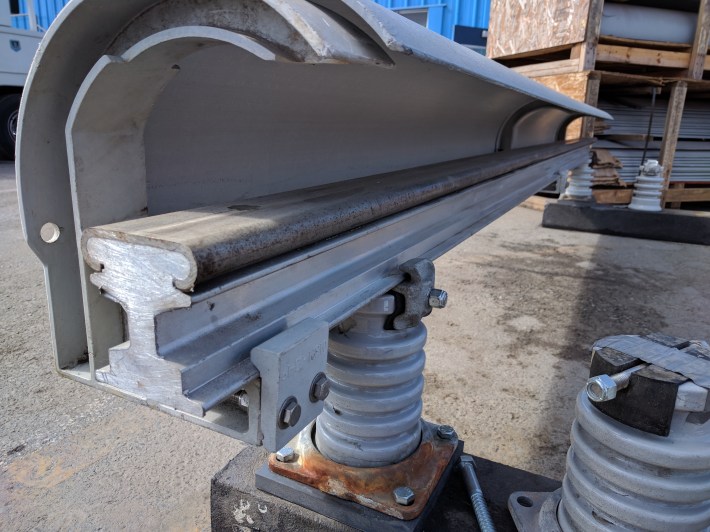 Oversier said they don't have plans right now for future closures of the Transbay Tube, instead using single-tracking and lower train frequencies to make time for maintenance, in addition to the usual overnight "blanket." He also hopes that when the Measure RR work is finally done, there will be shorter headways on all the Transbay lines.
Stay in touch
Sign up for our free newsletter