Bicycling
Supervisor Shocked to Hear Uber and Lyft Violate Bike and Transit Lanes
3:50 PM PDT on September 26, 2017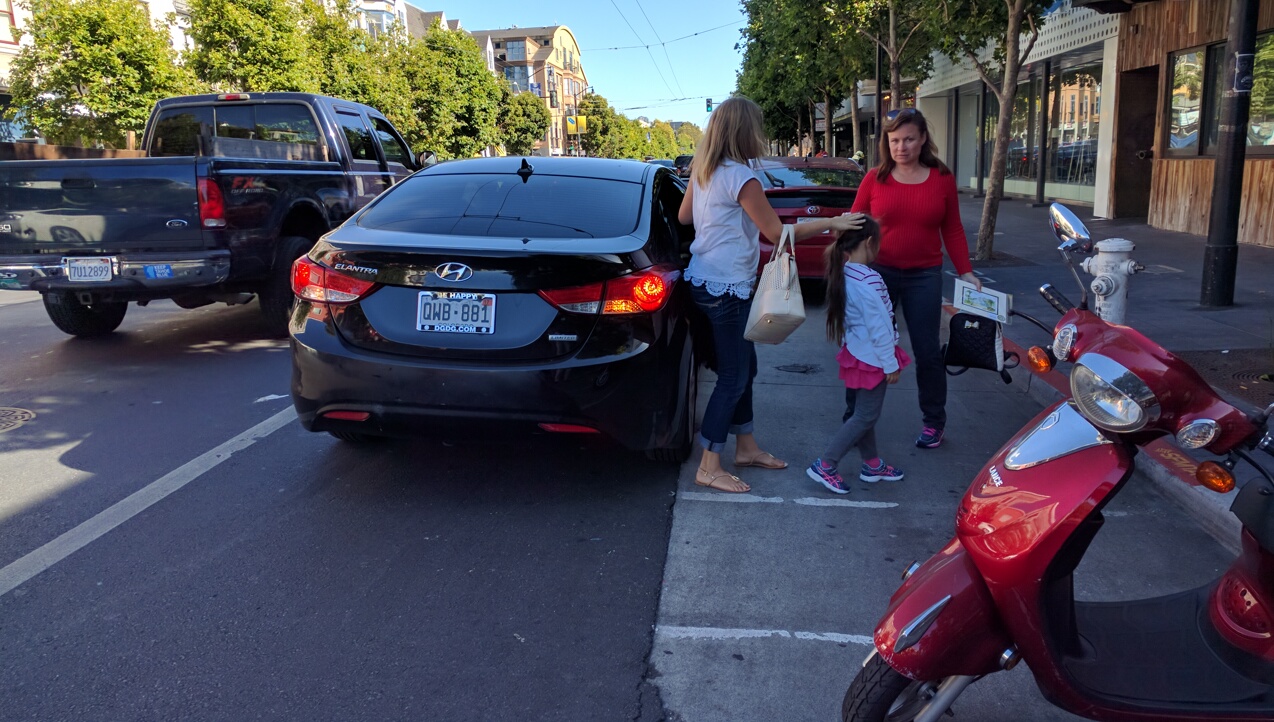 Some two-thirds of citations for driving in transit lanes and bike lanes, failing to yield to pedestrians, and other motor vehicle violations, are issued to Transportation Network Company (TNC) cars such as Uber and Lyft--this according to a study from the police department of violations in downtown San Francisco.
The findings were presented at yesterday's regular meeting of the Board of Supervisors' Land Use and Transportation Committee.
Here's the breakdown from the SFPD report: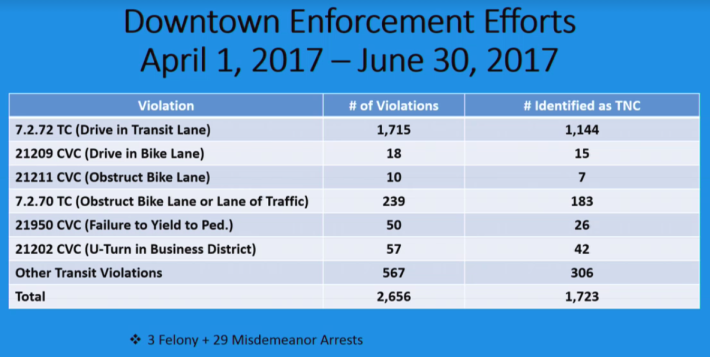 Commander Robert O'Sullivan, San Francisco police liaison to the SFMTA, said (as shown in the above graphic) that the study ran from April 1 to June 30. Out of 2,656 citations, 1,723 were done by cars with Uber and Lyft stickers.
What makes the numbers so shocking, said Supervisor Aaron Peskin, is that they are so disproportionate. "You have one out of four cars being a TNC in the district I represent," he said. "You would think the number of violations would be the same, one out of four, but what you're seeing is the opposite--almost three out of four are TNC drivers."
O'Sullivan assured the supervisor that officers are not targeting TNCs. Instead, they simply recorded which cars had Uber or Lyft stickers when they wrote the citations.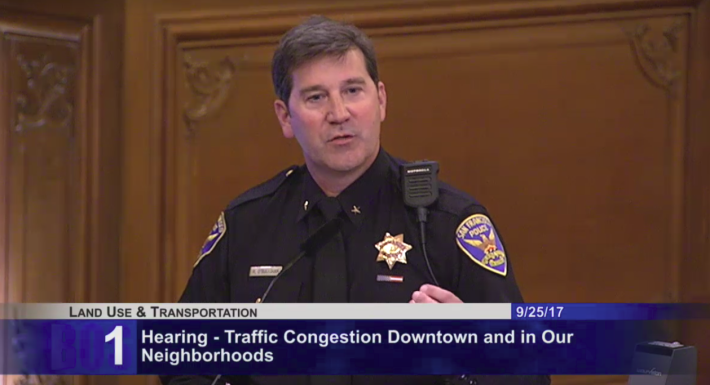 Of course, the report is not surprising to advocates in the safe-streets community, which even has a Twitter feed for Uber/Lyft violations. Over a year ago, a group of volunteers, lead by Catherine Orland, District 9 representative to the Bicycle Advisory Committee and longtime member and volunteer with the San Francisco Bicycle Coalition, tabulated similar results about TNCs (and others) blocking the bike lanes on Valencia. "I'm glad SFPD is collecting data," she said to Streetsblog. "Data is an integral part of achieving Vision Zero."
"It was really astonishing to see the number of TNCs that routinely use the bike lane as the drop off spot with no regard to the fact that cyclists are using it," said Supervisor Jeff Sheehy, who sits on the committee. He joined a protest for protected bike lanes on Valencia this month.
"These numbers confirm what our members experience on the streets of San Francisco everyday: Uber and Lyft drivers violating the law and threatening the safety of people who bike and walk. Now that SFPD data proves they are doing so in numbers far disproportionate to their share of traffic volume, this should be a wake-up call to the city and the industry," wrote Brian Wiedenmeier, the SF Bike Coalition's executive director, in an email to Streetsblog.
"Supervisors discussed concerns we at Uber share, namely how best to address traffic congestion and improve public safety on San Francisco streets. Uber is committed to being an active partner in working to make improvements in these areas. Every day in San Francisco, thousands of people use Uber in ways that complement--rather than compete with--public transit, bicycling and walking. Our aim is to continue contributing to a robust, multi-modal transportation network that works well for everyone," wrote Alex Randolph, Uber public policy manager, in an email. And Chelsea Harrison, communications manager for Lyft, wrote that: "We are supportive of holistic efforts to address congestion and have been in conversations with city officials for months to engage collaboratively on a pilot program to do just that."
Meanwhile, Jeff Hobson, Deputy Director for Planning for the County Transportation Authority, explained at the committee meeting that San Francisco has few real means to control TNCs, which are regulated by the state like any other privately owned car. Peskin said he will ask the City Attorney to look into suing. "This is a pattern and practice of thwarting public safety laws. There's got to be a legal path here if the state will not allow us to regulate TNCs."
Streetsblog would like to point out that while San Francisco currently has little power to regulate TNCs, aside from continuing to issue citations, it can, obviously, regulate street design. As the human-protected bike lane protests have shown, TNCs aren't an issue when they are physically prevented from stopping in a bike lane. Properly designed protected bike lanes and intersections can make much of this a moot point. And banning private cars from Market Street will make much of this a moot point too--more so if the Supervisors and SFMTA have the fortitude to ban all cars, instead of just privately owned ones. Continuing to do studies and discuss parking needs, and tearing out unofficial safe-hit posts, instead of installing protected bike lanes as quickly as possible--not so much.
"How many cyclist have to be injured on high injury corridors before action is taken," said Orland, who wants to see protected bike lanes installed and Uber and Lyft reigned in by regulators. "Some people are only persuaded by hard data. Now the safety of San Francisco's residents has to be prioritized."
Stay in touch
Sign up for our free newsletter