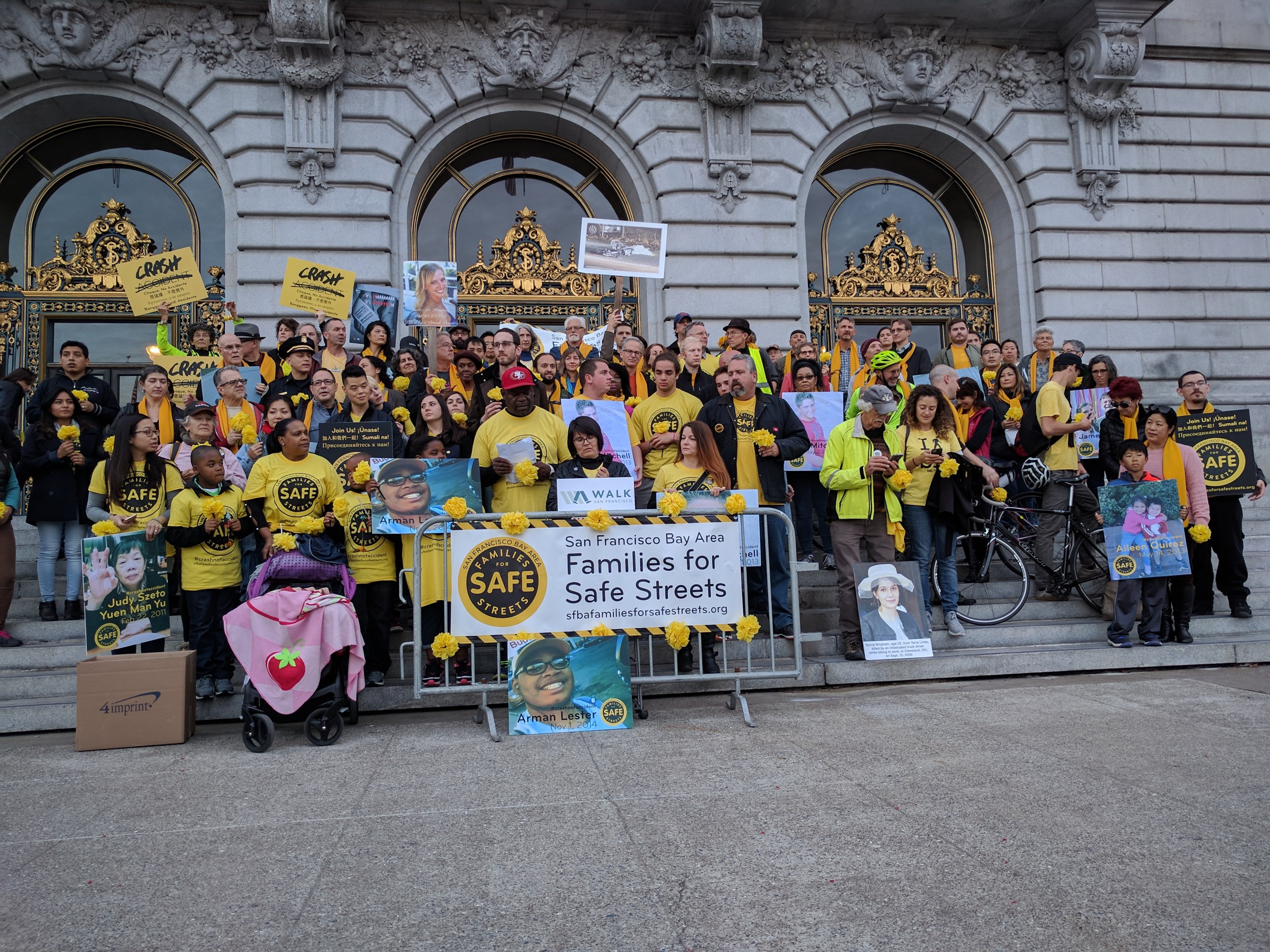 Note: GJEL Accident Attorneys regularly sponsors coverage on Streetsblog San Francisco and Streetsblog California. Unless noted in the story, GJEL Accident Attorneys is not consulted for the content or editorial direction of the sponsored content.
Sunday afternoon nearly 100 survivors and families and friends of those killed or hurt in traffic violence marched to the steps of San Francisco City Hall to demand safer streets. The march was part of the World Day of Remembrance for Road Traffic Victims.
Perhaps the most important key to safer streets, of course, is reducing speeding. The best technology for reducing speeding is Automated Speed Enforcement (ASE). ASE is basically a radar-gun that snaps a photo of your license place if you speed past it. You get a ticket in the mail.
It has long existed, it is proven to work to reduce speeding, and it is widely used in other states and countries--but it remains illegal in California. As part of the march, Walk San Francisco and Bay Area Families for Safe Streets, the organizers of the event, called on California lawmakers to support Assembly Bill 342, authored by Assemblyman David Chiu and State Senator Scott Wiener, which would permit ASE cameras as part of a pilot project for San Francisco and San Jose.
"I'm glad so many people are here to support families of traffic violence," said Jodie Medeiros, Executive Director of Walk San Francisco. "We're also here to encourage people to support Assembly Bill 342."
Streetsblog is joining these advocates in calling on readers to sign the petition. The form is on this Walk SF page.
"Too many people are dying and getting injured on our streets--we need to do better," said Wiener, who was also at the walk. "We need the political will to make our streets safer for everyone."
As people assembled around the 16th Street and Mission BART station, where the march began at 3 p.m., they held up banners and photos of loved ones lost to traffic violence--a powerful reminder of what AB 342, and other efforts to increase street safety are fundamentally about. Take Steve Bingham, a native of San Francisco whose daughter Syliva was riding a bike to her job in Cleveland, Ohio when she was run down and killed by a drunk driver. She was 22 years old. Or Aaron Chesterman, whose sister Kristina, a nursing student, was killed by a driver in Chico four years ago.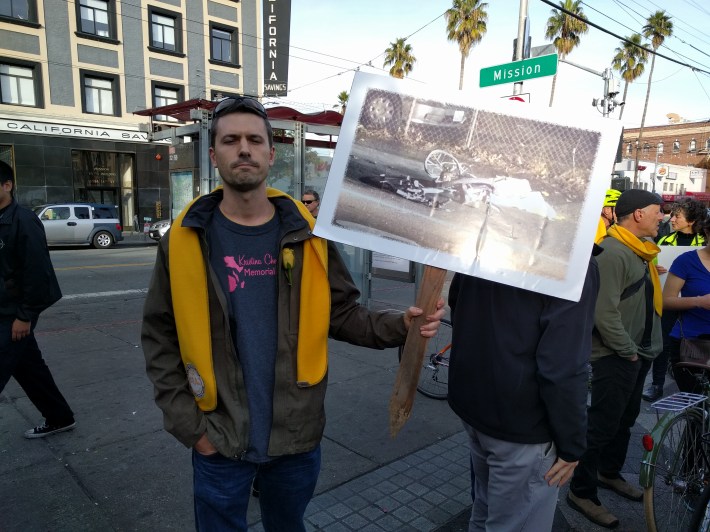 Or Amanda Lamb, who was walking in a crosswalk at the intersection of Webster and McAllister in August of 2015 when a motorist turned and ran her down. After two years of "painful recovery and over 100 hours of physical therapy," she still suffers from traumatic stress disorder and vertigo, thanks to the crash.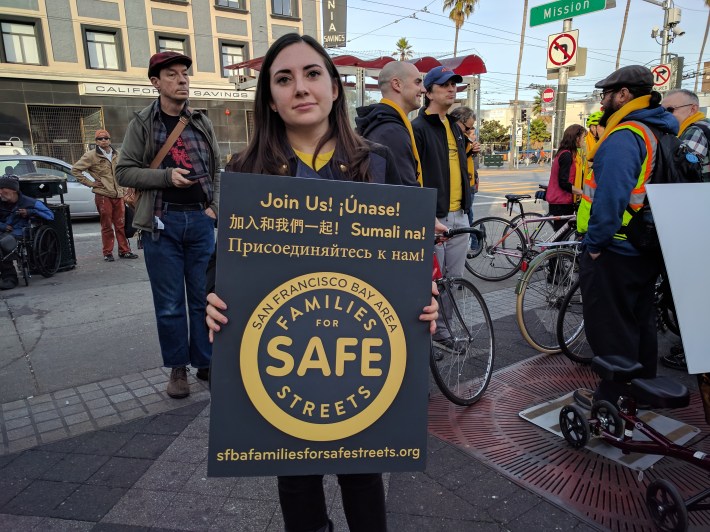 The families, friends, and survivors shared some of their experiences informally at the BART station plaza. They then walked about a mile to SF City Hall, where the group assembled on the steps to advocate and tell their stories.
Jenny Yu talked about her mother, Judy, who was walking across the intersection at Park Presidio and Anza Street in Feb of 2011. "The driver was speeding. Speed was what caused the crash," she said. Her mother survived, but suffered a brain injury. Yu said her mother was once a vibrant woman who now suffers from severe depression and Alzheimer's-like symptoms. "She will never get better." Yu, fighting through tears, repeated the plea to support Automated Speed Enforcement, in English and Cantonese. "Our complacency towards speeding is not acceptable."
Alvin Lester, whose son Arman was killed by a speeding driver while skateboarding in the Bayview, is the co-founder of Bay Area Families for Safe Streets. "My life has not been the same since the death of my son," he said. "I don't want to see another parent or loved one go through the suffering I have."
"40,000 people are killed in traffic crashes in the U.S. every year," said Natalie Burdick, Outreach Director for Walk San Francisco. Some 30 people are killed annually in San Francisco. "But no stat does justice to the total loss from this deadly public safety crisis... We are urging state and city leaders to address this epidemic."
"I hope you never have to understand this pain we have... We are all changed, knowing we all face this danger whenever we cross the street," said Lamb, also speaking on the steps of city hall. "Let us commit to end this carnage."
Again, please sign and share the petition to help slow cars and the carnage on our streets.
More photos of the walk below.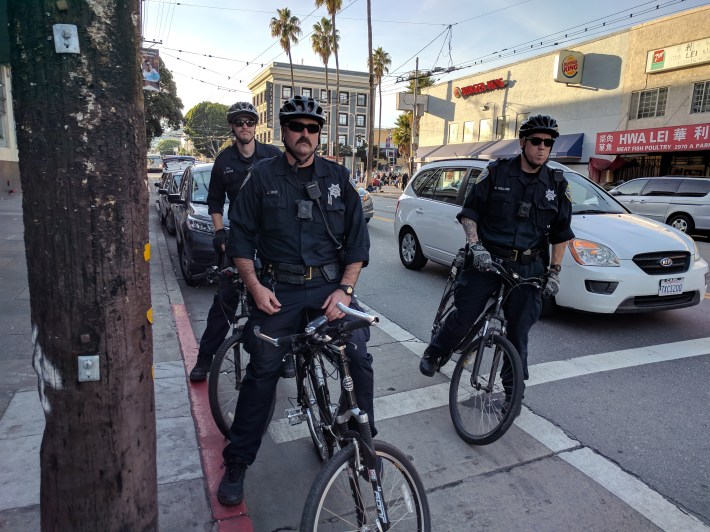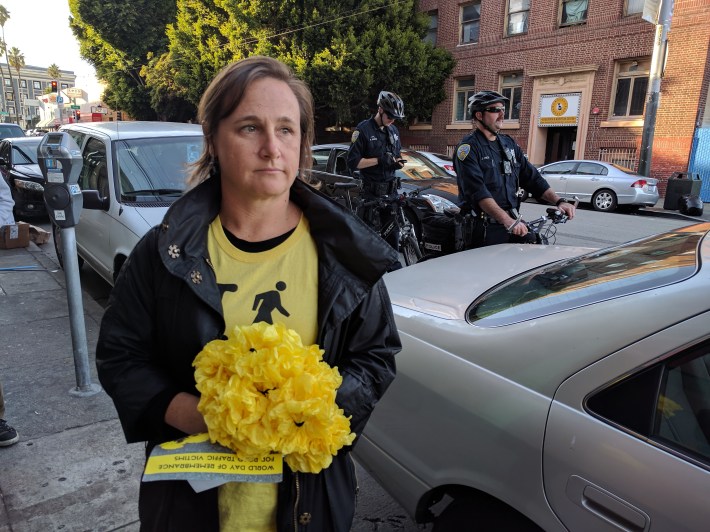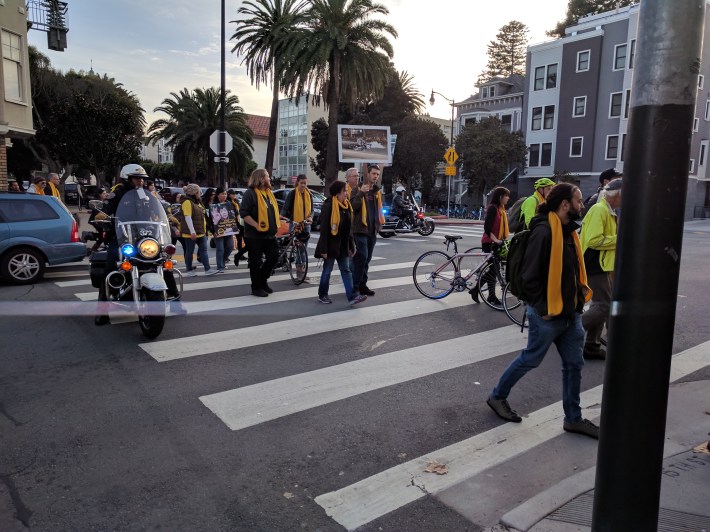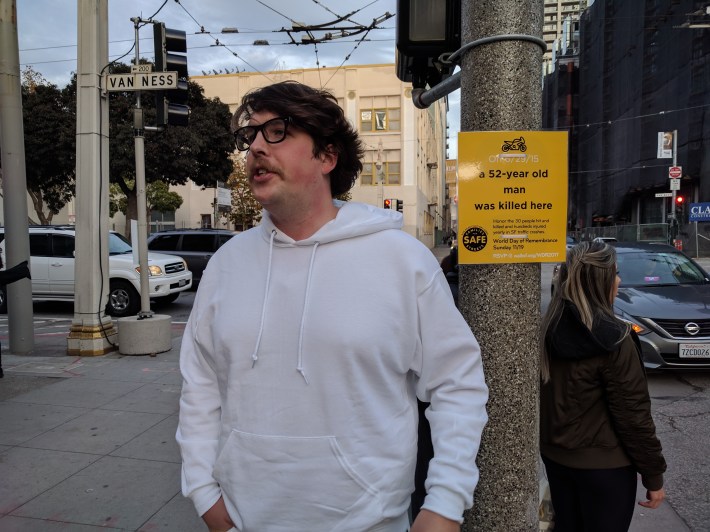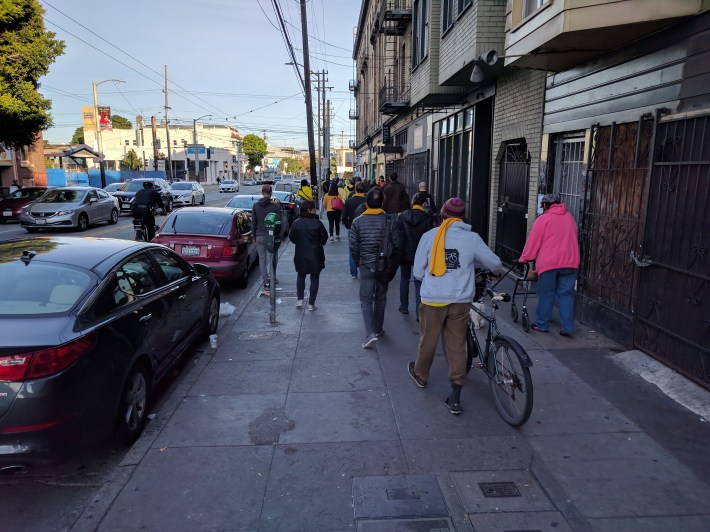 Stay in touch
Sign up for our free newsletter