Muni
Poll Shows Voters Support Transit Tax, but Two-thirds Threshold May Be Elusive
3:50 PM PST on December 20, 2017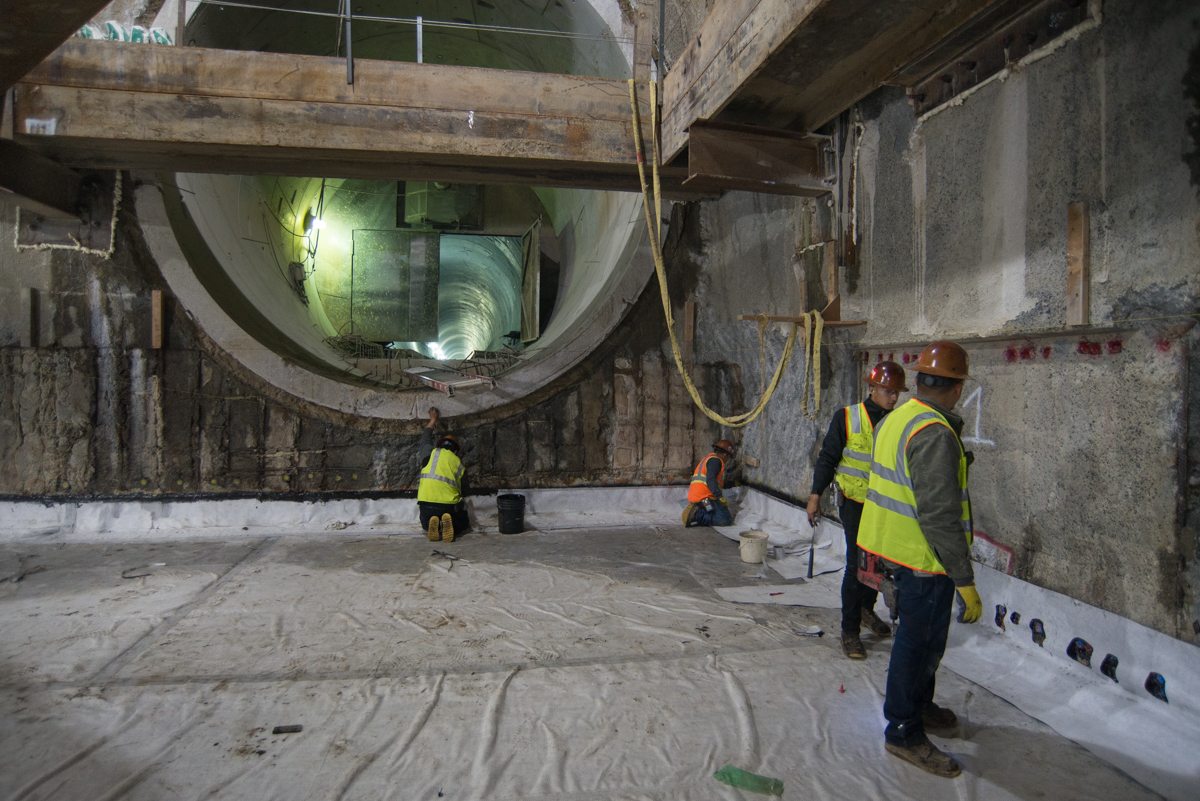 More than seven in ten likely voters in San Francisco said there was a "great need" or "some need" for transportation improvements, according to a new poll commissioned by the San Francisco County Transportation Authority. The survey involved just over 1,000 interviews conducted by phone and online earlier this month.
"The survey also gauged voter support for additional revenue sources to help pay for these improvements," wrote a spokesman for the SFCTA about the results. And that means tax increases. When it came to actually funding a transportation measure, voters in the survey were significantly less enthusiastic: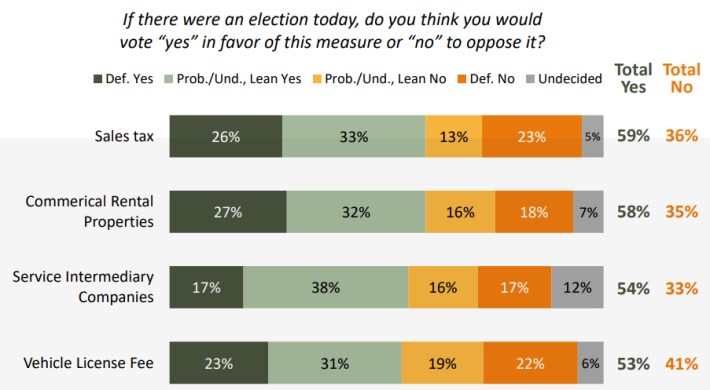 Here is a breakdown of the conclusions of the study, which was conducted by Fairbank Maslin Maullin-Associates, a market researcher in Oakland:
San Francisco voters see a need for additional funding for public transportation and a majority are willing to support a funding measure to provide additional funding for public transportation and traffic improvements.
Among the potential funding mechanisms, a sales tax and a business tax on commercial rents receive the strongest initial support.
However, after balanced pro and con arguments describing each funding mechanism, the proposed service intermediary tax and commercial rental property tax are seen as most acceptable to voters.
Voters view repairing streets and investing in public transit, including BART, Muni, and Caltrain, as the most important spending areas for the measure.
Of course, being that this is California, with Prop. 13's two-thirds voter threshold for new taxes to support initiatives, having majority support is just the start of the fight. Last year, lawmakers attempted to circumvent this requirement through Props J &K. K was to increase the city's sales tax rate from 8.75 to 9.25 percent and raise $154 million a year. Proposition J was to ensure that those funds were dedicated exclusively to fighting homelessness and fixing the transportation systems. The results: Prop J won by 66 percent, while Proposition K failed with only 35 percent voting "yes." That was the same election where the BART bond passed comfortably.
Last year, during a post-election analysis session at SPUR, political consultant David Latterman said it shows the SF electorate is "...willing to pay for our infrastructure, to make this a good livable city," but he added that "general sales taxes often don't pass."
Or, as some advocates concluded, voters are willing to pay for good, well-explained, and important projects such as repairing BART. But a generalized increase in taxes doesn't work. Not too long after K failed, Thea Selby, Board Chair of the San Francisco Transit Riders, said to Streetsblog, "I look at Seattle and L.A., which passed Measure M for $40 billion. We can do better than that! K was embarrassing."
And that's what this polling data is about--attempting to gauge what the voters can digest and accept as most important to improving their commutes. The next step for the committee and the advocates who work with it will be to translate that data into something that, through education and persuasion, can either legally fly with a simple majority, or will get enough voters past that two-thirds threshold.
"We would be supportive of the measure that would be most viable in passing, and have the least impact on people of lower incomes," said Transform's Joel Ramos. "We will be supportive of whatever polls best and are thankful for the effort to gauge what the electorate will be most supportive of."
Highlights of the poll were presented to the SF Transportation 2045 Task Force meeting on Monday. The task force, convened by the late Mayor Lee and Supervisor London Breed, is a who's-who of transit professionals, politicians, and advocates and is charged with looking for local revenue sources for transit projects.
The full results of the survey will be available in January, but Streetsblog readers can have a look at more of the results now.
Stay in touch
Sign up for our free newsletter