Muni
Valentine's Muni Malfunction Underscores Lack of Interagency Cooperation
5:27 PM PST on February 15, 2018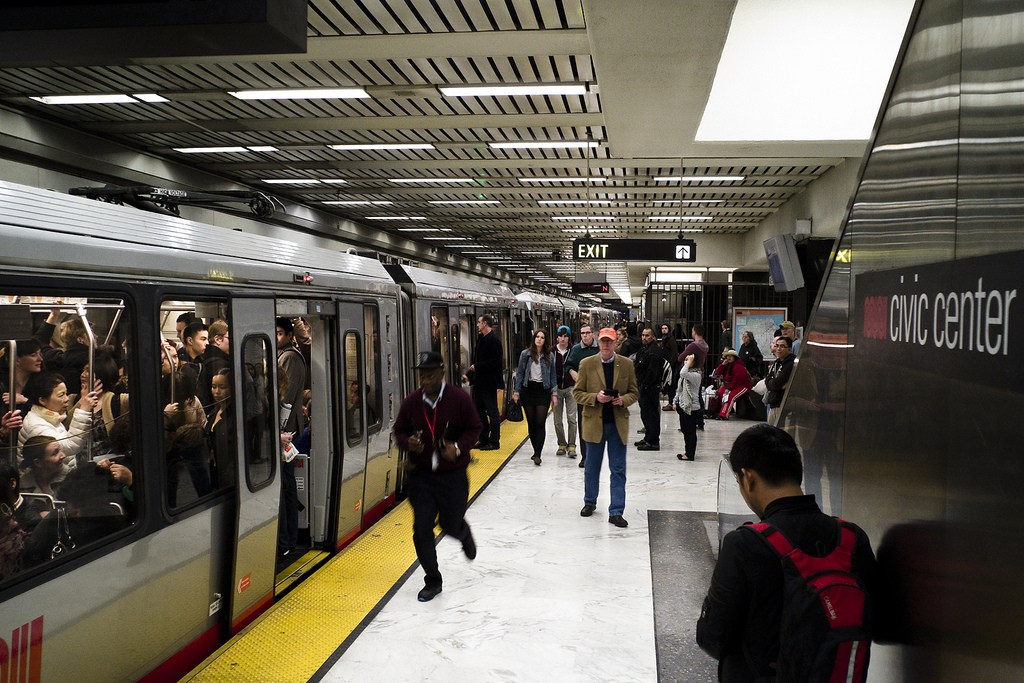 A switch fault Wednesday left thousands of Muni customers delayed and peeved.
And I was one of them.
Around 3 p.m. yesterday I left my home in Oakland by BART to go to the University of San Francisco campus, north of the Panhandle, to finish an interview with firefighter Michael Crehan.
I needed to bike around later, so I brought my folding bike. The fastest and easiest way to get to my meeting was to change at Embarcadero, ride the N-Judah to Cole Valley, and then bike across the Panhandle.
I got as far as Embarcadero. As soon as I got to the Muni platform there, it was clear from the overcrowding and chatter that something was wrong.
Online alerts, social media, and conventional news coverage eventually explained what was going on: a Muni track switch failed between Van Ness and Church, effectively cutting off the N-Judah and J-Church from the subway tunnel for much of the day.
"Slow moving" was a bit of an understatement. It took 30 minutes to get to Church Street (the trip only takes ten minutes normally).
That said, switches fail. And as SFMTA spokeswoman Erica Kato wrote in an email to Streetsblog, it seems as if Muni did its best to get information "ambassadors" onto its platforms and to make announcements to keep riders abreast (and shame on me for not checking for Muni alerts).
But it's almost as if the Bay Area's two biggest transit operators are unaware there are two subway systems under Market Street and that many people depend on both of them. This is not the first time this problem has been pointed out.
If the operator of my BART train had announced that the N-Judah and J-Church were cut off from the subway tunnel, I could have easily stayed on BART to Civic Center and ridden the Wiggle to my appointment. Or I could have gotten off at Powell and taken a bus. Instead, it wasn't until I had already tagged into Muni (and lugged my folded bike up from BART and back down to the Muni platform) that I heard or saw anything about delays.
Bottom line is Muni's Valentine's Day meltdown didn't need to cost me so much time on an M-Ocean View, crawling painfully through the tunnel to Church Street, where Muni was having passengers disembark and go up to street level to catch N and J trains.
No doubt I wasn't the only one who had their afternoon screwed up by Muni's track problems and the failure to communicate successfully with BART.
I emailed Muni's communications office and asked: "Did Muni contact BART to tell them what was going on so they could notify passengers making connections?"
"Yes, we did," replied Kato.
But BART spokesman Jim Allison said he "...spoke to the on-duty Operations Control Center (OCC) manager. They are the individuals who are responsible for train traffic... He was on duty yesterday at the time of the Muni delays and he says his record, the OCC log, does not show that Muni contacted BART."
"Muni's poor track record when it comes to communicating with riders about service issues also makes us suspect they didn't pass an alert on to BART in a timely manner or at all," wrote Rachel Hyden, Executive Director of the San Francisco Transit Riders and former Communications and Brand Manager for the Muni Forward Program. "This issue is symptomatic of a much larger problem; Bay Area transit agencies have poor coordination of schedules, service, fares, and communication."
So I called and emailed SFMTA's communications office again and asked how they contacted BART. Then I got this reply via email from Kato:
"The overhead announcements were made through the PA system which would have been heard by all Muni/BART patrons in the shared stations. We did not, however, request mutual aid from BART's control center."
Allison added that BART doesn't typically notify Muni of problems either unless "...there's a MAJOR delay, such as no train traffic through the Transbay tube."
Again, shame on me, for not checking for Muni alerts, especially as a reporter who already knows the two agencies don't have integrated communications, customer service, etc. But they should, at least when it comes to the Market Street transfer stations. This is clearly something the Metropolitan Transportation Commission and the transit agencies themselves need to work on. Announcements should have been made by BART warning people of the mess they'd encounter if they transferred to the Muni subway.
For that matter, with better interagency cooperation, couldn't BART have temporarily honored Muni passes and helped move Muni customers around the delays? "Though Clipper has brought them closer together in terms of a single form of fare payment across multiple agencies, we really need to see more seamless operations to deliver reliable and usable service across the region," said Hyden.
Fortunately, Crehan, once I texted him about the Muni delay, biked over to Church and Duboce to meet me and we were able to complete the interview. But if Crehan and I can communicate delay information successfully, why can't BART and Muni?
Stay in touch
Sign up for our free newsletter