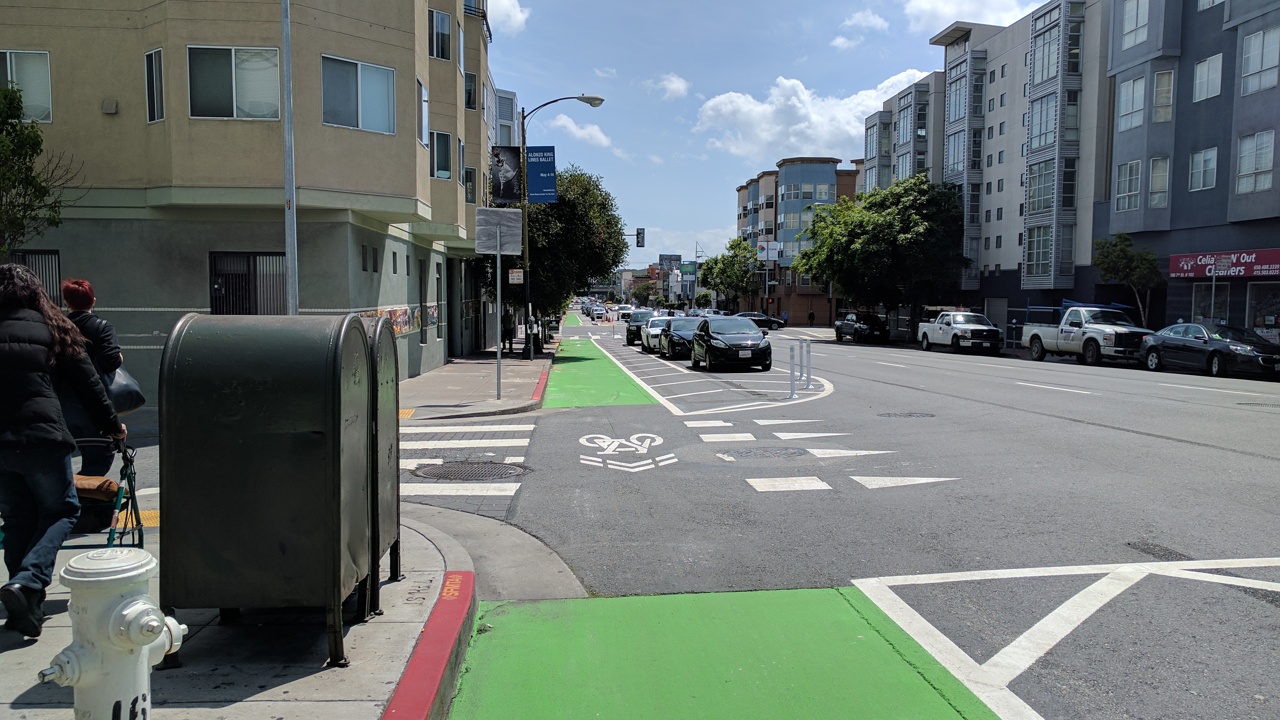 Note: GJEL Accident Attorneys regularly sponsors coverage on Streetsblog San Francisco and Streetsblog California. Unless noted in the story, GJEL Accident Attorneys is not consulted for the content or editorial direction of the sponsored content.
There are five bike lane projects in various phases in the South of Market neighborhood of San Francisco (SoMa). Long-term improvements to Folsom and Howard are in the planning phase; there will be an open house in April to finalize those designs. Fifth Street will hold an open house to present initial designs. And Townsend and 7th Street are awaiting scheduling of public outreach meetings.
"There's a project on almost every street in SoMa," explained Charles Deffarges, community organizer, at Tuesday evening's SoMa Committee meeting at the San Francisco Bicycle Coalition.
Now the push is on to expand these projects, get them built more quickly, and to make sure the designs aren't watered down. "How can we move the needle on these things?" asked Deffarges.
In the past ten months or so, the city has put in "quick-fix" safety features--such as parking-protected bike lanes, bus-boarding islands, and fresh green paint--on parts of Folsom, Howard,  13th, 7th, and 8th. These installations were, in part, the result of an ongoing campaign by the SFBC.
Sadly, they were also a reaction to the deaths of too many cyclists in SoMa.
The projects and their designs are still far from complete. The protected bike lane on 8th, for example, only goes as far south as Harrison.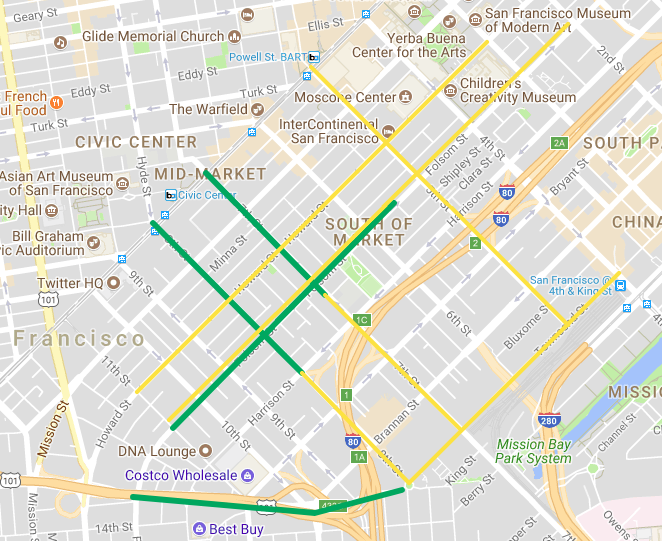 The SoMa Committee's purpose is to maintain pressure on the city to keep projects moving forward. Sometimes that's done simply by getting people to show up to hearings. "People are getting hit or killed on all of these streets; just about every street in SoMA is a high-injury corridor," said Deffarges. "I've seen people show up to give public comment while holding their kid" and asking for safety improvements. And that has a powerful impact on politicians and board directors at SFMTA, he explained.
The next SFMTA board hearing is Tuesday, March 6th, at 1 p.m., at the SFMTA Board meeting at City Hall, Room 400. The board will consider extending parking-protected bike lanes on 8th street, with bus-boarding islands, south from Harrison to Townsend. "That project is close to approval," said Deffarges. "With a few key changes at intersections that might include signals and the removal of mixing zones."
More on the mixing zone issue later.

And while some projects are moving steadily forward, others languish, and streets remain unchanged. Take, for example, the lack of progress on the streets around the Caltrain Depot. "Fifth street is currently four lanes with only sharrows," said Deffarges. "It's the connector from Caltrain to Mid-Market and there's a huge opportunity to redesign the street." Deffarges also brought up the need for improvement to Townsend, which runs alongside the Caltrain depot and tracks. "Townsend is a really important connector from Caltrain to employment centers."
Important, but also incredibly uncomfortable and intimidating for cyclists and pedestrians.
"Fifth Street, from Market through SoMa--that's the hell section," said Helen Block, one of the advocates at the meeting. "On Fifth street, there is currently only sharrows with fast-moving vehicles. This is not okay. It's especially dangerous," said Yi Wen, also with the SFBC.
Everyone on the committee saw an opportunity to build support and recruit new advocates from users of the Caltrain depot. "We should be engaging Caltrain commuters as they're getting off the trains," said another of the committee members.
One thing that was clear from the meeting is the days of bike advocates settling for striped lanes along the door zone are over. Instead, discussions at the meeting came down only to whether to fight for parking-protected bike lanes (where a row of parked cars is positioned to the left of the bike lane) or a curb-protected bike lane, where parking is eliminated on one or both sides of the street. "We are talking about separated bike lanes. If that means loss of parking spaces, then that's what we fight for," said Wen.
But achieving that continues to be problematic. "Eleventh street has been through public planning; there was an open house maybe six months ago, but that project has been held up again because of overhead wires," said Deffarges. Overhead Muni wires, as previously reported, can become an access issue for the fire department on streets with protected bike lanes because it changes the angle ladder trucks must use to access high buildings. (However, that increasingly seems like a red herring used by fire department members who simply don't want any lanes taken away from automobiles.)
Meanwhile, the SFBC is also pushing for better intersection treatments. The protection on the streets of SoMa drops out at major intersections; even the stripes and green paint usually end exactly where cyclists are most vulnerable. SFBC is hoping to get more bike signals with separate phases for cars and bikes; in other words, designs that segregate cars and bikes even through the intersection. These would replace mixing-zone treatments, as seen in the image above. The SFBC is also hoping to get some kind of post or barrier installed in the intersection, just past the crosswalk.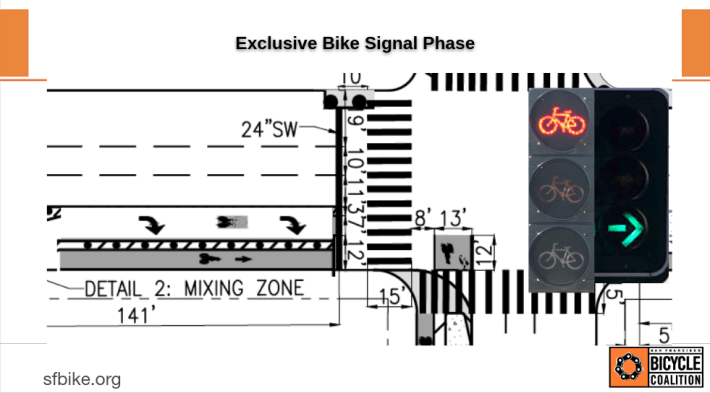 "There's an opportunity to put an island in the intersection that forces cars to take a wider turn and protects cyclists," said Deffarges. "With the new designs, there are opportunities there."
But getting these things done will require big turnouts at meetings and continued advocacy from the bicycle community. Members of the committee suggested community rides through SoMa and talks with the mayoral candidates to help rally support.
"Bike to Work Day is May 10th. It is going to be a huge opportunity to highlight projects we've gotten in the ground--and still want to get into the ground. You better believe people are going to be out there, hopefully making commitments to projects," said Deffarges.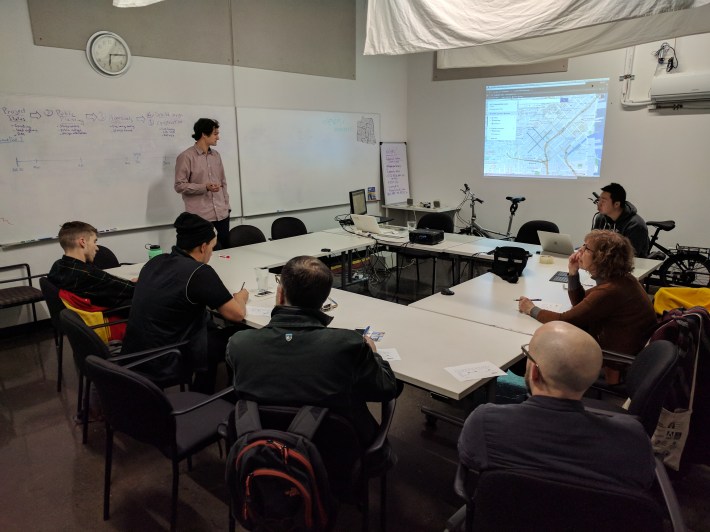 Stay in touch
Sign up for our free newsletter