BART
BART Gets Serious About Fare Beaters
3:22 PM PST on March 1, 2018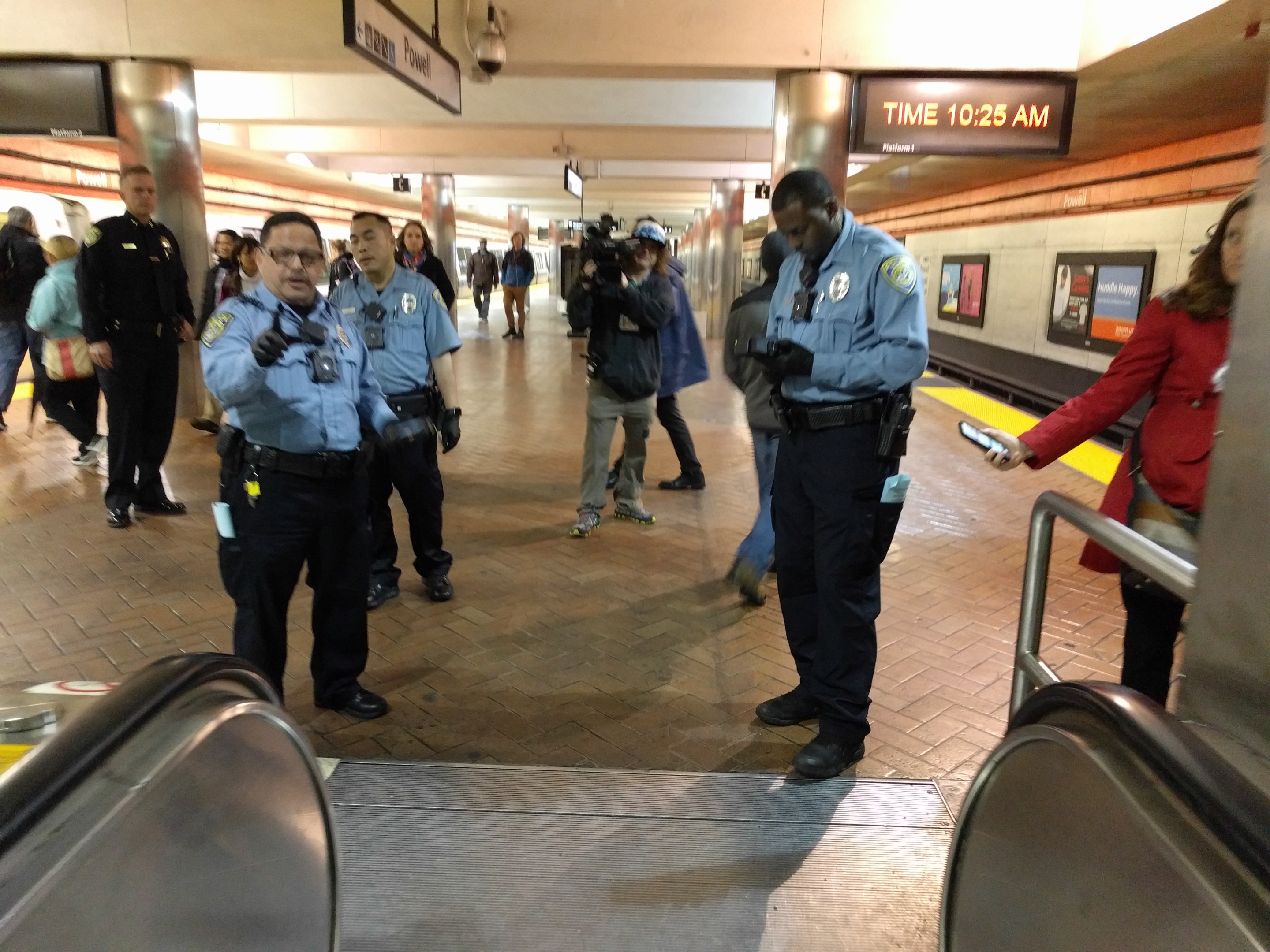 Get caught riding BART without proof of fare, and you could end up paying $75 as the transit agency goes into full enforcement mode of its new proof-of-payment policy. "It's actually been in effect since January 1," explained Lance Haight, Deputy Chief of BART's police force, at a press conference Thursday morning in the Powell BART station. But up until now, officers have just issued warnings. "1,300 warnings since January 6."
"The free ride at BART is over," wrote Nick Josefowitz, a BART Director for San Francisco, in an email. "We are taking strong but reasonable measures to ensure that everybody pays their ticket to ride BART."
Haight estimates that when they patrol, between three and 10 percent of riders can't produce a fare, depending on time and location. The hope is that when the word gets out that these patrols are happening, fewer people will try to beat the fares.
[caption id="attachment_354787" align="aligncenter" width="4032"]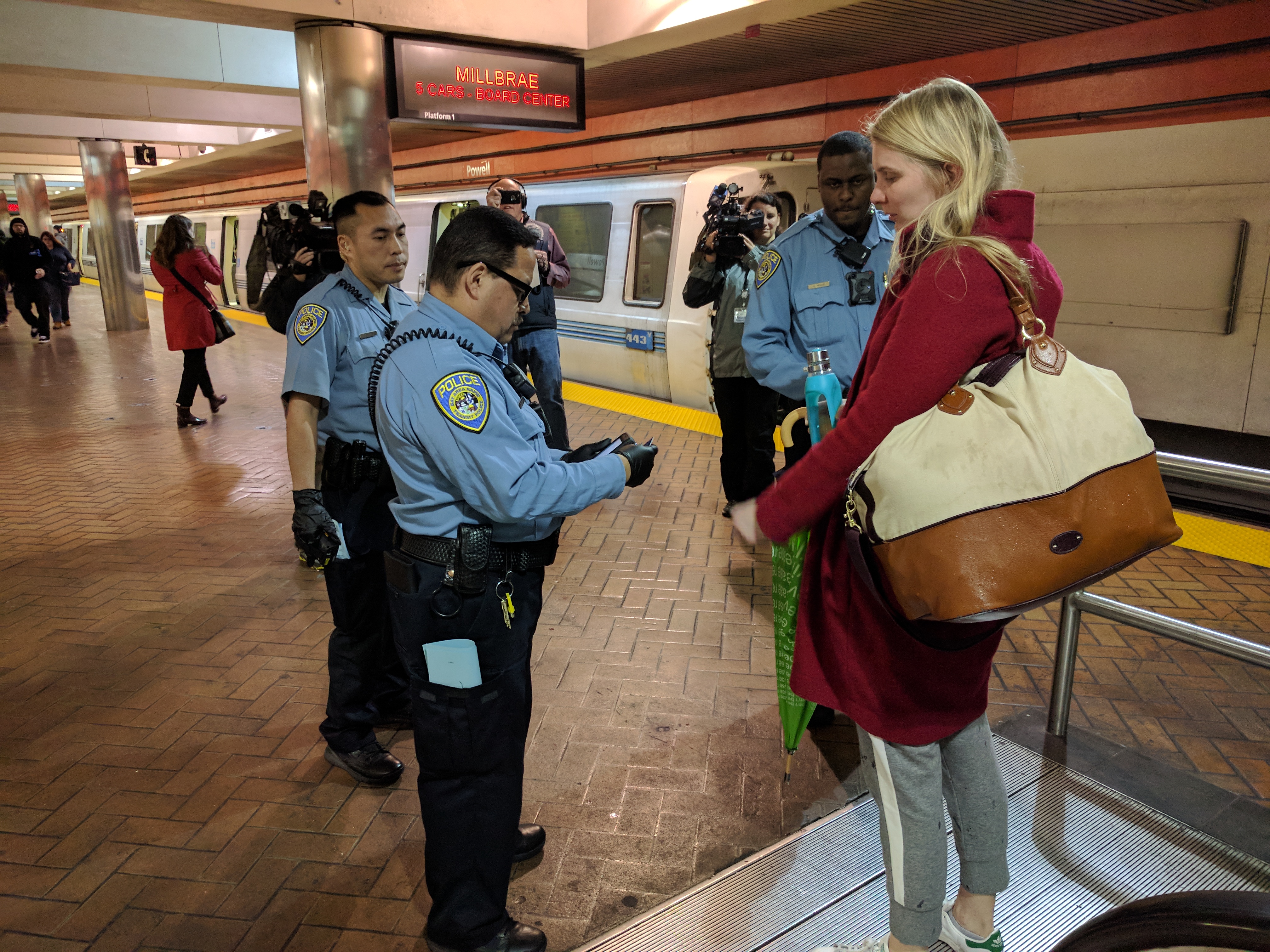 BART's new fare inspection teams working the bottom of an escalator at Powell Station Thursday morning.[/caption]
The ordinance was first adopted by the BART Board of Directors back in October 2017, to go into effect at the start of this year. But the BART police needed to work out procedures and acquire and test ticket readers (see photo below). The Clipper card readers are the same as those used on Muni. Unfortunately, enforcement agents have to carry a second machine to read the old mag-stripe paper tickets.
[caption id="attachment_354788" align="aligncenter" width="4032"]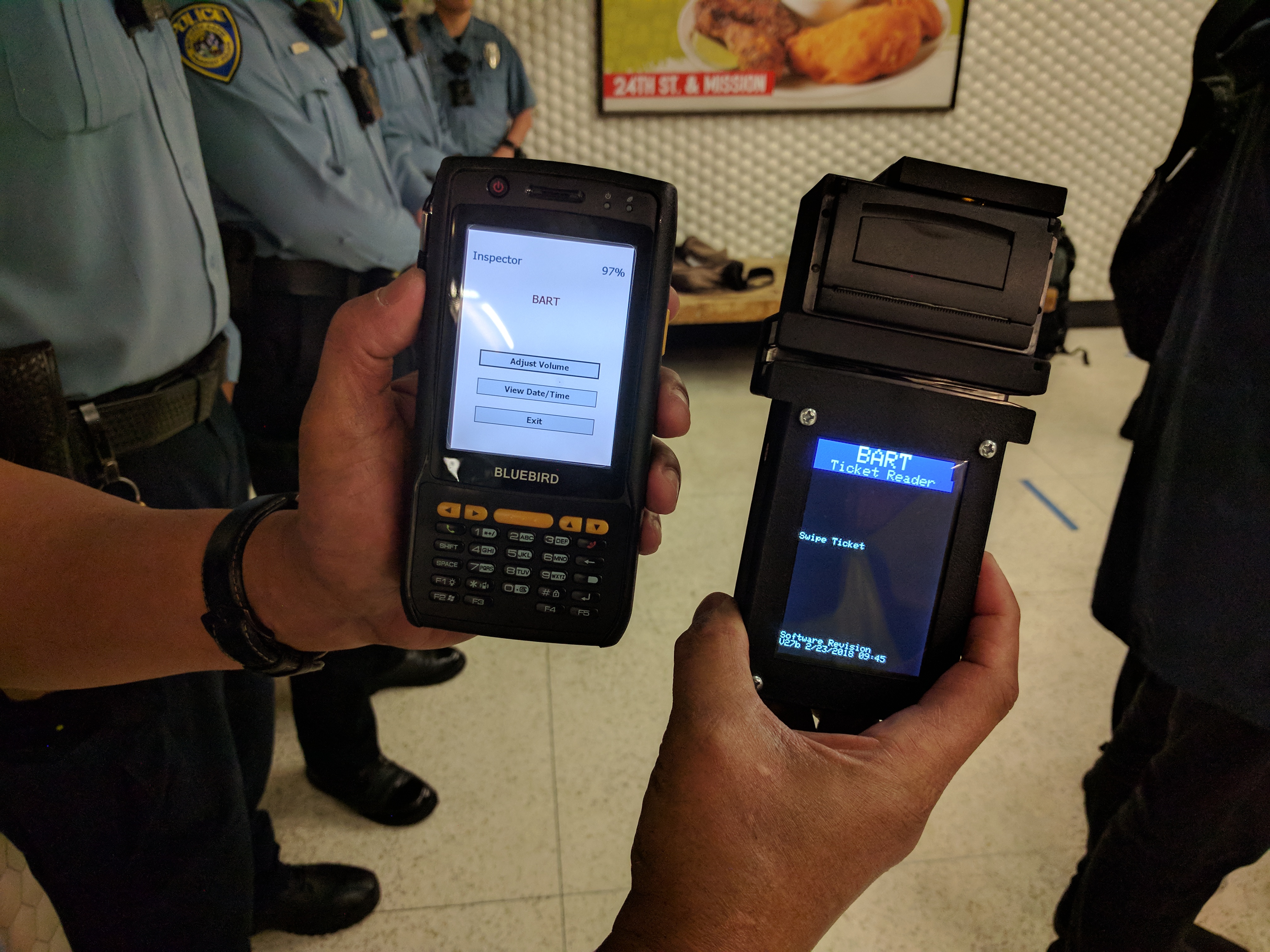 Unfortunately, thanks to BART's legacy, mag-stripe paper ticket system, for the time being agents will have to carry two scanners.[/caption]
The police are using "Community Service" officers to check tickets--these are the same employees who normally ticket illegally parked cars in the BART parking lots. The citations they issue for riding BART without a fare are treated just like parking tickets--"It's not criminal, it's a civil citation," said Haight. However, repeat offenders--meaning anyone caught riding three times in one year without proof of payment--can get hit with a criminal citation, which is a $250 fine. Violators may also be required to do community service.
[caption id="attachment_354790" align="aligncenter" width="3024"]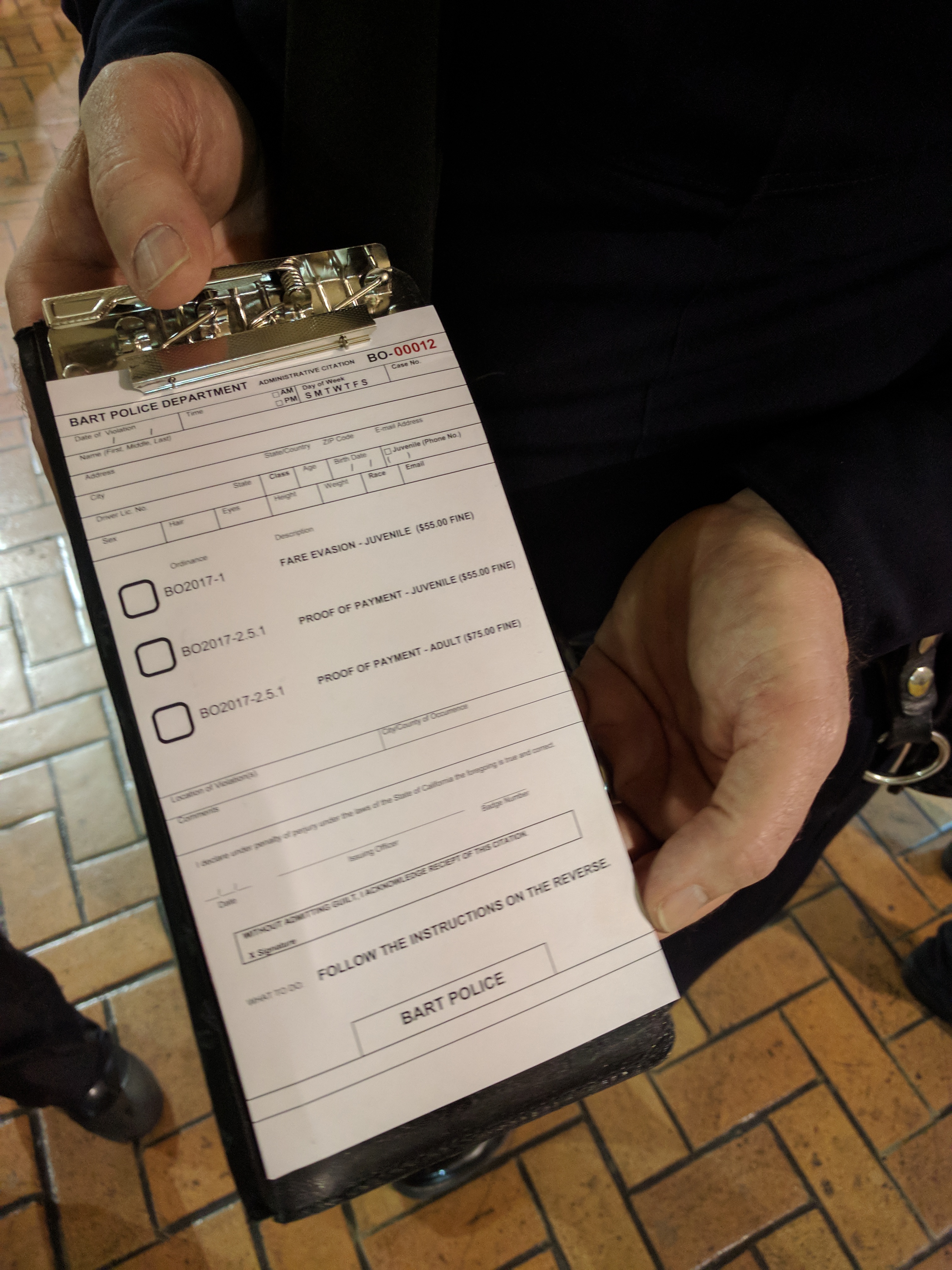 A look at the "parking ticket" style citation for riding without proof of payment.[/caption]
That said, it's hard to imagine how someone would get nailed three times in one year, since there are only six agents (and the patrols will always operate in groups). However, the BART police explained this is just one small step in a program of stopping fare evasion. They are also in the process of raising the height of fare gates (to make them harder to jump) and relocating emergency swing gates so it's more difficult to inconspicuously go through them. And they want to hire more inspectors.
"We know that fare evasion is a significant revenue issue for BART, but it's also a serious equity concern, especially given BART's problems with over-policing and profiling," wrote Edie Irons, spokesman for TransForm, in an email. "While it's clear BART has tried to craft a balanced approach, there are still ways this policy could have a negative impact on peoples' lives that vastly outweigh the severity of the crime."
"We are going to get regular evidence-based public reports about the conduct of our fare evasion enforcement officers, and if there's any reason for concern from a civil rights perspective we will be transparent with the public and take corrective action immediately," said Josefowitz. "We also rolled out discounted youth fares this January and worked with SFState to provide discounted passes for their students, which will give students a fare-paying option to take BART that will work within their budget."
The ordinance also provides the option of doing community service rather than paying a fine. But Irons would like to see more: "What if, on top of their citation or community service, every young fare evader got a loaded Clipper Card that was half the value of the fine, along with information about BART's new youth discount program?"
The inspectors, meanwhile, have body cameras so their supervisors can check for improper conduct. They are not armed and are instructed not to pursue if a fare evader runs away--however, they have radios to call BART police for assistance.
"Making sure everyone's paying their fare is only fair to the hundreds of thousands of regular paying riders. Fare evasion is also a significant cost to the agency and will help us crack down on crime in our system," added Josefowitz.
BART estimates it loses between $15 million to $25 million per year in unpaid fares. The agency has more details on its new fare evasion policy online.
Stay in touch
Sign up for our free newsletter