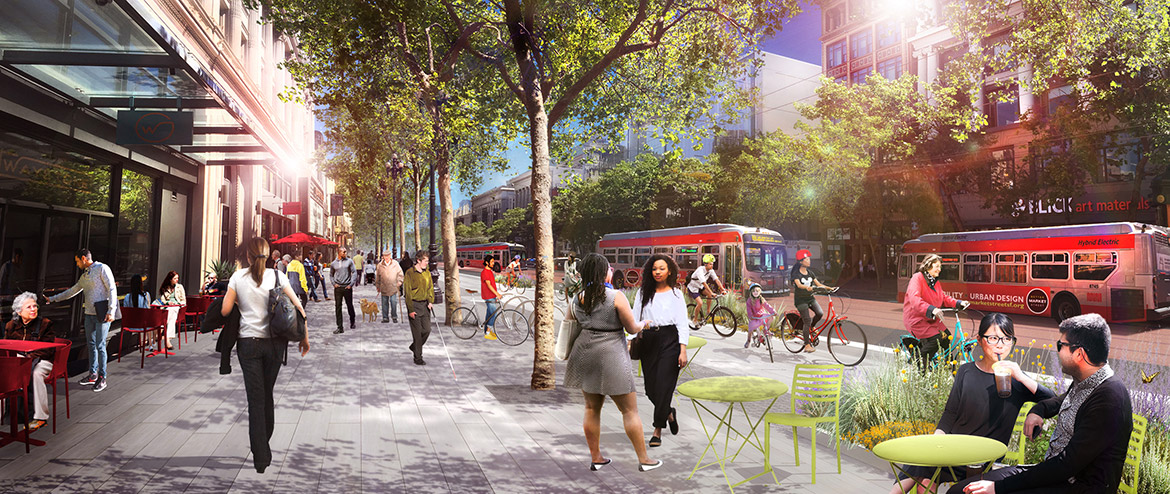 Note: GJEL Accident Attorneys regularly sponsors coverage on Streetsblog San Francisco and Streetsblog California. Unless noted in the story, GJEL Accident Attorneys is not consulted for the content or editorial direction of the sponsored content.
There was a time when there were four tracks down the center of Market Street, with streetcars, horse carts, bicycles, and pedestrians all vying for space on the wide boulevard, said Simon Bertrang, Project Manager at San Francisco Public Works. He was giving a presentation about San Francisco's Better Market Street plan Saturday at the UC Hastings School of Law. On Market Street, one could hear the "'roar of the four' streetcar lines."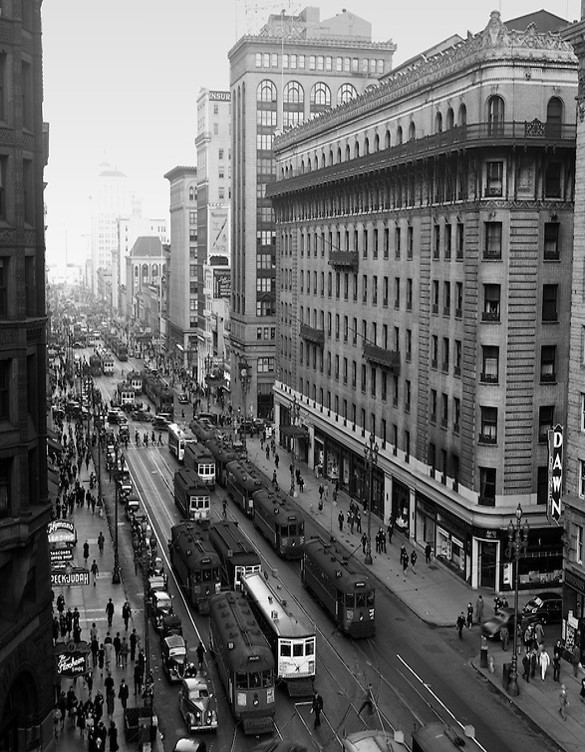 "But then after the war, it was turned into a street for automobiles," he added. Bertrang provided this background for the 65-some people who came to learn about San Francisco's plans for the biggest makeover of its iconic main boulevard in four decades.
The last time Market Street saw such change was when BART opened. "The vision was for the transportation to be underground... and sidewalks were dramatically widened in the 1970s, which is when the red-brick sidewalk and granite curbs went in," said Bertrang.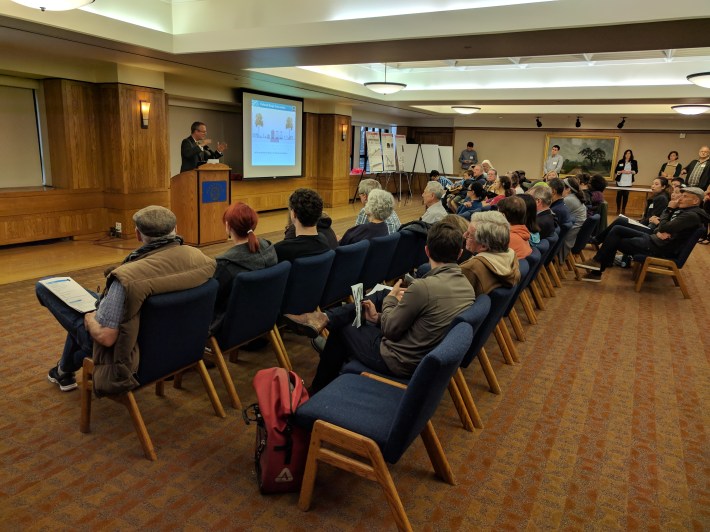 In the 1980s, Muni started running underground as well, but then investment stopped--even as the needs of San Francisco continued to evolve. Today, one in ten Muni riders passes through a Market Street stop, and there are hundreds of thousands of pedestrians and thousands of bikes.
There are also big problems.
"There are safety challenges. Transit stops are not compliant with the Americans with Disabilities Act (ADA), and infrastructure is aging," said Bertrang. "Better Market Street will deliver transformative transportation, streetscape, and safety improvements along 2.2 miles of Market Street between Octavia Boulevard and the Embarcadero."
One of the biggest changes coming is the creation of a sidewalk-level protected bike lane. "We want to create a safe walking space, so there will be a buffer--an area for furniture, benches--with a detectable walking strip where there isn't a physical obstruction," he said. The plan will try to clearly and definitively define the walking space and bike space to avoid conflicts (see lead rendering and cross-section below).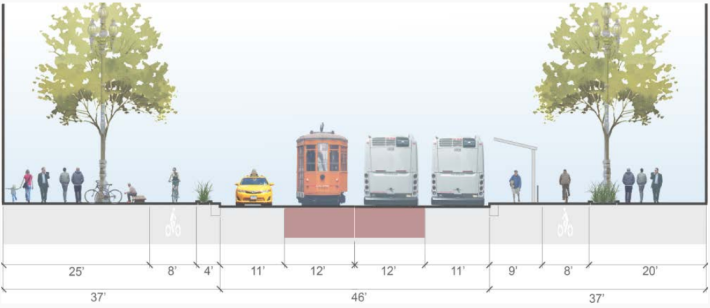 And, as reported previously, private cars will be banned--the road space will be reserved for transit, para-transit, commercial vehicles and taxis. Overhead wires will be replaced and bus stops will be re-arranged.
After Bertrang's presentation, the audience went to different information stations, each with maps and renderings, with staff from the relevant city agencies to explain bike design, transit changes, loading, safety, urban design, and enhancement of public life on the street.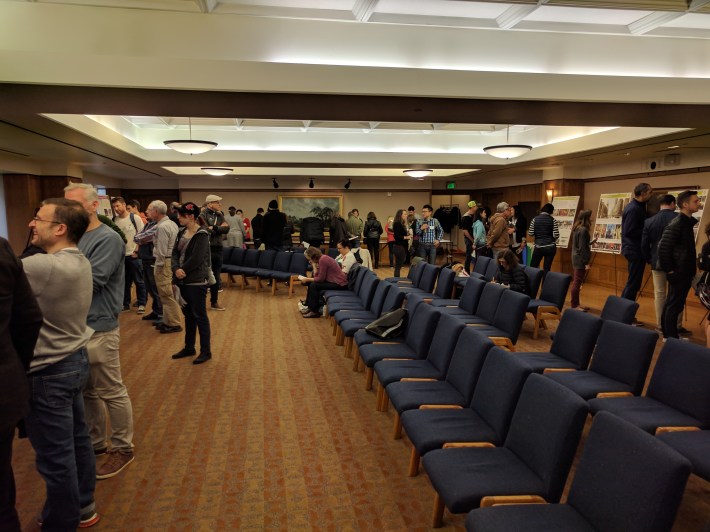 Loading will also be profoundly different in the new design.
The city will create loading zones, also at sidewalk level. Trucks and paratransit vehicles will mount the curb, cross completely over the bike lane, and then load in a designated area to the right of the bike space. The sidewalk and bike lane will bulb out a bit to make extra space for cyclists to get around the loading area. These areas will have a rolled curb; the loading zones on Market Street won't get the usual 90-degree curb seen in most American cities. That will permit cars and trucks to slowly get up to sidewalk level and reach the loading zone, which will be designed to "make it clear that the area is for loading," said Ophelia Lau, a street and highways engineer with SF Public Works, who tended one of the information stations at the open house. "Trees and the path of gold lights will delineate the bike area."
Another big change: the red brick is going. Lawrence Cuevas with SF Public Works explained that the bricks have a bumpiness to them that causes problems for the disabled. Instead, they will be replaced with smoother pavers or another material.
Attendees mostly had praise for the designs (nobody Streetsblog spoke with was openly opposed to any of the elements). But a few people had concerns. "Is the bike lane really going to be wide enough?" asked Brad Williford, one of the attendees. He also wanted to see things installed more quickly. "How can we get change today?" he asked, concerned about the high crash rate on Market Street. "We shouldn't allow injuries to continue for another decade."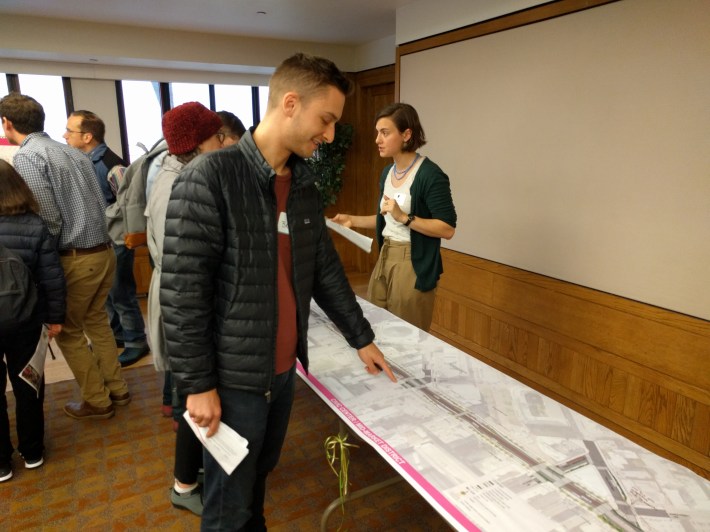 "I'm here to counter people who don't like change," said Jean Kao, a longtime SF Bicycle Coalition member and volunteer. "I'd hate to see it watered down...and I want to see these changes before I die!"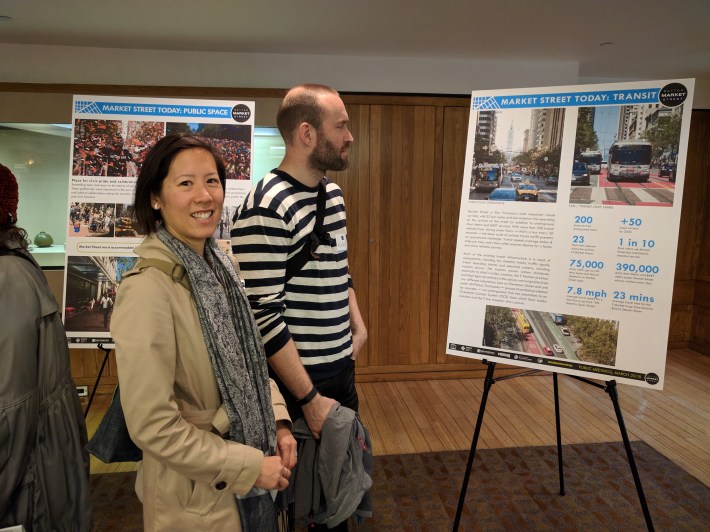 The first shovels won't start turning for phase 1 until the summer of 2020, and that's just for the section between 6th and 8th streets. Ultimately, the whole project will cost around $500 million, because it involves replacing and updating all the utilities and infrastructure above and below the street. Bertrang said the strategy is to get the legally required environmental documents completed so the agency can start looking at interim steps, such as more paint and safe hit posts and, maybe, even a pilot section of sidewalk-level bike lane. "We want to see what we can do immediately, but [environmental] clearance is the key."
Want to get involved? Give your input online or attend the next Better Market Street meeting, Wednesday, March 14, 6-8 p.m., UC Hastings School of Law, Louis B. Mayer Lounge, 198 McAllister Street, S.F.
Stay in touch
Sign up for our free newsletter