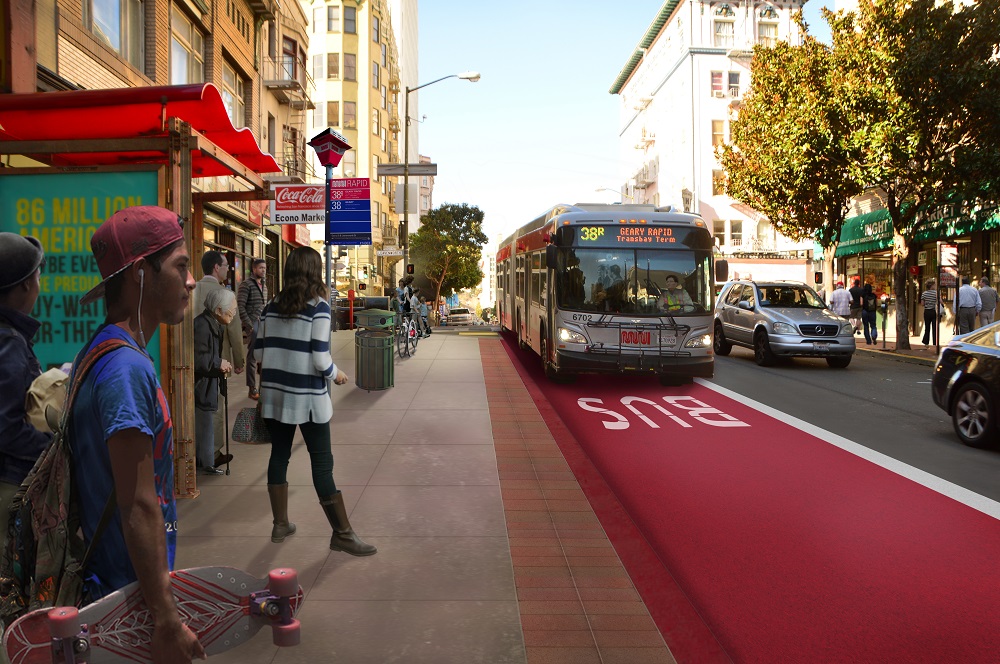 Note: Metropolitan Shuttle, a leader in bus shuttle rentals, regularly sponsors coverage on Streetsblog San Francisco and Streetsblog Los Angeles. Unless noted in the story, Metropolitan Shuttle is not consulted for the content or editorial direction of the sponsored content.
The 38 Geary bus carries 54,000 customers daily, which is "more than some successful transit systems in other parts of the country," explained Liz Brisson, Project Manager, Transportation Planning at SFMTA, during a presentation and update on SFMTA's plans to improve transit service on Geary. Brisson was talking to a group of about 20 transit advocates at last night's meeting of the San Francisco Transit Riders.
The $35 million Geary Rapid project is an outgrowth of SFMTA's long-planned--and long-delayed--Geary Bus Rapid Transit project. It's now split (and re-branded) into two parts. The "Geary Rapid" will bring significant transit and street improvements from Market Street to Stanyan and should start construction by the end of the year. The second part, west of Stanyan, will come later and will have "true Bus Rapid Transit" features, such as center-running bus lanes.
Part of the reason SFMTA is addressing the section of Geary east of Stanyan first is because of its especially dangerous design. "You are eight times more likely to be hit by a car on Geary than the citywide average," explained Brisson. "This dates back to the expressway design from the 1950s, with 'superblocks' of four lanes in each direction." This section is also cheaper to implement and the agency has (or will soon have) the funds in-hand to do it. "Given the huge amount of ridership, and huge amount of safety needs, we get the benefits sooner," she said.
The 38 Geary is probably best-known for its notorious overcrowding, bunching, and delays--problems the agency is trying to remedy with this project. Some of these improvements have already started. "There are things we've been doing incrementally, such as adding a new low-floor bus fleet," said Brisson. The new buses load more quickly, which reduces dwell time.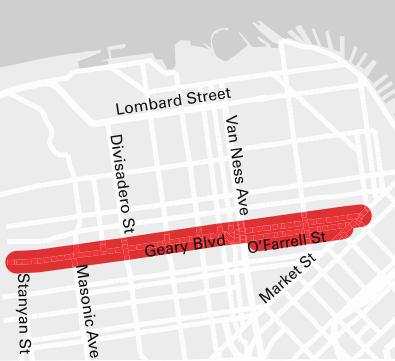 "In April of 2015, we implemented a major service increase; we added more afternoon rush hour service and new Sunday rapid service," she explained. "And the transit-only lanes east of Gough were painted red."
There have also been safety improvements to intersections, such as "daylighting," which means restricting parking on the corners to improve visibility. They've also added better crosswalks.
Moving forward, SFMTA will be adding more dedicated bus-only lanes, bus bulbs, pedestrian bulbs, median improvements, and traffic signal upgrades, as diagrammed below: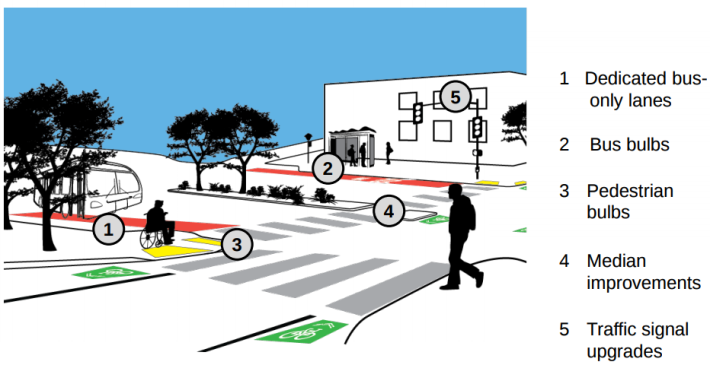 Having bus bulbs (meaning extending the area of the sidewalk with the bus stop into the street and out to the transit lane) means that buses won't have to struggle to get to the curb or fight their way back into traffic after loading. This is a big part of making bus service more reliable. That's already working "in locations where we already have transit bulbs, such as between Kearny and Grant," she explained, adding that those will be lengthened so more than one bus can pick up passengers at a time. In addition to reducing stop times, it also makes for a far more comfortable ride "...if you're sitting on the bus because you don't have the lateral movements."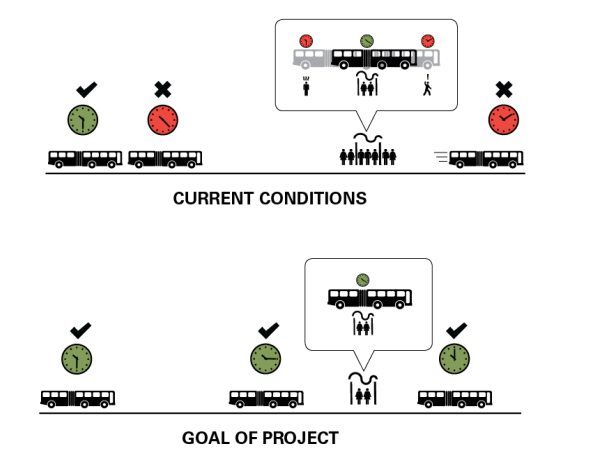 These improvements, plus better signal timing and prioritizing, will shave about five minutes off of trips. But more importantly, explained Brisson, it will increase reliability. That means better control over headways and reduced bunching, as seen in the chart above. "On a line like Geary where we run buses two minutes apart during peak, it doesn't take much for buses to bunch up," she said. "All it takes is a bus missing that green light, or a bus taking a little longer to board...next thing you know you're waiting in that gap for an extra five minutes or so and that effects your transit experience and effects if you'll be a repeat customer of Muni."
The project will include significant upgrades for pedestrians, as seen in the renderings below. Perhaps the most significant part of the design will be fixing the 1950s freeway-inspired portions of central Geary.
"We're proposing one bus-only lane in each direction and two travel lanes, and that will match the capacity of the travel lanes further west and east," said Brisson. "We hope that will calm traffic and make it easier for people walking to cross the street."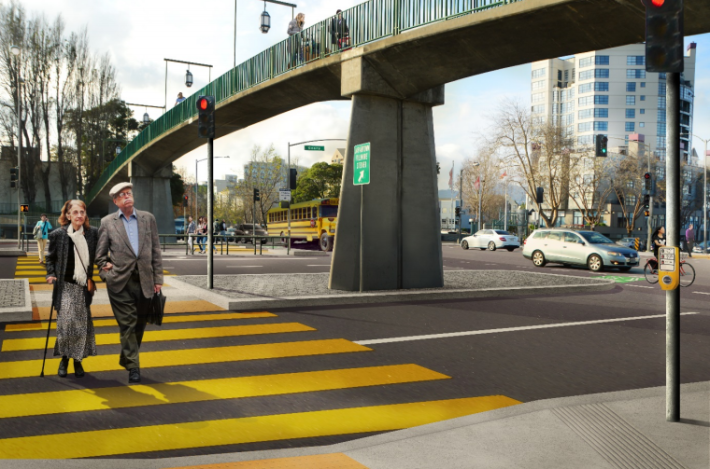 They're also going to work directly to make it easier and safer to cross the street. Japantown wanted to keep the aerial crossing at Webster, but SFMTA intends to complement it with a signalized pedestrian crossing at street level, as seen in the rendering above. At Steiner the pedestrian aerial crossing will be removed, in favor of much improved street-level crossings (on both sides of Steiner), including refuge islands as seen in the rendering below.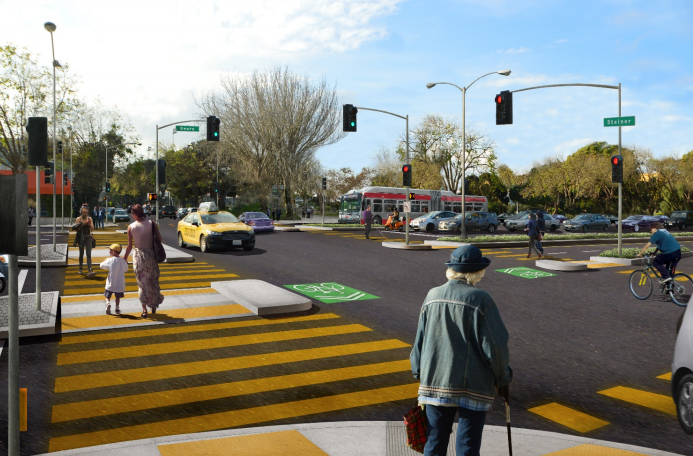 Members of the San Francisco Transit Riders who watched the presentation had no shortage of questions.
Thea Selby, chair of the group, wanted to know if SFMTA will work to reduce inbound overcrowding at the Laguna stop. "Those people are literally watching bus after bus after bus go by with no room to board," she said.
Brisson said Laguna is the "maximum load point," meaning the stop where the most people have clamored onto the bus and nobody has yet gotten off. "The package of improvements should help address the problems."
Another audience member wanted to know if there are plans for more pre-paid boarding, such as ticket vending machines at the bus stops. Brisson said with electronic ticketing, such as Clipper, that's becoming less important. Furthermore, she said it was decided that having different fare systems (pre-paid on one transit line, not on an another), could cause its own problems: "We want a type of fare payment that's legible across the system."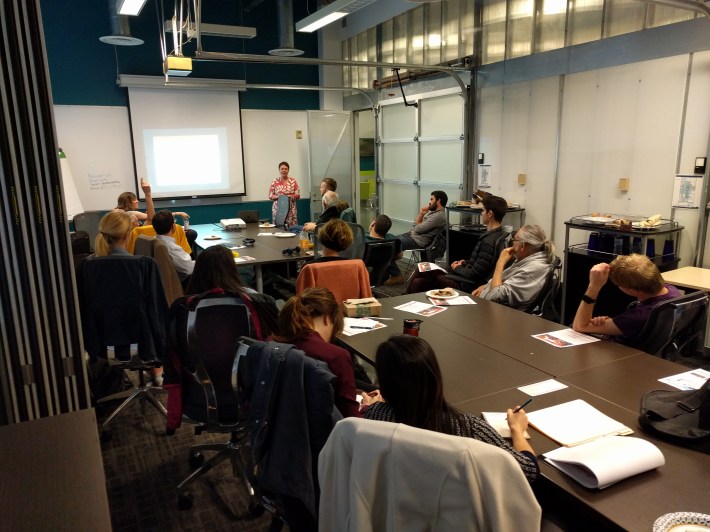 Streetsblog suggested the pedestrian refuge islands could be more robust by having a bulky concrete bollard to physically stop an inattentive or reckless motorist from endangering people by making fast, lazy turns across the crosswalk. Brisson said they are doing a lot, most notably lane reductions, to make sure "people don't treat it like a speedway."
She also said it's a good thing to have advocacy groups to push for even better and safer designs.
For a list of upcoming public meetings, to learn more about the project, or to make your own comments, check out the SFMTA's Geary Rapid page.
Stay in touch
Sign up for our free newsletter