BART
Editorial: Impressions of BART's New Line to Antioch
5:31 PM PDT on June 5, 2018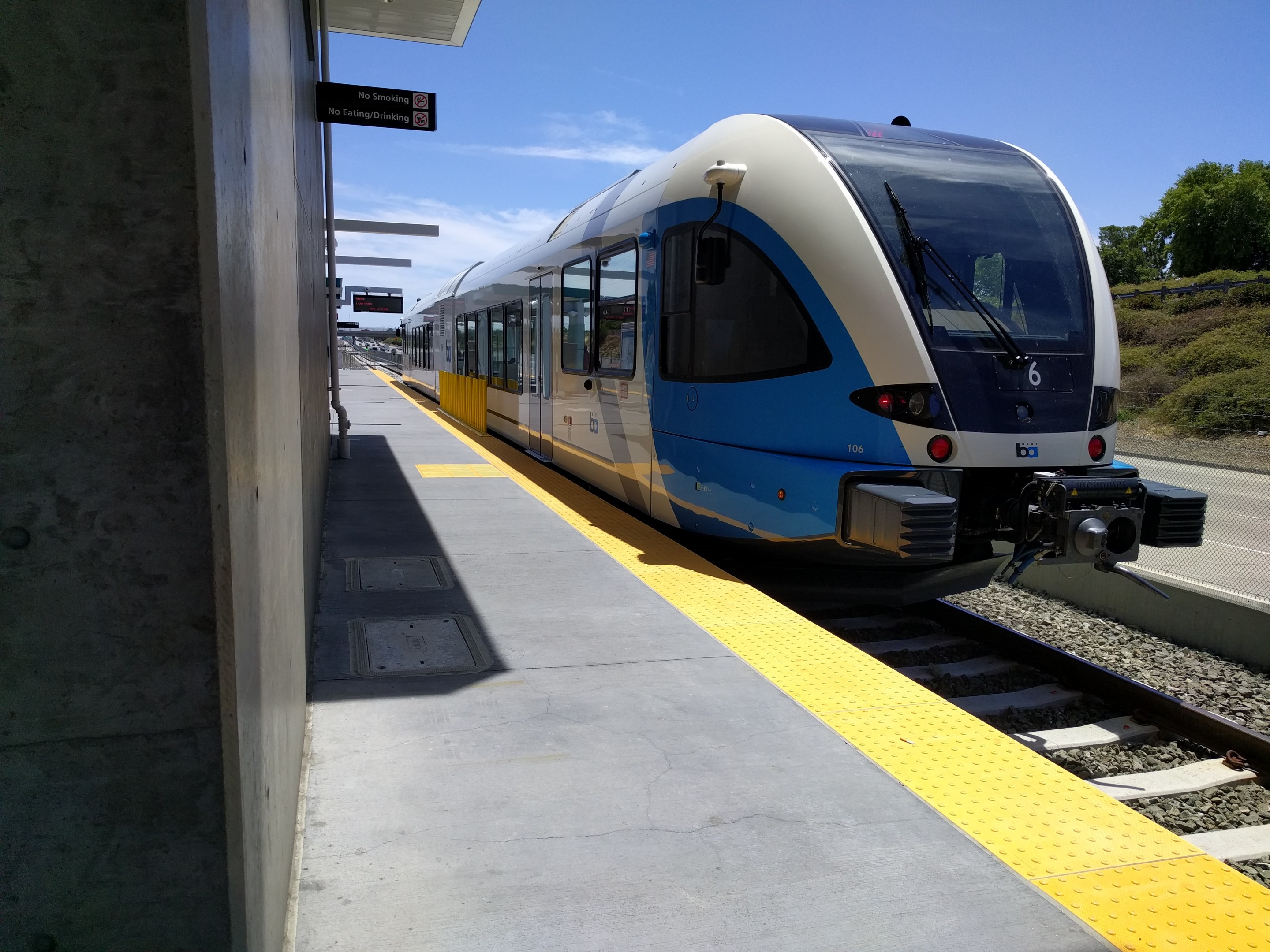 Note: Metropolitan Shuttle, a leader in bus shuttle rentals, regularly sponsors coverage on Streetsblog San Francisco and Streetsblog Los Angeles. Unless noted in the story, Metropolitan Shuttle is not consulted for the content or editorial direction of the sponsored content.
A little over a week ago, BART held a community ribbon-cutting celebration for its new ten-mile, two-station extension from the end of the Pittsburg/Bay Point line to Antioch. Unfortunately, they provided no service to the ribbon-cutting celebration, so it took a little while for Streetsblog to try it out.
And that was, perhaps, symbolic of everything about this line. Don't drive a car? Sorry bud, but this train isn't for you.
[CORRECTION/Update: Apparently there was a bus shuttle to the celebration, which BART mentioned in a tweet. The official press release, however, only said there would be no BART service to the event]
Yes, there are other BART stations in the centers of freeways, but these new stations are particularly bad--there's no buffer, height difference, or sound walls between the platform and the station, just a chain link fence. The roar of traffic is incredible and absolutely withering if you have a long wait for a train.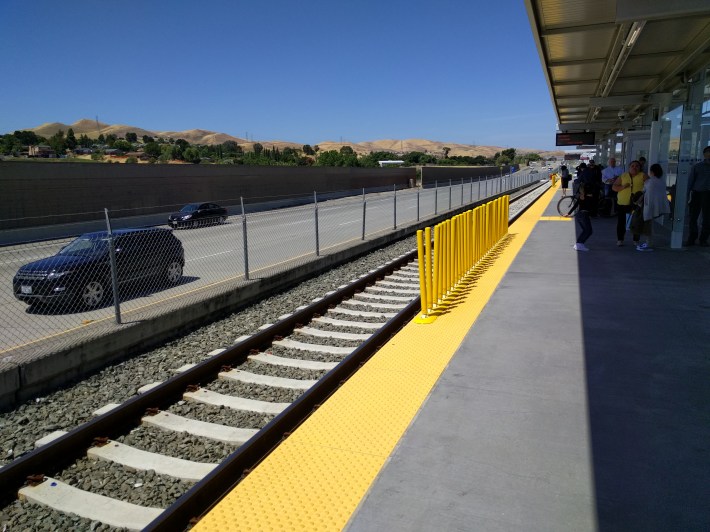 The transfer station between the old BART and the new is, well, weird. It isn't at the Pittsburg/Bay Point station--it's at an entirely new transfer-only station just to the east. Technically, it's a third new station on the line, except that there is no way in or out for passengers, except by emergency exit. Want to get a coffee before you make your connection from BART to the new eBART? No can do. Need to pee after traveling two hours from, say, San Bruno to your transfer point at Pittsburgh? No restrooms. And none on the trains either.
The new diesel-powered light rail trains themselves are nice enough: quiet and smooth, with decent acceleration. There was a conspicuous absence of bike storage--bikes are permitted in the train, but the only obvious place to store one is in the wheelchair area.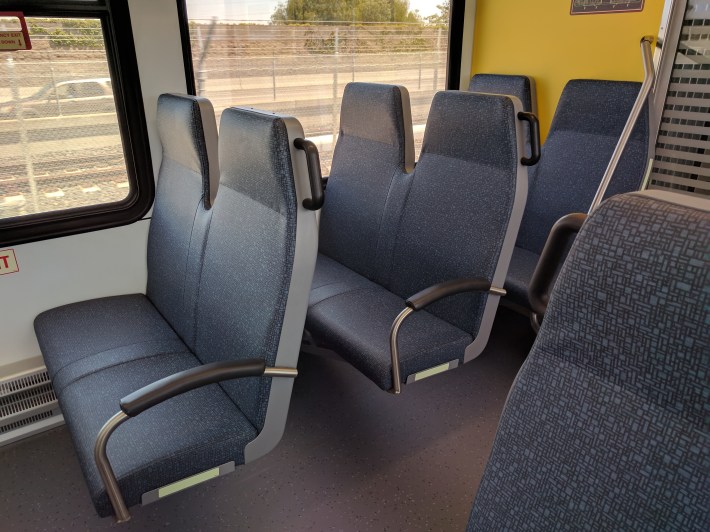 Fortunately, there were only about fifteen or twenty people on the train, and no wheelchairs, so that wasn't a problem this time.
What about the station areas, once you climb out of the freeway station pits? My expectations for East Contra Costa urban planning, bike infra, and walkability were not high, and I got pretty much what I expected. I explored around the Pittsburg Center station, because, well, it's supposed to be a center.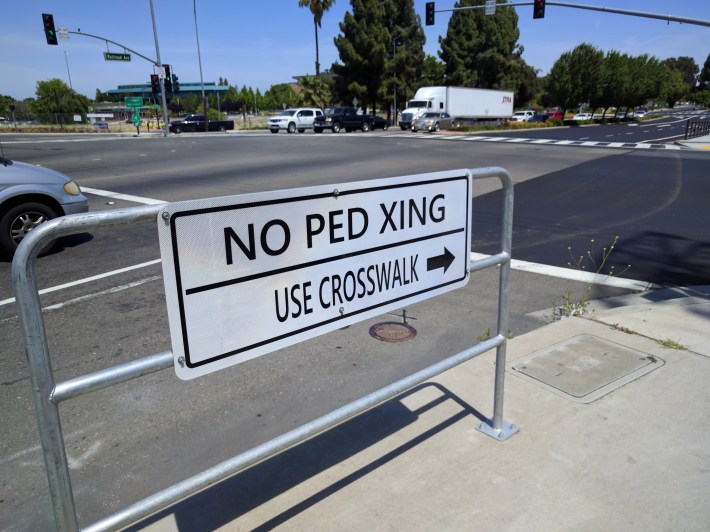 That sign, above, is on Railroad Avenue and it's pretty much the first thing one sees upon emerging from the Pittsburg Center station, which, it turns out, is a mile from the actual center of town.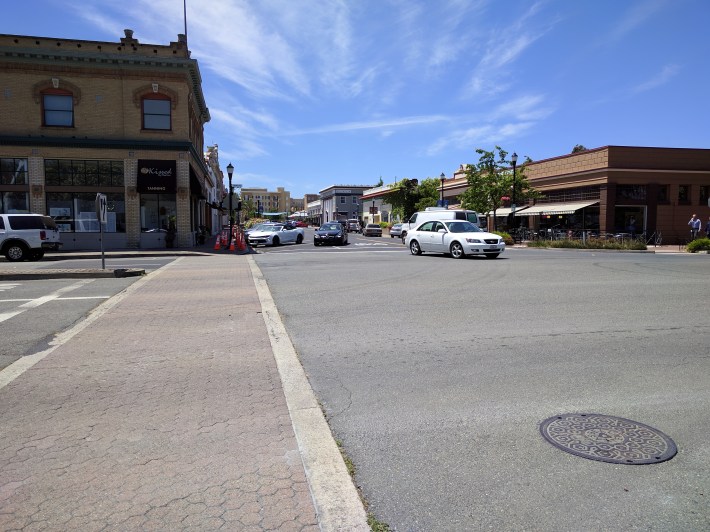 Downtown Pittsburg is quite charming, once you get there. And that's not surprising, as it is an old railroad-stop town. You have to cross two sets of railroad tracks to get there from BART. One appears to be lightly used by freight trains. The other is used by freight and Amtrak (a San Joaquin train blew by while I was there), although no trains stop anymore.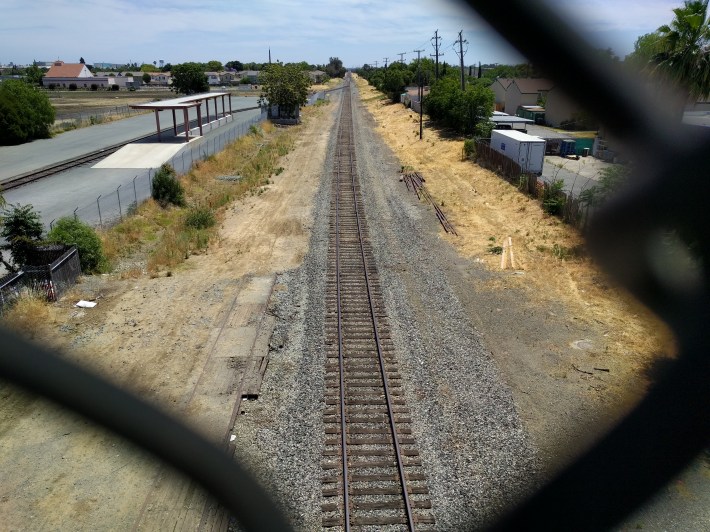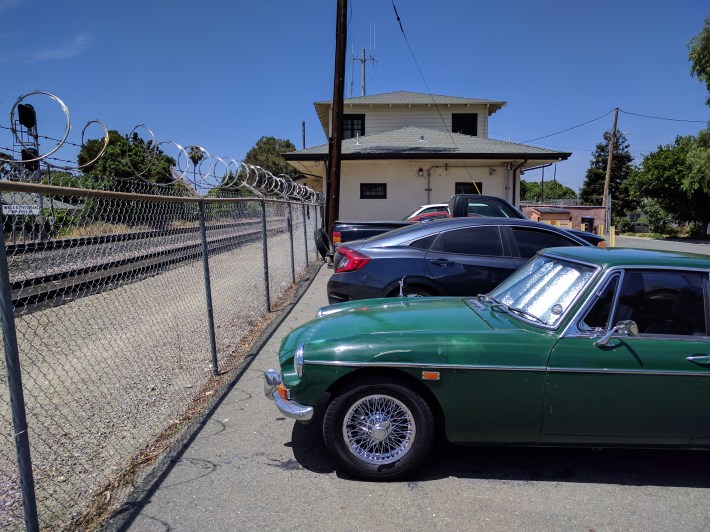 There's also the remains of an old train station.
It turns out BART originally favored using the old tracks for what would become eBART, but apparently negotiations with Union Pacific, which owns the rights of way, broke down in 2007. BART blamed Union Pacific. [UPDATED 6/7] But it should be noted that Marin and Sonoma run freights and the SMART train on the same tracks. And Denver's transit agency worked out accommodations with Union Pacific to get its transit service underway.
BART opted to use diesel-powered light rail for the extension, which cost $525 million and was sixty percent less expensive than conventional BART, since there's no third-rail electrification--it's also not the same gauge and can't share tracks with the rest of the BART system (thus the forced transfer). The extension was ultimately built as part of a billion-dollar widening of State Route 4, with the tracks added to the median of the freeway. Contrast that with Marin's SMART train, a diesel-powered multiple unit train that is technically similar, albeit wider: that cost about $400 million to get into service, and it's over forty miles long (albeit with less frequent service and single-track segments). SMART also has spaces for bikes, by the way.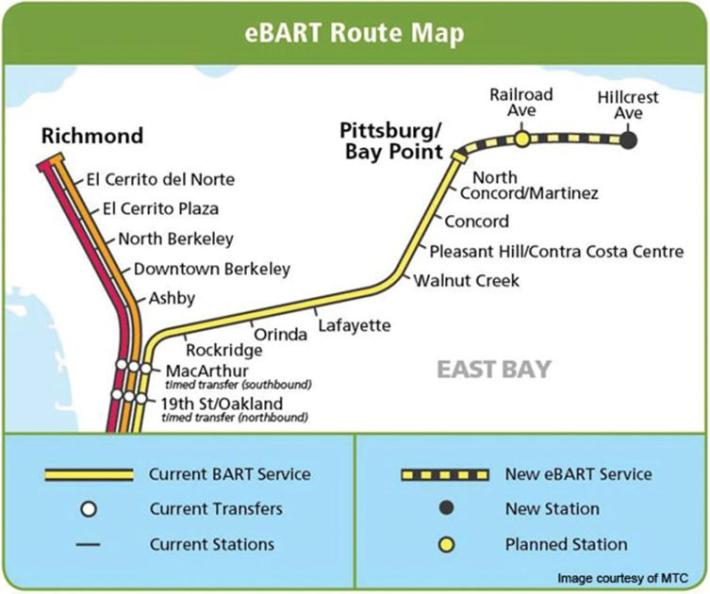 It seems as if eBART started out as an idea consistent with the concept of European-style Regional Rail--get the branch lines onto existing ROWs, where they can be extended out into far-flung suburbs for less money than it would cost to create a whole new alignment. But when the agency gave up on its negotiations with Union Pacific, eBART became little more than a coat of greenwash for a freeway widening project. Actually, that's basically how the project was sold, with BART proclaiming that it will carry "...as many people as an additional lane on Highway 4."
But a freeway widening, even if you wedge a train into it, doesn't solve traffic tie-ups. Even in cities with truly comprehensive transit systems, traffic is miserable. Try renting a car and driving around New York, Paris, or Tokyo. Trains provide an alternative to traffic, not a solution to it.
Fortunately, BART recently managed to avoid yet another wasteful freeway widening extension when the proposed Livermore extension got voted down by a more savvy board (although it seems to be resurfacing, again with a plan that still bypasses downtown Livermore). Let's hope today's elections in San Francisco and elsewhere bring in even more politicians who understand sound transit planning.
Because transit, even in the suburbs, actually has to take people places besides freeway medians, or it's not worth building them in the first place.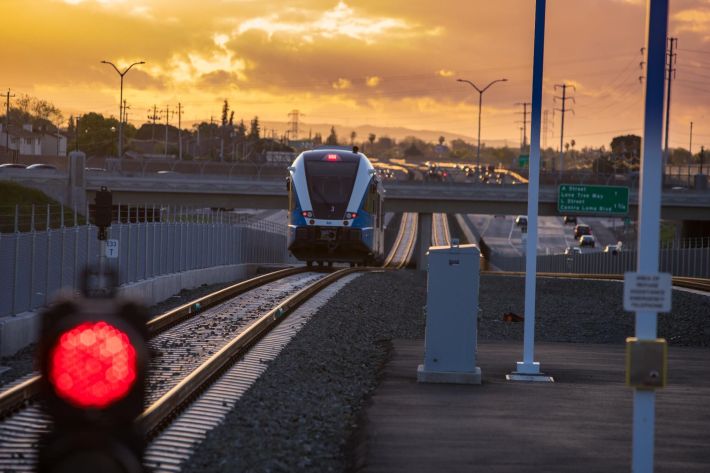 Stay in touch
Sign up for our free newsletter