Bicycling
Ford GoBike 'Bike Angels' Program and an Update on E-Bikes
4:49 PM PDT on June 11, 2018
Note: GJEL Accident Attorneys regularly sponsors coverage on Streetsblog San Francisco and Streetsblog California. Unless noted in the story, GJEL Accident Attorneys is not consulted for the content or editorial direction of the sponsored content.
In San Francisco, putting a bike share station at the top of a hill has predictable results. People are happy to rent one and roll on down the hill. Going the other direction, not so much. That results in empty bike share stations. "The topography challenge is very real," said Collin Waldoch, who manages the 'Bike Angels' program for the Bay Area and New York's bike share program.
Ford GoBikes launched the Bike Angels program in the Bay Area last month. It offers points towards bike rentals and membership extensions for riding bikes to stations that need bikes. Included in the Ford GoBike app (it has to be the latest version) is the option to participate in the program. The app will then show how many points, if any, a rider can earn from bringing a bike from or to particular stations, to help re-balance the system. If the system needs people to remove bikes from a station, the app will show that station with a black oval with an upward arrow. If it needs more bikes at a station, it will show a white oval with a downward arrow, as explained on the GoBike web page.
"During the initial two-week soft launch of Bike Angels starting on May 1st, 300 Ford GoBike members joined the program, completing over 1,800 point-earning trips, and receiving 52 month-long membership extensions," wrote Jean Walsh, a Ford GoBike spokeswoman, in an email to Streetsblog. "With the full launch...more than 750 additional members joined. The program is really taking off!"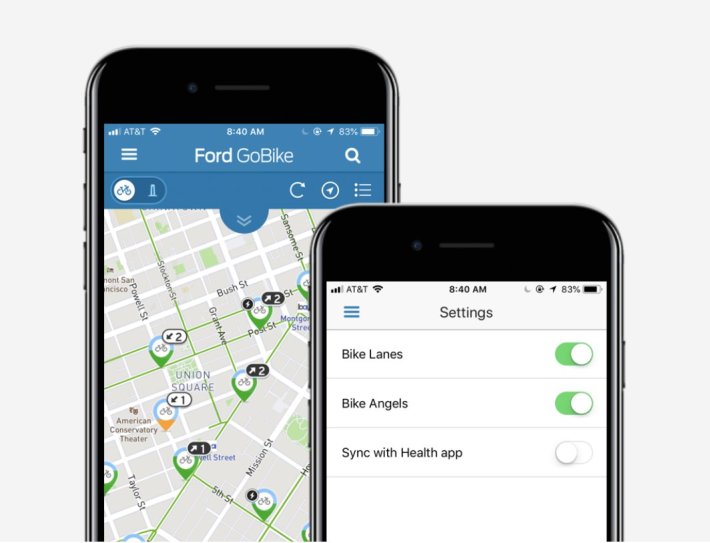 That said, balancing stations at the tops of hills aren't, actually, the biggest problem overall, certainly in New York, where the Bike Angel system has been in operation for about a year. "Transit hubs are probably the number one--and the most predictable," said Waldoch. In the Bay Area, BART stations with GoBikes predictable empty out after the evening rush our. But the Bike Angeles program is helping to address that. "We see people who are wiling to commute a bit earlier... or get off one stop earlier" to earn points, even if they have to walk a bit farther to get or drop off a bike, he added.
Waldoch said the incentive program isn't a "silver bullet," but it's been effective both in New York and the Bay Area at reducing the need to re-balance with trucks. "It's the equivalent of hundreds of truck trips."
More on Hills and Electric Assist Bikes
When it comes to hills, there are additional ways to deal with balancing. One is electric pedal assist bikes--e-bikes for short--that have a battery and an electric motor to help smooth out the hills, reducing that one-way effect. That was part of the incentive to for Ford GoBike to launch its 'Plus' e-bike program in the Bay Area in April, when it added 250 e-bikes to the existing bike share system.
Unfortunately, Streetsblog has learned that there may be some teething problems. While feedback has been generally good, Streetsblog tipster Zach Lipton wrote that "lately I noticed they're few and far between in SF. I just did a quick experiment and poked at their data feed, and there's a grand total of 25 pedal assist bikes available for use [last week], when they said they started with 250 on the streets a month and a half ago."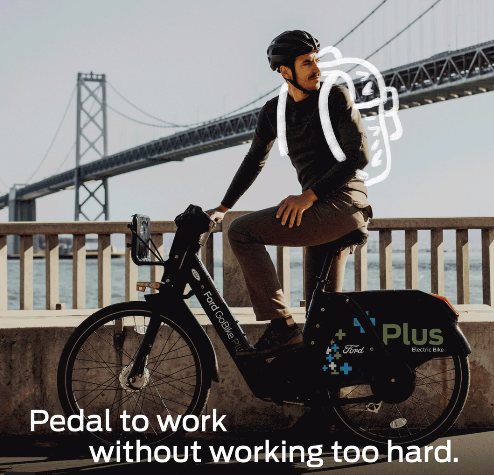 Even during the launch ride, Streetsblog noticed a couple of riders having problems with uncharged bikes. "They haven't been the most reliable (I've had one flat and one where the pedal assist randomly died, and it turns out they're really obnoxiously heavy bikes without the motor), so I'm not sure if a lot are out for maintenance," wrote Lipton. [He updated his information this afternoon, and found there were only 13 e-bikes available]. "That seems to match with what's displayed on the public map (https://member.fordgobike.com/map/), and half of those are at one station at 15th and Sanchez at the moment," Lipton wrote.
Streetsblog has a request in with Motivate and will update this post with more details about what's going on with the electric-assist fleet, which are made by Silicon-Valley based GenZe. Walsh already confirmed that, at least anecdotally, she's heard there are shortages.
Maybe the bikes are just fed up with climbing hills and are going on strike? If Streetsblog readers have had similar experiences finding electric-assist bikes, Ford GoBike or its competitor, Jump, be sure to comment below. Also, let us know if you're participating in the Bike Angels program and what you think of it.
Stay in touch
Sign up for our free newsletter