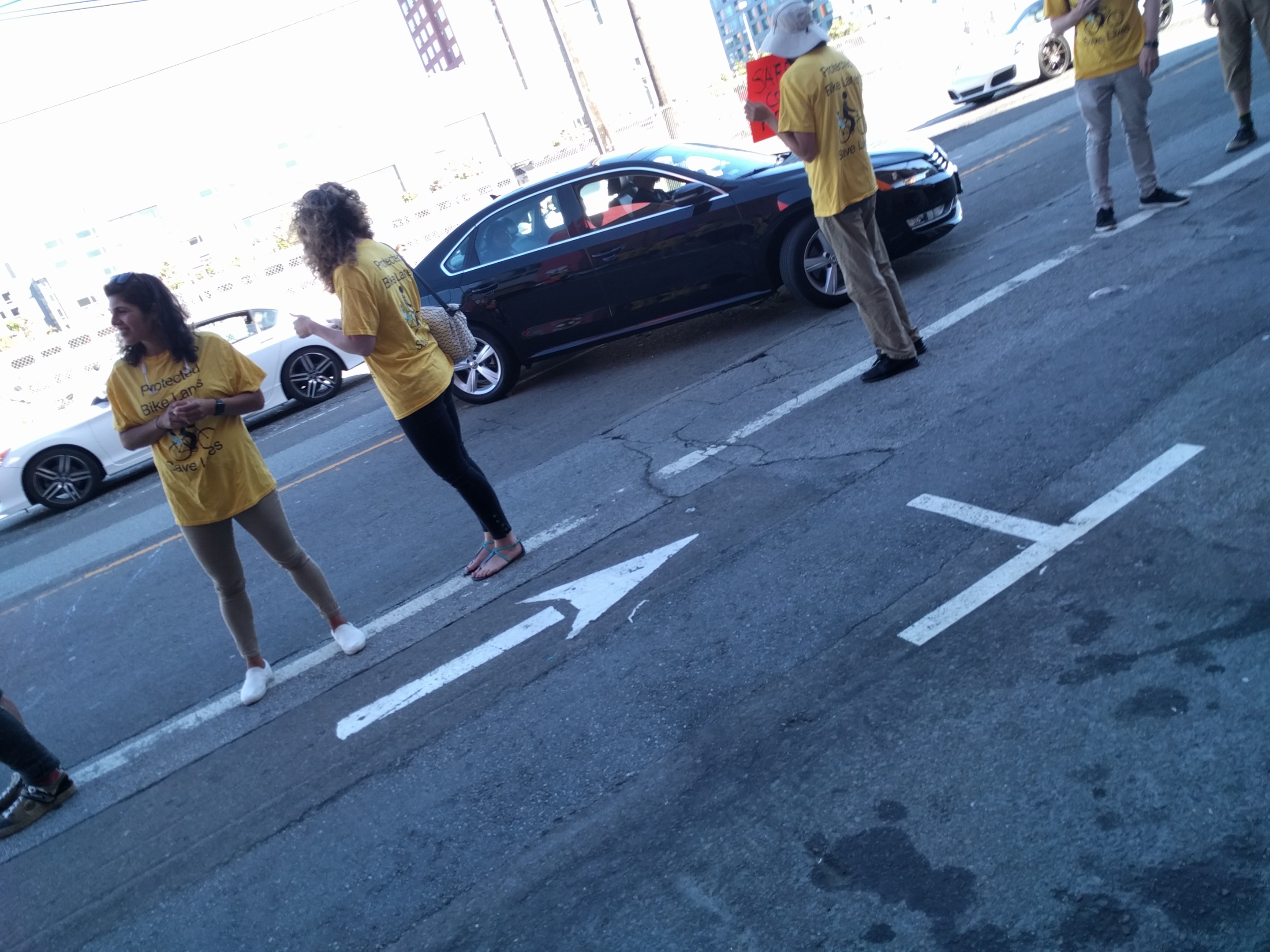 Note: Metropolitan Shuttle, a leader in bus shuttle rentals, regularly sponsors coverage on Streetsblog San Francisco and Streetsblog Los Angeles. Unless noted in the story, Metropolitan Shuttle is not consulted for the content or editorial direction of the sponsored content.
Roughly seventy safety advocates donned yellow t-shirts and stood on the edge of the bike lanes along Townsend Street at the King Street Station yesterday evening to demand safety upgrades. The protest was put together in direct response to news that SFMTA has decided to cancel, or at least significantly postpone, a long-planned project to add sidewalks, bus boarding islands, and protected bike lanes on this busy, dangerous section of street (the agency has since updated their project page to spin it as a "responsible and efficient use of public funds.")
Safety advocate Kyle Grochmal wrote a great Medium post, going into the history and details of the safety plan and why it was cancelled. Put simply, the SFMTA quashed it because of rising costs and the complexities of working around the DTX project--a plan to extend Caltrain service into the soon-to-open Transbay Transit Center. But the move left advocates, including those at the San Francisco Bicycle Coalition, furious about a perceived lack of imagination and/or urgency to make Townsend safe for all users.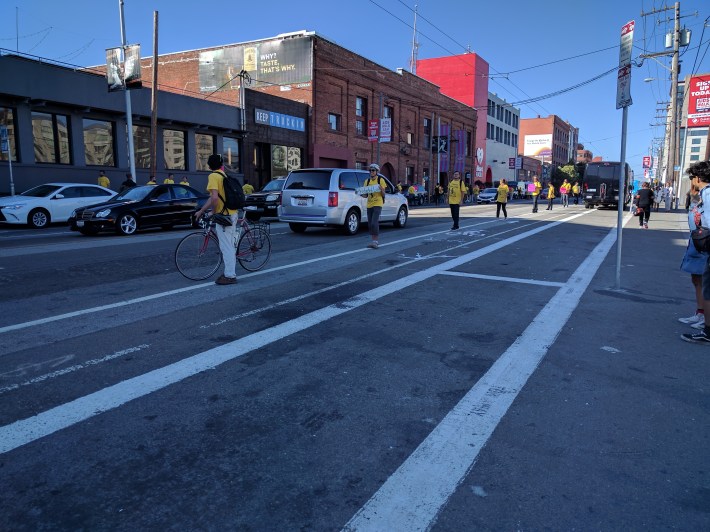 "Waiting for the DTX is just not realistic," said an official from City Hall who was at the protest but asked not to be identified. The official said the SFMTA needs to work with the Caltrain Board to find a solution. "Townsend is part of my everyday commute. It's really chaotic, with lots of buses and cabs and Ubers--I don't think it's right to wait," said Scott Feeney, another advocate at the protest.
As Grochmal pointed out in his post, 350 people cycle on Townsend during the weekday peak morning and evening hours on Townsend--more than on Folsom, where SFMTA recently and quickly installed simple, parking-protected bike lanes. Large groups of cyclists rode Townsend's bike lanes yesterday, most waving and yelling support and gratitude to the protesters. "There are thousands of Caltrain riders who bike," said Cliff Bargar, who represents the SFBC on the Caltrain Bike Advisory Committee and was also at the protest. "But this is an intimidating and stressful street," he added, pointing to the mayhem of buses, cars, and bikes all vying for space.
UPDATE 7/12 SFMTA spokesman Paul Rose has informed Streetsblog that "SFMTA staff will be reviewing potential opportunities for quick and effective near-term safety upgrades before the Downtown Extension Project starts, particularly between 5th and 7th that can be accomplished without overhead trolley bus wire relocation."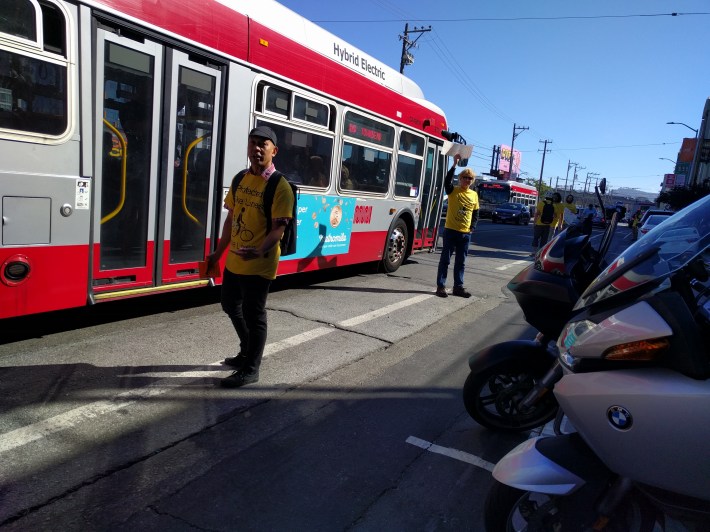 Indeed, Townsend between 4th and 5th during peak periods is possibly the most stressful stretch of street in the whole city, opined many. "Townsend is way worse," said Dan Crosby, who was in a minor crash on his bike on the hairball last year. "It's Ubers, Lyfts, to buses and private drop offs, delivery trucks."
It isn't any better for pedestrians, as Townsend is also one of the few roads in the city that doesn't even have a sidewalk on both sides of the street.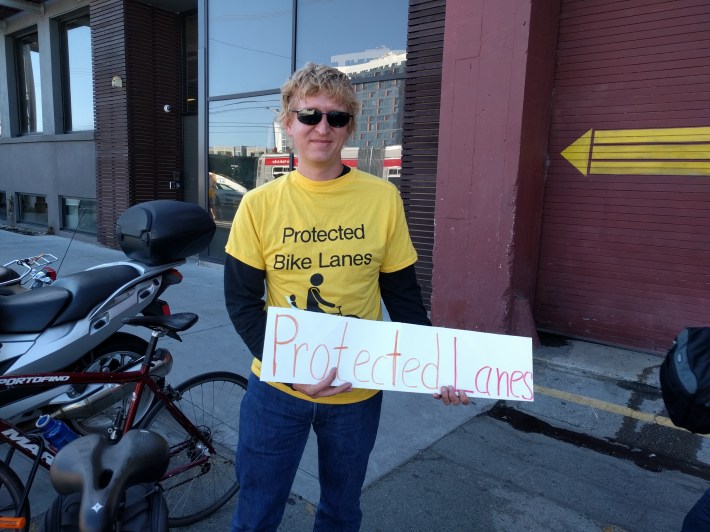 In fact, if one were to intentionally design Townsend to be more stressful and conflict causing than it is currently, it's difficult to imagine how to do so. Past people-protected bike lane protests on Valencia and Market, while sometimes adrenaline-producing, have also been fun, and most motorists slow down, toot their horns, and wave in support. A few drivers did that on Townsend, but there were also quite a few who decided to play chicken with the protesters--many nudged their way into the bike lanes and threatened people with their cars.
One driver even shouted out the window "where am I supposed to drop off my passenger, in the middle of the street!" Protesters tried to explain that they can drop people off around the corner, or in designated drop-off areas, and that the bike lane is still the street and not a loading zone. As with the Valencia protests, some drivers stopped in the motor-vehicle lane to discharge passengers and, since traffic was basically at its normal standstill anyway, those drop-offs seemed to work okay.
But standoffs and conflicts continued throughout the protest, as seen below: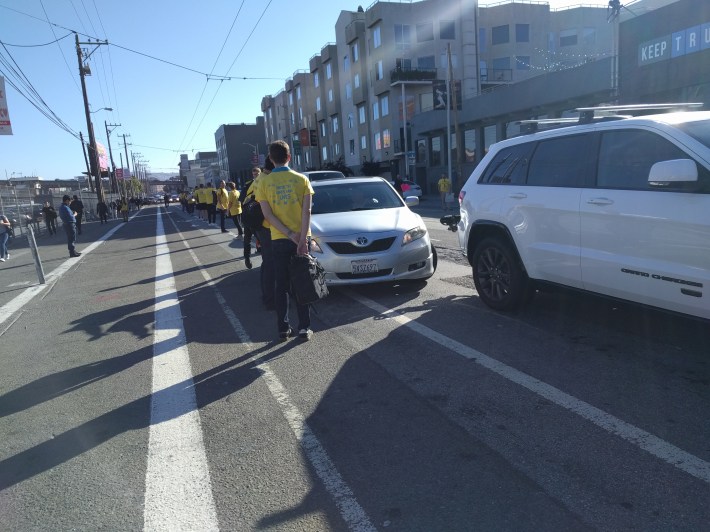 At one point a Lyft driver, attempting to get his car into the bike lane, pushed into advocate Magnus Barber. The motorist then parked and got out of his car and a verbal altercation ensued, which, fortunately, was diffused by San Francisco police, as seen in the embedded video below:
In the end, the Lyft driver and Barber shook hands and everything ended peaceably, but it was symbolic of the conflict-generating nature of the street's current design.
Or, as one protester quipped, "Can one even call this a design?"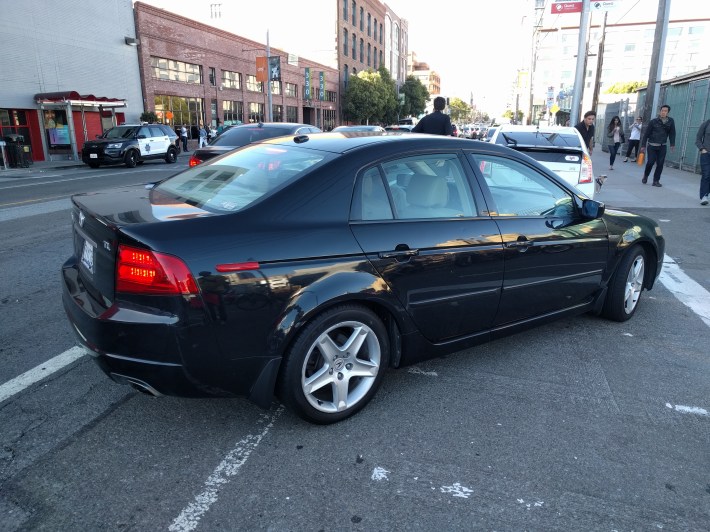 Still, advocates found a little levity, via some dance moves, during the two-hour protest, as this GIF demonstrates:
Meanwhile, the San Francisco Bicycle Coalition is asking people to turn out in force at the next SFMTA Board of Directors meeting at City Hall, Room 400, Tues., July 17, at 1 p.m., to demand the Townsend project be reinstated.
Stay in touch
Sign up for our free newsletter