Note: GJEL Accident Attorneys regularly sponsors coverage on Streetsblog San Francisco and Streetsblog California. Unless noted in the story, GJEL Accident Attorneys is not consulted for the content or editorial direction of the sponsored content.
Telegraph is one of the most dangerous streets in Oakland, and it is on the city's High Injury Network--one of the six percent of streets where sixty percent of serious crashes occur. That's why the City of Oakland is conducting public outreach for repaving, repairs, and a major redesign of Telegraph from 29th street to 52nd. According to the DOT web page, Telegraph upgrades are getting implemented in two phases. The first is from 29th Street to 45th Street, and changes will come between 2020 and 2021.
The improvements will consist of installing crosswalk enhancements, bulb-outs, median refuges, Americans with Disability Act (ADA) compliant curb ramps, Rectangular Rapid Flashing Beacons (RRFBs) and a lane reduction (road diet) with bicycle lanes. The intersection and signal at Telegraph / Shattuck / 45th Streets will be modified to improve pedestrian safety and repair any damaged pavement in the bicycle lane within the project area.
From 42nd Street to 52nd Street, the city is still working out street designs. And yes, there's a portion of overlap on the two projects, from 42 to 45th, which the city says will be repaved next year and will receive the road diet, bicycle lanes, and high visibility crosswalks
What exactly will those crosswalks look like? The designs could take inspiration from the one Oakland recently installed on Harrison:
But the big question mark is what kind of bike lanes it will have--protected, or unprotected but buffered. "Oakland is paving Telegraph from W. MacArthur to 52nd St in 2019, which is a great opportunity to finally add bike, walk, and transit upgrades at the same time," wrote Robert Prinz, Education Director for Bike East Bay, in a post on social media. "However, there are some folks pushing back, who would rather see the status quo remain, regardless of the number of injuries and fatalities there have been in the past due to dangerous driving."
According to the city, a good chunk of the upgrades, from north of KONO to the start of Temescal, will consist of unprotected but buffered bike lanes. For example, "We will be implementing existing approved plans to install a road diet and buffered bike lanes from MacArthur to 42nd," confirmed Oakland DOT's Nicole Ferrara in an email to Streetsblog.
Why not protected all the way? Isn't that supposed to be the new standard on anything but the quietest residential streets? As usual, it comes down to bureaucracy, politics, and which agency approved planning of what section of bike lane when. In the case of MacArthur to 42nd, it appears to be because there's an opportunity to pave the street, and there's an approved plan for buffered bike lanes on the shelf. But there's also pushback involved, as Prinz suggests, resulting from reactions to Oakland's first-ever protected bike lane, to the south on Telegraph, in the KONO District.
That project, approved in 2014, eliminated a motor-vehicle lane in each direction and put the bike lane between the curb and parked cars. But it had problems--the confusing design had plenty of motorists still parking against the curb, blocking the entire lane, as seen here in March of 2017. (But, to an extent, how can one blame them, when the meters are still on the far side of the bike lane, and signs are few and far between?)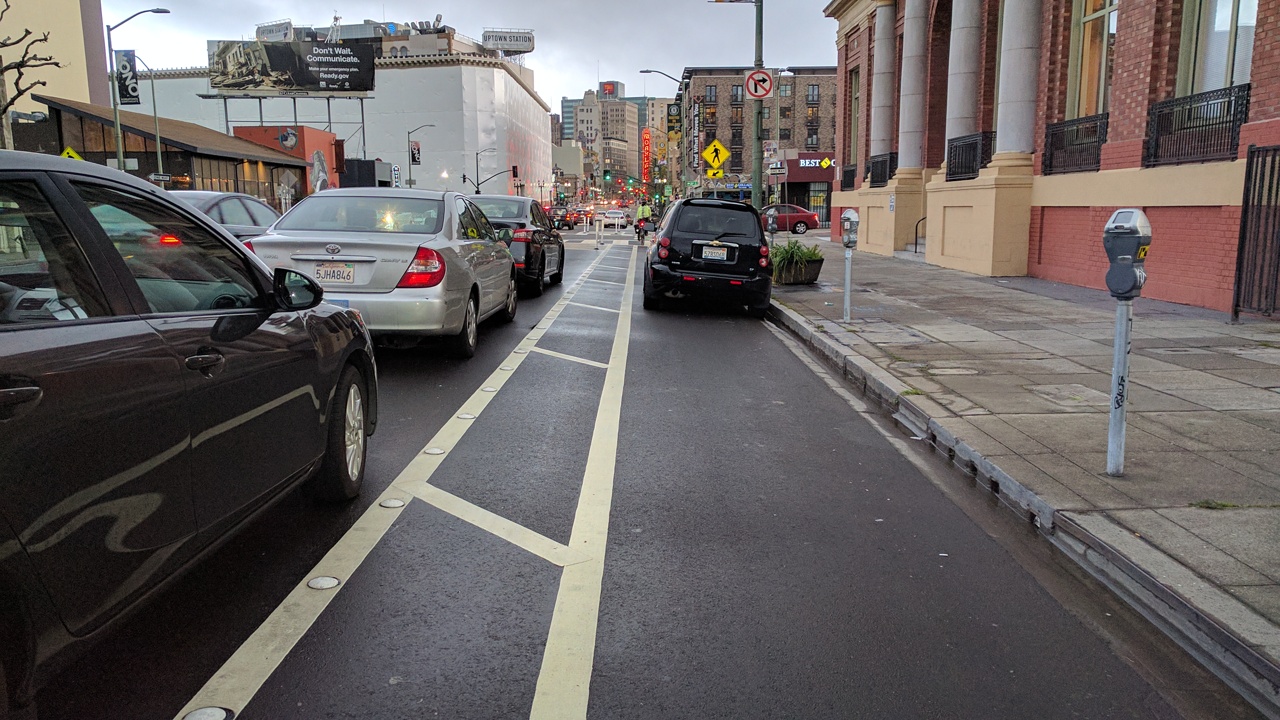 Meanwhile, a few months ago the city added planters to create a physical barrier for cars to park against, but they weren't large or heavy enough, and motorists (accidentally?) pushed them out of the way. They have since been removed. Oakland also added a couple of quick-install plastic bus-boarding islands, so bikes and buses--and bus riders--aren't forced to jockey for space. "Telegraph in KONO is a mixed bag," said Dave Campbell, advocacy director for Bike East Bay, in a phone call to Streetsblog. "It's working better in some ways, more confusing in other ways."
But motorists are learning. Streetsblog took a survey today and didn't see a single car blocking the parking-protected section of Telegraph (if you ride the street regularly, please post your experiences). Just to the south of the protected lanes, however, in uptown Oakland, it was business as usual, as seen below (one of those trucks is a City of Oakland maintenance vehicle, by the way).
Even some cyclists have complained that they'd prefer conventional bike lanes to what the city installed on Telegraph in KONO. But the advocates at Bike East Bay aren't pushing for more protected bike lanes like they have in KONO--they want lanes protected by a solid curb, so cars are physically prevented from blocking them. That's actually already in the cards for a future upgrade to KONO's bike lanes, but Bike East Bay wants more. "We want protected bike lanes the whole way on Telegraph," said Campbell. The question is how to achieve them and in what time frame. In fact, the reason the parking-protected portion doesn't extend north of KONO in the first place is because there was too much push-back from merchants, fearful of losing parking.
But that may change.
Whatever one wants to say about the far-from-perfect protected bike lane in KONO, the bottom line is it's working. "The city and Oakland DOT have done a good job of looking at the data--they've done three reports, one on safety, one on sales, and a parking analysis, and they all are very supportive of Telegraph being a successful project," explained Campbell. That means gross receipts are up compared to the neighboring business districts, speeds are down, and crashes are down. Even the intersections, dicey as they can be at times, seem to be safer, although Bike East Bay would prefer protected intersections with signalized phases for bikes. As Campbell puts it plainly, he sweats far less riding in the protected bike lane on Telegraph in KONO than anywhere else in Oakland. That's because, as the Telegraph safety study showed, there was a forty percent decrease in collisions in the year after the parking-protected bike lanes went in. And that's with more people coming to the district by car, foot, and bike.
But what kind of bike lanes are ultimately installed going north from KONO will still depend, to a large extent, on public feedback. And it's going to be Bike East Bay's job to increase public support for top-notch bike infrastructure. Let's hope that won't be too hard a sell, at least with the advocate-turned-planner types at Oakland DOT. "In a couple of weeks we'll be circulating concepts and seeking additional community input," said Ferrara. "The final project will be selected based on four major factors: safety, equity, community input, and vibrancy."
The City of Oakland has held two workshops to help develop designs, with four more workshops coming. The next one is this Thursday.
Upcoming meetings:
Mobile Workshop @ Sidewalk between 49th St and 51st Street, Thursday, July 19, 3:30-6:30 p.m.
18th Annual Art + Soul Oakland at Frank Ogawa Plaza, Saturday and Sunday, July 28 and 29, 12-6 p.m.
There will also be two mobile workshops in August, details to be announced.
Oakland DOT is also taking a survey on what people want to see on Telegraph. If you can't make the meetings, be sure to fill it out.
Stay in touch
Sign up for our free newsletter