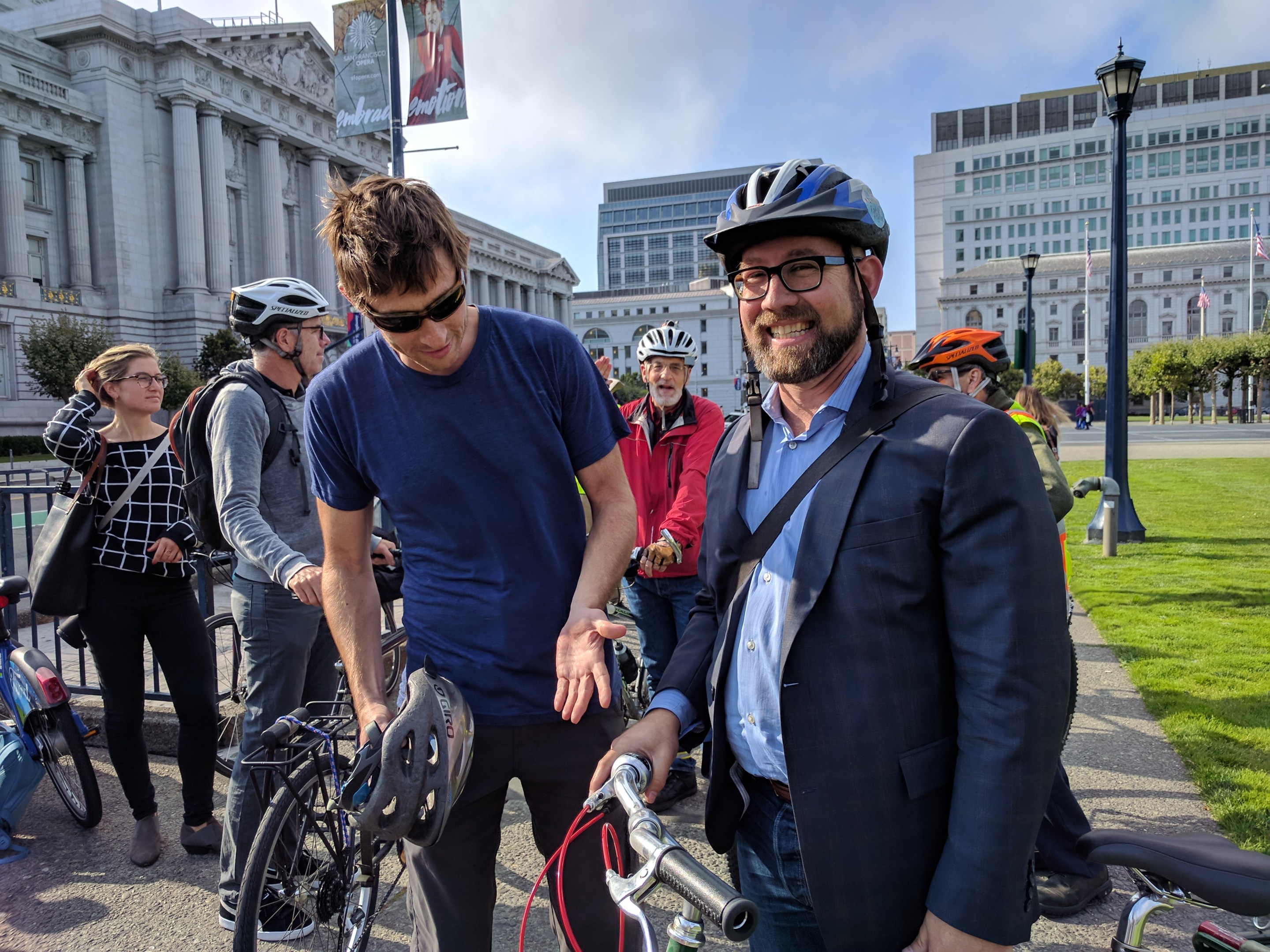 Some thirty cyclists and bike advocates joined D8 Supervisor Rafael Mandelman Tuesday evening for a survey ride and discussion of potential safety fixes for Valencia Street, San Francisco's most contentious bike route. "Clearly there's a lot of concern about conditions on Valencia, for bikes, pedestrians, and everybody," said Mandelman as the ride was assembling in front of San Francisco City Hall. Mandelman said he is familiar with the three bike lane options currently proposed by the SFMTA.  He did the ride to help get to know bike advocates' views on the choices. "I want to respond to the community."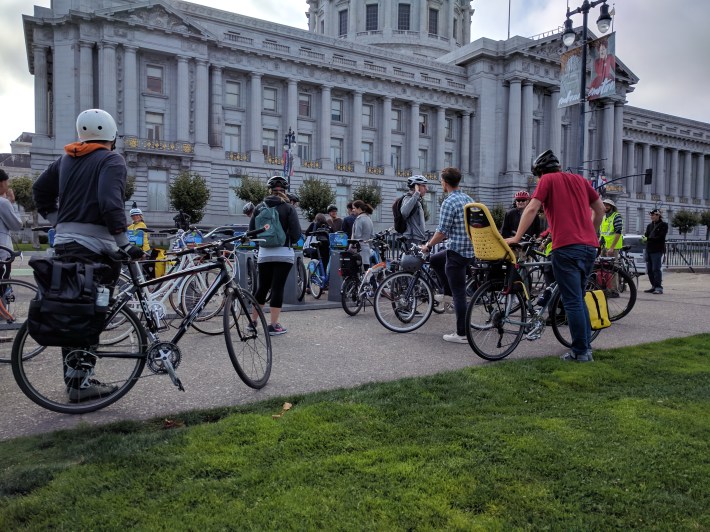 Those options, as previously reported, are to have protected bike lanes on both sides of Valencia, a two-way protected lane on one side of the street, or a two-way bike lane down the center of the street.
Elizabeth Young was one of those community members on the ride. "I ride down Valencia a lot... It's just tough in the evenings and very dangerous." She's tired of Ubers and Lyfts blocking the bike lane. Young said she prefers having protected bike lanes on both sides because it enables cyclists to better access shops along the way. "What if it's not on the side that Souvla's is on?" she said, referring to her favorite Greek restaurant, to argue that cyclists need to be connected with the merchants.
Steven Solomon, another rider-advocate on the tour, said he preferred the center-running option, because "most commuters are going through and not going to stop." He also said the design permits cyclists who want to stop along the way to get out at multiple locations, although he admits the center-running lane "would be an experiment here." Paul Valdez also supports the center-running option for precisely that reason: "It's a design that doesn't exist anywhere in the city, but if it works..." he felt it could be used elsewhere.
Meanwhile, Matt Brezina, organizer of the ride (and one of the organizers of the people-protected bike lane protests) got everyone ready to head over to Valencia. "This is casual, not a spandex ride...so just follow the traffic rules, gear up, and let's go for a ride."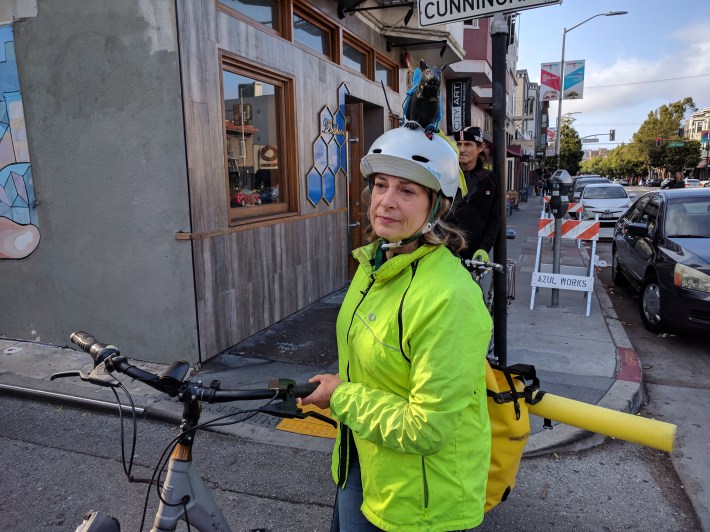 The riders made their way from Polk to Market to Valencia. The trip went quickly, diverting around a few stopped cars blocking the existing, unprotected bike lane. There was also a US postal truck blocking the bike lane even though there was an available curb nearby. "We should call Diane Feinstein about that!" said John Entwistle, best known in the bicycle community for his advocacy on 17th Street, between Church and Sanchez. His hope is that top-down pressure might get the post office to respect bike lanes, since it's difficult for police to cite individual drivers--the fine ends up going to the federal government, which isn't much of a deterrent.
Of course, the city also has to convince the police to consistently fine motorists for bike-lane violations in the first place.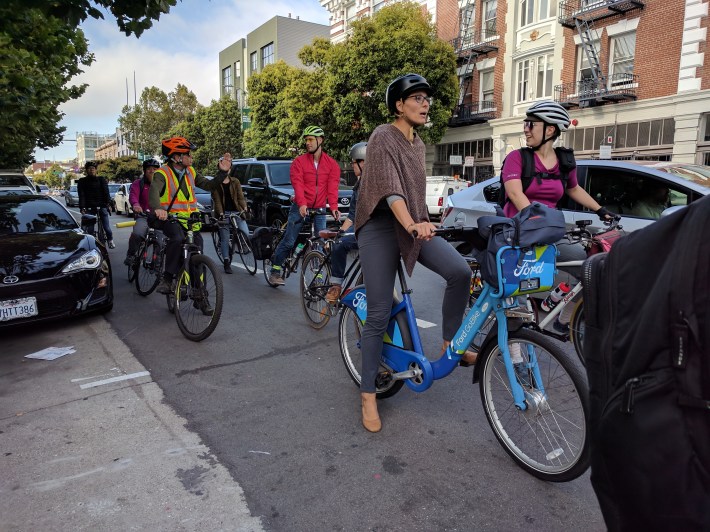 Entwistle also noted how quickly the ride reached the end of Valencia, where Mandelman and others stopped and discussed progress on the short protected bike lane pilot between Cesar Chavez and Duncan. When it first went in, motorists continually parked on it. But on Tuesday night it was clear and the treatments, which include a tan-colored loading area, seemed to be working, with a couple of issues.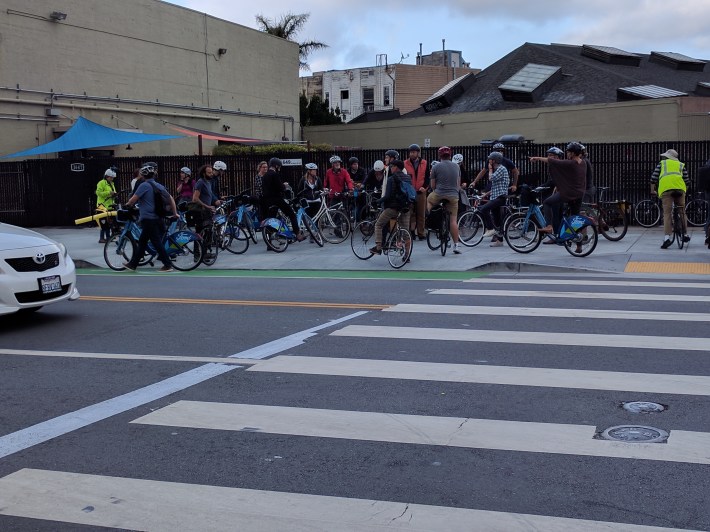 One of the advocates remarked that the eastbound bicycle slip lane from Duncan spits cyclists across Valencia without a stop sign in either direction, making it unclear who has the right of way at the start of Valencia's protected bike lane. Kyle Grochmal, another advocate in the group, brought up the problems with the mixing zone for right-turning cars as the bike lane reaches the intersection with Cesar Chavez. At one point eastbound riders with the group had to contend with a truck driver who pulled into the mixing zone and stopped there, cutting off all cyclists. "Would you let a ten-year-old ride on this?" asked someone in the group.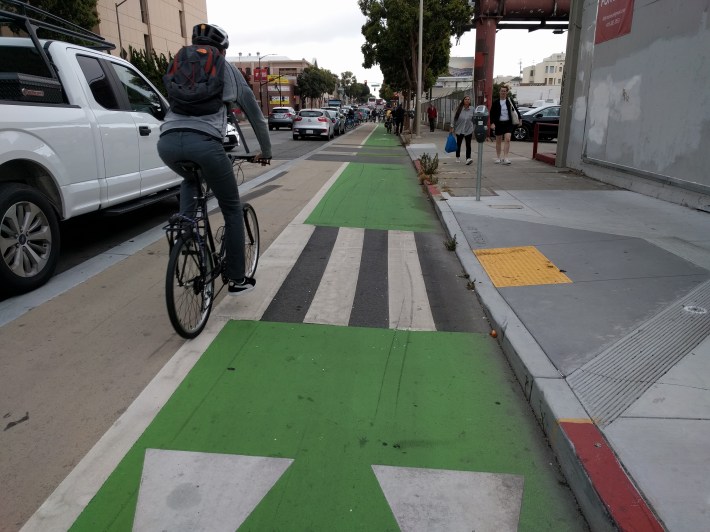 SFMTA's Jennifer Molina, a planner with the agency's livable streets division, was there to talk about the city's approach. "Land-use has changed significantly on Valencia," she said. She added that the city is following a philosophy that Mission should be the transit-priority street, Guerrero Street should be for cars, and "Valencia is the bike street, the people street." She added that this might include having forced turns on Valencia so cars and trucks could still do drop-offs, but would be unable to use it as a through-street.
Many advocates want SFMTA to take things further--to leave a single loading lane for cars and trucks on Valencia, turning the rest into a pedestrian promenade and bike street. Mandelman seemed receptive to the idea, but wouldn't commit to supporting any option until he had heard from more constituents. "I think there's a variety of perspectives and I'm out here to hear," he said.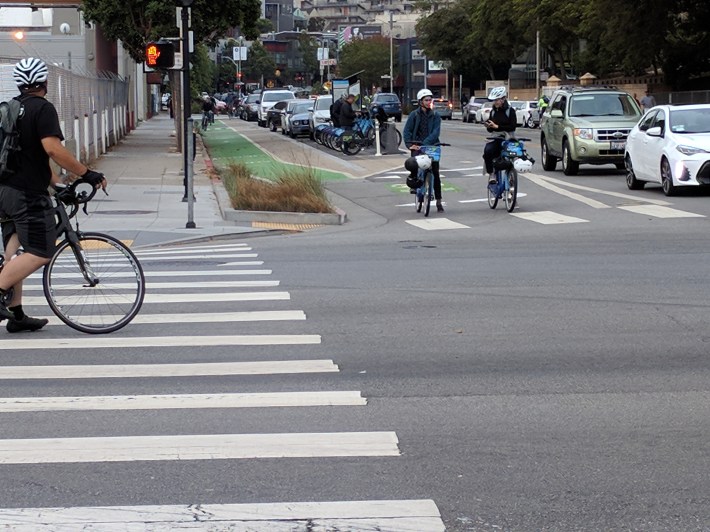 The group finished the ride by stopping off for beers and tacos at West of Pecos, where Brezina pointed out one last reminder of why it's important to move away from car-centric design. The restaurant recently installed a pollution meter over its entrance, reminding people that in addition to the danger of collisions, cars cause respiratory illness--something that could be reduced with a truly safe east-west route for people biking and walking in the Mission.
You can see what the sensor says about air quality on Valencia (and elsewhere in San Francisco) at purpleair.com. Here's a reading from early this Thursday afternoon: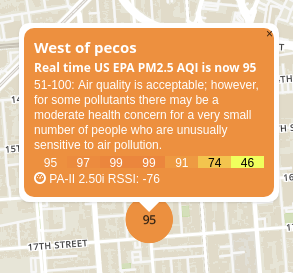 Stay in touch
Sign up for our free newsletter