Bicycle Infrastructure
How Long Will 'Rapid Response Team' Take to Fix Deadly Crosswalk?
4:53 PM PDT on September 17, 2018
Note: GJEL Accident Attorneys regularly sponsors coverage on Streetsblog San Francisco and Streetsblog California. Unless noted in the story, GJEL Accident Attorneys is not consulted for the content or editorial direction of the sponsored content.
The SFMTA's 'Rapid Response Team' is working with the San Francisco Bicycle Coalition to try and fix a dangerous crosswalk on Howard Street near the intersection with South Van Ness. Unfortunately, whatever they do will be too late for Russell Franklin, 56, who was killed in a collision Thursday afternoon while riding his bike.
"When that light turns green they fly," said Bill Gutierrez, the store manager of Big O Tires, of the traffic turning from S. Van Ness onto Howard, right in front of his shop. He added that "they need more visible crosswalks."
It's unclear if speed was a factor in this crash, lack of visibility due to blocked sight-lines, or, most likely, some combination. According to the SF Examiner's  interview with Taylor Ahlgren, a cyclist who arrived at the scene shortly after the crash, the motorist repeated that Franklin "came out of nowhere."
Video of the crash may exist from the security cameras at the nearby BMW dealership, although Ralph Macia, sales manager for the dealership, said he didn't know if his "IT department had video." An SFPD representative replied in an email to Streetsblog that he is "waiting to hear back from investigators" on whether there is video. UPDATE: 9/18 - SFPD has confirmed that "Investigators obtained video at the scene."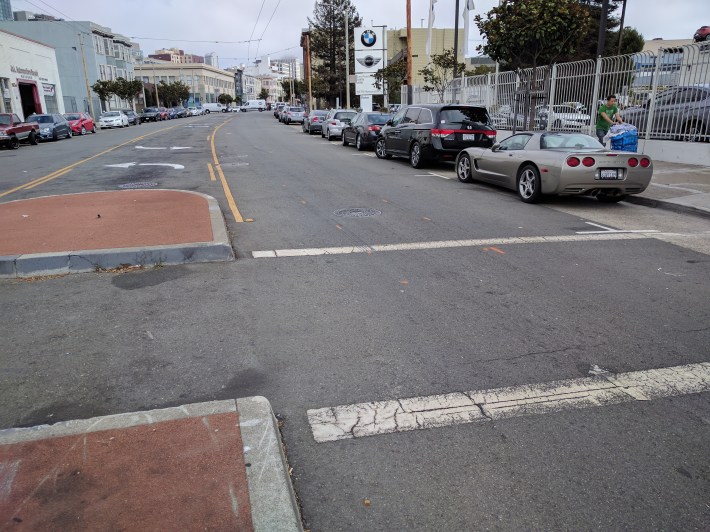 Meanwhile, the Rapid Response Team is "...ready to make recommendations on improvements to that intersection," explained Rachel Dearborn, the SFBC's interim communications director, in an email to Streetsblog. The team was created by the Mayor Ed Lee back in November of 2017 to implement fast safety fixes after a fatal crash.
"They have indicated that the improvements will include new painted continental crosswalks, daylighting at the crosswalk, and other visibility and safety measures (for example, additional signage or flashing beacons)," wrote Dearborn.
She added that SFMTA has indicated they will get some of these measures in place by the end of this week. Streetsblog has requests in directly to SFMTA to confirm this timeline and will update this post accordingly.
Ahlgren and Gutierrez both said they thought the crosswalk sight-lines were blocked by a truck, which was parked in the spot nearest the crosswalk at the time of the crash.
Apparently going with that theory, someone put a bag over the parking meter and added a 'no stopping' sign to the spot right next to the deadly crosswalk, in an attempt to make the crosswalk more visible--"daylighting" it.
SFBC's Dearborn said the spot was not officially closed by the city and the sign (see photo below) was apparently MacGyvered by safety vigilantes. It's unclear why SFMTA's official "Rapid Response Team" won't or can't take such obvious and immediate safety measures themselves after surveying a crash site.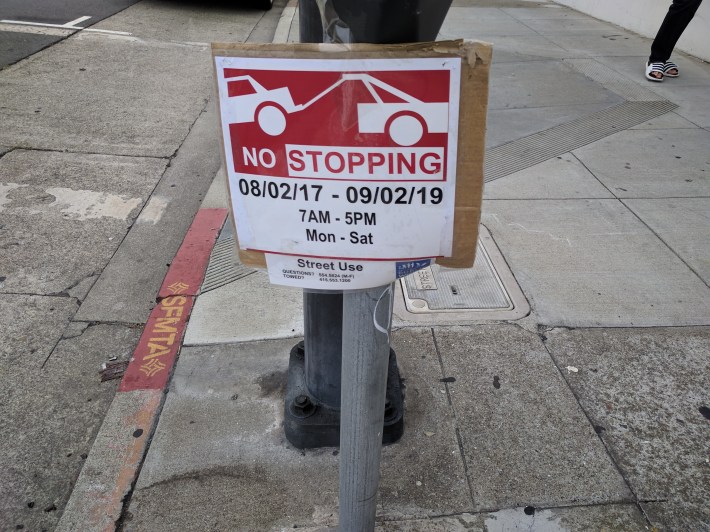 Unfortunately, cardboard signs don't work for long. As Streetsblog canvassed the area, a woman in a blue Lexus left her car in the travel lane for a moment, and then got back in, backed over the makeshift shrine, parked, removed the bag from the parking meter, tore off the 'no parking' sign and  tossed it on the ground.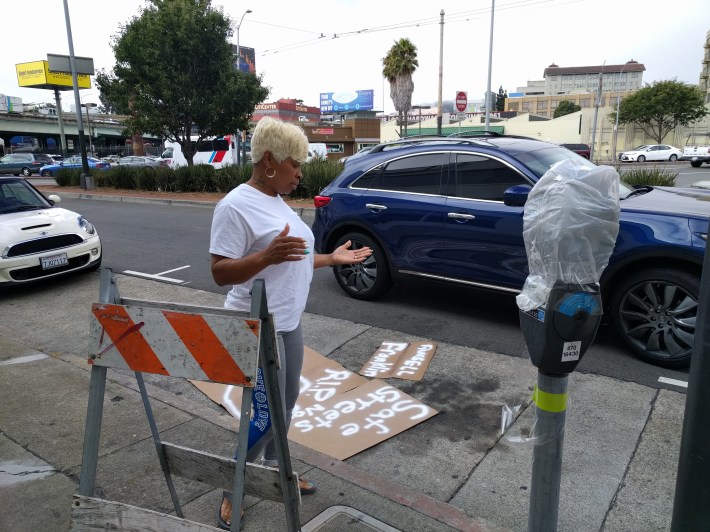 Five minutes later, Streetsblog watched as a man in a wheel chair rolled through the crosswalk, completely obstructed from view by the parked Lexus until the moment he entered the travel lane. Fortunately, there weren't any motorists coming up Howard at that moment, but, as Gutierrez said, this spot is another crash waiting to happen.
Ahlgren, who went through the area early this morning, wrote in an email to Streetsblog that he "talked to a few folks who said they pass that crosswalk in fear every day." Gurtierrez said he wasn't at all surprised by Thursday's tragedy. He said he hoped reporters can increase the pressure to fix this dangerous crosswalk and get motorist driving at safe speeds. "I hope you can make it happen man, for safety."
Streetsblog will continue to monitor this intersection for improvements. For more information on the 'Rapid Response Team,' and a list of its recommendations after fatal crashes, check out this PDF of an SFMTA presentation from last July.
Stay in touch
Sign up for our free newsletter