Streetsblog.net
UN General Assembly is an Argument for a Car-Free NYC
2:04 PM PDT on September 24, 2018
It's not the street, it's the stupidity.
The United Nations General Assembly is underway and, predictably, everyoneis focusingonly oncar traffic. Yet no one is complaining about the cars. Or the policies that allow them to cause traffic. Or the decisions that punish everyone else.
Or even this basic question: Why is the NYPD in charge of transportation in this town? And why does the NYPD restrict the movement of cyclists at the very time when the Department of Transportation — which should set transportation policy in this town — is telling people to bike instead of drive this week?
Those are the questions that dawned on thousands of cyclists this morning as they got to First Avenue and 39th Street this #UNGA morning. That's where a phalanx of NYPD officers was stationed to ensure that no cyclists got any further up First Avenue — even as they waved cars right on by.
I was one of the cyclists. So I reminded the polite officer that a bomb-filled car can do significantly more damage than a cyclist with a backpack filled with explosives (full disclosure: I had only a Luna bar and a spare inner tube in my bag).
"I didn't make sense to me either. But I'm just enforcing what I was told to enforce. I don't make the rules," he said in a tone that suggested he wouldn't change the rules if he's ever in a position to do so.
His partner told me to go to Second Avenue. I reminded him that Second Avenue goes downtown, which is the opposite direction of uptown. He shrugged.
I headed west from First Avenue — though the next uptown protected bike lane isn't until Eighth Avenue. (Let's go over that again: Second, Third, Lexington, Park, Madison, Fifth, Sixth, Seventh — none has an uptown protected bike lane.)
At the corner of Second, however, I ran into two cyclists who said they were going to continue their commute up Third Avenue.
"Third Avenue?" I said. "That's a suicide mission."
"I've done it before," said one of the guys. "It's not so bad."
It's not so bad. That's the calculus cyclists have to ponder when the NYPD makes arbitrary transportation policy. But "it's not so bad" is not very different from, "I probably won't get hit and die," which is not very different from "I could easily get hit and die." (Neither DOT nor the NYPD responded to my repeated request for an explanation of what cyclists are supposed to do when key protected lanes on First and Second avenues are closed. I don't blame the flacks; there's simply no answer to give beyond, "Got a St. Christopher medal?" City Hall referred all questions to the NYPD.)
I took Third for a while. Here's what that looked like:
When I swung back downtown on Second Avenue, I found that the bike lane had been commandeered as a diplomat driving lane. For a few blocks, the cops let me ride in it, but at 43rd, signs directed me into the "bike lane":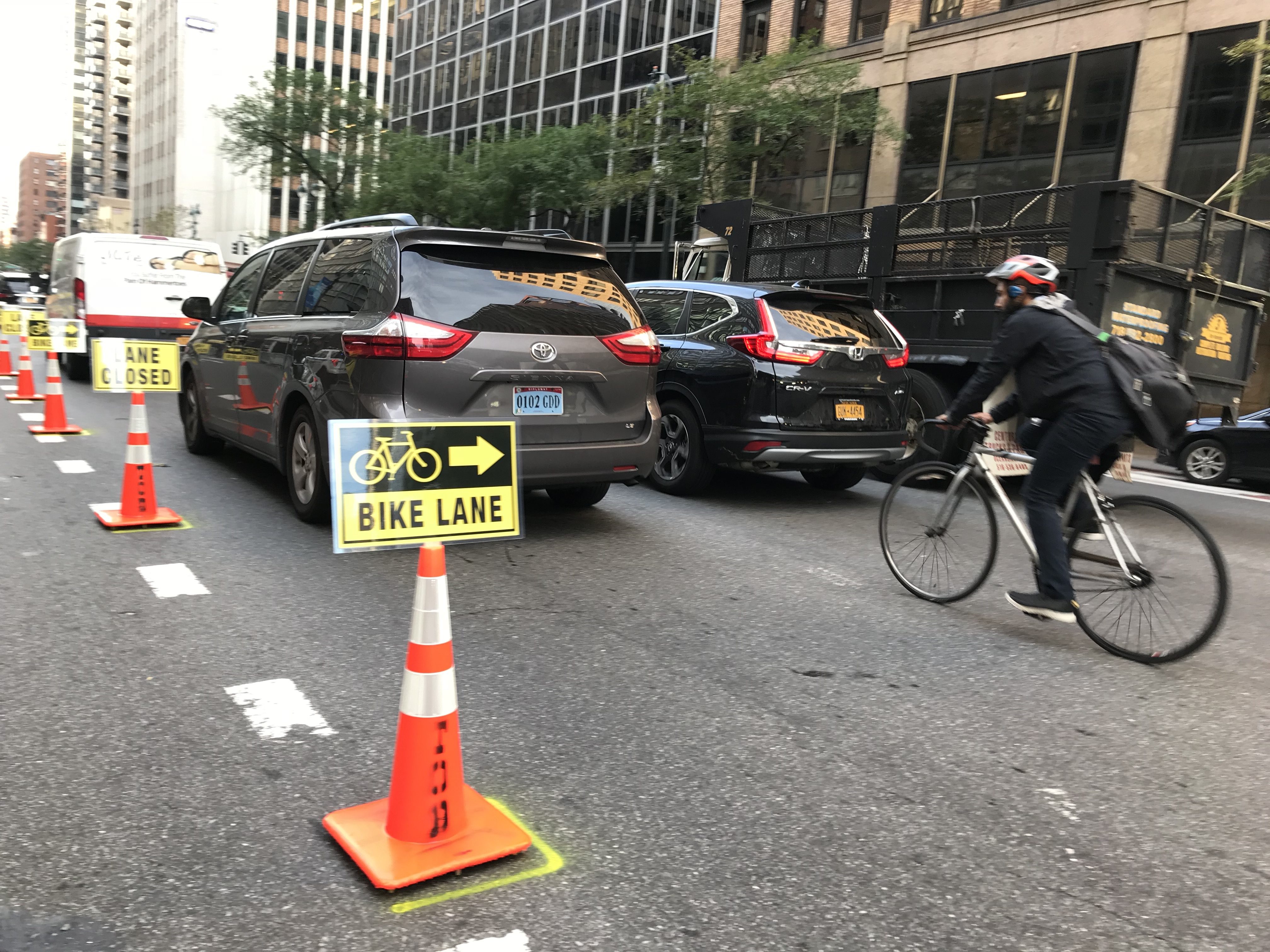 And then below 42nd Street, the bike lane returns to normal (by which I mean a dangerous unprotected hellhole that Mayor de Blasio refuses to fix):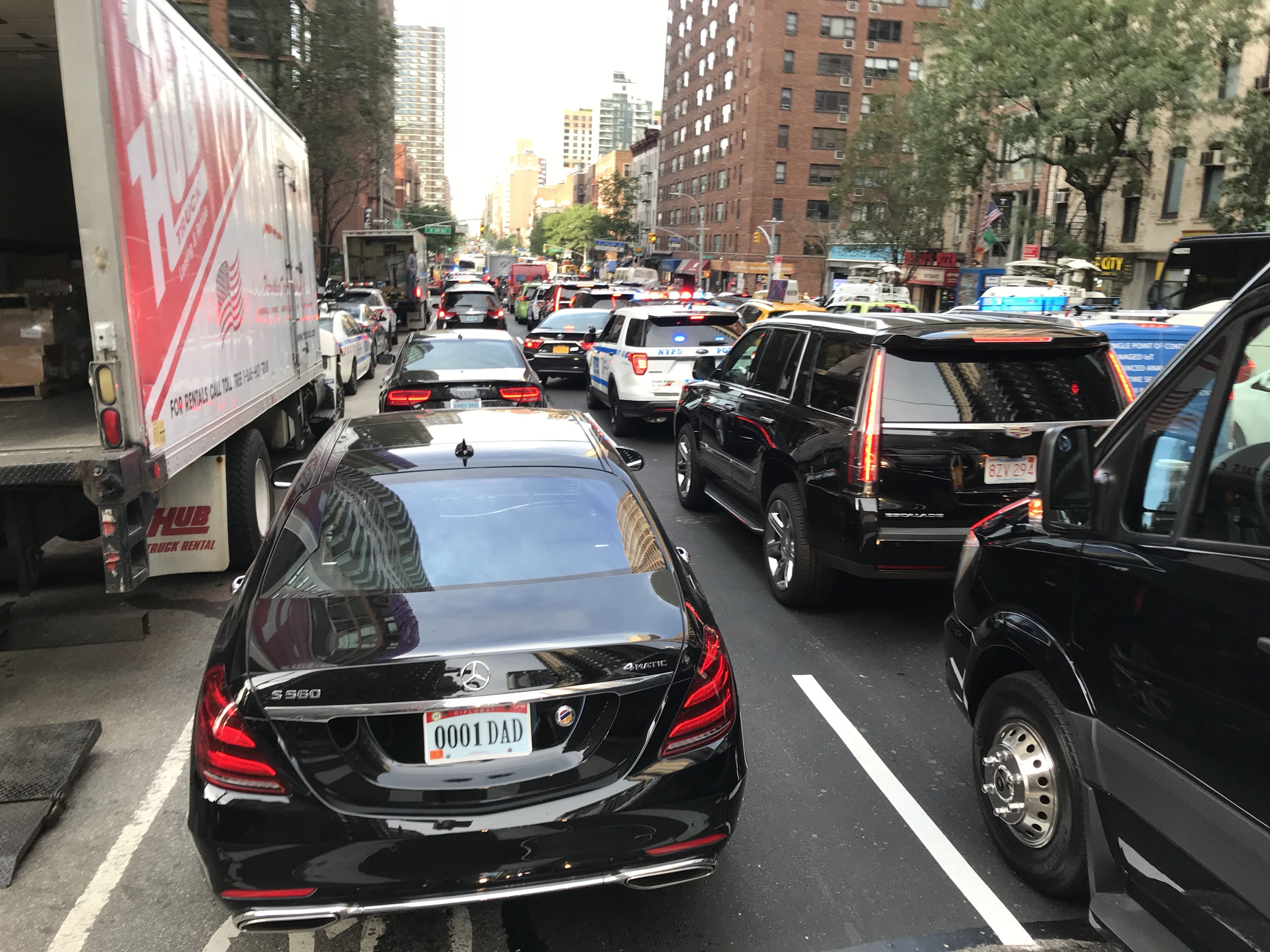 Meanwhile, reporters covering the "gridlock" gave us the windshield perspective, constantly reminding us that if cars can't move, something must be wrong.
This is nothing against the men and women in blue. In two hours biking around Midtown, I saw many officers doing a great job of making sure drivers did not selfishly block intersections. They did heroic work as drivers shouted at them, honked at each other, and inched up for every bit of turf.
But it's decision of the men and women in the white shirts that I'm focused on. A car-centric view of traffic means that bus lanes will be blocked, cyclists will be impeded, pedestrians will be cordoned into pens, and even two ferry lines will be canceled (
without prior notice, by the way
). If the goal is truly security, all of Midtown should be a bike- and pedestrian-only zone. Poof: There goes all the traffic, there goes all the NYPD overtime, there goes all the worrying about diplomats missing the latest plenary.
Cars are the problem, so why is city policy designed around trying to make things better for them? Why is the DOT capitulating to the NYPD? Why are even ferries being canceled?
And why does everyone accept this as the way it has to be?
"I'll just go up Third. It's not so bad" is not the answer you'd see in a Vision Zero public service announcement. But then again, Vision Zero is just a grandiloquent press release in search of a cohesive policy. As long as street safety is administered by the car-dominated culture of the NYPD rather than the traffic experts at the DOT, it's more Zero Vision than Vision Zero.
Gersh Kuntzman is Editor-in-Chief of Streetsblog. When he gets really angry, he writes the Cycle of Rage column. They're archived here.
Stay in touch
Sign up for our free newsletter