Bicycling
Contest Finalists to Help Plan Bay Area's Future
4:11 PM PDT on October 23, 2018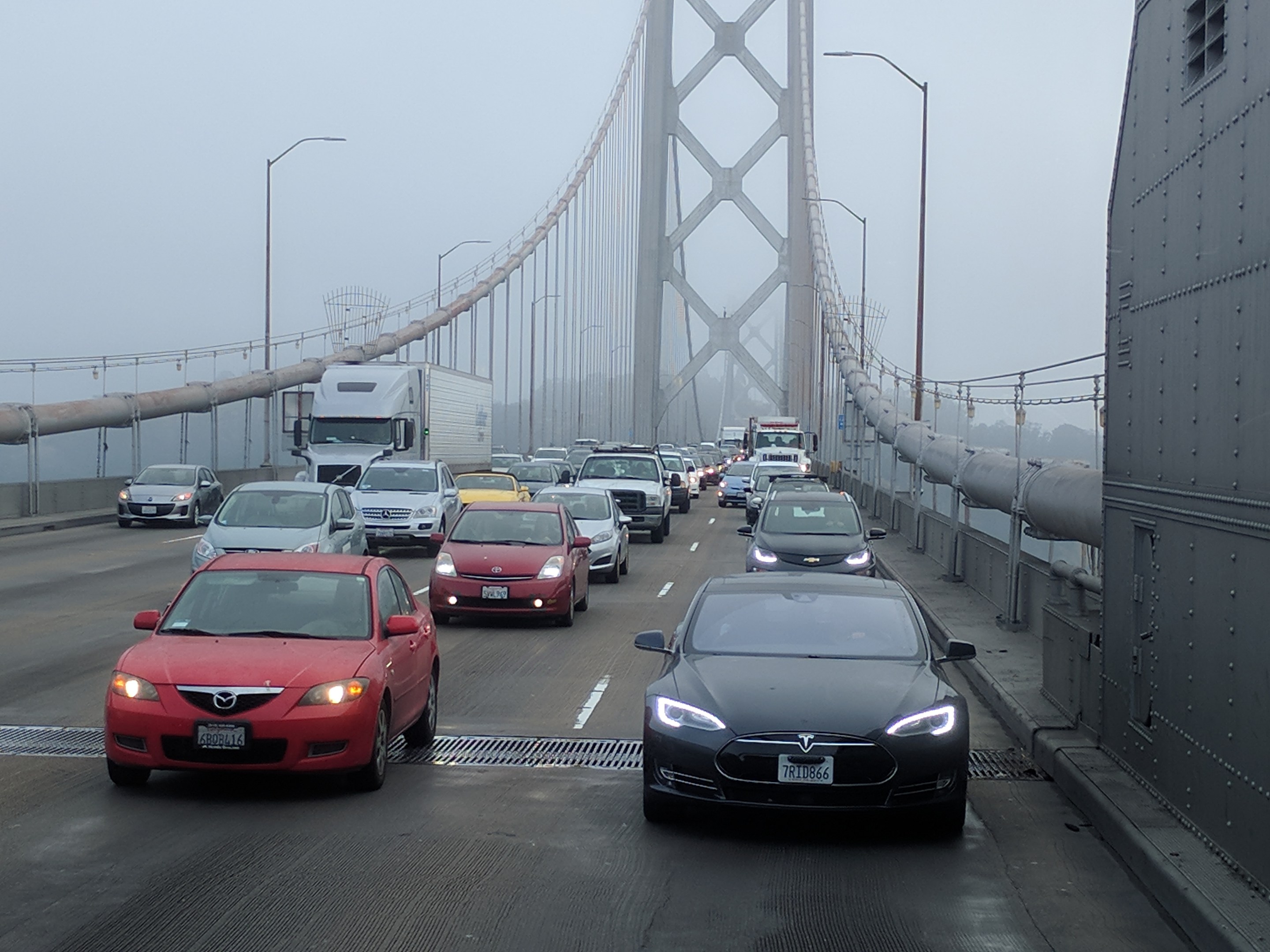 Note: Metropolitan Shuttle, a leader in bus shuttle rentals, regularly sponsors coverage on Streetsblog San Francisco and Streetsblog Los Angeles. Unless noted in the story, Metropolitan Shuttle is not consulted for the content or editorial direction of the sponsored content.
The Metropolitan Transportation Commission (MTC) and the Association of Bay Area Governments (ABAG) announced late yesterday the selection of six "transformative transportation projects" and six "transformative operational strategies" as finalists in its Horizon initiative. The contest solicited long-range ideas for improving mobility in the Bay Area by 2050.
Among the notable proposals was one to bring the Sonoma-Marin Area Rail Transit (SMART) train across a rebuilt San Rafael bridge to connect with BART and Amtrak in Richmond; another is to build a regional bicycle "super network" that would have dedicated bikeways along the routes of freeways, connecting directly to fully protected bike lanes through city and town centers.
Of course, many of these ideas are cost-prohibitive--at least for now. However, "you might really be able to take some of these more visionary ideas and, even if they don't make it as a full-scale, regionwide project, you can ignite people's interests and get some pilot projects going," said Stuart Cohen, co-founder and Executive Director of TransForm, and one of the judges of the competition, in a phone interview with Streetsblog.
"The competition was meant to inspire big ideas and game-changing innovations," said MTC Chair and Rohnert Park City Councilmember Jake Mackenzie in a prepared statement. "The selection committee initially planned to name no more than ten finalists. But we received so many promising, outside-the-box ideas that would not just improve existing projects but also help expand the limits of what may be possible over the course of the next generation that the panelists decided to take a closer look at twelve proposals." The proposals were picked from some 500 submissions from advocates, individuals, and consultancies.
A couple of the ideas, said transportation advocates, would work well when combined--for example, there's a proposal to make I-80 metered and tolled, in a way to ensure traffic speeds are maintained. This could also allow transit buses to use the freeways without getting bogged down in traffic. Combine that with the idea, seen in the chart above, to convert general-purpose lanes on the bridges to bus-only lanes, and bus performance would be greatly enhanced regionally.
"A number of the projects involve rethinking automobile-centric corridors as multi-modal ones. That's something MTC and Caltrans haven't managed to do, or have done very poorly (plonking BART stations in freeway medians)," wrote Livable Cities Tom Radulovich in an email to Streetsblog.
In general, advocates Streetsblog spoke with didn't see much hope for overcoming the political and institutional impediments that often prevent proposals like this from reaching fruition. Beaudry Kock with Seamless Bay Area (a finalist group that proposed fare integration and a zone system across transit operators in the Bay Area) was skeptical that anything would come of the contest. "I think the fact that this proposal won suggests that there is some momentum within the MTC to see serious work start on this issue," he wrote in an email to Streetsblog. "Whether that translates into concrete action in the near term, I personally doubt it: we still lack the institutional structures and leadership that are necessary to help get this kind of thing rolling."
"Regional fare integration, free transit, [and] regulating the timing of freight deliveries are proven concepts that have been standard practice in well-run cities around the world for many decades, but are still 'outside-the-box' for MTC," wrote Radulovich.
"We recognize that not all the finalists' ideas are brand-new," wrote Dave Vautin, a principal planner and analyst with MTC and the Project Manager of the Horizon contest and Plan Bay Area 2050, in an email. However, the contest will allow these ideas from the advocacy community to percolate through an official process. "This was one of the benefits of opening," it up to the public, he added. "We were able to receive project submissions from a broader range of stakeholders so those projects can compete for inclusion in Horizon & Plan Bay Area 2050."
He explained that beyond the twelve finalists from the competition, MTC's public agency partners are continuing to brainstorm creative ideas, including a Muni Metro extension to South San Francisco, a next-generation South Bay rail network, gondolas crisscrossing Oakland and Alameda, and a tunnel on SR-87 in downtown San Jose.
Vautin recommends that people look at the over ninety projects under consideration for future planning. For a full list of the submissions, click here. The summary sheet of the twelve finalists is available here.
Stay in touch
Sign up for our free newsletter