Berkeley
At Bike East Bay's Biketopia, Berkeley Mayor Promises to Pilot a Milvia Street Protected Bike Lane
3:39 PM PST on November 9, 2018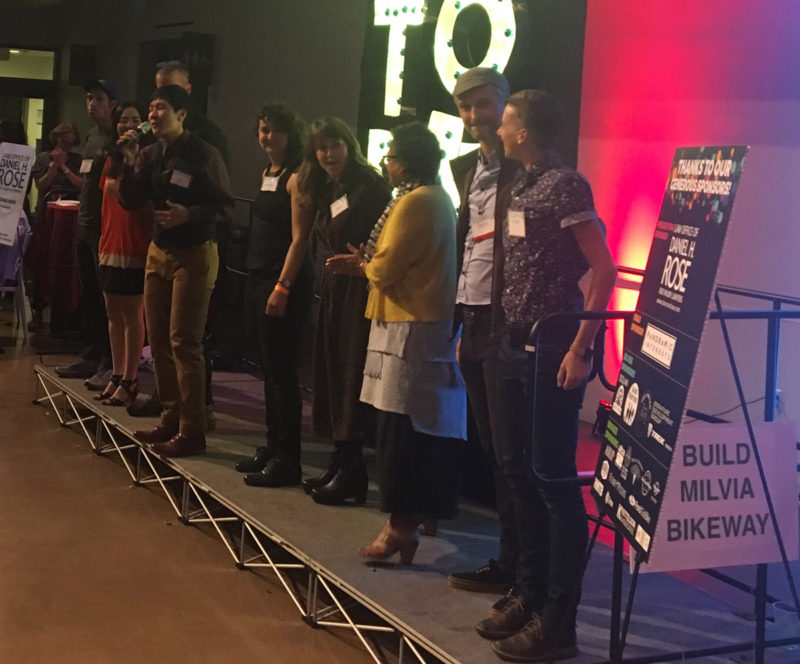 At Biketopia--Bike East Bay's annual fundraiser—Berkeley Mayor Jesse Arreguin committed to an accelerated timeline to pilot parking-protected bike lanes on one of the city's busiest bike boulevards.
"I'm happy to announce that as part of the council's action to prioritize Milvia Street as the first project in the new bike plan," he announced, "We are working with Bike East Bay and hopefully the Alameda County Transportation Commission to have a goal of, by Bike to Work Day 2019, a pilot protected bike lane on Milvia street in downtown Berkeley."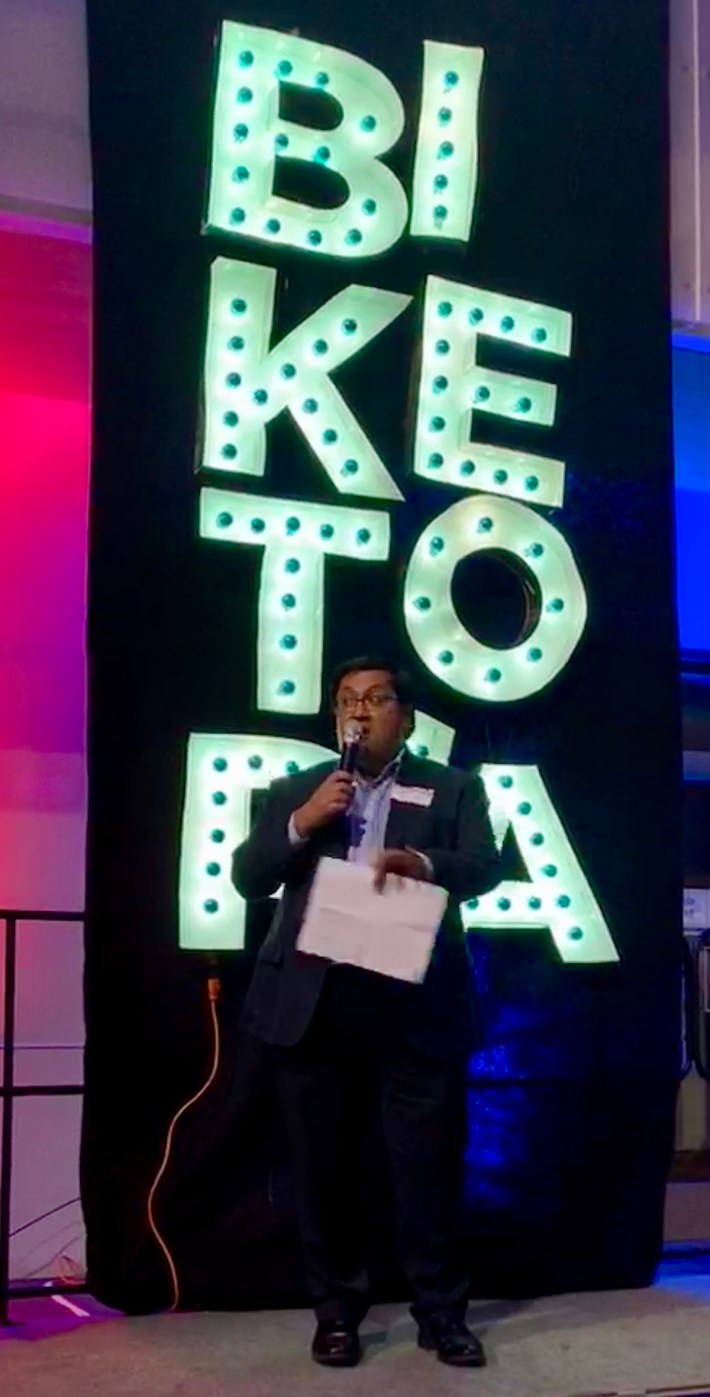 Milvia Street is a main bike route through downtown Berkeley, bringing cyclists to city offices and a busy retail area as well as the busy downtown YMCA, Berkeley City College, Berkeley High School, and BART. Milvia has some of the busiest intersections and highest crash rates in the city, and is heavily used by people driving, biking, and walking. It also has a poor road surface, which increases risks to bicyclists on the route. It is identified in the Berkeley Bike Plan as a top priority for fixing.
The city is in the midst of designing protected bike lanes for Milvia, but has announced a timeline that wouldn't start construction until 2021. Planners have told advocates there are many reasons for the delay, including limited funding and limited staff time for the project, as well as the design challenges of a high school drop off zone and many intersections.
Advocates from Walk Bike Berkeley have been asking the city to accelerate plans to repave and redesign the street to better accommodate bike riders. They requested that the city put in a pilot protected lane well before 2021 to test the concept and to help get feedback.
Arreguin, who doesn't have a driver's license and said he takes bike-share from his home to his office in City Hall every day, said that one of the goals of Berkeley's Bike Plan is creating a low-stress bike network throughout the city. That's why, he said, making Milvia Street and other bike boulevards safer is essential.
"Already Berkeley has one of the highest biking rates of any city of its size," said Arreguin. "I'm committed to making Berkeley one of the most walkable, bikeable cities in the state of California, if not the nation."
"Walk Bike Berkeley applauds Mayor Arreguin, city staff, and ACTC for answering our call to speed up the Milvia Bikeway project," Ben Gerhardstein told Streetsblog later. "The city needs a new sense of urgency to make our roads safe for people walking and biking. We hope the city will learn from this experience and add quick pilot builds to multi-year grant-funded projects in the future."
The city is making things more complicated for itself in other ways, though. Berkeley just celebrated the opening of a "green" parking garage that will accommodate more than 700 vehicles, with an entrance near Milvia Street. One of the things that makes the garage green--in addition to solar panels and plants on the roof--is its inclusion of Berkeley's Bike Station, which offers free, attended bike parking. But that much car storage will continue to encourage people to come to downtown Berkeley via car, despite the very frequent transit service nearby, and despite Milvia's status as a busy bike boulevard.
Biketopia was held at the Ed Roberts Campus in Berkeley, an accessible facility at the Ashby BART station. The sidewalk outside bristled with bikes, and a silent auction offered bikes and accessories as well as outings, classes, and even a chance to have Bike East Bay's Advocacy Director Dave Campbell come to your backyard to barbecue something delicious.
There was also a display showing plans to finish the bike path on the Oakland Bay Bridge into San Francisco, and attendees lined up to check out a virtual reality tour of the future path.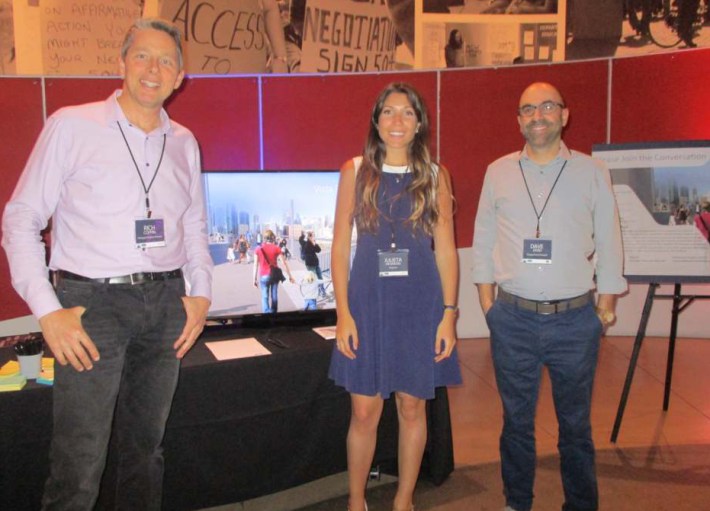 Streetsblog California editor Melanie Curry has been thinking about transportation, and how to improve conditions for bicyclists, since her early days commuting by bike to UCLA long ago. She was Managing Editor at the East Bay Express, and edited Access Magazine for the University of California Transportation Center. She also earned her Masters in City Planning from UC Berkeley.
Stay in touch
Sign up for our free newsletter