Pedestrian Safety
Walk SF Marks Twenty Years of Fighting for Safe Streets
2:47 PM PST on November 29, 2018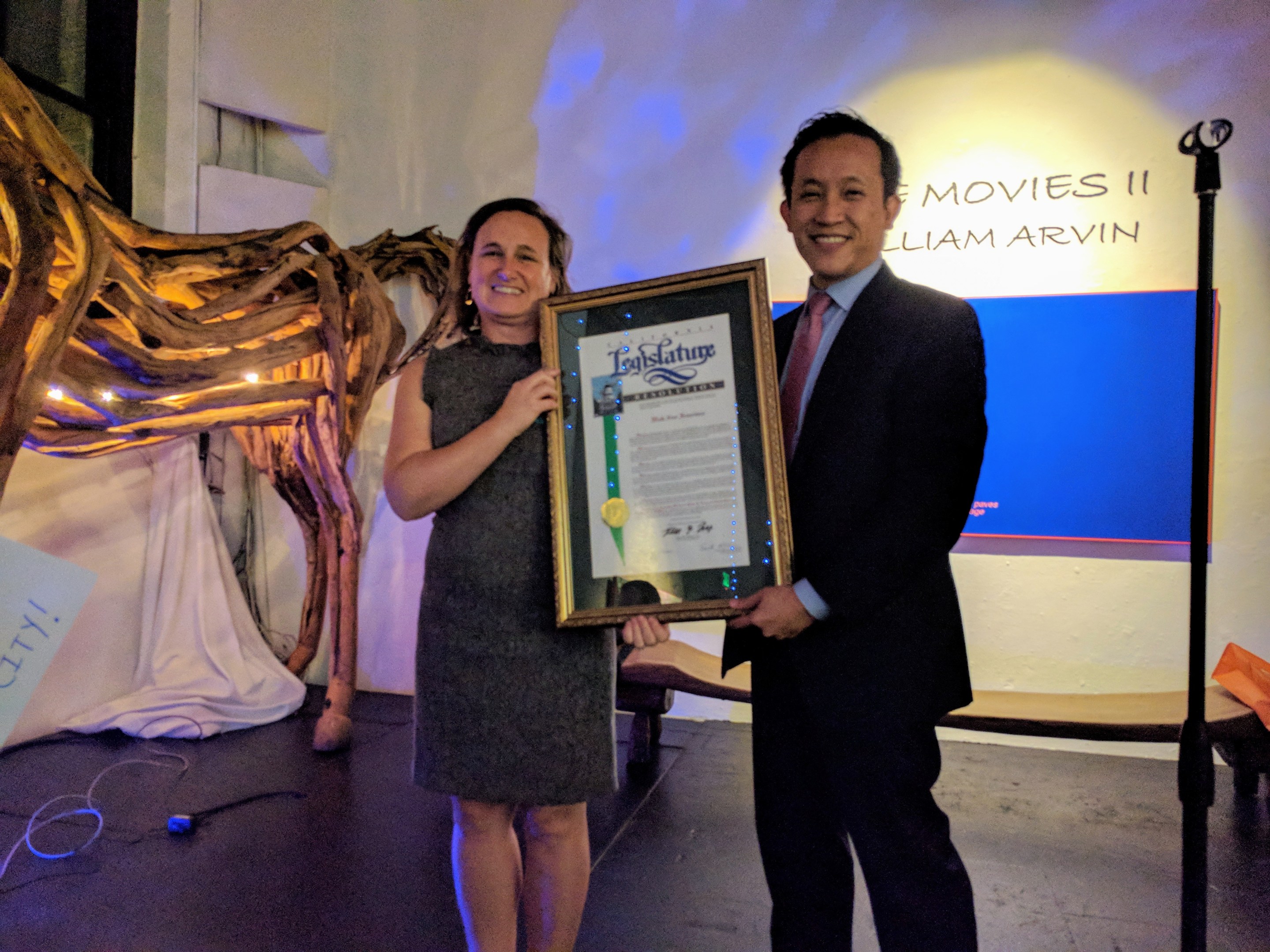 For John Lowell, Walk San Francisco's Vision Zero goal of eliminating all fatal and serious traffic injuries in San Francisco by 2024 is personal. In March of 2001, he was crossing Mission Street at 14th when a red-light running motorist slammed into him in the crosswalk. "I received what ER docs call 'polytrauma,'" he told Streetsblog during Walk SF's 'Woonerven' fundraiser and 20th Anniversary holiday party Wednesday evening. Polytrauma means he had multiple broken bones, injury to his eyes, and a head injury that brought seizures and other issues. "I had two initial surgeries and spent a year in six different hospitals," he said. He had twelve additional surgeries over the years to try and correct the damage to his vision.
And what of the motorist, who was found guilty of reckless driving and speeding? "He was given a misdemeanor charge," explained Lowell. "The max sentence is six months, even though he had previous collisions" on his record.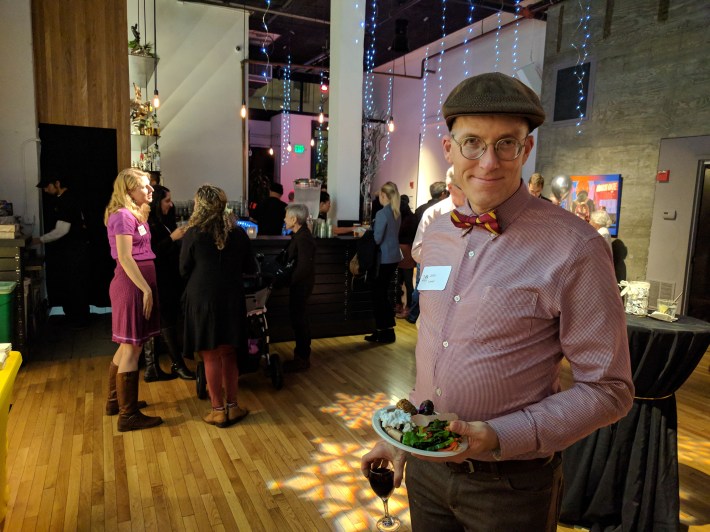 Lowell's experience, unfortunately, is all too common on the streets of San Francisco. As previously reported, despite strides in reducing injuries in 2017, the city has been backsliding. To date, there have been twenty fatalities in San Francisco in 2018--already three more than last year. The city's online Vision Zero scorecard puts it starkly: when it comes to Vision Zero, the city's status is labeled "not meeting target."
"We have had more deaths this year than we had in 2017," said Jodie Medeiros, Executive Director of Walk SF, in an address to the crowd of nearly 200 people at 111 Minna Gallery, a few blocks from Montgomery Street BART. To meet the goal of no fatalities by 2024, "we still have a long way to go."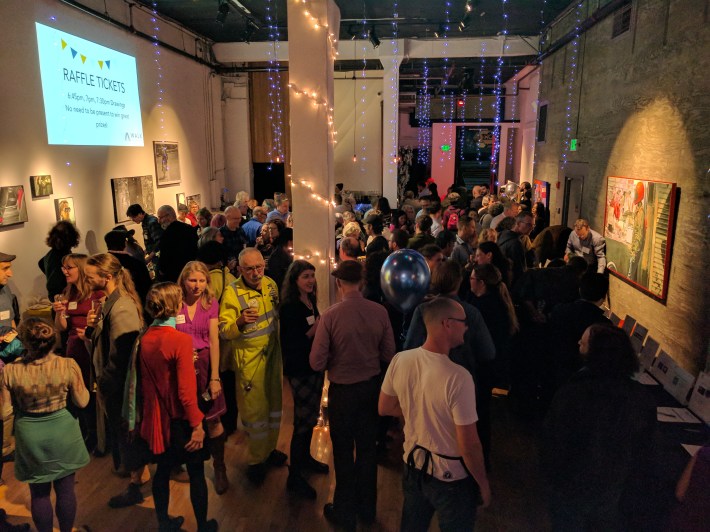 She emphasized that the obstacles come down to politics and the slow and incomplete implementation of safety measures. "We know speed is the number one killer. We must bring back Automated Speed Enforcement (ASE)."
She was referring to attempts to pass legislation in Sacramento to allow San Francisco to pilot ASE cameras, which have shown significant success in other states in reducing speed-related injuries and fatalities. The devices are currently illegal in California. "One bill got away from us," said Assemblymember and long-time safe-streets advocate David Chiu, seen in the lead image with Medeiros. He said he plans to re-introduce the legislation, which died in committee. "We want to bring it back and bring ASE to the most dangerous streets in San Francisco."
"We are also introducing legislation for congestion pricing and complete streets," said State Senator Scott Wiener, who co-authored the ASE legislation and was also at the event. "We have to stop the carnage on our streets."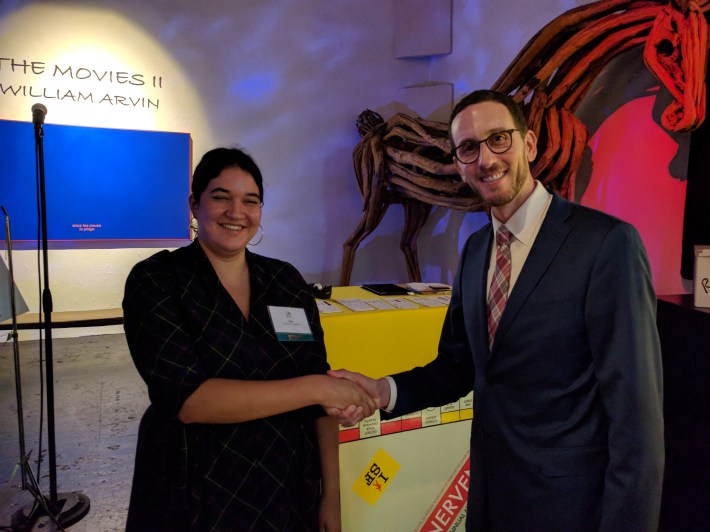 Wiener stressed that two decades of Walk SF advocacy have been instrumental in keeping legislation flowing in Sacramento and San Francisco. Much of the progress that has been made, including the proliferation of safer crosswalks, bulb-outs, and other forms of traffic calming, can find its roots in Walk SF's advocacy.
But the work continues. "We want 20-mph speed limits in San Francisco," said Medeiros. "And we need congestion pricing... political will is what we need to get to Vision Zero."
Perhaps nowhere is the horror of the city's dangerous streets felt more acutely than in the Tenderloin. Shayna Yasuhara and JaLil Turner were there from the Tenderloin Community Benefit District. Recent fatal collisions in their district brought home the need for safer streets. "People assume you won't get run over just crossing the street," said Yasuhara. But that isn't the case, as her group has seen on Taylor, Turk, and other high-injury corridors in the district. "We're glad Walk SF is out here trying to make a difference."
Walk SF's holiday party is named after Woonerven, a Dutch idea that means "living street." On a Woonerven, automobiles are considered guests, and the street is designed for pedestrians, bicycles, and play--cars that enter the street must slow to walking speeds. Walk SF's goal is that someday San Francisco will have many Woonerven streets.
But for now, the streets of San Francisco remain places where cars rule, and pedestrians, cyclists, seniors, and other vulnerable road users contend with daily peril.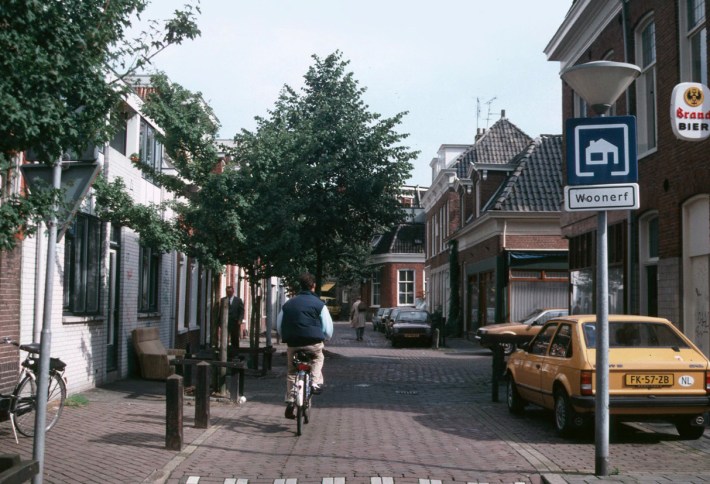 "I'm very careful when I walk," said Mitch Near, a long-time supporter of Walk SF who was at the fundraiser. He walks everywhere or takes Muni from his home in Forest Hill, he explained, but he feels vulnerable. "Walk SF has really expanded and is fantastic, but San Francisco still has a lot of work to do."
Lowell, the man who was hit in 2001, acknowledged the sad reality that anyone walking in San Francisco has to be hyper-vigilant to avoid a similar fate to his own. He explained that now he tries to anticipate if a car is going to run a red light before he steps off the curb, judging its speed as it approaches an intersection. However, even he admits for that strategy to work all the time people would need "super perception abilities."
He knows that to really make streets safe it is going to require traffic engineering with safety in mind, true enforcement of speed limits and other dangerous motorist behaviors, and the ongoing hard work of the staff and volunteers at Walk SF.
Stay in touch
Sign up for our free newsletter