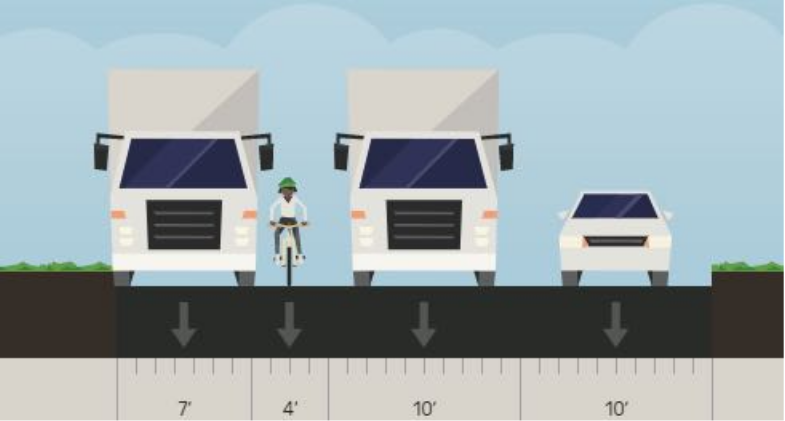 Note: GJEL Accident Attorneys regularly sponsors coverage on Streetsblog San Francisco and Streetsblog California. Unless noted in the story, GJEL Accident Attorneys is not consulted for the content or editorial direction of the sponsored content.
Every mayor, politician and city official will say they prioritize safety when it comes to road designs. Unfortunately, more often than not, they clearly don't mean it.
Take Fremont, which built some impressive protected bike lanes and intersections on Walnut, but Tuesday evening relapsed into auto-über-alles thinking by voting five-to-two to reject a planned road diet for Paseo Padre. Instead, they will add a door-death-lane stripe to the existing configuration. "The four-foot door lane doesn't even meet the Caltrans minimum," Dave Campbell of Bike East Bay told Streetsblog. "It doesn't even meet their own minimums."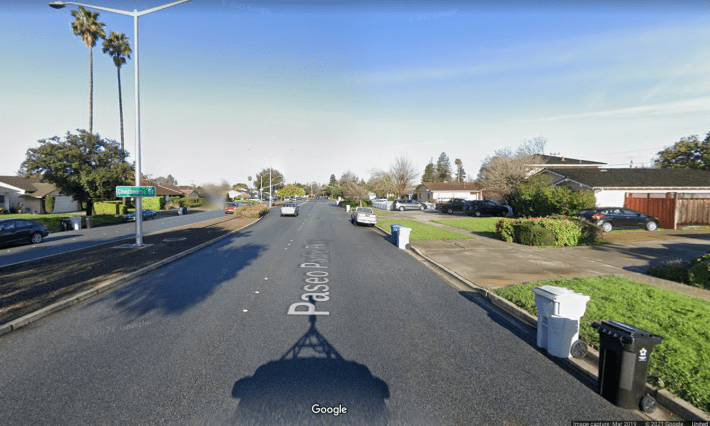 Campbell reported that speakers were overwhelming in support of the road diet, which would reduce traffic lanes to one in each direction and add buffered bike lanes. However, only councilmembers Teresa Kang and Jenny Kassan voted for it. The other five, including Mayor Lily Mei, voted to maintain the current configuration with two vehicle lanes in each direction. Because they also want to preserve parking and keep the traffic lanes wide, the only space left for bikes is as configured in the lead image.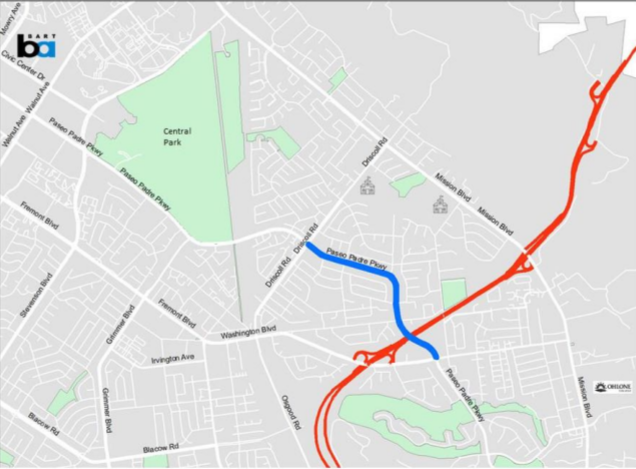 This, of course, isn't just about bicycle safety--road diets reduce speeds and increase safety for drivers as well as pedestrians crossing the street. The section of road in question also goes past several schools.
Campbell said the only good news is that the city council promised to revisit the issue in six months. Bike East Bay is concerned that Fremont is repeating the mistakes of nearby Hayward, which decided not to make Tennyson Road safer, resulting in the death of a cyclist last June. Campbell said the same thing is inevitable in Fremont, adding that "someone is going to get hit and killed on Paseo Padre for sure."

Bike East Bay wrote a letter to the Fremont City Council and the mayor, pleading with them to make the right decision when the issue is revisited. From the letter:
Bike East Bay supports a road diet on Paseo Padre Pkwy between Driscoll Road and Washington Blvd with buffered bike lanes and slower neighborhood traffic, a configuration that matches the design of Paseo Padre on either end of Driscoll and Washington, and is consistent with Fremont's Bicycle Plan. Paseo Padre currently has dangerously high speed traffic, speeds often as high as 60-70mph, on a downhill curvy street, with far too many crashes. Paseo Padre is not a safe street for residents to get into and out of their driveways. It is not safe for kids to walk across to get to school. And there are no bike lanes to safely bicycle to neighborhood schools or toward downtown Fremont. A street such as Paseo Padre, with less than 15K cars/day, does not warrant so many high speed travel lanes from a traffic engineering perspective--traffic will flow fine with one lane in each direction.

Fremont has ambitious goals to reduce its drive alone rate and reduce greenhouse gases, but you cannot achieve these goals by reserving travel lanes for future traffic in a residential neighborhood with local schools nearby
Campbell added that the design that was approved Tuesday evening is "negligent" and represents "downright malfeasance."
Bike East Bay is asking everyone, Fremont residents especially, to contact the city council:
District 1: Teresa Kang: phone: 510-284-4012, tkeng@fremont.gov
District 2: Rick Jones: phone: 510-284-4083, councilmemberjones@fremont.gov
District 3: Jenny Kassan: phone: 510-284-4018, jkassan@fremont.gov
District 4: Yang Shao: phone: 510-284-4019, yshao@fremont.gov
District 5: Raj Salwan: phone: 510-284-4082, rsalwan@fremont.gov
District 6: Teresa Cox: phone: 510-284-4007, tcox@fremont.gov
Mayor Lily Mei: phone: 510-284-4011, lmei@fremont.gov
Stay in touch
Sign up for our free newsletter