Streetsblog.net
CTC Adopts Staff Recommendations for ATP Funding
8:23 AM PST on December 12, 2022
The California Transportation Commission this week approved staff recommendations for two categories of the current cycle of Active Transportation Program funding: Statewide and Small Urban and Rural. All the projects received very high scores when evaluated against program requirements, as anticipated when the staff released its recommendations in October. The cutoff score for the Statewide competition, below which projects did not get funded, was 89, and 78 for the Small Urban and Rural components.
The rest of the money in the 2023 cycle - around $700 million - will be allocated to projects on a third category, nominated by the nine large Metropolitan Planning Organizations, in the spring.
The cutoff would have been much higher if the state budget had not included a $1 billion one-time boost from the state surplus, and the number of projects awarded funding would have been the fewest since the program was established in 2013. Almost everyone who addressed the item at this week's CTC meeting noted that the amount of money going into the ATP needs to be boosted permanently. Not only is the need for better bicycle and pedestrian facilities high, but it is growing.
Competition for ATP funding has been fierce since the program's inception, and has only grown more so as more jurisdictions get better at planning for active transportation and meeting application requirements for the program.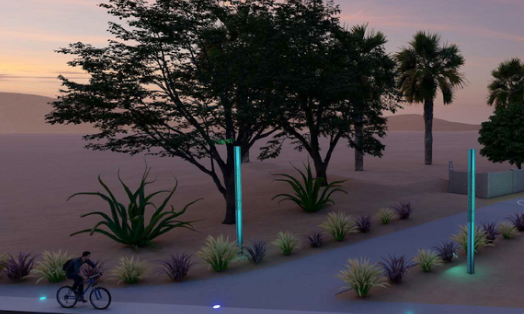 The program received 434 project applications, with funding requests totaling $3.1 billion. The staff recommended:
Statewide competition: 67 projects totaling $853.52 million. All projects offer some benefit to a disadvantaged community, and 44 of them are Safe Routes to Schools projects. This category includes a $5 million allocation for the Active Transportation Resource Center, which provides technical assistance to applicants and implementing agencies.
Small Urban and Rural Component: 26 projects totaling $170.704. All of these show benefits for disadvantaged communities, and nineteen of them are Safe Routes to Schools projects.
Commission staff highlighted a few of the projects, below. The full list is available at this link.
City of Dinuba – Build Dinuba's Active Transportation Future ($13.1 million) will transform seven miles of streets in Dinuba, providing safer routes to eight schools through new bikeways, sidewalks, shortened crossings, and ADA-compliant curb ramps.
City of Los Angeles – Skid Row Connectivity and Safety Project ($38.6 million) will bring three miles of complete streets elements to the Skid Row neighborhood of Downtown Los Angeles including over two miles of protected Class IV bikeways, improved sidewalks, secure bike lockers, hydration stations, e-bike charging stations, high-visibility crosswalks, shade trees, and benches.
City of National City – 24th Street Transit Center Connections Project ($3.5 million) will bring two miles of Class IV protected bikeways, improved sidewalks, new and enhanced crosswalks, and shortened crossings.
City of West Sacramento – I Street Bridge Deck Conversion Project ($16.0 million) will create a dedicated crossing for bicycles and pedestrians over the Sacramento River, connecting communities in Downtown Sacramento and West Sacramento. The repurposed bridge will include a Class I path, benches, bike racks, wayfinding signage, public art, and historic interpretive signs.
Modoc County – Surprise Valley School Safety & Community Connectivity Project ($3.0 million) will create the foundation of a complete pedestrian network by constructing over two miles of new sidewalks and raised crosswalks with flashing beacons.
Orange County – OC Loop Segments P and Q Project ($45.9 million) will fill a 1.6-mile gap in the region's 66-mile Class I bicycle network and will construct a Class I multi-use path, five roadway and railway underpasses, and wayfinding signage.
Santa Clara Valley Transportation Authority – Bascom Avenue Complete Street Project ($39.1 million) will provide complete streets improvements to nearly three miles of Bascom Avenue, a wide, high-speed arterial that runs through San Jose, Campbell, and unincorporated Santa Clara County, including Class IV separated bikeways, bike boxes at intersections, new sidewalks, shortened crossings, and shade trees.
Santa Cruz County – Coastal Rail Trail Segments 10 and 11 Project ($67.6 million) will close a four-mile gap in a 32-mile Class I trail network that connects communities in Santa Cruz and Monterey counties. The project will include a Class I multi-use trail, bicycle and pedestrian bridges, crossing improvements, and biking and walking skills classes and events in schools.
Streetsblog California editor Melanie Curry has been thinking about transportation, and how to improve conditions for bicyclists, since her early days commuting by bike to UCLA long ago. She was Managing Editor at the East Bay Express, and edited Access Magazine for the University of California Transportation Center. She also earned her Masters in City Planning from UC Berkeley.
Stay in touch
Sign up for our free newsletter