Streetsblog.net
Pandemic Dining Program Added Outdoor Cafés to 17 Neighborhoods that Never Had Them
7:37 AM PST on January 23, 2023
The city's open restaurants program brought outdoor dining to 17 community boards that didn't have any al-fresco eateries before — and it was a boon to especially blue collar districts of color outside of Manhattan, according to a new report.
The pandemic-era initiative grew the number of businesses with outdoor dining 12-fold "practically overnight," thanks to the quicker and cheaper application process than under the city's old sidewalk café licensing, according to the study by Professor Mitchell Moss and graduate student Dominic Sonkowsky at NYU's Wagner School of Public Service.
The analysis shows how open restaurants decentralized outdoor dining from a mostly Manhattan mainstay to opening in southeast Queens, central Brooklyn, and the South Bronx that didn't have any sidewalk restaurants before the pandemic. The report, which was first highlighted by Gothamist, also found that the share of restaurants in communities of color and lower-income areas doubled under the program.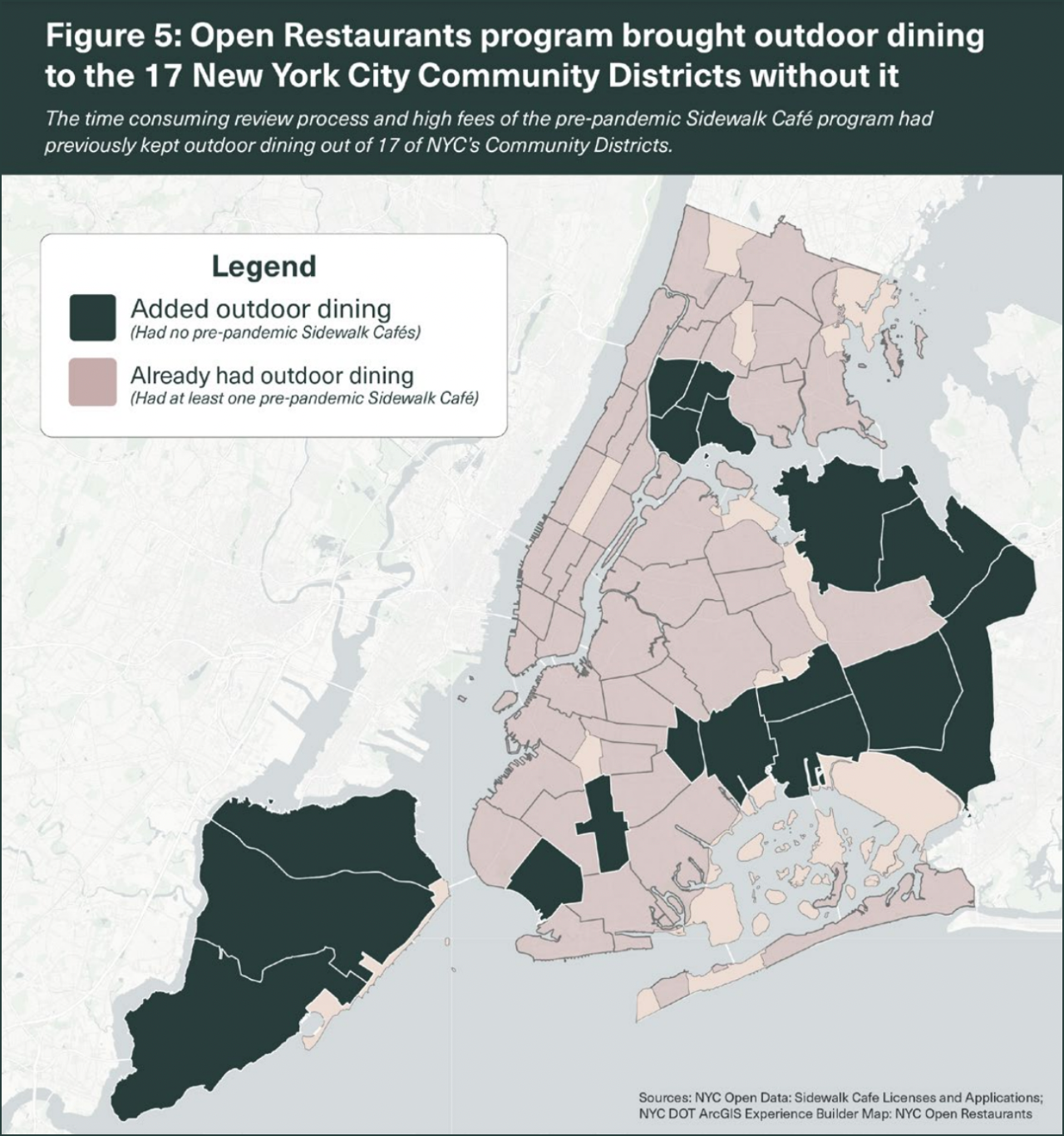 Curbside sheds and sidewalk seating popped up where there weren't any before in areas such as Brooklyn's Community Bistrict 14, which covers Flatbush, Midwood, and parts of Kensington.
One restaurant owner in the area's Little Haiti neighborhood said his outdoor dining shed has been crucial to his business's survival.
"Covid messed up everything. There is no gain since the Covid, it's very tough for businesses — especially restaurants," said Sony Sauveur, owner of Golden Blue on Flatbush Avenue and Clarendon Road. "Without the patio, I don't know what I would do."
Outdoor dining has been a welcome addition to the area, said a couple of artists at FIB Tattoo Bar and Grill a couple blocks north at Flatbush and Duryea Place, which has a curbside shed.
"If I see a spot that has nice outdoor seating, I'm gonna be drawn to it because it shows people in the community that are outside, that makes you want to be part of it, too," said Yasmine Murinigo.
Her colleague, Jasmine Hernandez, added that beyond Manhattan, outdoor dining is a community thing.
"We mostly get locals, we don't get people from outside the area," she said. "And the locals love the outdoor seating."
Brooklyn's overall share of the outdoor dining pie grew from 16 percent pre-pandemic to 25 percent as of last July, as Manhattan's dropped from 70 percent to 49 percent, according to the report.
Queens and the Bronx roughly doubled their share of open restaurants in the city, and Staten Island rose to 1.5 percent from zero, the researchers found.
Many districts that didn't have outdoor dining under the old program run by the Department of Consumer Affairs (now the Department of Consumer and Worker Protection) are in southeast Queens neighborhoods represented by Council Speaker Adrienne Adams, whose legislature has been working for more than a year to create a permanent program. During the long delay, the current framework of the emergency pandemic program has remained in place.
Speaker Adams and Mayor Adams have been at odds about how the future of outdoor dining should look like and which city agency should be in charge. Meanwhile, critics have launched two aiming to dismantle the popular "streeteries" altogether, citing issues around noise and cleanliness.
The leader of the 51-member Council said last year that the outdoor dining sheds shouldn't be in the roadway, and the current legislation from February would move oversight of outdoor dining from the Department of Transportation to back the much smaller Department of Consumer and Worker Protection, which only allowed outdoor dining on a seasonal basis in the Normal Times.
The Speaker's office did not respond to a request for comment. She previously said she was merely expressing her "personal opinion" about roadway space and that said opinion would not prejudice the process.
The mayor's team has been clear Hizzoner wants to keep it under DOT, which at nearly $1.5 billion has an annual budget more than 20 times the size of the consumer and worker agency.
Advocates have raised concerns that DCWP won't have the resources to manage the far larger program open restaurants has become, and that the bill will sabotage outdoor dining and effectively turn it back into the old sidewalk cafés.
The pre-Covid regulations required restaurants to go through a lengthy application and review process with DCWP, the Council, borough presidents, and local community boards, which could last upwards of six months. Only certain designated zones were allowed to have outdoor dining and businesses still paid tens of thousands of dollars in annual fees for the extra space.
That effectively made outdoor dining out of reach for restaurateurs without the resources of their wealthier counterparts in well-off Manhattan.
"The time-consuming review process and high fees of the pre-pandemic sidewalk café program had previously kept outdoor dining out of 17 of New York City's community districts," the NYU report said.
The authors recommended the city continue one crucial benefit of open restaurant program and keep the applications simple and affordable. The report also recommended year-round outdoor dining.
"Dining in all neighborhoods [should be] a permanent part of the city's streetscape," wrote the authors, who also urged the city to reallocate more space without privatizing it  solely for restaurant patrons. An expansion of the Street Seats initiative, for example, would allow businesses to set up seating in parking lanes that could still be used by anyone, paying customer or not.
There were only 38 participants in that program as of August 2021, 30 of which were branches of the Brooklyn Public Library. The report urged city officials to encourage more to take up that option by keeping the pandemic policy of not charging fees to use the curb space.
The DOT appears eager to embrace the report.
"DOT is committed to equity in all our work, and this report highlights just how important this program has been in helping expand outdoor dining to create more vibrant streets in communities that have never had this opportunity," said agency spokesman Vin Barone.
Stay in touch
Sign up for our free newsletter