Streetsblog.net
What It's Like to Be a Woman Transit Operator
8:12 AM PST on January 26, 2023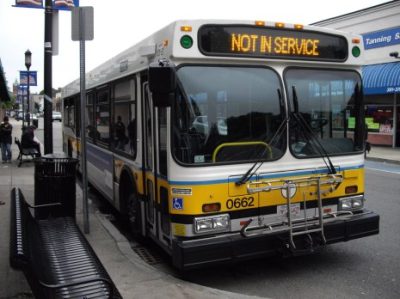 Editor's note: A version of this article appeared as part of the Subtext Zine from Transit Center and is republished with permission. 
Across the U.S., transit agencies are grappling with a shortfall of operators. These operators — frontline workers that keep buses and trains running
are essential to a functioning transit network that actually gets riders where they need to go.
But being an operator is no simple feat. There are long hours, and often for more junior employees, irregular shifts, and shifts at very early hours. There are long routes, sometimes without well scheduled breaks or access to restrooms. And there is the stress of day to day interactions with riders, sometimes involving altercations between passengers, or disagreements over fare payment. A recent piece in the Washington Post chronicles the harrowing experiences of one woman bus driver in Denver. In New York City, bus driver harassment accounts for nearly 75 percent of all transit worker attacks.
As cities continue to deal with economic and health crises, transit often becomes a go-to transitional space for those facing houselesness, or experiencing mental health episodes. Drivers, many of whom are ill equipped to face these challenges on their own, can find themselves in challenging, uncomfortable and sometimes unsafe situations.
Many of the challenges of being a frontline operator seem to become more acute for women.
There is, of course, the fact that women already comprise such a small percentage of the frontline workforce: In 2018, only 20 percent of operators at SFMTA were women, at the time short of the national average of 37 percent. At the MBTA just 30 percent of operators are women, at VTA just 16 percent of operators are women, at TTC also 16 percent, and at SEPTA in 2020 women account for just about 20 percent of the positions in management.
In addition to often being one of few or the only females in the depot, women operators must navigate the challenges of a system that is most often white- male led. Women make up just 15 percent of the transit workforce overall, and even with intentional efforts to hire more women (in leadership and as frontline staff in particular), many agencies still fall short. Women in operations roles confront pay gaps, even with unions. At MBTA, for example, women earn 89 cents for every dollar that men earn.
Despite the myriad of challenges that operators face, many still put on their uniforms everyday and do the work of keeping their cities moving. These are just a few of the women on the front lines, many trailblazers in their roles, who are laying the groundwork for building more fair and inclusive workplaces. These women share with us a bit about the challenges they face as operators, but they also share what it is that keeps them in the work.  - Ashley Pryce and Stephanie Lotshaw
Tonya Abernathy
Bus Operator, King County Metro, Seattle, Wash.
I love driving the bus, I'm an outgoing person, I love the communication I get with the passengers. The rewarding part is when the passengers appreciate what we do. When passengers come up to me and say, thank you for your service —  it makes me feel like I'm in the military! Some passengers thank us daily; one man gave us a gift card to buy coffee at Café Fiore. I appreciate that.
It can also be difficult. You have maybe 2000 or more passengers in a day, but there might be one passenger that has negative energy which you have to take the negative and turn it into positive. Taking care of yourself and your mental health is important. As a female it's harder, because some passengers treat you differently because you're a woman — they see what they can get away with. Or they think they can use unwanted advances towards you. They wouldn't treat male operators like that. In addition to being an operator, I am also a Chief Shop Steward, and a leader at the base. I try to educate other operators, and tell them: When we go outside, is your shadow different than my shadow? I use that all the time when I talk to people. We shouldn't treat anybody differently.
The other challenging part — we must deal with passengers who are mentally ill. If you turn around and give mentally ill passengers eye contact, they will respond in a positive manner. I wish we could have more training for that. I was a security officer before, so I know how to deal with the public. I also wish we could get training with role playing to help operators with assaults. I want all operators to self-care which is making sure they get proper sleep, exercise and eat right. I've been practicing self- care. I also get a Himalayan salt stones massage to help me with my self-care.
I'm a proud King County Metro Transit Operator and Amalgamated Transit Union (ATU) Local 587 member. As a female, I honor the uniform, I love my job.
Orquidia Flores
Bus Operator, Chicago Transit Authority, Chicago, IL
It's amazing how serious customers look when they're approaching the bus, but then when I open the door and get a smile, it's like, "Wow, that's great. Have a good day." That's what I look forward to every time I go to work. It feels like I'm giving my family member a ride to work. What motivates me is making that ride memorable. I'm not just a driver. I'm not a robot. I'm here to get you there safely and give you a great experience. I've had so many different passengers tell me, "You're the first person that's asked me how my day is going."
A lot of people think traffic [is the most challenging part of the job], but that's the least of our worries. It's what's happening inside the bus. [We have to] multitask to keep everybody safe. Sometimes we have passengers that are just not having a good day. And that's okay, we're all human. But as the driver, I have to feel out the situation and de-escalate if it's getting borderline trouble. I start with, "Hey, you doing okay back there? Let's just have a little quick chat." And then, "Hey, are we all right?" And then they tell me what's going on, and then that's it. They grab a seat and I drop them off. Sometimes all we need is to hear them out.
And while I'm doing that, I have to make sure everyone around is comfortable, to let them know without words, "Hey, it's okay. I got this. Don't worry. You're in good hands."
My advice for this job is to be yourself and treat others the way you would want to be treated. This is a great job. You're going to get taken care of when you enter this job. So, take care of others. Give them that great ride. Give them that smile of yours. When I come home so tired, my kids are like, "You're always doing too much." But I don't do it because, "Oh, I'm trying to get so tired today." I tell my family: "it's tiring, but rewarding."
And for my passengers, that's what they value. They're like, "Oh my God, you're so kind." I just hope that by me doing this, that person can get out of my bus and be kind too when they get to work. I wanted to work for CTA because I love my city. I'm just so proud to be driving that bus. It's like I'm the face
of the company. With my career here, I hope that I can motivate others to be who you are when you're at work. I want to help CTA be recognized more for our drivers, women, whoever you are. And maybe one day, be somebody important at CTA, not just the driver that everybody sees.
Thejoal Hope
Bus Operator, Chicago Transit Authority, Chicago, IL
Being a female Bus Operator has its rewards and its pitfalls.
You have customers who appreciate you coming to work. They will say, "Oh, thank you so much for coming to work because, man, I needed to get to work, and I'm so glad that you're here. I can get to work on time." So that motivates you for the day. You may be thinking, "Oh, I'm so tired. I just don't feel like
being here." But once you get that one customer who voices appreciation, that'll wake you right on up.
Some people don't talk to you respectfully. Especially being a woman, you get a lot of disrespect, and you got to learn how to deal with that ... You got to learn to hold your tongue because all ignorance does not deserve a response. So for me, over the years, I've just become very prayerful. It's not easy working with the public being a bus operator because you have to wear too many hats and still be aware of your surroundings. Let me not forget the long hours doesn't help, they can be draining so getting plenty of rest isn't an option. But once you get your niche, it gets easier.
If you have managers that are observant, spiritual and motivators it helps. Having an open-door policy is much-needed in a business like this. Some managers are good about that — you can talk to them and let them know where you stand for that day. They say on paper that "customers are always right," but in reality, that's not always the case. So you need managers to be more understanding, good listeners and open to giving suggestions that are not printed in the book.
This past year has been really rough for me, but I had a manager, G.M. Akindele, who was very supportive and understanding of what I was going through at that time. It's imperative to have good people in positions that not only make sure you're doing the right thing but also be supportive, motivating and encouraging. Ones who you can talk to, who can see when there's something wrong and say, "Hey, what's going on? How can we fix this? Do you need some time off?"
The rewards and benefits have been amazing for me, being a single mom. There's some good to it all. You get to take care of your children with providing more than just the basics. Opportunities to advance within the company are of great magnitude.
I've met a lot of good people over the years working here at CTA. Managers, supervisors, instructors etc., some of whom were operators with me. Some people have met their husbands and wives here, even if that's not what they came here for. You want to be in an environment where everyone is respectful, communicative and compassionate towards one another because this is your family for most of the day.
My advice for a new female bus operator would be to have a great support system, stay strong and prayerful.
Alicia Michelle Smith
Customer Service Representative, 32 years at the Chicago Transit Authority
My original title was Combined Rail Operator. We were cross-trained as a ticket agent, operator, conductor, tower or switching, and flagging.
Then I became a Customer Service Representative. You don't have enough time for me to tell you all that I actually do. CTA has a safety-first model, so the safety of the passengers takes precedence over everything. While I'm interfacing with passengers in the station, I carry a radio, and I'm monitoring the entire time. If things are chaotic, I assist where I'm needed.
I might be on the trains assisting the operator, I might be on the platform,
so it varies from day to day. Also, I work with instruction, and I train new hires. I'm a line instructor.
The people are the reward. I absolutely love my passengers. When people come to Chicago, and they want to go to a Cubs game, or they want to go to the Blues Festival or the Taste of Chicago, I really enjoy helping them. We meet people from all over the world. The other reward is the men and women that go to work every day that don't give up in our current political climate.
There are several challenging things, especially right now. The violence
gets in our way of doing our job. There [used to be] a lot of respect for us as transit workers. The boldness that we see right now has never been a part
of our world. And homelessness, I've never seen it this bad before. When you look at our history of how we, CTA, resolve issues to get you to your destination, it's never been a problem— we're trained to resolve an issue in 10 minutes. But when we have these real hard problems, like homelessness or fighting, and our train's not moving, that's hard. Each generation has its own challenges, and new hires have challenges that we did not have.
My advice to them is you're more than capable and give 100 percent without harming yourself. I like that management is now making a commitment to new hires that if you stay with CTA full-time, we will give you full-time benefits. Men and women need to take care of their families. And you have to love the passengers. Our job is all about transporting people. Whether you're operating a train, driving a bus, or you're in the station, everybody is dependent on you to lead them to safety. It's a responsibility that I would say — take seriously. I've always worked those busy stations. And I knew that my responsibility was to be the face of CTA, and to get the passengers to their destination because that's what we do.
When I started working for CTA, I became a fan of the Cubs fans because they were die-hards. When the Cubs won the World Series, I was happier for the fans than I was for the Cubs. In my 20-something-odd years transporting the fans to games, I saw they carried every generation with them to that game. So, the sweet spot for me has been transporting Chicagoans to events that bring us together, and I love the pride that we carry for our city. As an agency, CTA, is in the middle of that. That is what we do—transport people. If we stop, the city stops.
Stay in touch
Sign up for our free newsletter