Citizen-advocates for Slow Streets were recently dubbed "mayors" of those streets by Richard Cano of the San Francisco Chronicle. Those mayors are now adopting that moniker in an open-letter to SFMTA officials, demanding the city cease watering down the entire Slow Streets concept.
Dear Chair Amanda Eaken, Board of Directors, and Directors Tumlin, Maguire, and Parks:
In December, the SFMTA Board of Directors made history by unanimously approving the Slow Streets Program, making this transformative initiative a permanent part of our city's transportation future. The Board also took the opportunity to enhance the Program and improve safety on our Slow Streets by lowering the vehicle volume and speed criteria, metrics which will make these streets safer and lower stress, especially for children, seniors, and people with disabilities. We are grateful to the Board for its unanimous support and SFMTA staff for their tireless work on the Program.
Following the vote, Slow Lake Street received delineators and signs only at every other intersection and did not receive the 'Local Traffic Only' signs that are standard on Slow Streets.
More recently on Page Slow Street, the 'Local Traffic Only' text was covered up on the associated signs before those signs were removed entirely. SFMTA's Slow Streets webpage was updated to state that the Agency is "moving away from 'Local Traffic Only' signs." This was done without public process or community engagement. Having signage and delineators at every intersection is critical for making drivers aware of Slow Streets and their use, so they are taking care while driving on one block for their local trips.

As such, we implore SFMTA to keep the 'Local Traffic Only' signs — and their connected delineators — installed and visible on all Slow Streets and to install signs and delineators at every
intersection. Removal or covering up of these signs — or failure to install them — will lead to more confusion over the use of Slow Streets by drivers, creating more conflict and detracting from the safe, welcoming atmosphere that we all have created, benefited from, and come to expect. If the language is to be changed, we suggest that it be changed to one of the following messages that are compliant with the Manual on Uniform Traffic Control Devices (MUTCD):
'No Thru Traffic' (MUTCD R-95)
'Road Closed to Thru Traffic' (MUTCD R11-4)
'Road Closed — Local Traffic Only' (MUTCD R11-3)
In addition to being MUTCD-compliant, these signs and their wording inform drivers of the Slow Streets Program's guideline to "keep driving on Slow Streets reserved for local trips." Such signs will also decrease speeding and dangerous driving.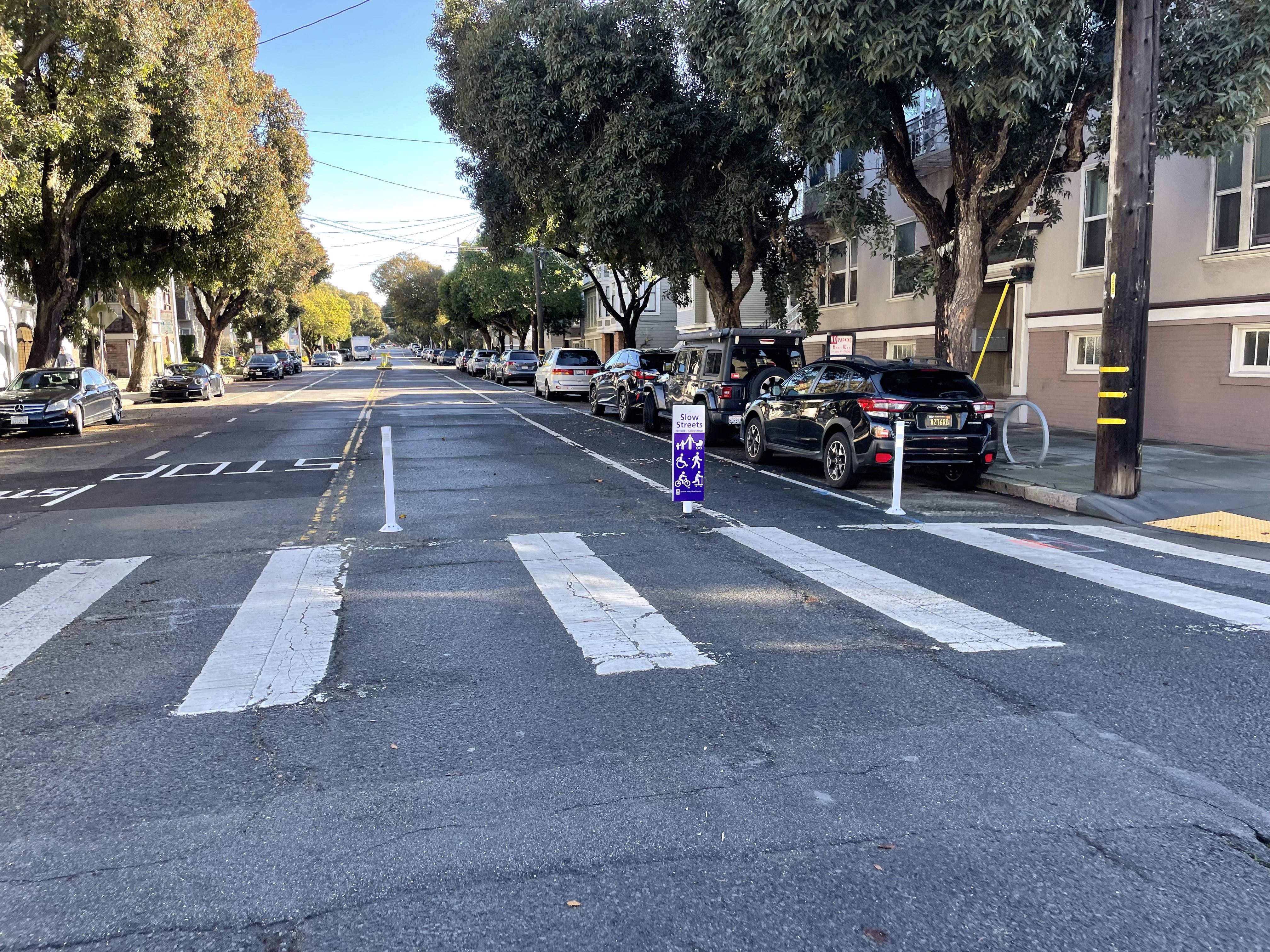 Furthermore, the placement of these signs and their connected delineators should remain where they are — in the roadway and driving lanes — in order to ensure that drivers see the signs, understand the permitted use of Slow Streets, and take care when entering a block. Ideally, larger signs would be installed closer to the intersection, so drivers more easily understand what usage and trips are permitted.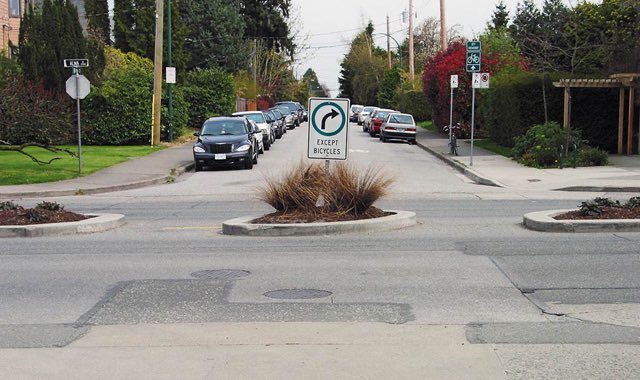 We heard at the SFMTA Board meeting that there is a desire for more education and awareness around the intent and expectations for the usage of Slow Streets. We applaud SFMTA staff on their 'How To Use Slow Streets' webpage and fact sheet and encourage more work on this front to make more people aware of Slow Streets and how they are intended to function.
On that note, we suggest that SFMTA consider the following additional treatments and campaigns:
Roadway markings — Adding pavement markings with images of children/families, people using bikes, scooters, and mobility devices, and the word "SLOW" will help make all users of the Slow Street aware that people walking, biking, and using mobility devices can use the roadway for those purposes.
Shared street signage at intersections — Adding signage at intersections with the words "Shared Street", "Shared Space", or "Shared Zone" and images of people walking,people biking, people using mobility devices, children playing with a ball, children playing with a ball, and a car will help educate Slow Streets users of what they should expect tosee and interact with.
Slow Street signage on cross-streets — Adding signage along cross-streets — like is currently installed on cross-streets of Slow Shotwell — with "Slow Street" and abidirectional arrow will help to make people driving on cross-streets aware that they are approaching a Slow Street and will help make other people aware that the Slow Streetexists and may be of use to them as a safe, lower-stress street for walking, biking, and using mobility devices.
Awareness/marketing campaign — Creating an educational campaign — including mailings, posted signs, emails, Muni ads, and a webpage — would help raise awareness of Slow Streets, their locations, and how to use them. Messaging could also encourage residents to use Slow Streets get more involved and participate in community-building events.
SFMTA has transformed a number of streets with the Slow Streets Program, and we look forward to a future where more people can use and benefit from them, especially those in underserved communities and Equity Priority Communities. Ultimately, the goal should not be to do the bare minimum to differentiate a Slow Street from other streets. It should be to set up the Slow Street network for success. The more inviting and safe it is, the more people will use it and the better we can assure that the program thrives.
Thank you,
Luke Bornheimer
Slow Streets Advocate
Twitter: @LukeBornheimer
Co-signed by:
CabriSLOW, Friends of Slow Shotwell, Golden Gate Ave Slow Street, MinneSLOWta, Page Slow Street, SF Bike Bus, Slow Cayuga, Slow Clay Street, Slow Lake Street, Slow Lyon Street, Slow Sanchez

This letter was edited for length.
Stay in touch
Sign up for our free newsletter