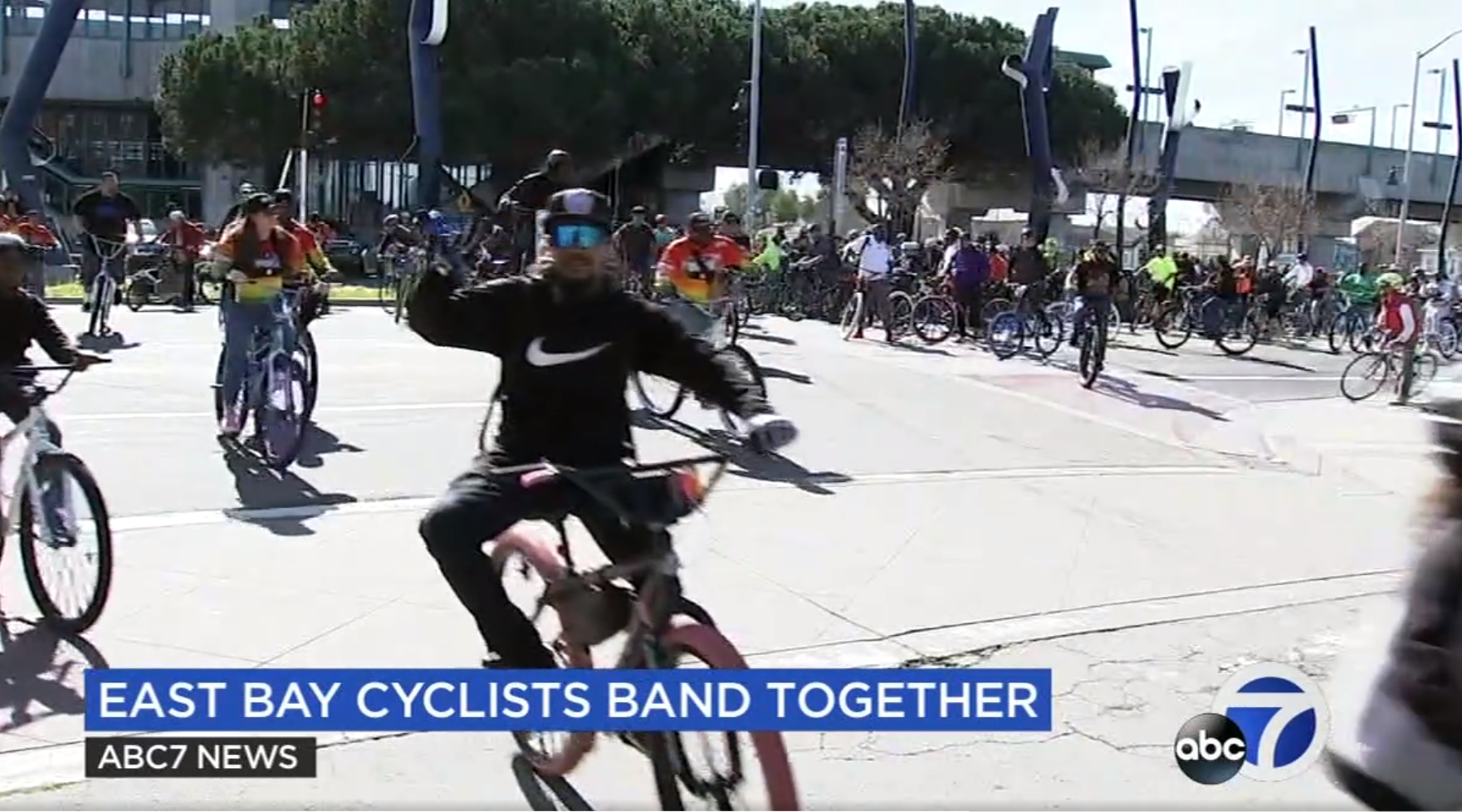 Note: GJEL Accident Attorneys regularly sponsors coverage on Streetsblog San Francisco and Streetsblog California. Unless noted in the story, GJEL Accident Attorneys is not consulted for the content or editorial direction of the sponsored content.
As many as 800 cyclists showed up at West Oakland BART station on Sunday morning for a ride around Oakland, Emeryville, and Berkeley to show solidarity after a string of intentional attacks earlier this month by a group of motorists sent at least two cyclists to the hospital. "We're not going to tolerate it!" said Truckie, one of the founders of the Roll Out Crew, which runs organized rides around the East Bay. He explained that while nobody from his group was targeted by the attackers, he felt an obligation to support East Bay Bike Party and all cyclists who were assaulted. "That's why we're out here."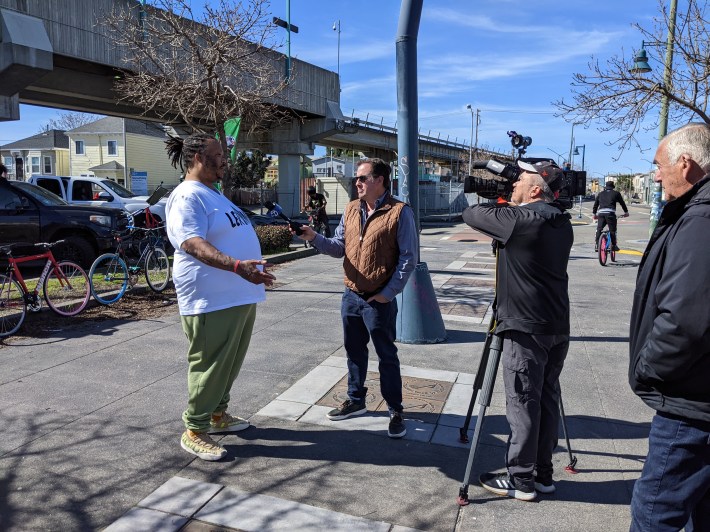 Reports surfaced the weekend of February 11 that some fourteen cyclists were intentionally doored in the East Bay. Several cyclists participating in an East Bay Bike Party recreational ride were targeted, and eight were actually hit, according to a television report.  The incident–and the lack of a coherent response from law enforcement–shook the cycling community.
"I was heading home" from the ride, explained Rebecca Mirvish, who participated in Sunday's unity ride. "I was biking by Lake Merritt when a car drove by and swung the door open and hit me and two other guys."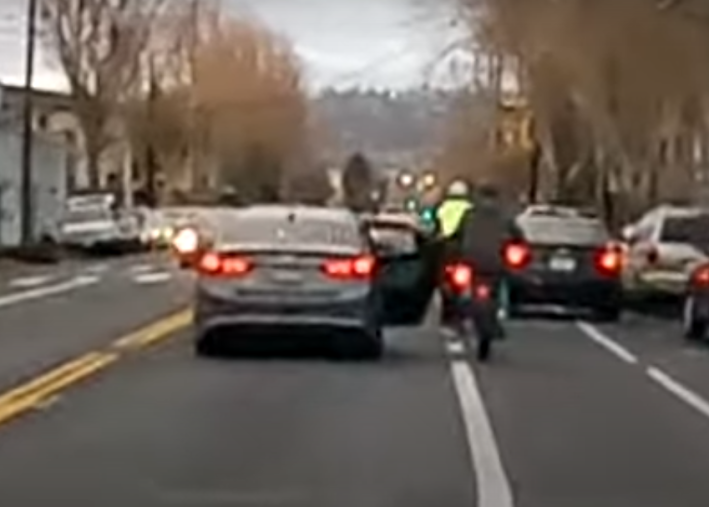 Mirvish was unscathed, but others were not so lucky. "Someone broke an elbow and a foot." Another cyclist fell and received a gash to the head that required stitches.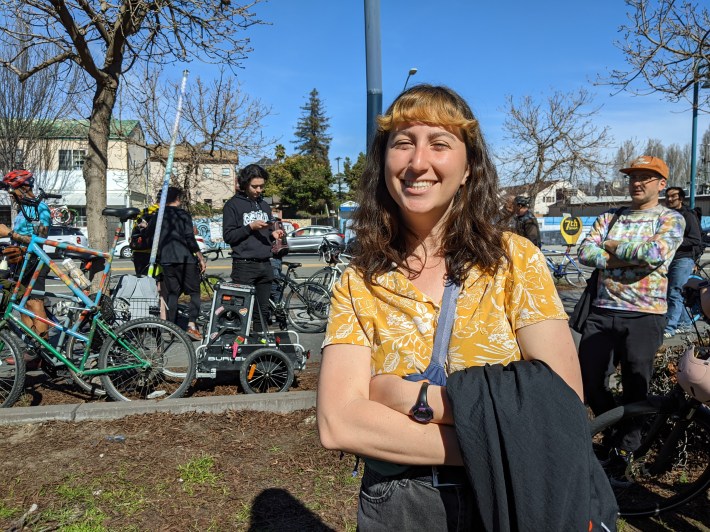 Mirvish said the attack also highlighted the importance of protected bike lanes. Part of the journey around Lake Merritt has planters and concrete curbs to prevent interactions, intentional or otherwise, between motorists and cyclists–but she was attacked on a stretch where there's nothing but a painted stripe. She added there was no question the attacks were intentionally since the drivers made more than one pass and crossed "two fully empty lanes" to hit them with their door.
Mirvish said she feels confident enough to ride again, but the incident was obviously disturbing, as it was for all the victims.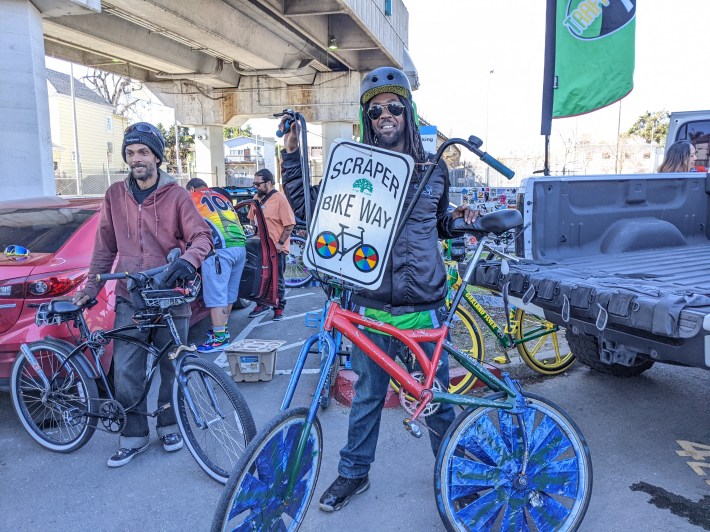 "We want to take some of our joy back," said Brian Culbertson, an organizer with Traffic Violence Rapid Response, which holds vigils for cyclists and pedestrians killed by motorists, while addressing participants before Sunday's ride. Reginald "RB" Burnette of the Original Scraper Bike Team, another cycling advocacy group, spoke with Streetsblog about the importance of maintaining positivity and "unity in the community" to push past the intimidation and fear caused by violent motorists. TraffikBoyz and Bike East Bay also participated in the ride.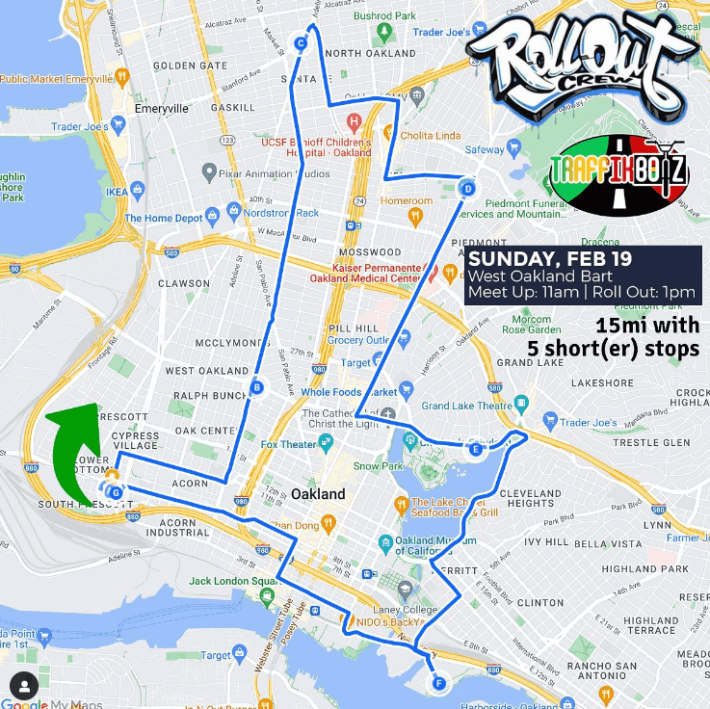 "We all stand here together because of what happened to East Bay Bike Party," said Truckie. He explained that some of their own cars would follow the ride, offering repairs to any cyclists who need them and making sure the riders are safe. "Nobody is going to do anything to you today–at least not for free."
"You cannot get us off our bikes," he added.
For more, here's a TV news report about the unity ride and the attacks they were responding to. Some bike camera video of Sunday's ride below:
Stay in touch
Sign up for our free newsletter