Dumbarton
Caltrans D4 Gets Another "Environmental" Award for Highway Widening
4:28 PM PST on February 22, 2023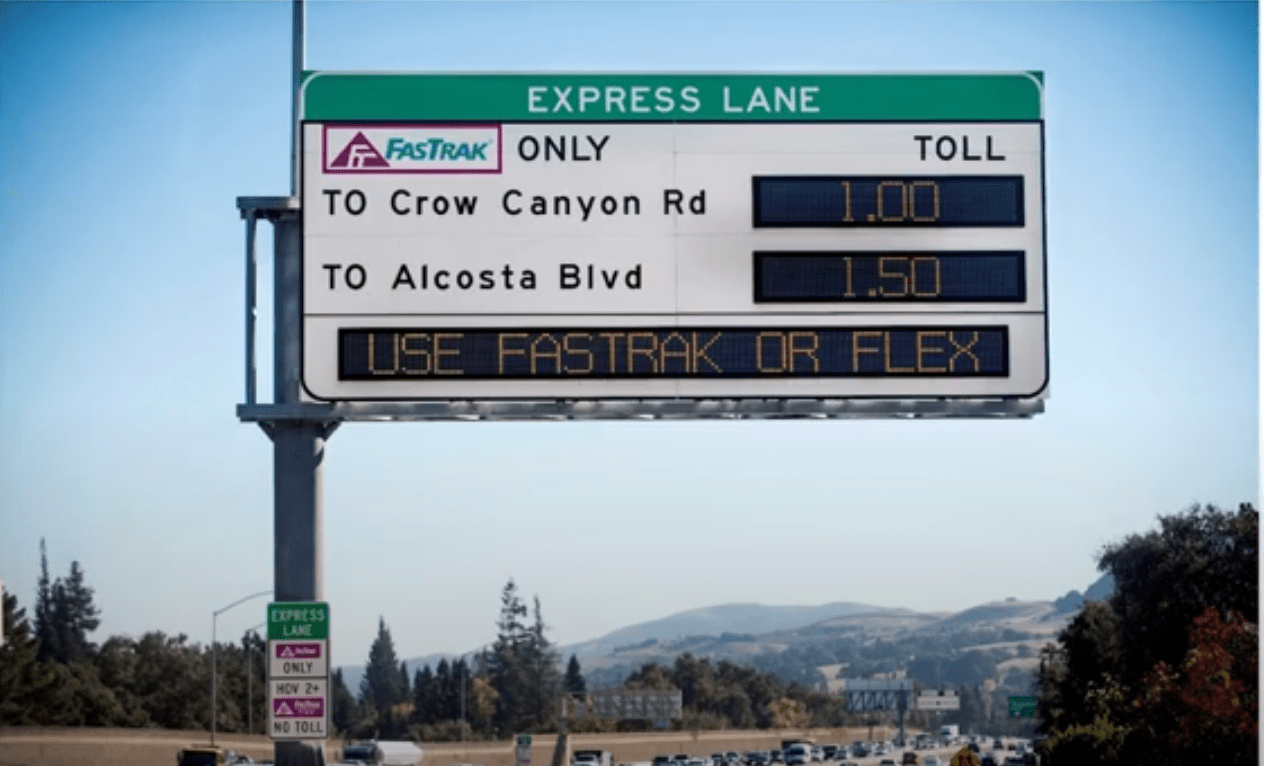 Note: GJEL Accident Attorneys regularly sponsors coverage on Streetsblog San Francisco and Streetsblog California. Unless noted in the story, GJEL Accident Attorneys is not consulted for the content or editorial direction of the sponsored content.
The Caltrans division that handles the Bay Area received an "environmental" award from the Institute for Sustainable Infrastructure for adding lanes, pollution, emissions, and additional motor vehicle traffic to Highway 101 on the Peninsula. From a Caltrans release quoting Dina A. El-Tawansy, District Director, Caltrans District 4:
The Caltrans Bay Area Team is pleased to receive the ENVISION® Silver award for the US-101 Managed Lanes Project. The project represents the successful partnership of multiple state, regional and local agencies as well as the private industry to reduce traffic congestion, improve travel time reliability and promote mode shift, carpooling and transit for all users on a critical corridor linking the economic centers between San Francisco and Silicon Valley. This award demonstrates the commitment of our team, partners and contractors to delivering innovative improvements to advance air quality, climate goals and a sustainable and efficient transportation network.
It was apparently awarded in 2021, but only just came to Streetsblog's attention via Mike Swire, a Peninsula advocate and member of the Citizen's Advisory Committee of the San Mateo County Transit Authority. "I have never heard of this Envision award," he wrote in an email to Streetsblog shortly after learning about it. "101 is the #1 source of GHG emissions on the Peninsula. Caltrans has made it easier for thousands more to drive and they are claiming that this is sustainable?!"
This just adds insult to injury for everyone who actually cares about the environment.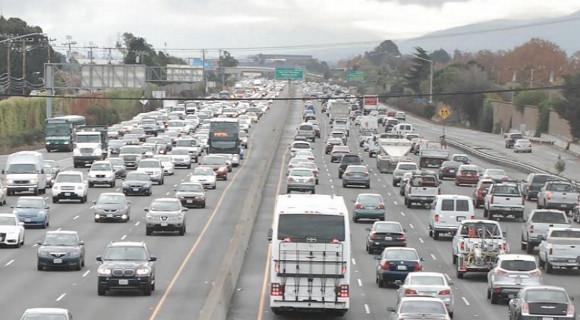 As Streetsblog San Francisco, California, and Los Angeles have documented many times, Caltrans and the local agencies it works with (in this case the San Mateo County Transportation Authority and the City/County Association of Governments of San Mateo County) have long played this game of pretending to "get" that they can't keep widening roads, and yet they continue to do it under various other labels. They "improve interchanges," do "seismic retrofits"  or "reconnect communities" or add "express lanes" in ways that always involve more asphalt. Occasionally they even build brand new freeways under the guise of addressing emissions. They use garbage can traffic models to show that increasing the width of freeways–or building new ones–somehow reduces pollution, when of course they do not.
Part of this 101 Express lane project converts existing HOA lanes to toll lanes which they claim, among other things, helps buses. How allowing additional drivers to pay a toll to drive solo in the lane helps buses run faster is anybody's guess! Even in the graphic they include in their own materials they picture a driver cutting in front of a bus, as seen below: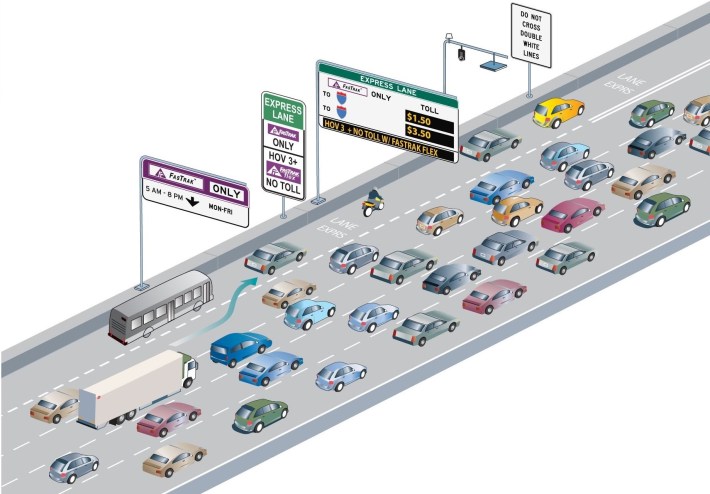 The fifteen miles or so from Whipple Avenue in Redwood City to I-380 in South San Francisco weren't even a carpool lane conversion: it's just plain-old freeway widening.
Obviously, Streetsblog supports congestion pricing and tolling, which is part of this project. That can actually help offset induced demand by requiring drivers to pay for something slightly closer to the full cost they incur on the general public. But that's something that should apply to pavement that's already in place. Caltrans, in typical fashion, has perverted the concept to again justify more asphalt. They even do some new verbal yoga and try to claim they're not really adding lanes, they're connecting ramps to create "auxiliary lanes" to the outsides of the freeway and converting the inner lanes into Express lanes.
Sorry, more lanes are more lanes.
There are so many ways the state and region could have spent $581 million that would help reduce emissions for real (build a network of off-street bike paths, or rebuild the Dumbarton bridge for rail, are just two examples that come to mind).
Meanwhile, Swire warns that Caltrans is now talking about widening 101 north of I-380, and they're continuing to portray the project as good for the environment. "This is greenwashing at its finest," he said.
Stay in touch
Sign up for our free newsletter