Muni
Better Buses Needed in Bayview-Hunters Point
3:40 PM PST on March 8, 2023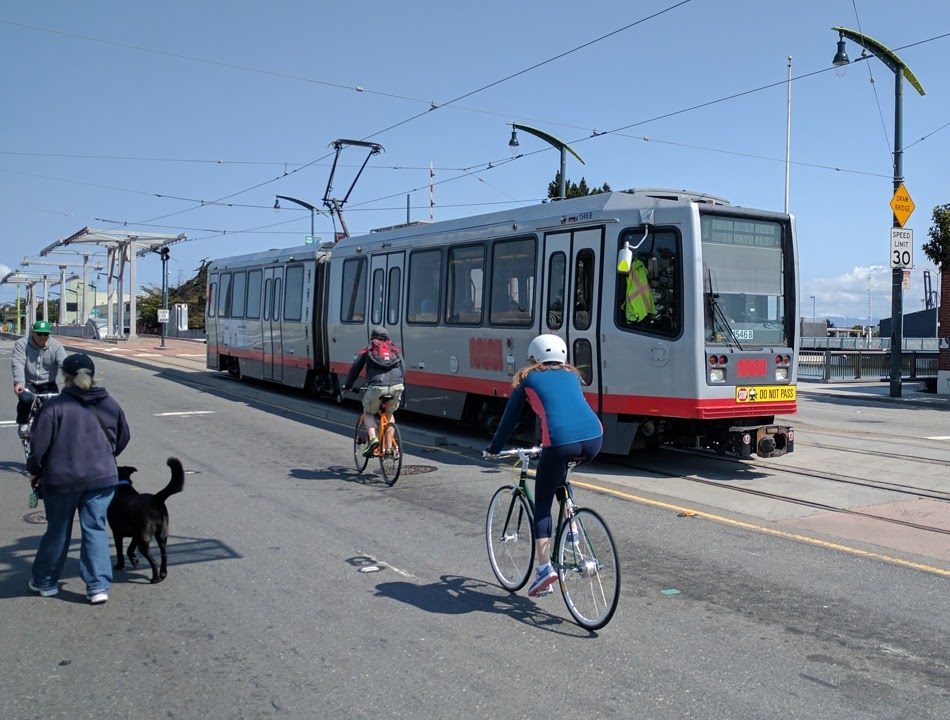 Meea Liang is a disabled, elderly, and low-income resident of the Northern Cooperative Community, in the hills of the Bayview-Hunters Point neighborhood. She relies on the Muni 44 and 15 and takes the 23 sometimes, but the hill makes it difficult for her to reach the bus stops. The T line remains hard to reach as well. "I want the bus lines to run more frequently and be on time, timing is so important because I have to get to work and run errands on a schedule."
In the Bayview-Hunters Point, it can take three or four times longer to get somewhere by transit than by car. The lack of good transit limits residents' access to food, housing, jobs, and spaces to gather and organize. Safer, more reliable, and more accessible transit is needed.
Take Leslie Thornton, a member of 100% College Prep Institute and a student at San Francisco State University (SFSU). She lives in the nearby Potrero Hills and commutes most days to SFSU on the L, 28, or 48. Other than that, she "really doesn't use it regularly or to go to anything important because of the [lack of] frequency." Leslie would like to see more buses in the neighborhood.
Meea's and Leslie's (names changed for anonymity) stories are among the ones that the San Francisco Transit Riders SFTR and Literacy for Environmental Justice heard in a survey and engagement project. As part of the grant from the Bay Area Air Quality Management District, SFTR conducted more than 200 surveys with community residents at bus stops, street fairs, and farmers' markets.
There was a consistent theme: people in and around the Bayview-Hunter's Point neighborhoods would like to rely on public transit but in its poor state, many are forced to drive. The new Central Subway connection helps, but the area needs multiple transit options, just like the rest of the city.
The resilient Bayview-Hunters Point
The transit issues in the Bayview-Hunters Point are connected to the systemic challenges the community has experienced, including consecutive phases of displacement since the Second World War and the establishment of the Navy base.
The neighborhood includes African-American dominant Hunters Point, Silver Terrace which is majority Asian American, and Bayview/Doublerock which is largely Latinx. Fifty-four percent of residents speak a language other than English, and 14 percent of Bayview-Hunters Point households speak little or no English. Bayview-Hunters Point is also one of the last San Francisco communities with a large youth population, at 24 percent. Forty-two percent of the households in Bayview-Hunters Point, predominantly people of color, live in poverty–almost double that of San Francisco as a whole. The unemployment rate of Bayview is 10 percent, almost five times the rest of the city.
Meanwhile, ongoing redevelopment of both Candlestick Point and the Hunters Point Shipyard, which include new housing units, commercial spaces, and roadway infrastructure, are creating new displacement pressures. Area residents are also impacted by health outcomes worsened during the pandemic. Further, climate change studies show vulnerability to environmental hazards like storm surges, flooding, liquefaction, extreme heat, and air pollution. The Bayview-Hunters Point is disproportionately burdened by pollution, with 86 percent of neighborhood children developing asthma before kindergarten.
A robust transportation reliance system can engender reliance and agency among residents.
Transportation, housing, food, healthcare, and education are interconnected. Without access to one, access to others becomes harder, as shown through Meea and Leslie's stories. People in their situations are less likely to gain access to good schools, jobs, and financial services. Importantly: a lack of transportation represents a lack of access to democracy.
When the community speaks
About 21 percent of survey respondents listed transit in their top three priorities, making it the fourth priority after jobs, housing, and access to food overall. This points to a need to shape future conversations around transit for its role in facilitating access to jobs, affordable housing, and food. Responses on our surveys point to gaps within the existing transit network that prevent many from accessing the system at all. Finally, transit safety and sanitation are repeated concerns from respondents, but not as often as frequency and reliability.
But when asked, "When you see a problem in your community that needs fixing, do you feel like your voice matters/that you can make an impact?" nearly 50 percent of respondents said "no."
In late October last year, SFTR organized a forum with residents in coordination with our partners, the San Francisco Bicycle Coalition and Walk SF as part of our campaign for Prop L that re-authorized a half-cent sales tax for transit. Residents in the Bayview spoke vehemently about a need for better and safer road and bus infrastructure overall, including much needed improvement in paratransit.
Residents are eager to participate and work to improve transit but are largely frustrated by a lack of platforms and venues to do so. Despite best intentions, including The Bayview Community Based Transportation Plan (CBTP), there is an inherent complexity within the current public process and a continued community distrust of our transit agencies. Bayview-Hunters Point residents consistently say they are the last to hear about what is happening in the city. There are concerns that young people are not represented.
Advocacy organizations such as ours can help the community feel empowered and communicate their priorities to the SFMTA.
The reality is that using a car is often the only viable option in this neighborhood because transit is so poor. Fifty-one percent of local residents commute to work compared to 33 percent citywide. A robust set of transit connections can be a game changer for residents like Meea and Leslie and the neighborhood overall. They would no longer have to spend precious money on cars, gas, and parking. And removing drivers from the road will ultimately create a safer and less polluted community.
Engaging stakeholders and including community-based organizations representing equity-priority communities, such as BMAGIC and Literacy for Environmental Justice, can provide direction, organization, and commitment toward a new vision. This vision can build off existing plans such as Connect SF, SFMTA's 5-minute network, or even SFTR's 30×30, but it must come from organic and authentic collaboration, rather than a top-down approach set out by SFTR or city leaders.
This collaboration must be a prerequisite before efforts for any future funding measures. The people of the Bayview-Hunters Point neighborhoods deserve frequent, reliable, and robust transit access to the rest of the city.
***
Vinita Goyal is Executive Director at San Francisco Transit Riders. Dr. Hollis Pierce-Jenkins is Executive Director at Literacy for Environmental Justice.
Stay in touch
Sign up for our free newsletter