GJEL1
A Little Parklet Update
4:05 PM PDT on March 29, 2023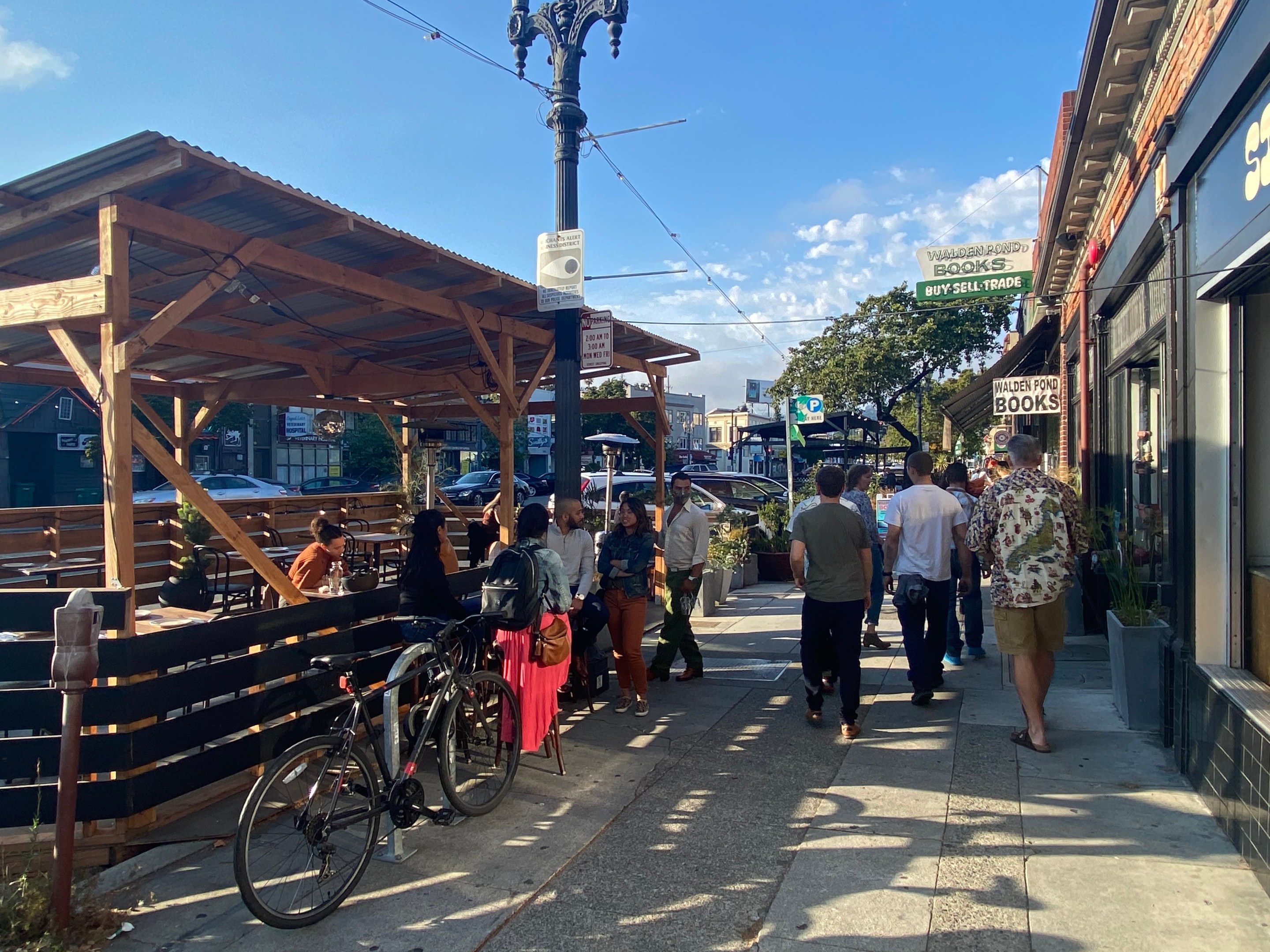 Note: GJEL Accident Attorneys regularly sponsors coverage on Streetsblog San Francisco and Streetsblog California. Unless noted in the story, GJEL Accident Attorneys is not consulted for the content or editorial direction of the sponsored content.
One of the few nice things that came out of the horrors of the COVID pandemic was a rethinking of how the space between buildings is used. Rather than giving almost every inch to motorists, the pressure on restaurants and the physics of viral transmission forced cities to finally consider sacrificing a few private car-storage spaces (aka: street parking) and allowed them to be used for outdoor dining. Thus came the eateries, or parklets for dining.
People liked them so much, cities are making them permanent.
First, Oakland:
On Tuesday the city of Oakland made it official and announced new guidelines for a permanent parklet program that will enable existing parklets to remain and new parklets to be installed. From an Oakland release:
"Every day Oakland's incredible business community creates great customer experiences and reinforces Oakland's reputation a destination for great food and shopping," said Oakland Mayor Sheng Thao. "We are excited to support that creativity and service with a sustainable City program that can give those business owners the security they need to plan their investments in parklets, while supporting the long-term needs of everyone to share public space. I look forward to seeing my fellow Oaklanders out there enjoying these fun spaces and supporting local merchants under this new program!"
The parklet program guidelines, according to an official city release, were developed based on lessons learned from Oakland's temporary pandemic-era Flex Streets pilot program, as well as best practices gleaned from peer cities, including San Francisco, Seattle, Los Angeles, New York, Washington, D.C., Boston, and Philadelphia. The new guidelines include requirements to increase pedestrian and bicyclist visibility and safety, conform with fire department guidelines, and improve accessibility for people with disabilities.
The new parklet permit fee is expected to cost about $2,400 for the first year and $1,800 to renew. The new rules take effect July 1. Detailed guidelines are available online.
Meanwhile, in San Francisco:
San Francisco's "Shared Spaces" pandemic permits expire on March 31. San Francisco also has guidelines available online for parklet designs. This includes a site plan that shows the parklet will be safe and "ADA accessible."
Interestingly, on page 102 of the 120 page manual, it says:
Shared Spaces may be allowed in floating parking lanes, such as those next to 'parking-protected bike lanes,' [emphasis added] on a case by case basis if City staff determine it to be safe and feasible; resulting zone must maintain an accessible path of travel.
That's notable considering SFMTA and other supporters of a center-running bike lane on Valencia Street in the Mission have been telling people parking-protected bike lanes are infeasible there  because of the shared spaces program.
San Francisco's new legislated Shared Spaces Program begins April 1. Fees range from $0 to $6,500 per permit depending on permit type and other factors, although a typical movable commercial parklet will cost $2,000 to renew (here's the full cost matrix).
For more, check out this story from NBC Bay Area:
Stay in touch
Sign up for our free newsletter