Bicycle Infrastructure
SFMTA Board Approves Only Option They Were Given on Valencia
4:44 PM PDT on April 5, 2023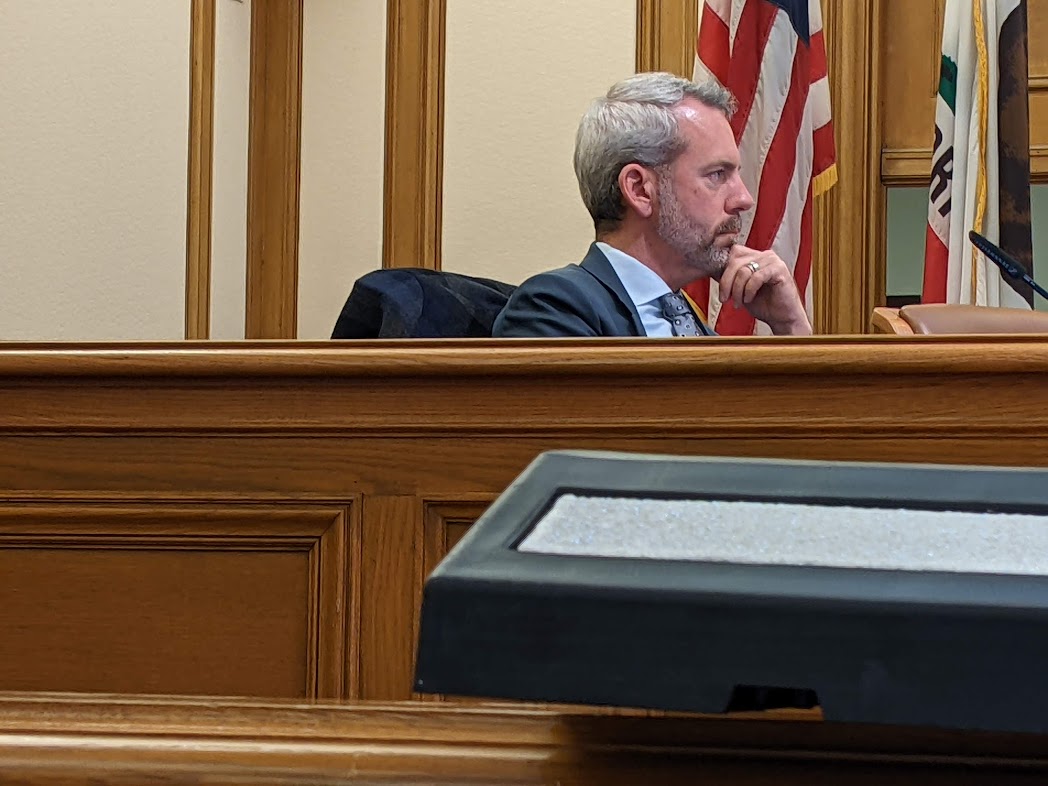 "We'd do a full investigation as we always do and, depending on the circumstances, we would either make an adjustment or, if there was nothing we could do about it, we would do nothing," –director Jeffrey Tumlin, when asked Tuesday what SFMTA would do if a cyclist were seriously injured (or killed) on the planned center-running lane.
SFMTA Chief Jeffrey Tumlin and his staff presented the board of directors with a single option for a new Valencia Street bike lane configuration during Tuesday's regular hearing: center running.
The board approved it unanimously, but many of the directors were obviously frustrated and questioned the design, which sandwiches cyclists between lanes of moving traffic. "I'm sure you've read the reports that these ideas have been tried, and in many cases have been unsuccessful," said Director Steve Heminger before the vote. "We don't have actionable alternatives today?"
Tumlin told Heminger and other members of the board "no," because all other alternatives had "fatal flaws."
He meant: there would be less space for cars. The "fatal flaws" were that protected bike lanes–of the type they already designed and presented in 2020 and installed from Market to 15th–would require additional removal of motor vehicle space: either parking, loading, or a travel lane.
Building on the supposed infeasibility of parking-protected bike lanes, SFMTA staff repeated the lie that parklets prevent them from adding a normal, Dutch-style protected lane along the curb. They also blamed fire department regulations about minimum widths for fire access.
One city employee knowledgeable about these issues was so aggravated with the meeting that they reached out directly via email (Streetsblog is withholding the employee's identity to spare them retaliation). "I'm sitting here (intermittently) listening to the SFMTA board chase the Valencia Street question (endlessly), and hearing the San Francisco Fire Department 26-foot clearance rule tossed up as if it was carved into the U.S. Constitution. But actually the Board of Supervisors can and do control the code; they rubber-stamped a major re-adoption of the Fire Code last December."
The contact inside SFMTA said staff is hiding behind that rule and has never actually attempted to get it changed. "If the Fire Code 26 foot rule is a 'fatal flaw' (as characterized by SFMTA staff in reference to a side-running bikeway for Valencia) we really ought to fix it before it injures and kills more people!"
Some advocates, including the San Francisco Bicycle Coalition, continued to take Tumlin and agency staff at their word and endorsed the center-running plan as the only feasible option. "Keep improving the designs or rip them out completely if they just don't work," said SFBC Director Janelle Wong. "We ask you to ensure a robust and collaborative community process. We want zero encroachments to the bike lane."
"We will start talking with our parking control officers for enforcement," said Kimberly Leung, an engineer with SFMTA's Livable Streets Team. "We recognize center-running is new, it's different." (Note: it isn't really. It's been tried and it has failed in other cities).
Meanwhile, Tumlin took to Twitter to claim that the now-approved designs were for a "fully protected" bikeway. Note the photo in the tweet of the "protection," which was presented at the meeting.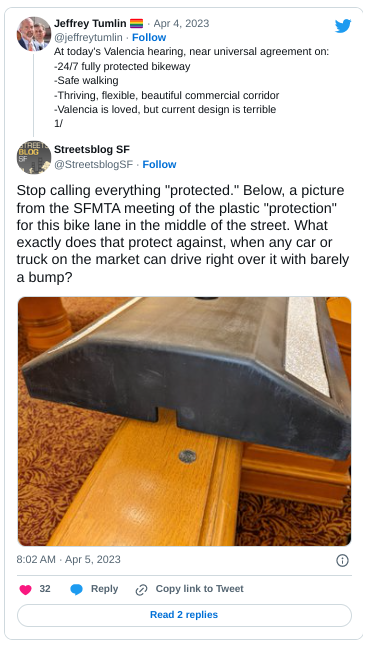 In addition to the plastic curbs that SFMTA is calling "protection," the lanes will have plastic K-71 bollards spaced thirty to forty feet apart. These, like soft-hit posts, are specifically designed so they won't stop or slow a car or truck in any way and won't even cause damage–assuring that car bodies are safe but human bodies on bicycles are mashed.
The curbs, however, are high enough to prevent a cyclist from evading any car that swerves or makes an illegal U-turn into the bike lane – a known danger of this rarely used but dangerous and old design. Below are photos of numerous cars cutting across center-running bike lanes in Washington D.C.: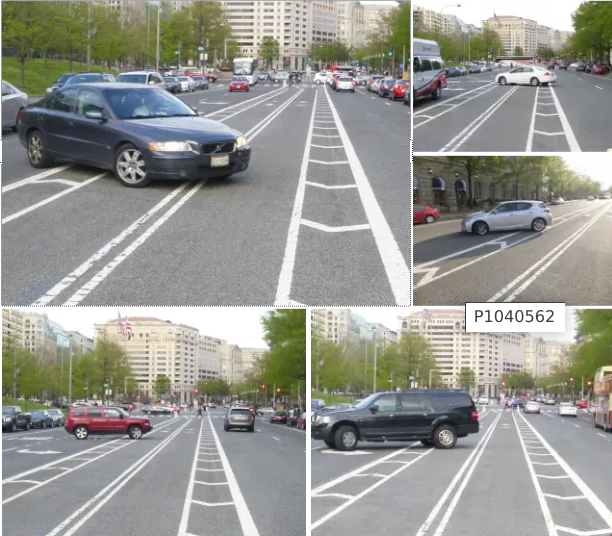 "We are committed to holding them accountable if things aren't working. We have to see the metrics and the evaluation, and it's on SFMTA to build trust with the community – that they're going to iterate," said Robin Pam with KidSafeSF, which supported the plan, in an interview with Streetsblog about the decision.
Of course, each "iteration" will come at the cost of broken bones and worse, including quite probably more deaths as the agency repeats experiments already done in other cities.
This is typical for SFMTA. Below is a picture of the spot just outside city hall where Lovisa Svallingson was killed in 2021 by a motorist who drove through a conventional, door-zone bike lane on another SFBC-supported, "innovative" project by SFMTA. It was supposed to "iterate" that one too but didn't. Only after Svallingson was killed and her partner Danny Ramos sustained life-altering injuries did SFMTA go back and install a curbside bike lane, albeit still only "protected" with plastic posts and still only on that one segment. "If you don't block the bike lane with concrete, with k-rail, with barriers that physically block drivers from entering that space, they will enter the space," said Bruce Halperin, an advocate who lives near Valencia and spoke at the SFMTA hearing.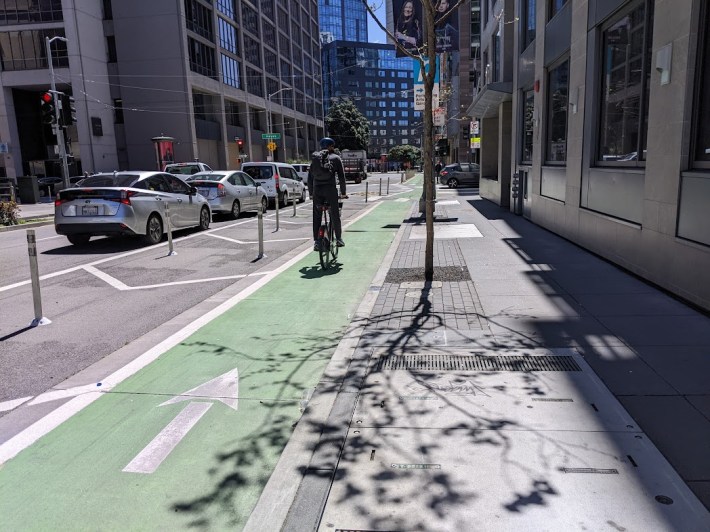 Just prior to the vote, Manny Yekutiel, another board member, pressed Tumlin on the "iteration" issue and asked him what it would take to get him to bolster the bike lane with real protection and/or to change the design to a conventional, NACTO-approved, Dutch-style protected bike lane along the curb. He asked what Tumlin would do if someone were hit or killed.
"We'd do a full investigation as we always do and, depending on the circumstances, we would either make an adjustment or, if there was nothing we could do about it, we would do nothing," said Tumlin, adding a vague comment that if there were data that showed it was worse than before they could rip it out.
Stay in touch
Sign up for our free newsletter