Cities, Counties, and Countries
Commentary: The Shock of Returning to the Bay Area
As a lifelong advocate for better transit, safe streets, and livable cities, visiting the Netherlands isn't a shock--it's coming back
3:30 PM PDT on May 31, 2023
Note: GJEL Accident Attorneys regularly sponsors coverage on Streetsblog San Francisco and Streetsblog California. Unless noted in the story, GJEL Accident Attorneys is not consulted for the content or editorial direction of the sponsored content.
My brief sabbatical to Europe concluded this month with a trip to the Netherlands, mecca for any urbanist-and-safe-streets-advocate.
It was hardly my first trip there. But as I got off the train in Utrecht a few weeks ago, having just finished my week at an international bicycling conference in Leipzig, Germany, I was struck again by the fact that I was walking into a realm designed entirely around people instead of cars. I'm sure all Streetsblog readers are familiar with the numbers: depending on the city, a full one-third to over half of all trips are done by bicycle in the Netherlands. Transit tends to pick up that much again. Cars also play a significant role, but they aren't prioritized over all other modes the way they are in the U.S.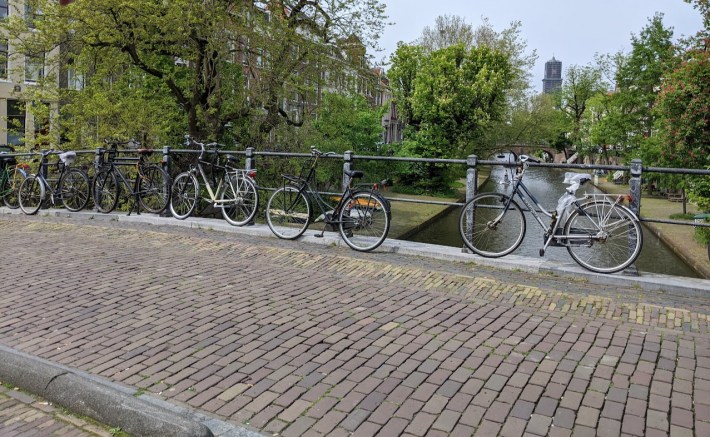 It was my first time in Utrecht, but it felt so familiar and comfortable, like an old shoe. It was as if the entire city was a community--an extension of everyone's homes. It imparted the same kind of feeling one gets walking around a park, or an outdoor market, except it was just regular streets full of bicycles, the occasional car or truck, and lots of pedestrians.
But that wasn't always the case in the Netherlands. Check out this photo below from the 1980s of Utrecht from the Bicycle Dutch blog.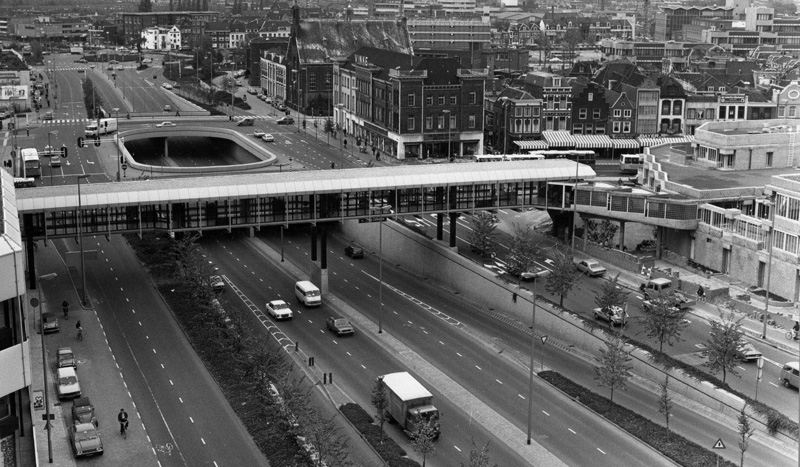 How does one reconcile old photos such as the one above with today's Utrecht, marked by gable-roof houses, canals, and bicycles? Surely they can't be the same place? (But they are).
As an American, the Dutch city of Rotterdam, my next stop, makes that easier to picture. Rotterdam was bombed to smithereens during WWII. Well into the 1970s it was still being rebuilt like an American city--with skyscrapers, large glass-and-steel structures, freeways, and huge roads to maximize car throughput.
It's still a modern-looking city with wide streets and tall buildings. There's nothing really "Dutch" or European about the architecture or layout, as I hope the photo of the skyline below makes clear. From this view it could be Pittsburgh or Toledo, minus ribbons of concrete freeways running through and around downtown:

And yet Rotterdam, like Utrecht, also feels perfectly comfortable to walk and bike around in. Watching the movement of so many people on bicycles, trams, on foot, and even by car, was a kind of poetry. No horns. No aggression I could see or hear. No gridlock. And there was so much life on the streets.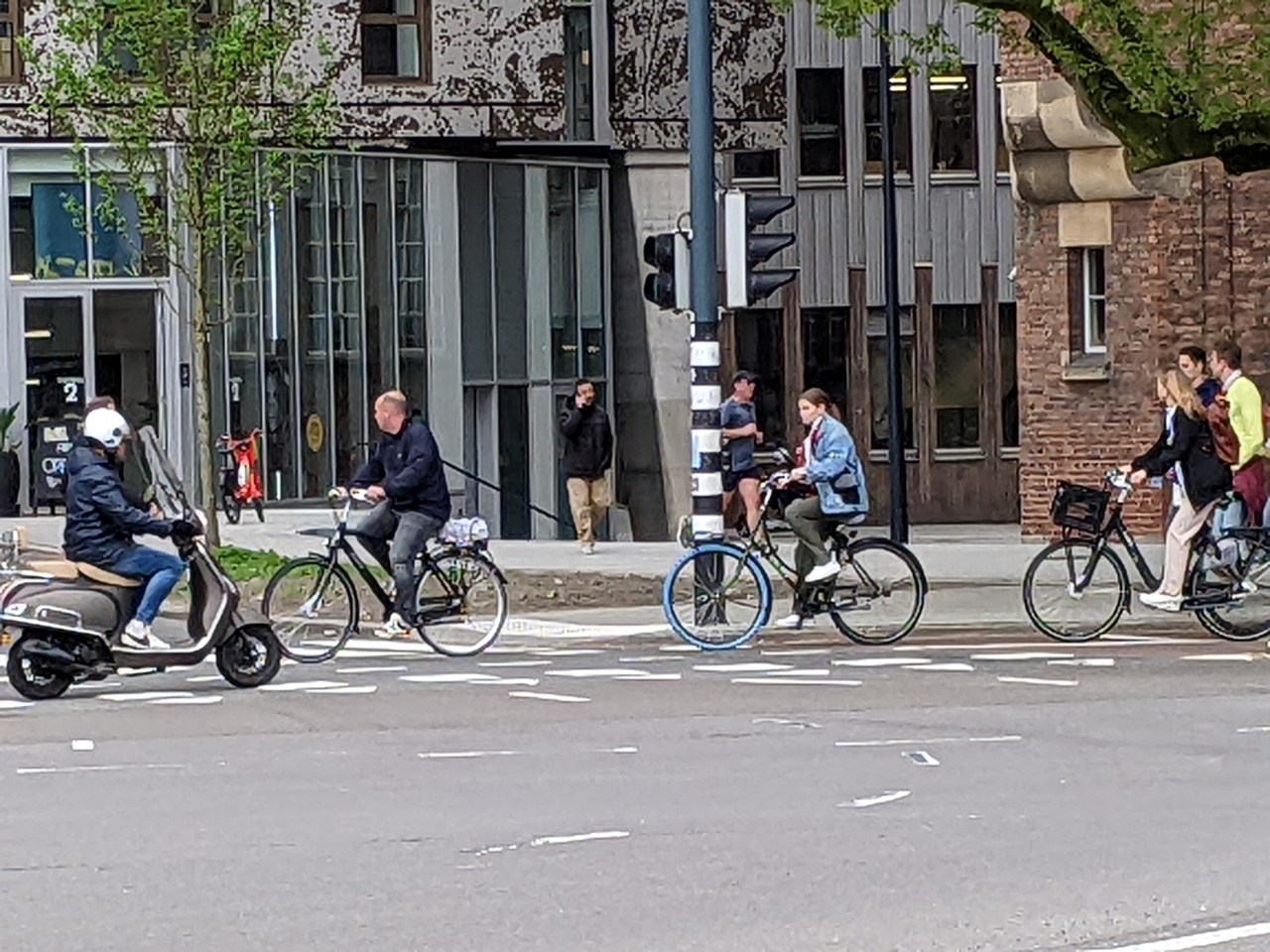 The Dutch are still making improvements. Since the last time I was there, ten years ago, Rotterdam has moved away from building bike "lanes" or even protected lanes in the way one normally thinks of them. Rather than carving a fraction of the space from the street from cars and re-purposing it for bikes, they've been shaking the street Etch a Sketch and constructing completely separate roads for bikes, with wide separations between the two modes. Bike riders barely have to interact with or take notice of drivers except at intersections. And the intersections are, of course, Dutch--no dangerous slip turns or mixing zones.
My friend Ju-Sung, who I stayed with in Rotterdam, has a modern little row house in the suburban neighborhood of Zevenkamp. He and his wife own a car; there are lots of cars there. Facilitating a suburban neighborhood where cars may still be desirable to own and use doesn't mean making it difficult or even challenging to use transit, ride a bike, or walk. Actually, we walked and took the metro everywhere. All the modes co-exist, but without the constant conflict and danger one experiences trying to walk or bike around an American suburb.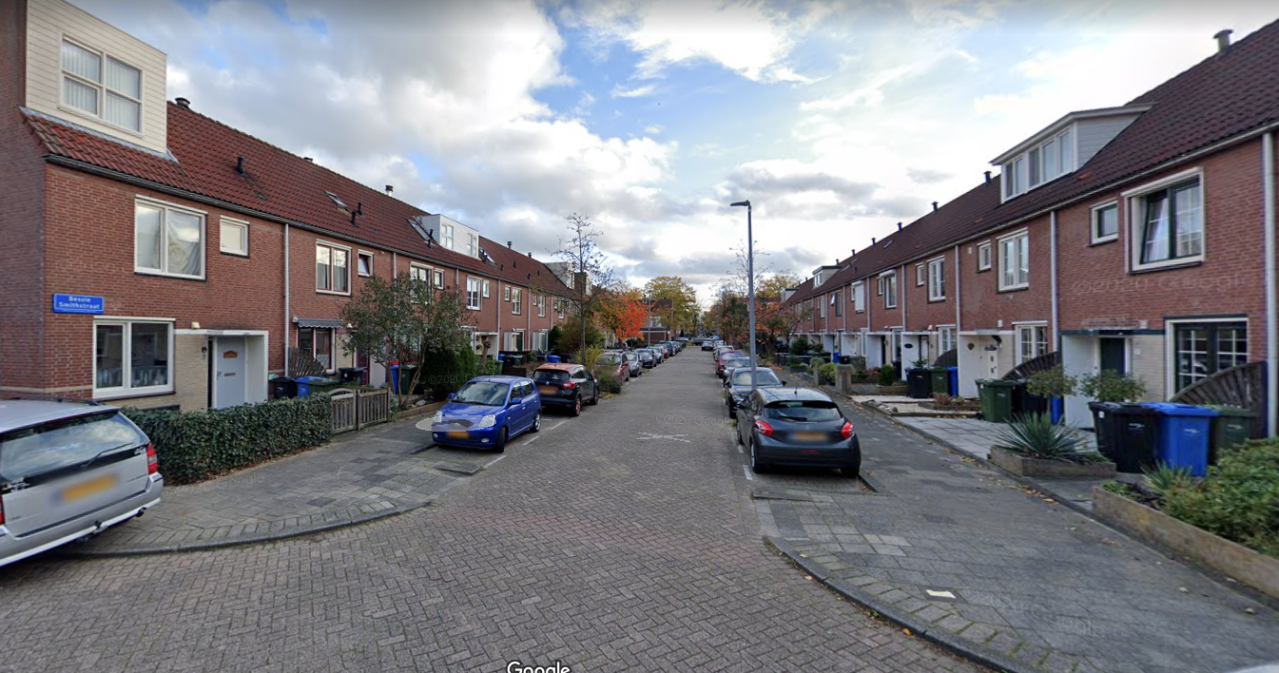 I went jogging around the neighborhood too and admired the harmony that existed with the many walking trails, wetlands full of ducks and other birds, bicycle lanes, car lanes, and trains.
Because I had a large suitcase, my friends spared me a transfer on the way back and drove me to a mainline train station to connect with my return flight on my last morning there. They discussed driving me all the way to Schiphol airport, but the train was a faster, easier way to go. Ju-Sung came with me, all the way to Schiphol departures, to see me off. You can do that for a friend when trains are fast, frequent, and reliable.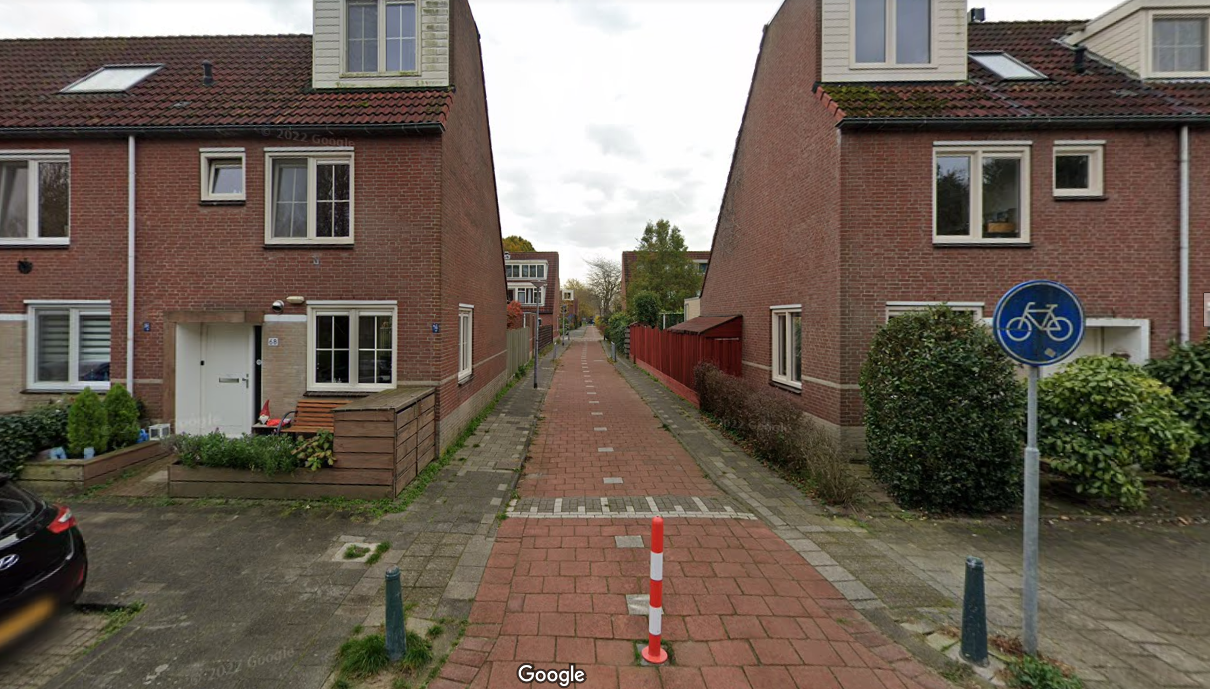 How do they also have such great transit? Investment of course. But the Dutch also don't make things so damn complicated. The Rotterdam metro, for example, runs on the surface as soon as it leaves the center district. When on the surface, it has complete pre-emption over other modes. As such, it's easy to get downtown and trains are fast and frequent. And it doesn't cost billions per mile to build and maintain.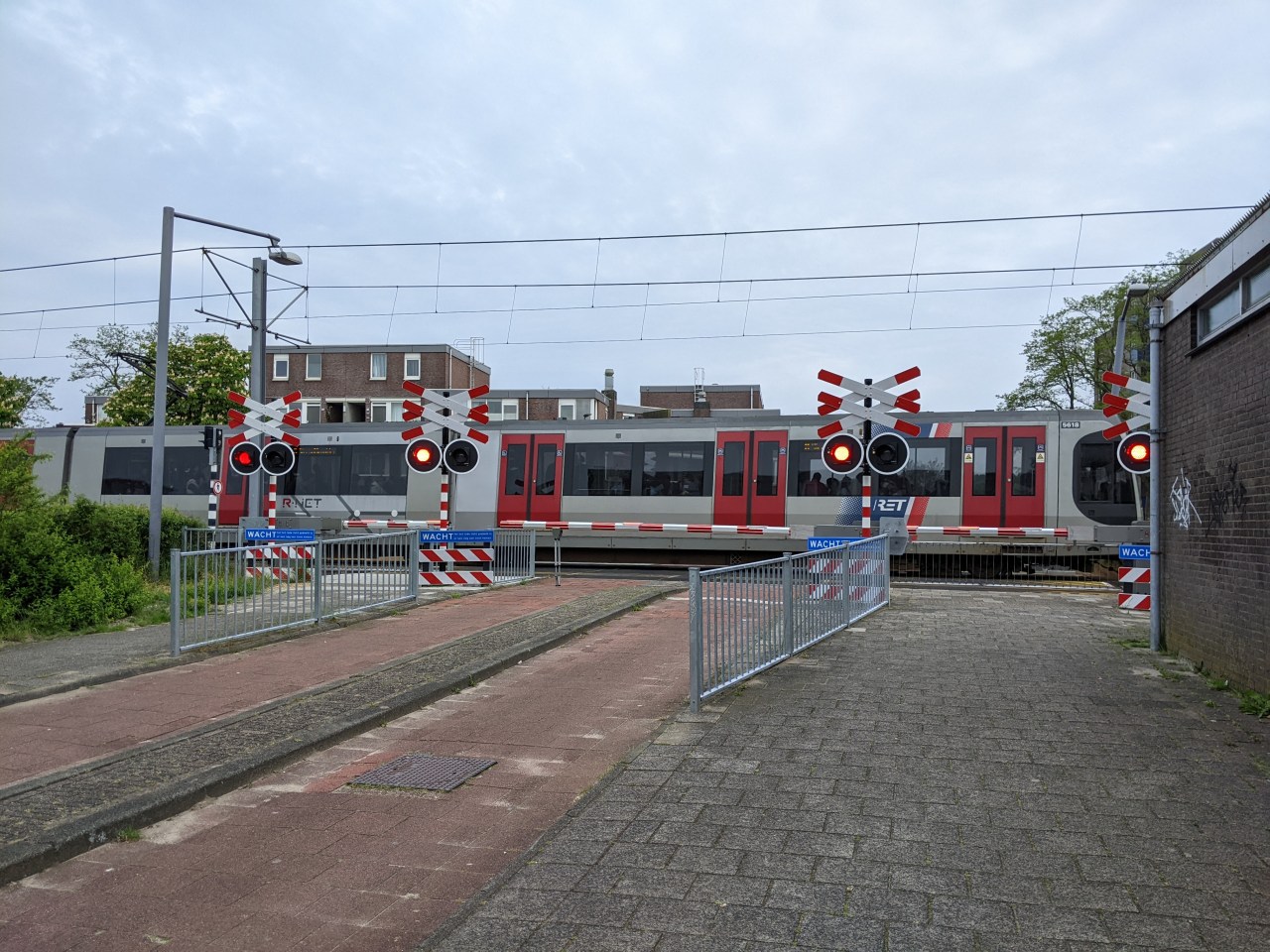 How many times have I had professional transit planners in California tell me that metro/subway trains can only go fast and frequently if they're in a tunnel or elevated above traffic? No, planners just have to follow the Dutch example and stop making trains subservient to individuals in automobiles. Note the above photo of a grade crossing for the Rotterdam metro; where the train crosses a dedicated bicycle path.
All of this may seem like an urbanist fantasy. But it's real. And it's achievable everywhere, if leaders want to make it happen, as they're currently doing in Paris, Brussels, Lyon, and elsewhere.
I broke up my flight home and overnighted in Boston. Walk around downtown Boston, as with the downtowns of all medium to large American cities, and one experiences a place overwhelmed by traffic rumble, giant SUVs, pollution, enormous, multi-lane roads, basically no bike lanes, and non-stop gridlock. It was shocking how intimidating and incredibly unpleasant it was to be back.
It doesn't have to be this way. Dutch design can be applied everywhere if people can just get the car-must-rule meme out of their heads.
I wish everyone could spend some time in the Netherlands. I think, upon returning, any sane person would demand an end to freeways everywhere, multi-lane roads, unprotected bike lanes, the noise, and the current state of the Bay Area.
Stay in touch
Sign up for our free newsletter