SFMTA
SFMTA's Hyde Street Project Bike Lane Is Garbage
The info-free outreach and terrible designs put on display how little SFMTA management really cares about bicycle safety
4:18 PM PDT on June 14, 2023
Note: GJEL Accident Attorneys regularly sponsors coverage on Streetsblog San Francisco and Streetsblog California. Unless noted in the story, GJEL Accident Attorneys is not consulted for the content or editorial direction of the sponsored content.
The city held the second in a series of pop-up outreach meetings on Wednesday morning to get public feedback on a "quick build" project to make Hyde Street in the Tenderloin safer for pedestrians and cyclists.
From the SFMTA page on the project:
Every street in the Tenderloin is part of San Francisco's Vision Zero High Injury Network (HIN), the 12% of city streets that account for more than 68% of severe and fatal injuries. Over the past three years the SFMTA has implemented several traffic safety improvements across the Tenderloin neighborhood, including pedestrian scrambles, signal retiming, speed limit reduction, and several quick-build projects.
However, advocates were quick to point out the bizarre and dangerous design of the unprotected bike lanes.
This is the worst bike lane design I've ever seen out of @SFMTA_Muni. It's a protected bike lane, followed by mixing zone, followed by painted bulb out and raised left turn humps. This would be impossible to navigate on a bike. How did this design make it out @transpocrat? pic.twitter.com/wFZsj9v3Sq

— Kyle Grochmal (@KCGrock) June 8, 2023
Kyle Grochmal, the advocate and Streetsblog contributor who wrote the above Tweet, is absolutely right about the intersections–the configuration forces bike riders into the fast lane and creates a basically unnavigable scenario. Any competent planner would realize there has to be either a cut in the bulb-out or a ramp over it for cyclists to protect them from motorists at intersections (another way of putting that is: the street needs protected intersections).
"Bikes are expected to merge into car travel lanes with no yield designation and not even sharrows. This design is insulting," wrote Grochmal in his thread.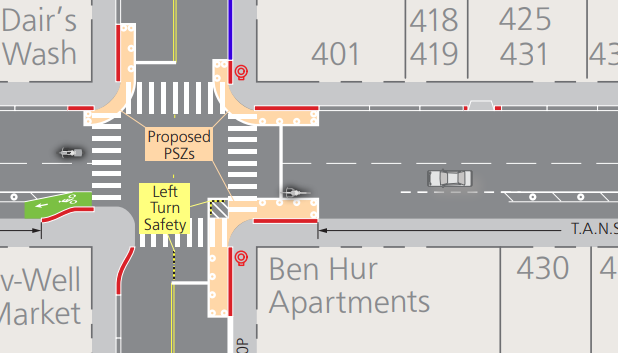 Above is a zoomed-in SFMTA diagram of the intersection at Ellis and Hyde. As cyclists approach the intersection (moving from right to left in the diagram, on a bike lane on the left side of the street instead of the right) they're somehow supposed to magically shift into a potentially occupied traffic lane to their right (or up in the diagram).
This is a kind of design failure one sees all over San Francisco. Think of the bulb-outs on Upper Market, where cyclists are forced from a protected bike lane towards the middle of the street as they approach the intersection instead of away from it as best practice dictates.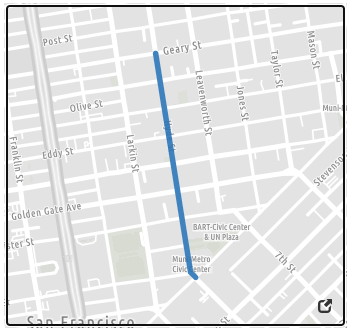 The deplorably designed bike lane is for the "option 2" proposal for Hyde Street. Option 1 has no bike lane at all. As one advocate put it to Streetsblog, it's kind of obvious the intent here is to have no bike lane.
Streetsblog applauds the dedicated bus lane (limited as it is) part of the proposal, as well as the bulb-outs to improve safety for pedestrians (albeit with paint and plastic and no concrete for protection). However, this project again makes it obvious that cyclist safety is an afterthought at SFMTA. Streetsblog has reached out to the San Francisco Bicycle Coalition and SFMTA for comment and will update this post.
Meanwhile, Streetsblog dropped in on Wednesday's "outreach"/pop-up table with the hopes of gathering more information on why the bike lanes are so terrible.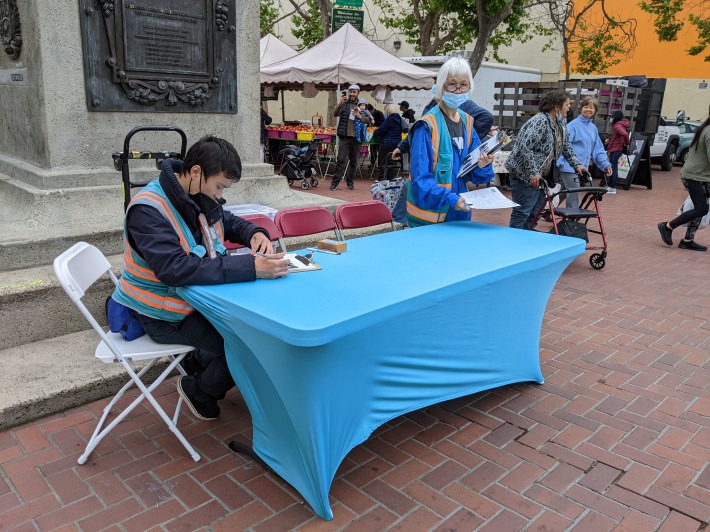 The unmarked "popup" table, which was in front of the Civic Center Farmers Market, was manned not by SFMTA staff, but by two people from the Tenderloin Community Benefits District. The two, who declined to identify themselves, knew nothing about the bike lanes; they didn't have maps, diagrams, or any other information to provide except for a one-sheet survey page with photos of the street.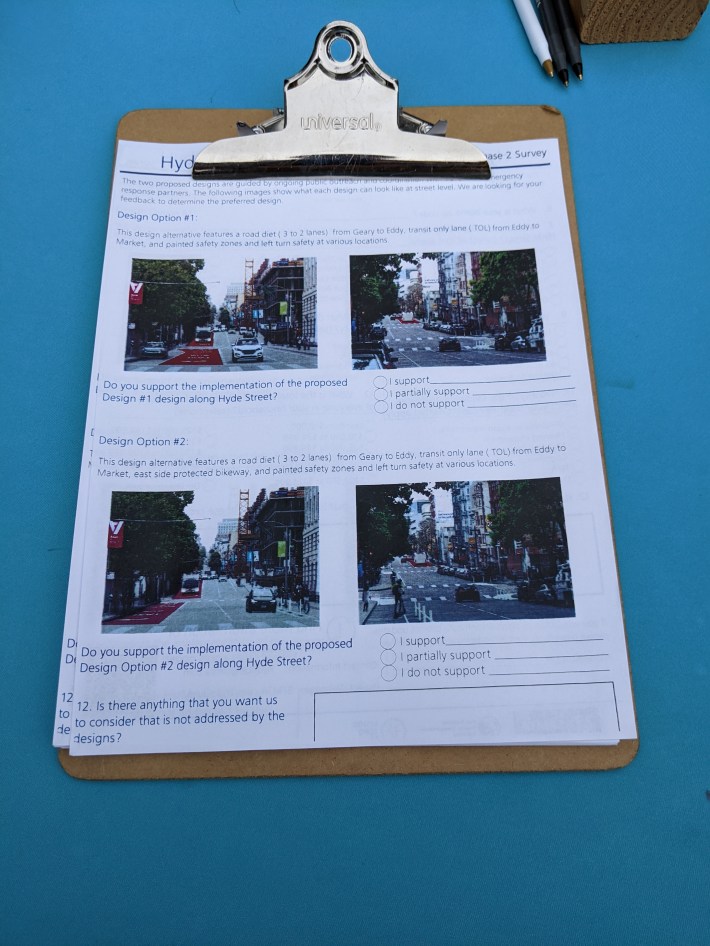 Streetsblog was permitted to photograph the sheet, but not to take one.
Construction of the Hyde Street project starts this summer, according to the SFMTA's website.
Sat., June 17, editor's note: Apologies to our readers, but this reply was added from SFMTA staff the same day of publication but for some reason it disappeared:
Hyde Street is a very constrained corridor, with bulb-outs, Muni service and other factors affecting potential bikeway design options. The bikeway alternative in the open house is intended to illustrate some of these challenges and elicit community feedback on including a bikeway at this time on Hyde Street. If SFMTA pursues a quick-build bikeway on Hyde Street, we will continue to refine the design to address as many challenges as possible. For more information on open houses, public comment (through June 23), workshops and updates, visit Hyde Street Quick-Build.
Stay in touch
Sign up for our free newsletter