Santa Clara
Is Santa Clara—the Heart of Silicon Valley—Soulless and Banal by Intent?
Silicon Valley should look dazzling. It's not, though. The real Silicon Valley is so dull it makes you want to climb atop the nearest standing desk and hurl yourself off headfirst.
7:59 AM PDT on June 29, 2023
This post was originally published at Common Edge. Reprinted here with permission.
One of the principles of comedy is that you "punch up." If you have to make fun of someone or something, make sure it's more prominent than you, and deserving. You can't get much higher than Santa Clara, California, and you can't get much more deserving. Santa Clara is, arguably, the city at the heart of Silicon Valley, a globally famous urban region that is so ill-defined as to deny its own existence. Those ranch houses and corporate headquarters represent a distinctly 21st century brand of power. And a distinctly 20th century brand of urbanism.
Silicon Valley should look dazzling, with techies doing cool tech things on every sidewalk, in every restaurant and juice bar, in every garage and loft, on every bus, train, scooter, and hoverboard. It's not, though. The real Silicon Valley is so dull, it makes you want to climb atop the nearest standing desk and hurl yourself off headfirst. It makes you want to put on VR goggles and never take them off. 
Recently I visited Santa Clara and was met with a standard collection of mid-density apartment complexes and, of course, office parks, and shopping complexes. It has those, of course. But Santa Clara is, somehow, even more bleak than that, a whole less than the sum of its parts.
I stayed at the Embassy Suites, in a part of town whose most notable landmark is the 101 Freeway (excuse me, "El Camino Real"). It's surrounded by two-story office buildings housing companies that have "technologies" or "networks" in their names. Those buildings are, in turn, surrounded by parking lots. The parking is crucial, of course, because their employees deserve a convenient place to store their cars after driving in from Livermore. (This landscape was depicted brutally, and accurately, in The Dropout.)
My lunchtime quarry was a one-story strip mall the size of a city block with a parking lot the size of a football field (and no discernible way to enter on foot other than through a driveway in the middle of the block). The place was built less than a decade ago, with the housing crisis already on full blast. And yet, apparently, no one thought to add any housing on all of those acres. Or, more likely, no one was allowed to add any housing.
None of this is unique, of course. In many ways, Santa Clara is an ordinary example of 20th century urbanism. But here's a fun fact: The price of an average home in Santa Clara is $1.5 million.
The wealth in Santa Clara is not the saccharine, exuberant wealth of, say, Beverly Hills. It's a cloaked, hooded-sweatshirt sort of wealth. "If you could see how rich we are," they must think to themselves, "you'd want something from us." Which is exactly correct. We would want something like, say, affordable housing.
Meanwhile, all over the Bay Area, young professionals sleep on sofas; public-sector workers commute in from beyond the horizon; people reside in boxes up in the Tenderloin; and low-income workers without cars live extralegally wherever they can.
I could say the same—and probably much worse—for many other Silicon Valley towns. In fact, Santa Clara, to its credit, grew at a steady clip over the past three years, increasing to over 127,000. But that increase pales in comparison to the demand, as evidenced by those million dollar home prices, and rents that average over $3,000 per month. But, Santa Clara is special. It warrants scrutiny for all that it has squandered.
If the city harnessed even a fraction of the capital sloshing around its city limits, it could transform itself into a model of equity, sustainability, and creativity. Santa Clara's people and institutions contribute to the culture of systemic inequity that infects urban areas across the country and around the world.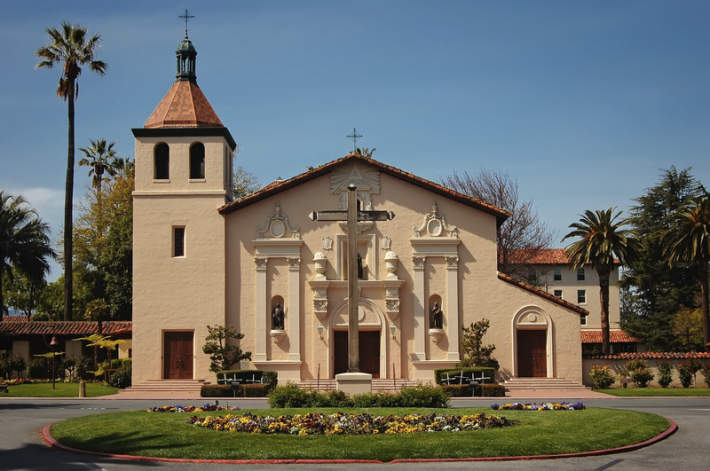 How profoundly has Santa Clara squandered its resources? Let's first count the resources: a major university (Santa Clara University); a major historical site (Mission Santa Clara); a major league sports franchise (the 49ers); headquarters or major offices of several Fortune 500 companies; jobs, jobs, jobs; a midsized, very nice airport right next door (SJC); freeways and roads to get people to and from their jobs; and a commuter rail station.
The combined 2022 revenue of the three largest companies based in Santa Clara—Intel, AMD, and Nvidia—was just north of $100 billion. If those companies were a country, its GDP would rank 65th in the world, on par with Luxembourg, Ecuador, and Kenya.
Let's look at that rail station. Is it the centerpiece of a thriving downtown, rivaling those in places like New York City, Paris, or Palo Alto? Not exactly. As far as I can tell, it's the centerpiece of an empty traffic circle. Rumor has it that Santa Clara does have a downtown, though. It was founded in 1777 by Junipero Serra himself, and it appears not to have developed since then.
How forgettable is downtown Santa Clara? I missed my stop on my bus from the airport because I didn't realize I had arrived.
I get that downtowns aren't everything, but they are important pieces of cities' user interface. If you can't find the "on" button, something is wrong.  Santa Clara's status quo is a choice. It's as wealthy on a per-capita, per-housing-unit basis as Monaco, Hong Kong, Paris, and London. And yet, it chooses to look like Lancaster. Actually, that's not fair to Lancaster. At least Lancaster, as I wrote not long ago, is making an effort.
The weird thing about cities is that failures are rarely anyone's fault as such. Santa Clara's underperformance is not a moral failing exactly. Cities rise and fall collectively. Santa Clara grates on me, though, for talking such a big game. 
People in Silicon Valley want to "change the world." And yet they seem to have little interest in changing the actual world around them, aesthetically or socioeconomically. If Santa Clara was a computer, it would be a mainframe: ugly, plodding, unfriendly, inefficient, impossible to upgrade. Except for that last one: Santa Clara isn't impossible to upgrade. Cities change all the time—when people want them to.
The question is, is Santa Clara's bleakness a feature or a bug? Why do all of those wealthy people and wealthy companies want to live with all of that ugliness?
The charitable answers are that (1) they are too busy moving fast and breaking things; and (2) the sensibilities that go into hardware and software are fundamentally, physiologically different from those that go into aesthetics and humanitarianism. I don't say that glibly. I have some ideas about cities, but I could sooner raise Atlantis than write a line of code.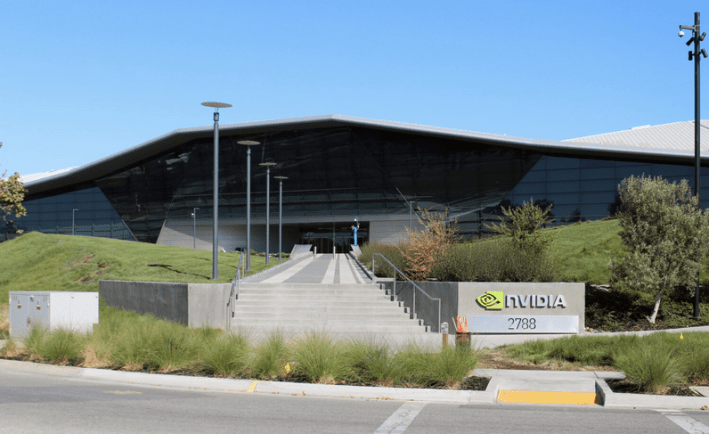 The relationship between the tech industry and its built environment is even more intimate and more troubling than that. The early tech industry thrived on the Peninsula in part because of privacy and in part because of cultural freedom. Orange trees weren't going to spy on you, and snooty society types weren't going to tell you to quit those outlandish dreams. Today, I can't help but feel that the paucity of the real environment leads to the Vally's techno-utopianism. It's easier to get excited about writing code for eighteen hours a day—to create something that exists only in cyberspace—when the world around you is so supremely unattractive.
Taken to its extreme, it's no wonder Mark Zuckerberg wants to build the metaverse. His own "verse" stinks. Artificial intelligence, taken to its extreme, is as antisocial and anti-human as those eight-lane roads are.
I get that urban change doesn't happen at the speed of light, and that Santa Clara is, in part, a product of its times. Planners there can't write new zoning code the way computer coders program new apps. Santa Clara faces all the usual constraints, including fiscal ones imposed by California's tax-freezing law, Proposition 13, and legal ones imposed by the California Environmental Quality Act. The city does not necessarily benefit from the embedded wealth in its real estate or from the prosperity of its companies.
And maybe the tech companies don't care. Maybe a brutal urban landscape and an endless commute complements the Bartleby-esque drudgery of coding jobs. Maybe it coaxes loyalty and obedience out of middle managers. I guess stock options can make up for a lot of that. The problem, though, is that the floors at Nvidia don't mop themselves (yet).
Santa Clara, like all other cities, reflects not just policies, building styles, and transportation modes. Above all else, it reflects an attitude.
Even with California mandating higher housing targets these days, many cities in Silicon Valley are complying reluctantly—if at all. That has to change. Santa Clara needs housing above the Whole Foods; development around Caltrain; a downtown worthy of its city; streets you can walk on; and commitments to social innovation and aesthetic appeal just as strong as its commitments to technological innovation and capitalist exuberance.
Some zany stuff probably happens behind closed doors in Santa Clara. But, still, the city and its neighbors need to be less dazzled by their algorithms and more critical of their built environment. It would be funny if it weren't tragic.
Josh Stephens is contributing editor to the California Planning and Development Report and a freelance writer, specializing in urban planning. Based in Los Angeles, Josh writes frequently for Planetizen, Next City, and InTransition, among others. His website is joshrstephens.net.
Stay in touch
Sign up for our free newsletter