Oakland
OakDOT Killing Grand Avenue Road Diet at AC Transit's Request
The beautiful and successful Lakeside two-way cycle track (seen below) was supposed to wrap around the entire lake, but OakDOT, at the request of AC Transit, is significantly cutting back the section on Grand to preserve all six lanes for cars
4:00 PM PDT on July 18, 2023
Note: GJEL Accident Attorneys regularly sponsors coverage on Streetsblog San Francisco and Streetsblog California. Unless noted in the story, GJEL Accident Attorneys is not consulted for the content or editorial direction of the sponsored content.
It was supposed to go from four motor-vehicle travel lanes to three and include wide, protected bike lanes on both sides of the street, but the Grand Avenue Complete Streets project, planned to start construction in two or three years, is getting significantly watered down thanks to behind-the-scenes changes requested by AC Transit's staff.
"The protected bikeway isn't removed from the Grand Ave project, but it was shrunk down to a five-foot width each direction in order to keep two car travel lanes each way, mostly due to pushback from AC Transit," wrote Bike East Bay's Robert Prinz, in an email to Streetsblog. That means cyclists won't be able to comfortably pass one-another or ride side-by-side and will have much less room to evade road debris, pot holes, or a child who runs into the path.
"The initial Grand Avenue redesign at 15 percent showed travel lane reductions, space for protected bike lanes, and pedestrian safety features including median islands. Yet the updated 35 percent design shows two traffic lanes in each direction, and the removal of the two-way cycletrack along the lake side of the street," wrote Kevin Dalley, with the advocacy group Traffic Violence Rapid Response (TVRR). "Leaving multiple car travel lanes in each direction means Grand Ave will remain dangerous."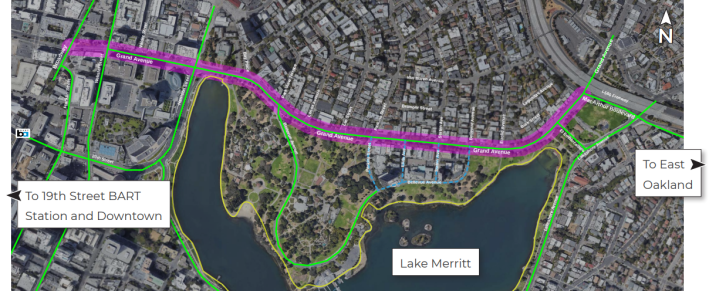 "The project team recently released a new 35 percent plan of the corridor in Summer 2023 following a second round of public outreach and engagement of our agency partners," wrote OakDOT's Tony Dang, in an email to Streetsblog. "While the revised design maintains the current four travel lanes on Grand Avenue with center-turning lanes, OakDOT is still planning for separated bikeways as part of the project."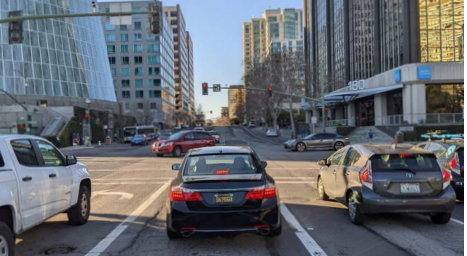 Yes, the separated bikeways are still in the plan, but as Prinz described the two-way cycle track that was intended to hug the entire perimeter of the lake (an extension of the successful cycletrack already built along part of the lake, seen in the lead image) is cut. "[It] converts the 2-way cycletrack from Bellevue to El Embarcadero and Lakeshore to just one-way, ruining the opportunity for a continuous cycletrack around the lake," wrote Prinz.
The diagram from Oakland DOT below shows the absurdity of what results. Instead of a two-way protected bike lane along the lake, at Park View Terrace/Bellevue west-bound cyclists will have to dismount and cross five lanes of traffic to enter the lakeside cycle track.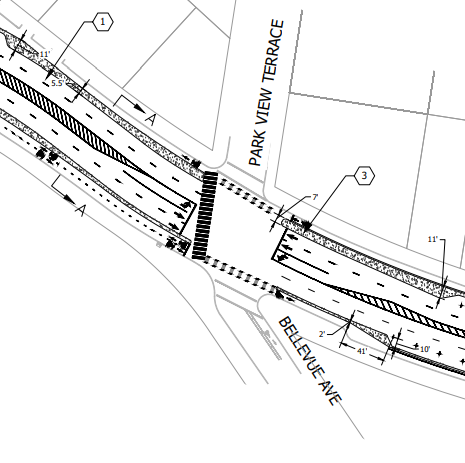 "Now that the cycletrack is dropped from the other part of the plan from Bellevue to El Embarcadero, that connection for someone biking around the lake counterclockwise from Lakeshore will indeed become more complicated and inconvenient as opposed to just hugging the lakeside with no intersection conflicts," added Prinz.
Additionally, it's important to remember that four lanes really mean six or even seven lanes dedicated to motorists depending on the block, since there's still street parking and/or a turning lane/buffer (see cross-sectional diagram below).
One transit planner close to the project who asked not to be identified told Streetsblog that AC Transit's objection to the road diet and focus on bus speeds is misguided. If a road diet also incorporated bus-boarding islands, for example, buses would no longer need to struggle to the curb and back into traffic at every stop. Bus run end-to-end times could be maintained or even improved. Speed improvements and schedule consistency could also be improved by using all-door boarding as is done by Muni, but not AC Transit, which still forces all passengers to line up at the driver's door.
Moreover, traffic counts and data gathered by an OakDOT consultant indicated that by retaining turning pockets at key locations, the proposed motor vehicle travel-lane reduction would not cause congestion, and therefore would not slow buses.
Given that, it's unclear why AC Transit should object to the road diet and insist that the four motor-vehicle travel lanes remain. Nevertheless, OakDOT's Charlie Ream, the city's contact for the Grand Avenue project, confirmed in an email that it was "AC Transit who strongly objected to the road diet. Based on this pushback, we added the 4th lane back."
Streetsblog has reached out to a member of the AC Transit board who is familiar with the Grand Avenue project and will update this post. In the meantime, Robert Lyles, a spokesperson for AC Transit, wrote that his agency requested the elimination of the road diet because they hope to eventually add transit lanes to Grand, although he provided no time frame for when that might happen.
Meanwhile, Oakland had 36 traffic deaths in 2022 in what public safety experts call an epidemic of traffic violence. The deaths and injuries are concentrated on wide, multi-lane roads, such as Grand, that encourage speeding and reckless driving.
More from the project website:
Grand Avenue from Broadway to MacArthur is on Oakland's High Injury Network - the 6% of City streets that are responsible for 60% of reported
collisions. 104 people were injured in traffic collisions on the Project corridor in the 5 years from 2016-2020. Grand Avenue in this stretch has
comparatively high rates of pedestrian and bicycle collisions compared to the City of Oakland average (47% of collisions on Grand involved
people walking or biking, compared to only 20% Citywide).
Walk Oakland Bike Oakland, TVRR, Bike East Bay, and other advocacy orgs are working on a joint letter to OakDOT and relevant lawmakers objecting to the changes to the plan.
"Multiple lanes encourage drivers to pass cars that are slowed or stopped, thus endangering children, seniors, disabled people, and other vulnerable road users," wrote Bryan Culbertson, also with TVRR. "We must reduce vehicle speeds. We must use every tool in our arsenal to save lives and bodies. No more obstruction!"
Correction: an earlier version of this post said construction was planned to start next year. An update from Oakland DOT puts the start of construction at 2025/2026.
Stay in touch
Sign up for our free newsletter