Athletes and Celebrities
'Wire' Creator (and Camera Foe) David Simon Has Received 16 School Zone Speeding Tickets in His Beloved Baltimore
They say that those who can't, teach. But this hard-boiled writer's record of recidivist reckless driving suggests that those who write about crime commit them, too.
8:19 AM PDT on August 14, 2023
There's a tired old joke that those who can't, teach. But David Simon's record of recidivist reckless driving suggests that those who write about crime commit it, too.
The celebrated creator of the hit show "The Wire" has picked up 16 school-zone camera tickets, many of them during the summer, in his hometown of Baltimore — despite spending most of Wednesday rage-tweeting that only an "off-brand city" would operate school-zone speed cameras during the summer.
Simon's hours-long social media tirade came after he was ticketed in New York for (he said) driving 36 miles per hour in a 25 mph street at 5:40 a.m. — "in total darkness on a morning in — wait for it — mid-July," later clarifying that he was outraged because he received the "school zone" ticket on a day when schools were out of session. (Public records show he got the ticket while driving westbound on Delancey Street at Eldridge Street on the Lower East Side.)
For all his 10 hours of sarcasm-spewing about the New York enforcement program on the X platform, Simon knows from first-hand experience that New York isn't the only city where "school zone" speed cameras operate during the summer: His 2015 Lexus SUV picked up a whopping eight school zone speeding tickets in Charm City during a three-month period in 2021 — part of a reign of terror that has included 16 speed-camera violations, plus one highway speeding ticket, six tickets for ignoring stop signs and three tickets for "Impeding Movement of Pedestrian."
Ten of his camera-issued school-zone speeding tickets in his beloved hometown were indeed issued during summer, making a mockery of Simon's criticism of New York's program — and revealing misinformation of his assessment of Baltimore's:
Streetsblog identified Simon's likely personal vehicle by isolating Maryland license plates in New York City's public database of camera violations based on the time when Simon said he committed the violation. Simon posted a photo of his Lexus-branded car keys last summer, eliminating the rest of the potential candidates. 
The July 11 violation in New York matches up with when Simon was in the city to demonstrate with his union, which is on strike; he tweeted on July 9 that he was "back in NY for picket duty tomorrow."
Simon's plate also picked up speed camera tickets on July 12 and July 15 of 2021, as well as several parking tickets in Manhattan in 2020, bringing his total record of high crimes and misdemeanors (summonses, actually) to more than 96 tickets, with 81 coming in Baltimore.
New York City's speed cameras are placed in designated "school zones," but have operated 24/7 since last year. In Baltimore, camera enforcement is limited to the hours of 6 a.m. and 8 p.m. — meaning that no one will know of instances when Simon's Lexus was speeding, but not caught on camera.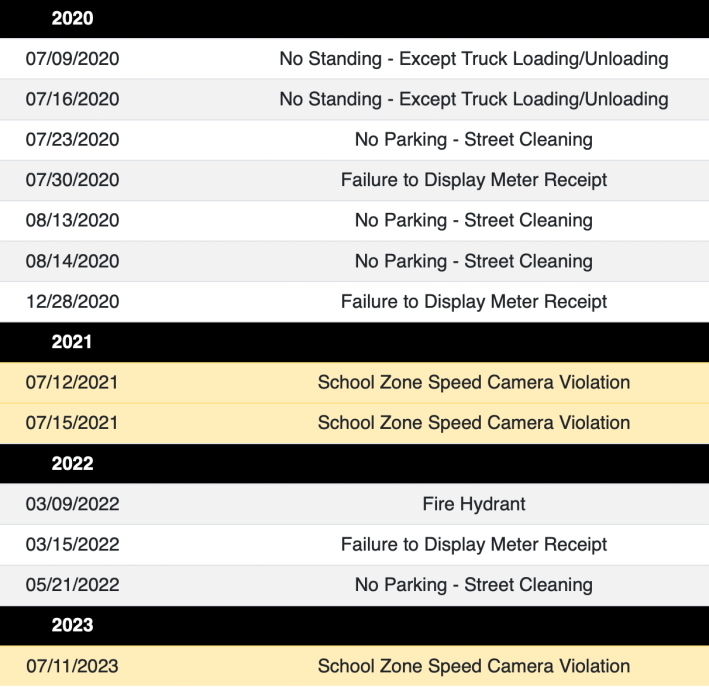 Speeding is deadly, and the chances of being killed by a driver increase with driver speed. Speed was a reported factor in nearly one-third of deadly crashes in the U.S. in 2021, according to the Federal Highway Administration.
In other tweets, Simon mocked the need for a speed camera on "six lane" Delancey Street, but the roadway is exactly where traffic enforcement is needed. So far this year, there have been 122 reported crashes on Delancey between Bowery and the Williamsburg Bridge, injuring 59 people including 13 cyclists and 15 pedestrians, according to Crashmapper. Four pedestrians and one cyclist have died on the corridor since 2011.
New York City's speed cameras previously only operated from 6 a.m. to 10 p.m. In 2021, some 30 percent of the city's non-highway traffic fatalities took place in designated school zones, but at times when tickets could not be issued.

Cameras went 24/7 last year in part in response to the increased speeding and traffic deaths since the start of the Covid pandemic.
Contrary to Simon's argument that the cameras are a "cash cow," the program should make less money over time as drivers choose not to speed to avoid paying the fine. Just 20 percent of violators commit a second offense, according to the city Department of Transportation.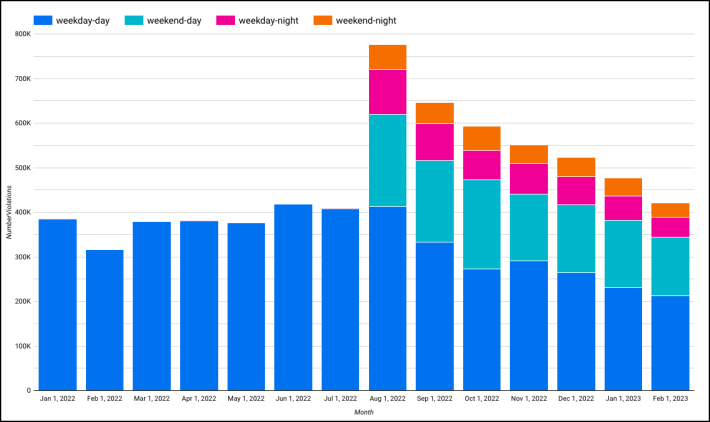 Of course, some drivers can afford to pay an infinite number of tickets. The city's Dangerous Vehicle Abatement Program aims to force drivers with the most violations to either take a safety course of have their vehicle impounded.
Simon's streak of dangerous driving in 2021 would have easily qualified him for the vehicle seizure program had the violations been committed in New York.
Streetsblog reached out to Simon via Twitter, but the writer then blocked us from seeing his tweets. He did not respond.
— with David Meyer
Stay in touch
Sign up for our free newsletter