BART
BART Launches New Schedule
The longest headway will now drop from 30 minutes to 20 on any line at any time. Advocates say it's a good first step towards adapting to changed travel patterns in a post-COVID world
2:44 PM PDT on September 11, 2023
Note: GJEL Accident Attorneys regularly sponsors coverage on Streetsblog San Francisco and Streetsblog California. Unless noted in the story, GJEL Accident Attorneys is not consulted for the content or editorial direction of the sponsored content.
Sunday evening the last legacy BART train was taken off the line. As of Monday morning, BART has turned a page, with 100 percent new trains and a new schedule with minimum headways of 20 minutes, down from 30, even in the late hours. "Today's service change is a huge improvement for riders, especially folks who want to get out and enjoy the Bay Area on weekends and evenings," wrote BART Director Rebecca Saltzman, in an email to Streetsblog. "Frequencies are now 20 minutes, and on overlapping lines, 10 minutes, potentially involving an easy transfer. On BART's busiest line, the Yellow line, weekday daytime service is now running at 10-minute frequencies."
That also means shorter trains, with six and eight-car trains now the norm.
The schedule changes are part of a strategy for addressing the post-pandemic world of remote work, which has forced transit agencies that traditionally focused on rush-hour commuters to rethink their services. "We scaled back some weekday service, where ridership has been flat because of remote work, to be able to increase service on nights and weekends where ridership is growing at a faster rate," wrote BART's Alicia Trost in an email to Streetsblog.
Seamless Bay Area's Adina Levin applauded BART's new strategy: "Fewer people are commuting at the former white-collar period and people are taking a greater diversity of trips throughout the day and the week."
From Streetsblog's view, the key to BART's long-term relevancy and survival--it's still at only about fifty percent of its per-COVID ridership--is to keep pushing in this direction. Shorter trains with higher frequencies all day long is a must. Here's a picture of a Metro arrival board in Paris, where, as with most transit-first cities, a twenty-minute headway would be unimaginably long: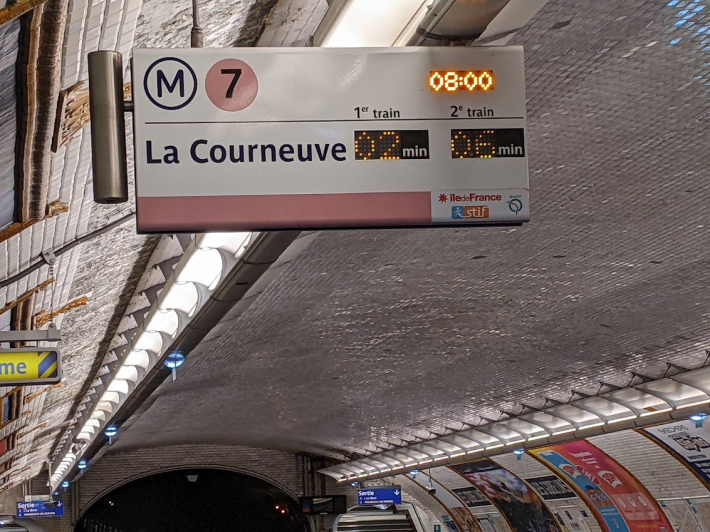 Of course, super frequent trains takes more money, which BART doesn't have. The agency was able to accomplish these increased frequencies only by reducing rush hour service. "My major concern is to keep the lights on at BART," BART Director Robert Raburn told Streetsblog. Levin explained that it's politically hard to sell the kind of operational funding BART would need to operate at Paris-like headways, as seen recently when a toll increase to fund transit was paused in the legislature. "Our leaders get really excited about new extensions and new stations," said Levin. "I look forward to the day when we have leaders who applaud increases in service."
Meanwhile, there are important details still being worked out with the schedule change. Levin explains that Caltrain will be adjusting its schedule later in the month to improve transfers between its trains and BART at Millbrae. Raburn explained that BART still needs to adjust the "platform edge markings and adopt a consistent pattern" to better match the door position of the new trains to assist with efficient boarding.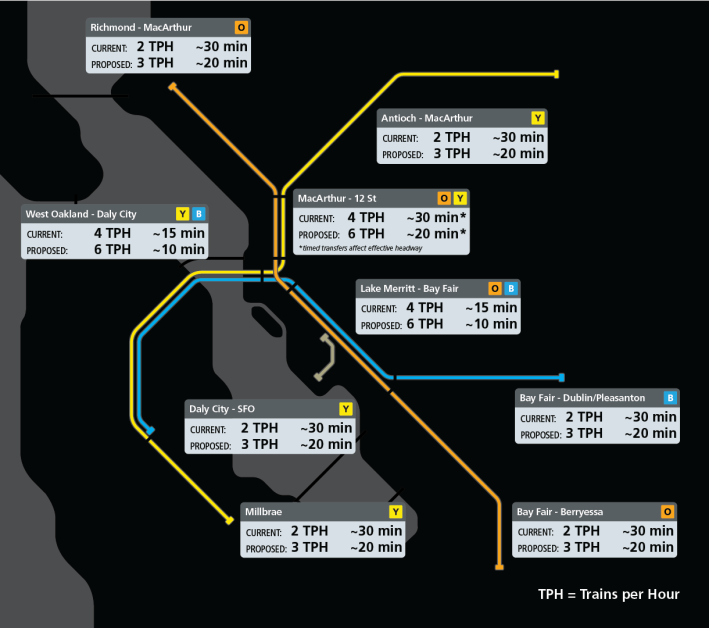 It's fortunate that BART has the infrastructure to transform itself into a more nimble service with shorter trains and higher frequencies. One can only hope the operational funds will be forthcoming--and that BART will seriously consider the other tool for increasing frequencies: full automation.
"BART staff worked to ensure this service change does not cost the agency any money, which is critical because BART is still facing a financial crisis. Once BART is able to secure more funding - from the state government, a regional measure, or another source - BART will have the equipment and staff to run [even] more frequent service," wrote Saltzman. "That's why it's so important to continue to advocate for more transit operations funding."
Here's a video from BART that explains the new schedule:
Stay in touch
Sign up for our free newsletter