Chris Daly
Advocates: CityPlace EIR Highlights Need for Level of Service Reform
12:32 PM PDT on September 16, 2010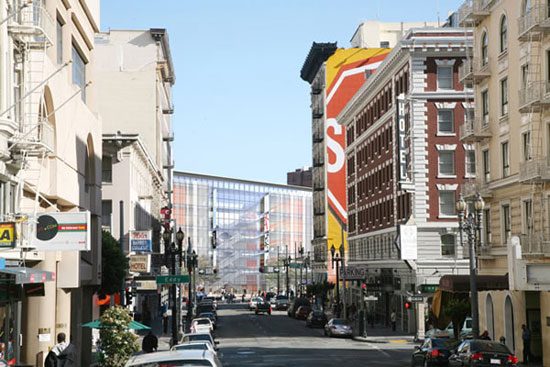 At the heart of the San Francisco Planning Department's 328-page Draft Environmental Impact Report (DEIR) for CityPlace, sustainable transportation advocates have pinpointed one glaring flaw. In assessing the impacts of new off-street retail parking, the environmental analysis [pdf] concludes that building a 167-space garage will have the same effect on traffic as building no garage at all.
"This environmental analysis has really pitted this project against pedestrian safety and the livability of this neighborhood," said Tom Radulovich, the executive director of Livable City.
CityPlace is a 250,000 square foot retail project planned for Market Street that the Mayor has trumpeted as essential for the area, "a key pillar in the continuing revitalization of Mid-Market that will bring hundreds of jobs and new revenues to boost our City's economy and thousands of new pedestrians and shoppers to activate one of the most blighted blocks of Market Street."
Radulovich along with attorney Arthur Levy and Walk SF had filed an appeal of the Planning Commission's certification of the DEIR, arguing that it failed to adequately address and mitigate the dangers to pedestrians and bicyclists. Levy was also concerned the St. Francis Theater, designed by architect John Galen Howard, will be demolished and that the glass structure won't fit in with the visual and historic character of Market Street.
Supporting the appeal seemed politically impossible for the Board of Supervisors. Instead, Supervisor Chris Daly, who represents the area, with help from Judson True, an aide to Supervisor David Chiu, brokered a deal [pdf] before the supervisors meeting Tuesday.  Market Street Holdings LLC (Urban Realty), the project's sponsor, agreed to charge a 20 cent per vehicle exit fee at the CityPlace garage that would eventually add up to $1.8 million for "bicycle and/or pedestrian and/or transit improvements." That pleased the supervisors and the DEIR was certified on a 9-0 vote, giving the final clearance.
The rejection of the appeal followed a public hearing in which the advocates laid out their case, and the project's sponsors were allowed a rebuttal.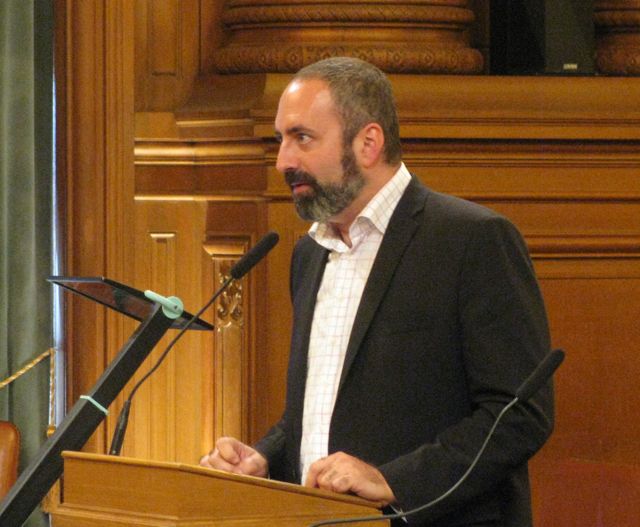 "What we are talking about today are really issues of life and death. The fact that this project and this EIR are not mitigating the impacts that they'll have on this community," Radulovich told the supervisors.
The neighborhood, he argued, which houses many low-income residents, seniors and children, is dangerous enough and doesn't need any more auto traffic spilling into the six affected intersections. Sixth Street, immediately adjacent to the project, is one of the city's worst streets for pedestrian fatalities and injuries.
"In helping Market Street we can't make 6th Street even worse," Manish Champsee, the president of Walk San Francisco, testified. "Three of the top five intersections for pedestrian safety are on 6th Street."
The DEIR analysis, instead of looking at automobiles as the real danger to pedestrians, assessed the impacts to pedestrians based on increased foot traffic and conflicts with other pedestrians.
Radulovich said the analysis flew in the face of the Planning Department's own parking code, Section 150 [pdf], and the city's General Plan, "which states that if you have a short-term parking need in the downtown, don't add more parking, convert long-term parking to short-term parking because adding more parking creates more automobile trips."
"We do not want to stop the project. We want to improve environmental analysis in this city." --Andy Thornley, SFBC
"The notion that providing 200 more parking spaces will not create more [automobile] trips is ludicrous, frankly," said Andy Thornley, the program manager of the San Francisco Bicycle Coalition, whose offices along with Livable City and Walk SF have been been located in the Mid-Market area for many years.  "We do not want to stop the project. We want to improve environmental analysis in this city."
Thornley said as San Francisco moves away from using intersection Level of Service (LOS) to analyze transportation impacts and toward evaluating automobile trip generation (ATG) "it's very troubling to see an environmental document come forward that makes such a flimsy estimate of auto trip generation."
The advocates argue that allowing CityPlace and other projects excessive parking sets a bad precedent and runs afoul of a Transit First policy and neighborhood plans that are supposed to guide transportation and land use decisions.
CityPlace's sponsor argues that despite the 4,500 spaces in more than a dozen nearby city-owned garages, parking in the building is needed for the project to succeed because of the type of value-based "household goods, electronics and sports equipment" stores they are seeking. Drivers, they argue, need to transport large purchases. According to the San Francisco Business Times, the stores being sought include TJ Maxx, JCPenney, Ross, Dick's Sporting Goods and Big 5 Sporting Goods.
Jim Abrams, who presented the CityPlace transportation plan to the Planning Commission, argued the parking in the building would be much less than similar retail spaces in dense, urban areas such as Brooklyn and Queens, and would be setting an example by providing "the lowest amount of parking of any comparable center in the country."
By contrast, though, some nearby stores including Macy's, Bloomingdales, Barneys and Nieman Marcus offer no parking in the building for their driving customers. The San Francisco Examiner recently reported that Target wanted to move into the Metreon where there is no on-site parking.
"I think the fundamental decision to drive or not is whether you have a prospect of finding parking," said Bill Wycko, the head of Major Environmental Analysis for the San Francisco Planning Department.
Wycko, responding to a question from Supervisor Daly, said his office is not able to effectively analyze ATG for shopping trips because there has been no research and surveys conducted on retail auto trips, which would offer some evidence for how retail parking affects driver behavior. Instead, the analysis is based on commuter surveys.
"Intuitive or not, the relationship between supply in parking and how people travel, other than the obvious situation where you don't have a car, you don't drive, is not as obvious as you would think and for shopping trips the substantial evidence, the real evidence, is largely non-existent," said Wycko. "We can all have our hunches and our intuition but that's kind of not what we use in [California Environmental Quality Act analysis]."
Wycko did acknowledge the city is engaged in a monumental process to overhaul LOS and replace it with ATG, which will presumably require planners to analyze trip generation associated with parking spaces.
"There is an effort to take a different approach and as part of that approach one of the things we've been urging is that there does need to be follow-up monitoring because one reason there isn't data, especially local data, is that there hasn't been this sort of, okay, if you do this, what's the behavior pattern? If you do that, what's the behavior pattern?"
In an interview with Streetsblog, John Rahaim, the Planning Department Director, said he supports eventually transitioning to ATG but feels the issues raised by transit advocates in the appeal probably don't belong in the CEQA process.
"Whether we should be looking at the safety issues, and the pedestrian and vehicular conflicts is an important question. I don't think it's a CEQA issue, however. I would love to figure out a way to get at those issues outside of the CEQA process, which is a cumbersome process, frankly."
Both Livable City and Levy are considering a lawsuit.
"I think that EIR is a very poor document. I think it's legally defective. I feel that the Board of Supervisors was under a lot of political pressure to move this project along. That part of Market Street has been neglected and been a problem for a long time," said Levy, who added that he would like to see the project move forward, but not it until it fully addresses the issues raised in the appeal.
The project is now scheduled to break ground in 2011 and despite the surcharge that will be directed toward bicycle, pedestrian and transit improvements advocates are skeptical they'll happen quickly.
Radulovich said he was disappointed the letter outlining the compromise "wasn't water tight" and didn't include language guaranteeing the money and the improvements would come immediately. True later tried to assure him that the money paid to the SFMTA would secure improvements sooner rather than later.
"We feel strongly that the MTA is well positioned to use the money for this parking surcharge to in some way finance up front improvements for bicyclists, pedestrians and transit riders. So we feel confident that while it's untested, the parking surcharge is a mechanism that will not just give money over time but provide for some up front money and that's really up to the MTA to figure out the best way to do that," said True.
SFMTA spokesperson Paul Rose said CityPlace had already separately paid $200,000 to the agency, $50,000 of which will be used for a study to see what improvements are needed, and the rest will be put toward implementation.
"The full scope will of course need to be developed based on the initial study," said Rose.
Radulovich said transit advocates were an influential force in getting the sponsor to commit the money, and hoped that mid-block crosswalks -- where a majority of pedestrian injuries and fatalities occur in the area -- bulbouts and protected bike lanes would be included.
Bryan Goebel is a reporter at KQED Public Radio in San Francisco. A veteran journalist and writer, he helped launch Streetsblog SF in 2009 and served as editor for three years. He lives car-free in the Castro District.
Stay in touch
Sign up for our free newsletter