AC Transit
Mandatory Switch from Muni Paper Passes to Clipper Card Begins Soon
12:00 PM PDT on October 18, 2010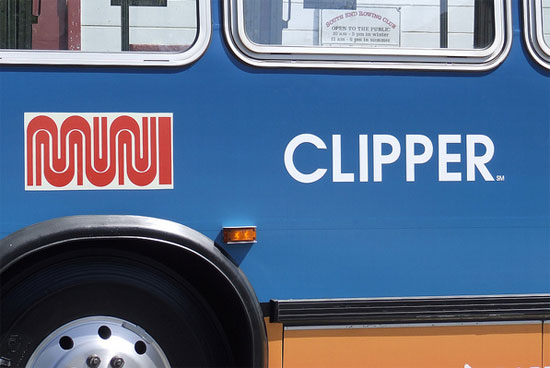 As Bay Area transit agencies transition from paper passes to the Clipper smart card, operators like the San Francisco Municipal Transportation Agency (SFMTA), which runs Muni, are hoping their most loyal customers take the switch in stride. To this end, the SFMTA started selling its November Muni A Fast Passes and disability Regional Transit Connection (RTC) passes online this weekend, and the agency is working overtime with targeted outreach to familiarize the nearly 50,000 A Pass and RTC users how to load their re-usable Clipper cards before the November 1st deadline, when those paper passes will no longer be accepted for Muni service.
"We have more than 40,000 customers who use the "A" pass and more than 7,000 who use the RTC stickers, so it's critical that they make this transition as early as possible," SFMTA Executive Director Nat Ford said in a release.
Even before the mandatory switch for A Pass and RTC holders, Muni customers have increasingly adopted Clipper on their own accord. When MTC officially announced the transition from Translink to Clipper on June 16th, Muni realized only 20,000 average weekday boardings using the smart card. As of October 8th, Muni had 108,000 average weekday boardings, a five-fold increase and half of total Bay Area Clipper usage. Of the slightly more than 40,000 current A Pass users, roughly one third already use Clipper. RTC pass holders will automatically be given Clipper-compatible cards when they renew, either online or in person at vendors or SFMTA customer service centers.
The SFMTA began deploying customer service ambassadors in August along with the Clipper street teams that have been providing information and customer service since the end of 2008 in Muni Metro stations. According to the SFMTA, since December 2008, the Muni Clipper street teams have distributed more than 70,000 adult cards and accepted more than 20,000 seniors and youth applications [sample Clipper outreach schedule pdf here for this week]. The SFMTA also noted it has undertaken an aggressive internal campaign to inform SFMTA employees, especially frontline Muni personnel, of the Clipper transition and how to assist customers. This campaign includes an orientation and multiple update videos as well as in-person training, of note after Muni operators on cable cars had reportedly been unable to work hand-held Clipper card readers.
Clipper use across the Bay Area is on a steady rise, but because Muni carries so many passengers, the transition from older fare media to the reusable card will be the bellwether for the Metropolitan Transportation Commission (MTC), which administers Clipper. MTC had come under fire for its early outreach in Chinese and concerns about staffing the Clipper customer service center with Cantonese speakers, but MTC spokesperson John Goodwin said they were working to resolve the concerns.
Goodwin pointed to the selection of the Chinese name for Clipper "Lu Lu Tong," which essentially connotes "the go everywhere card" in translation, as an indication of MTC's progress. Goodwin explained the name selection process, which involved a focus group of nearly 100 people across the Bay Area and in China, where they narrowed down approximately two dozen names to three finalists. BART Board President James Fang made the final decision, according to Goodwin, given his central role spearheading the translation process.
Overall, Goodwin said the MTC was pleased with the Clipper transition, noting across all agencies they are seeing an average increase of 10 percent each week. Acknowledging there have been "growing pains," Goodwin called Clipper "a great success."
Asked if he's concerned with the looming deadlines at Muni and AC Transit for complete transition from paper passes (AC Transit Adult 10 ride and 31 day passes will no longer be sold in their old format after October 31 and no longer accepted after December 31st), Goodwin said, "I can't characterize my feelings as being worried about it, but I recognize at the same time that a lot of people are resistant to change and accept it grudgingly," he said.
Ultimately, Goodwin added, "they'll be glad they did."
Bay Area Clipper Card Stats
Average weekday Clipper boardings through October 8th:
215,124 - Total
2,124 - Caltrain
4,400 - Golden Gate Ferries
8,150 - Golden Gate Buses
32,550 - AC Transit
59,900 - BART
108,000 - Muni
Monthly "A" Fast Pass customers can get their Clipper cards from any Clipper retailer, by visiting clippercard.com or by calling 877.878.8883. Please tell us about you experience with Clipper in the comments.
Stay in touch
Sign up for our free newsletter