Pavement to Parks
Tonight: Tour Proposed New Public Spaces with Rec & Park
10:05 AM PDT on October 20, 2010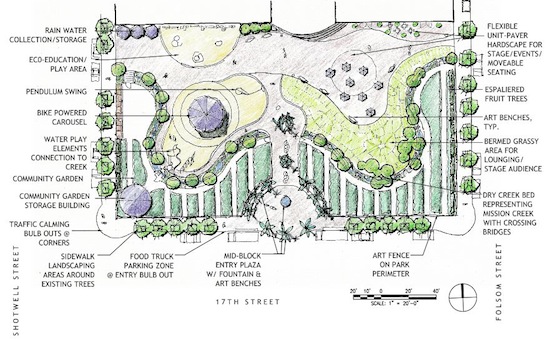 Get ready to peek into a possible future for San Francisco parks.
This evening and next week, the San Francisco Recreation and Parks Department will lead a tour of four properties being considered for purchase and transformation into parkland. The locations being considered are at 17th and Folsom; Palou and Phelps in the shadow of 280; on Third Street just down from the sewage treatment plant; and 24th Street near Church.
The tour meets tonight at 6pm at 17th and Folsom, then continues to 24th Street at 7pm. It continues next Wednesday at Palou and Phelps at 6pm, and moves to Third Street at 7pm. The public is invited to learn more about the location and the acquisition process. If Rec & Parks decides to move forward with the purchases, there will be many more meetings and opportunities for the public to provide input.
If approved, the parks would comprise crucial new green space as part of a long-overdue reinvestment in the eastern neighborhoods. It's thanks to the city's popular Open Space Fund that the acquisitions are under consideration. The voter-approved fund sets aside about $2 million per year to acquire parks and natural areas.
Opportunities to acquire land can be hard to come by in San Francisco, but thanks to a slower real estate market and an excess of earmarked funding, the city has a window of opportunity.
The parcel at 17th and Folsom, currently a parking lot, has received particular attention. There are few pedestrian amenities in the neighborhood, which is dominated by warehouses. On a typical day, there are few signs of life on area sidewalks.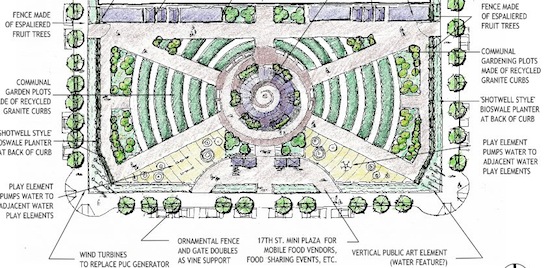 The two-year old Eastern Neighborhoods Area Plans placed a high priority on the development of public space in the area. In particular, the plan establishes a policy to "retrofit existing parking and paved areas to minimize negative impacts on microclimate and allow for storm water infiltration."
As a result, the Planning Department has proposed three options for the space. The "Revolution" concept would feature a stage, amphitheater classroom, and large lawn. The "Mission Creek Commons" concept would feature a central meeting place, surrounded by biological elements like bioswales and espaliered fruit trees. And the "Eco-People" concept would boast interactive features like a bike-powered carousel, community garden, and elements that interpret the nearly-vanished Mission Creek.
"That's the site that's had the most design consideration so far," said Karen Mauney-Brokdek, Rec & Park's Deputy Director for Planning. Whether any of the parks are actually acquired is up to the Rec and Parks Commission and public feedback, she added.
The 24th Street location has an unusual history -- and, should it be purchased by the city, has an unusual future in store. Currently a parking lot for a church, it's the longtime home of the Noe Valley Farmer's Market. When it was revealed that the parking lot is up for sale, Noe Valley residents rallied to preserve the space as a neighborhood commons.
They found more assistance than they could have hoped for.
"They didn't want to see the land get sold and developed into condos if that's not what the neighborhood needed," said Neighborhood Parks Council Executive Director Meredith Thomas.
Although there are several parks nearby, they tend to be small, uphill, and isolated from main pedestrian thoroughfares. The lot on 24th represented an opportunity to create a popular gathering space -- one that will hopefully cause less heartache than the rejected Pavement to Parks project.
"The Neighborhood Parks Council acts as a technical advisor to stakeholders that want to collaborate with Rec and Park," said Thomas. Her organization became a fiscal sponsor for the project, and connected neighbors with The 1% Project, an initiative wherein local architects give one percent of their billable hours to pro bono causes. Architects CMG, known for their public space projects, stepped up to begin design work on the potential park.
An innovative funding plan has been proposed for the park, should it reach fruition: rather than being managed and maintained exclusively by the city, operations may be handed over to the Noe Valley Community Benefit District, which is funded by city grants and fees assessed on local businesses. Although the park would be owned by the city, the CBD could take care of day-to-day tasks like trash and security. The exact terms of the agreement have not yet been worked out.
Once neighbors reached consensus that the land should be permanently preserved as a town square, Thomas explained, stakeholders decided that it should be publicly owned. "The residents have stepped up and said that the city can acquire it," she said, summarizing the neighborhood's position as, "we will raise all the money to renovate this site based on the design that the community wants, and we will pay for its ongoing maintenance."
She compared it to Union Square, where a CBD maintains land owned by Rec and Park. There, special events like a skating rink still need to be approved through a public process; and disruptions like Central Subway construction will be considered by the Board of Supervisors.
Costs for developing the property depend on CMG's eventual design, and on neighborhood fundraising. The city estimates that the property is worth $3 to 4 million, and planners hope to raise $500,000 for construction and several years of maintenance costs.
The private funding is a new model, according to Thomas. "We want this to be a model for any community in San Francisco," she said. "We may get there through individual donors ... but this process, this private piece of funding could also come through grants, investments from local businesses. Different communities have different ways to access private funding."
She added, "it's not realistic to expect the city to identify, acquire, renovate, and maintain more parkland, given their finances right now."
Stay in touch
Sign up for our free newsletter