Muni
Commentary: Proposition G and the Vision of the City
11:04 AM PDT on October 22, 2010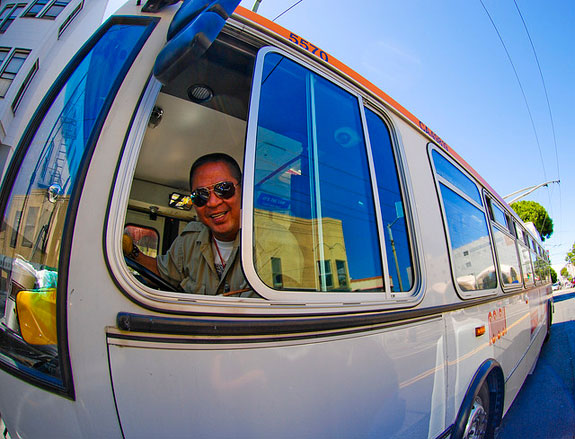 Editor's note: Jason Henderson, a geography professor at San Francisco State University who writes about the politics of mobility, explains why he's voting against Proposition G on November 2. We've invited the Yes on G side to write an op-ed and hope to publish it soon.
A lot of well-meaning people are leaning towards voting 'Yes' on Prop G – the ballot initiative that will amend the city charter and revise Muni operators' salaries and work rules. They are indignant that Muni drivers got an automatic pay raise this year while at the same time Muni cut service and increased fares to plug a budget shortfall. The "Great Recession" has a lot to do with Muni's financial crisis, but many think that Muni's drivers should have made more sacrifices and foregone the pay raise. After all, other public sector employees have been furloughed or fired for austerity measures, so Muni drivers should also do with less. Moreover, "cleaning-up" the labor "culture" at Muni, the reasoning goes, will make the system more efficient and cost effective, and enable more flexible and nimble customer service.
But Prop G is not the way to build a sustainable transit system. In fact, Prop G could set back that effort by 40 years. Here is why.
What does Prop G do?
Prop G eliminates a 43-year-old labor formula established by voters in 1967 (ironically that ballot initiative was also called Prop G). The formula set operators salaries to "not in excess" of the average of the top two highest national transit agency pay rates. Because of this Muni drivers are the second-highest paid drivers in the nation, and pay raises are automatic. Contrary to today, in 1967 this formula had widespread support from the mayor, the entire Board of Supervisors, and Muni's management. It was widely recognized that the formula was needed to retain a solid, experienced, professional workforce, and 55.4 percent of San Francisco agreed. The ballot argument in favor of the formula stated that "instead of disgruntled employees and labor unrest, there will be satisfied employees on the Muni."
In the last 43 years there has been no strike at Muni and this arrangement seemed to be fine –until the Great Recession. Muni, like every other transit agency in the country, faced soaring healthcare and pension costs while local and state revenue for public transportation declined. The American Public Transit Association (APTA), public transit's industry trade group, estimates that more than half of the nation's transit systems have raised fares AND cut service since 2009, and 80 percent of transit agencies lost significant sources of state and local funding to support existing transit operations. Muni was among those agencies to cut service and to raise fares, mostly because of state cuts to public transportation funding, and decreases in local tax and fee revenue collections that went towards Muni. This is where some well-meaning people have erred in deciding to attack labor rather than the deeper structural problems facing public transit.
Technically today's Prop G stems from a quibble over a modification to the pay formula made in 2007, when 55.6 percent of San Francisco voters approved Prop A, a ballot initiative that included progressive transit and parking reforms and required the city to take more concrete action regarding global warming. Prop A was a grab-bag of small, incremental reforms to Muni, but its biggest function was to stop a horrible initiative by the late Gap founder, Don Fisher, who was trying to require vast amounts of automobile parking to be built in the city. This would have had extremely negative impacts on Muni service not to mention further fueling global warming. Sustainable transportation advocates were alarmed at what a small group of wealthy elites were doing, and had to find political allies.
Prop G is nothing less than class warfare. Do progressives and sustainable transportation advocates really want to be part of that?
Labor was that ally, and in exchange for tremendous labor resources put towards defeating the parking measure and approving Prop A, a deal was made that included turning Muni operators' wage cap into a wage base. Without this deal Don Fisher's horrible parking measure might have passed. Some argue that while the drivers benefited from the tweaking of the formula, they were also supposed to reconsider work rules and allow more flexible (part-time) drivers. But that was not explicit in Prop A, and so that argument is more scuttlebutt than anything else.
After Prop A passed three years ago there was an opportunity to build on the progressive coalition of sustainable transit advocates and labor unions. But for one reason or another it did not materialize and the ad hoc and fragmented nature of progressive politics remained the norm. This is a key structural problem in the city that needs addressing. The transit union is just as responsible for this as anyone, but has now found itself isolated. Today many sustainable transport advocates, especially SPUR, have broken rank with the idea of such a coalition and have decided to join with the wealthy elite and go after labor. But instead of simply pressing to revoke the guarantee of automatically setting wages and benefits, they've decided to push the envelope and really gut the labor peace that Muni has had for 43 years.
Prop G will require that wages and benefits be set with collective bargaining rather than set automatically. Fair enough. When SFMTA management and the union reach the inevitable impasse over their contract – and they will – Prop G also forces binding arbitration. This is also normal in labor negotiations and rumor is the union has been open to it. But more significantly, Prop G directs the mediator of a contract impasse to prioritize system efficiency over workers, such that if it is found that operators' working conditions conflict with management's notion of how the system should be run, system optimization trumps the workers. This is a myopic and irresponsible slippery slope. It harkens back to Charlie Chaplin's film Modern Times, where the corporate executive speeds up the factory's conveyor belt and forces Chaplin to work faster and faster until he goes mad. (If you do not know what I am talking about, watch this clip).
The type of arbitration that would be codified by Prop G is dangerous and spiteful towards the idea of a living wage and fair workplace. It will lead to tired bus drivers falling asleep at the wheel as they struggle to optimize runs based solely on system efficiency. It may eventually lead to a Wal-Mart style part-time structure of bus drivers with lower skills and wages and less benefits, and less interest in doing a good job. It will lead to drivers bearing more responsibility, unjustly, for the time it takes for buses to move through the car traffic that slows Muni down.
Prop G's arbitration language is anti-labor by design. It only emphasizes how to extract more for less from labor in order to run the system more "efficiently." Prop G does not address the endemic traffic congestion that bogs Muni down nor does it address the archaic fare collection system that forces long dwell times on most routes. It lays all of the current financial problems of Muni on the workers while ignoring the fact that downtown property owners make huge profits off of land that is made valuable by Muni access. Prop G is silent on this grave structural problem and the much-needed new revenue sources such as a transit assessment on the downtown property owners who profit from Muni access. Disingenuously, it is these corporate interests that are bankrolling Prop G, revealing that Prop G is nothing less than class warfare. Do progressives and sustainable transportation advocates really want to be part of that?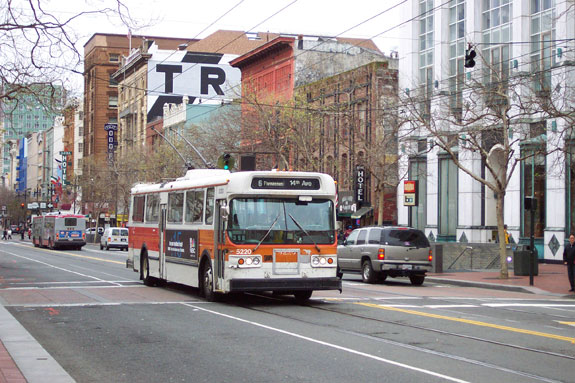 Prop G is part of a vision
As the San Francisco Chronicle's Rachel Gordon reported in July, during the signature-gathering for Prop G, corporate interests donated $325,000. Among them were the Chamber of Commerce, the Building Owners and Management Association, The Committee on Jobs (downtown corporate political organization), and an assortment of other corporate interests. As of the October 5th campaign filing they've spent at least $466,000 promoting Prop G. Who knows what untold infusions of corporate cash will occur through the remainder of this month. But one thing is clear, when looking at the campaign filings for Prop G supporters, one does not find grassroots small-donors that the Prop G proponents would have you believe undergirds the initiative.
Before voting Yes on Prop G, people should ask – what kind of city do these organizations want and what are their true intentions? Prop G's financial backers have a political agenda and vision of the city that is not shared by progressives or even moderates, and definitely not aligned with sustainable transportation.
To vote with these groups for Prop G is to contribute to a vision that includes downsizing and disciplining the city's public sector workforce – not just Muni, but teachers, clerical workers, and emergency responders – many political moderates that work hard everyday and many of whom struggle to afford this city. The goal is privatization or as near to it as possible, in order to decrease taxes, weaken unions, and reduce regulation on large corporate property owners.
Regarding transportation, these organizations have offered very little in terms of ideas for making San Francisco a transit first city. In fact, they generally resist transit first at every opportunity. They want excessive parking for luxury condominiums and they have aggressively blocked efforts at increasing parking fees, creating exclusive transit-only lanes, or discussing transit assessment districts. They will fight to thwart or dilute a progressive version of congestion pricing when it is finally deliberated. And they scoff when clear evidence is made that we need way more affordable housing in this city and fewer market-rate condos. In summary, the very specific long-range political goal of the proponents of Prop G is to discipline labor unions because unions dare to challenge their vision of the city. Their broader goal is a city that exists for the accumulation of profit for the well-do do, easy driving for the rich, and a safe elite playground with ample parking.
The Bigger Picture
Californians are rightly outraged that big oil companies are financing regressive, pseudo populist initiatives like Prop 23, repealing the state's global warming law. Yet schemes like Prop G are no different. In the case of Prop G corporate interests are manipulating public frustration over local transit problems and the broader economic crisis afflicting San Francisco and the entire nation. The "Great Recession" of 2008-2010 has debilitated public transportation systems around the country, not just Muni.
Instead of seeking ways to expand public transportation and attract more riders, San Francisco's wealthy corporate class has decided to take advantage of the crisis and use it as an opportunity to scapegoat the 2,200 drivers and operators of Muni. Progressives, moderates, and sustainable transport advocates who have bought into the hype around "fixing" Muni should wise-up. Prop G is a slippery slope that continues the downward spiral in our society of placing blame on the workers. It is class warfare on both Muni workers and ultimately on Muni riders, and it will not create a sustainable transit system.
Stay in touch
Sign up for our free newsletter