Mayor Newsom
New SFMTA Board Nominee Could Face Uphill Battle for Confirmation
2:33 PM PST on December 3, 2010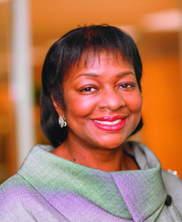 One of the prevailing questions surrounding yesterday's nomination of Leona Bridges to the SFMTA Board of Directors -- a vacancy the Mayor's Office has struggled to fill for seven months -- is whether she can drum up the six necessary votes on the Board of Supervisors for confirmation, under the current board or the new one in January.
Bridges, who has no background in transportation and is not familiar to transit advocates, was picked for her financial experience and because she "rides the 38 Geary bus frequently."
"Leona Bridges will bring valuable financial knowledge and investment experience to the SFMTA Board," Mayor Gavin Newsom said in a statement. "She may not be a City Hall insider or professional activist, but she's a regular bus rider, churchgoer and longtime San Francisco resident whose background and financial expertise will enormously benefit the Board. I'm grateful for her willingness to serve San Francisco's transit riders and help improve our City's public transit system."
According to the press release, "Bridges is currently retired and formerly a Managing Director of the Global Index and Markets Group at Barclays Global Investors, one of the world's largest asset managers. Bridges put herself through school working evenings at Crocker Bank and started her career in securities lending and investment at Wells Fargo."
In addition, "she is committed to education and has created an endowed scholarship in the SFSU College of Business to support economically and educationally disadvantaged students."
But some public officials and advocates are already questioning whether she has the right qualifications for the job at a time when the SFMTA, particularly Muni, is facing a horde of challenges.
"If there's someone who's being appointed to the MTA without the expertise, I really question why that person is being put on the board when we have such an incredible need for the best and the brightest to be on there," said Supervisor John Avalos.
Tom Radulovich, the executive director of Livable City, agreed. "The MTA Board governs the city's streets and public transit system. By its own measures, MTA is failing. The MTA Board urgently needs more members who are knowledgeable about, experienced with, and engaged on transportation issues to turn the MTA around."
Bridges could not be reached for comment and the Mayor's Press Office did not respond to our requests to put us in touch with her. Google her and you'll find pages listing her bio and photos from San Francisco Symphony galas, but no record of her speaking out on transit or transportation issues.

Supervisor David Campos, who chairs the Rules Committee, could also not be reached for comment. The nomination must pass Rules before it goes to the full board but there are currently no more Rules Committee meetings scheduled this year, however Campos could schedule one. Supervisors Eric Mar and Michela Alioto-Pier also sit on that committee.
City Hall sources were still digesting news of the nomination but one insider's first reaction was that having a financial background is not necessarily a good qualification for the SFMTA Board, even though it does meet one of the qualifications in the City Charter:
At least four of the directors must be regular riders of the Municipal Railway, and must continue to be regular riders during their terms. The directors must possess significant knowledge of, or professional experience in, one or more of the fields of government, finance, or labor relations. At least two of the directors must possess significant knowledge of, or professional experience in, the field of public transportation. During their terms, all directors shall be required to ride the Municipal Railway on the average once a week.
The supervisors (either the current board or new one) could opt to reject the nomination and leave it up to the interim mayor, who will also have an opportunity to nominate two additional members to the SFMTA Board in 2011, since the terms for Cameron Beach and Jerry Lee expire in March. Depending on who the next mayor is (the nomination process gets underway Tuesday), it could present an opportunity to shake up the board and depart from business as usual.
The Mayor's last appointment to the SFMTA Board, Cheryl Brinkman, was cheered by transit advocates. Insiders say Brinkman, who was appointed in July, has been proactive on the issues and has been working behind the scenes to effect changes in the agency.
Bryan Goebel is a reporter at KQED Public Radio in San Francisco. A veteran journalist and writer, he helped launch Streetsblog SF in 2009 and served as editor for three years. He lives car-free in the Castro District.
Stay in touch
Sign up for our free newsletter