Bicycle Infrastructure
Cal Park Tunnel Opening Ceremony Sees Hundreds of Cyclists
7:15 PM PST on December 10, 2010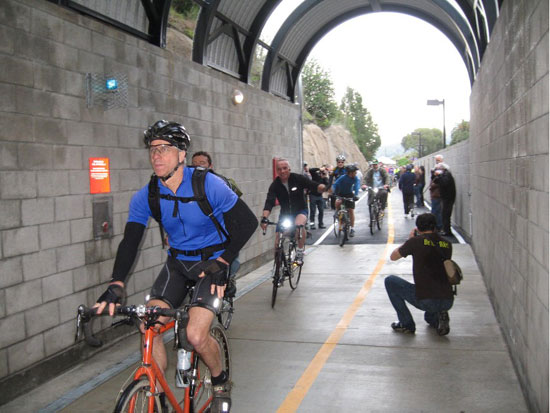 Hundreds of joyous Marin County cyclists pedaled through the Cal Park Hill tunnel Friday afternoon as officials cut the ribbon on a $27 million holiday present that supporters hailed as a national model for green transportation.
The 124-year-old railroad tunnel, sealed after a fire in 1990, connects the Larkspur Ferry landing to San Rafael, trimming 10-15 minutes from the trip for the average cyclist. A separate, enclosed tube will allow light-rail trains to reach Larkspur when the SMART system is built years from now, the next step in what several speakers referred to as "the vision" for transportation.
"This is truly a testament for our vision of a multimodal transportation system for Marin County," said San Rafael Mayor Al Boro. "It links bicycles, pedestrians, buses and passenger trains, ultimately with a choice of how they want to go to and from their destination."
The striped bikeway features four video cameras, emergency phones, ventilation, LED lighting, cell service and fire alarms. In addition to the 1,106-foot tunnel, class 1 bike paths connect to Sir Francis Drake Blvd and Anderson Road, bringing the total length of the project to 1.1 miles. It will be open daily from 5 a.m. to 11 p.m. with expectations of up to 800,000 riders per year.
"It's such a world-class facility that it's going to be a model for the nation," said Deb Hubsmith, the advocacy director for the Marin County Bike Coalition (MCBC) who led a twelve-year grassroots campaign to reopen the tunnel.
"It's taken all kinds of collaborations and agencies to bring it together," she told Streetsblog in an interview. "It shows that vision, tenacity and will can truly make miracles happen."
At the opening, Hubsmith drew loud cheers by saying the vision is important "so that we can shift and get people out of their cars, so that we can be healthier, so that we can be fitter, so that we can use less oil, and so that we can be happier. Tell me, do you have more fun sitting in traffic, or do you have more fun bicycling?"
A Long Road
The tunnel's re-opening was first proposed in 1993 by Transportation Alternatives for Marin (TAM), an organization led by Patrick Seidler, the president of Wilderness Trail Bikes. Seidler used to ride his Stingray bike through the old tunnel as a child. Over the last 17 years, rising costs, engineering challenges and political debates added to the project's difficulty.
For Marin cyclists, the tunnel adds a critical link to the north-south bikeway that will eventually run from the Golden Gate Bridge to Cloverdale in Sonoma County. The route will include bike paths along the planned 70-mile SMART route. The tunnel project also connects with two east-west bike routes leading toward Larkspur and the Ross Valley.  A new north-south link provides a lighted class 1 path over Lincoln Hill from San Rafael to the Civic Center.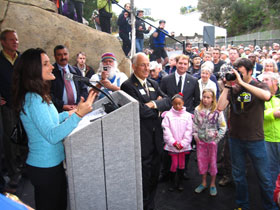 "I think it took about eight minutes off my ride and it's much safer," said Bob Ulrich, a San Rafael cyclist who was among the first to complete the two-minute ride through the tunnel. "I absolutely love it."
The tunnel is also a hit with disabled residents like Jessie Sandoval, a systems change advocate for the Marin Center for Independent Living. "It means more independence and having a better route to get around Marin," she said after rolling through the tunnel at 9 mph in a motorized wheelchair that carries her 20 miles between charges.
The Next Tunnel
MCBC and TAM are also leading efforts to re-open the Alto Tunnel, which runs under Camino Alto between Mill Valley and Corte Madera. That tunnel is half as wide and twice as long as Cal Park, but is believed to be in much worse shape. It is filled with rotten timbers, mud and rock. Engineers also believe there have been multiple collapses inside.
While the Cal Park tunnel is in a commercial area, the Alto project would bring bicycling traffic into two quiet residential neighborhoods where many residents are worried about the environmental impacts. "For Alto, the Cal Park tunnel is going to open the door so people can see the Alto tunnel would work, too," Hubsmith said in the interview.
Ironically, while voter approval of the SMART line helped justify re-opening the Cal Park tunnel, the rail project has been sidetracked by budget problems. A $350 million shortfall in anticipated sales-tax revenue forced the transit system's board to scale back its plans. SMART now hopes to start service with trains between Santa Rosa and the Marin Civic Center.
Opponents are calling for a repeal of the sales tax, saying SMART is proving it cannot live up to the promises it made to voters. County supervisors have urged the SMART board to postpone any major expenditures pending an independent review of its finances. Supervisor Steve Kinsey, who pushed hard for the tunnel project for several years, recently said SMART now faces "a crisis of confidence."
"We don't have the high speed rail, but we do have the high-speed trail, and a low-speed walking trail," Kinsey said at the tunnel opening. "This is for all of us to use in the way we want to use it."
Stay in touch
Sign up for our free newsletter