Matthew Roth
Matthew Roth Departing Streetsblog San Francisco
4:12 PM PST on December 13, 2010
Editor's note: Matthew Roth, Deputy Editor and co-founder of Streetsblog San Francisco, will be leaving as a full-time staffer starting in the new year as he pursues further journalism opportunities. Over the course of two years of work (530 stories), he has helped make Streetsblog what it is today and we'll miss his regular presence, though we'll continue to see stories from him as a contributing writer in the future.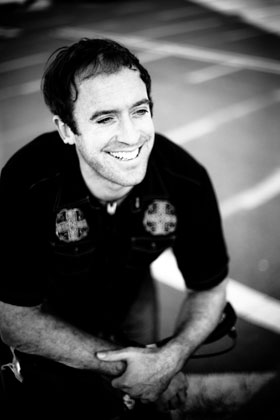 Two and a half years ago, I was hired by Aaron Naparstek, then Editor-in-Chief of Streetsblog and its affiliates, to interview regional transportation advocates and professionals and write a prospectus gauging the market for starting a Streetsblog in San Francisco. I'm sure you can figure out what the verdict was in the paper I presented to him.
With start-up grants from a local entrepreneur and several foundations, Streetsblog San Francisco launched in January, 2009, and quickly became the most important source of reporting on sustainable transportation and livable cities issues in the Bay Area, filling a void that traditional media outlets mostly ignored.
Aaron hired our wonderful editor Bryan Goebel and had a small dividend of funding left over. He asked me if I would be willing to work for Streetsblog San Francisco as a reporter on a temporary basis, and after some initial hesitation, I agreed to give it a shot. Now, after two years of daily reporting on transit, pedestrian and bicycle issues in the Bay Area, I'm going to transition to a new role as an occasional contributor to Streetsblog, while I pursue other writing projects that I put on hold.
My first story for Streetsblog was coverage of an event at Fisherman's Wharf where Danish architect and planner Jan Gehl presented an initial assessment of the challenges and opportunities for improving the public realm and waterfront. Gehl said that if San Francisco wants to be a "lively, attractive, safe and sustainable city [it must] be sweet to its pedestrians, sweet to its cyclists." Although the city has taken some strides in this direction, I think there are many obstacles to transcend before we can consider ourselves a world-class city in this regard (not least of which is to build out some of the recommendations Gehl has made for Fisherman's Wharf).
I think the value of Streetsblog is evident in the stories we've written and the attention it has given to topics that otherwise wouldn't be on the radar at mainstream newsrooms, such as pedestrian safety improvements, reforms to transportation metrics like vehicle LOS that prejudice transit, bicycle and pedestrian projects, traffic calming, road diets, neighborhood improvements, and regional funding and greenhouse gas reduction targets. Other stories I've loved writing: the new law allowing personal car-sharing,  the interminable saga of the Oakland Airport Connector, the congestion pricing study, parking, parking, parking and more parking, the amazing work done by the Chinatown Community Development Center, TransForm and Greenbelt Alliance, the Pavement to Parks Plazas and parklets and other innovative approaches to improving underutilized city streets and spaces.
Writing for Streetsblog has given me a tremendous education, teaching me how to be a beat reporter and essentially providing me with a J-school's worth of knowledge on the fly. I couldn't have asked for a better environment for personal development and it is with some sadness and a bit of trepidation that I've decided to move on to explore other topics and likely other media.
I'm incredibly grateful to the readers who have made this community such a pleasure to work with and for all the sage commentary that you've provided to the blog. I believe the discourse around sustainable transportation has been elevated and will continue to improve as the blog evolves in the years to come.
I can't tell you how many times I've had to go back, research and up my game because I know our readership is often smarter and more experienced with the issues than we are. Having such a demanding audience has been a tremendous asset, even if I can expect some pretty intense feedback at times (Drunk Engineer, Richard Mlynarik: I hope you know I'm talking about you!).
This coming year is going to be very exciting for transportation and land-use issues in the Bay Area and I'm excited to participate in the discussion here on Streetsblog as a regular commenter.
I look forward to seeing you around the way at the next Streetsblog street party.
Thank you,
Matthew
Stay in touch
Sign up for our free newsletter