Congestion Pricing
SF Congestion Pricing Study Moves Forward Without San Mateo Boundary
7:00 PM PST on December 14, 2010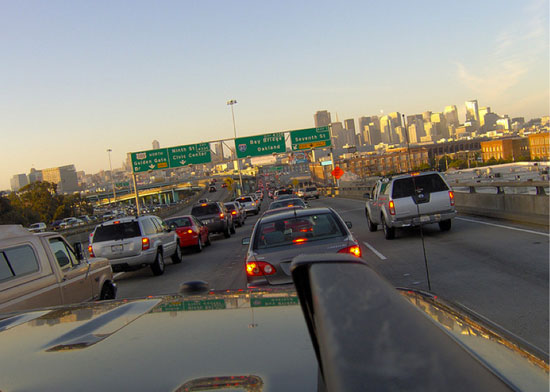 The study analyzing numerous options for congestion pricing in San Francisco touched off such a political furor in San Mateo County, you'd have thought San Francisco was about to moat up and charge a fee for admission. Politicians and planners from Daly City and San Mateo spoke about the plan today as though they were jilted lovers getting a mandate from the beautiful city to their north without being allowed to get a word in edgewise.
"It hasn't been a conversation with San Mateo County, it has been a monologue with San Mateo County," said State Assemblymember Jerry Hill, who testified with numerous San Mateo officials at the board meeting of the San Francisco County Transportation Authority (SFCTA), which conducted the study. Hill said he and others from San Mateo County were supportive of efforts to reduce congestion and deal with climate impacts, but not if it included charging drivers to cross the county line.
In case San Francisco didn't move affirmatively to drop the Southern Gateway option from the study, said Hill, he was prepared to introduce legislation that would make it illegal for one county charge other counties "punitive measures" like pricing.
"I am a professional supporter of appropriate congestion pricing," said Richard Napier, executive director of the City/County Association of Governments of San Mateo County (C/CAG). But Napier warned that congestion pricing worked in cities like London and Stockholm because the charging areas were dense and transit was good, much like the northeast portion of San Francisco. Of the southern gateway option, Napier said, "I don't think it would meet the criteria" for significantly reducing traffic.
Following San Francisco Supervisor Sean Elsbernd's lead, the Board of Supervisors, in their capacity as SFCTA directors, voted 9-2 to strip the San Mateo option from the study. The board then voted 8-3 to give the SFCTA staff permission to seek federal funding to continue studying the two Northeast Cordon options and to enter into environmental review. SFCTA executive director Jose Luis Moscovich explained to Streetsblog that he would submit a grant for up to $2 million in federal funding for the next phase of the study, at which point the city would be expected to match with about $400,000 in local funds.
The two remaining pricing options would establish a London-style cordon that would use FasTrak and camera technology to charge drivers during peak periods for crossing into the zone, which would be bordered by 18th Street to the south, Guerrero/Laguna Street to the west and the Bay to the north and east.
One of the cordon scenarios would charge $3 (with a maximum of $6 daily) from 6-9 am and from 3-7 pm, raising an estimated $80 million net for transit and non-driving mobility options like bicycling and pedestrian improvements. This option would also reduce traffic up to 12 percent, emissions up to 16 percent, and would be expected to improve transit times by up to 20 percent.
The other cordon fee proposal would target the driving commuter by charging $6 for trips leaving the northeast cordon from 3-7 p.m. in the outbound direction only, an option studied after evening business interests worried the charge would discourage downtown visitors for dinner and shows. This would raise $70 million annually for transit and would have fewer traffic and emissions reductions benefits than the morning and evening scenario.
Michaela Alioto-Pier, Carmen Chu, and Bevan Dufty, the three dissenting supervisors who voted against even studying pricing further, all said the current economic situation made them reluctant to add a further fee for driving into certain parts of the city. Chu noted the city has numerous other options for pricing, including better parking management, such as the SFPark trial and other scenarios.
Alioto-Pier was particularly insistent in her opposition to the study, saying until the ramification of the new fee and tax measure Proposition 26 was clearer, she didn't think the city should move ahead with spending money on something that might never pass.
She also said the impact to small businesses would be too great to bear and that the current study didn't demonstrate those impacts sufficiently. Of the southern gateway, she said the lack of regional support was disconcerting and that pricing sent the wrong signal to people outside the zone. "To me it looks like a fee to enter San Francisco," she said.
After the vote, SFCTA chair Ross Mirkarimi lauded his fellow directors for the decision, though he said he wasn't surprised by the outcome. "This is the natural course of how a conversation and a potential study would unfold. I'm not surprised," he said. "We have been effective in stimulating the larger discussion."
Moscovich pledged to do significant work to demonstrate the impacts pricing would have on small businesses and said the SFCTA has about one month to submit its application to the federal government. As to whether or not the city would eventually adopt pricing to meet greenhouse gas reduction targets, he responded affirmatively.
"I think it's inescapable. We don't' have that many strategies, we've already done everything else," said Moscovich. "We already are a large transit-oriented development, this city. We're already putting people next to their jobs. The next frontier is pricing."
Stay in touch
Sign up for our free newsletter