Pavement to Parks
San Francisco's Latest Pavement to Parks Project Brought to You by Audi
3:47 PM PST on December 17, 2010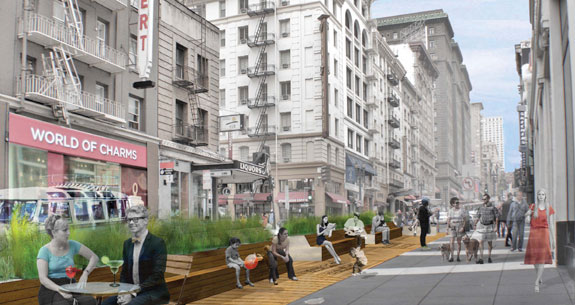 Mayor Gavin Newsom has announced the city's latest Pavement to Parks project, a two-block pedestrian promenade [pdf] on Powell Street between Ellis and Geary near Union Square that will provide sorely needed public space for one of San Francisco's most crowded commercial districts. In a heavy dose of irony, the car-free space will be financed by an automobile company, Audi of America, who approached the city about six weeks ago.
"Through an innovative public-private partnership, we are creating a vibrant, new green public space in the heart of our city, despite limited resources and a difficult economic climate," Mayor Newsom said in a statement. "I applaud Audi for their generous financial support and for partnering with the City and the Union Square BID."
The promenade was billed as the marquee of P2P projects in 2011 with "other smaller projects being planned for neighborhoods throughout the city." It will cost about $750,000 -- all paid for by Audi -- and is expected to be completed in April. The money will be paid to the Union Square Business Improvement District, which will oversee and maintain the space.
"The Union Square BID is excited to be the project sponsor. With construction for the Central Subway on Stockton Street right around the corner, Audi's gift couldn't have come at a better time.  We are anxious to begin work and committed to the on-going maintenance of the new promenade," James C. Flood, the president of the Union Square BID, said in the press release.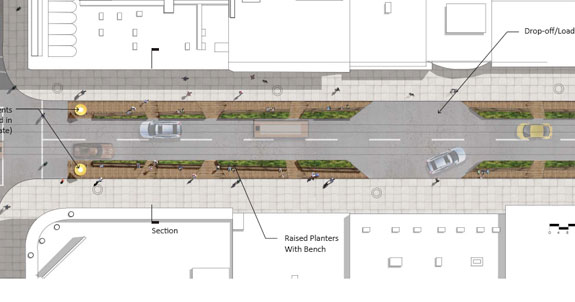 The agreement with Audi was carefully handled, according to sources, and there will be no advertising. The only mention of the auto company will be on the promenade's plaque. Audi approached the city and said it was looking to finance public space projects in San Francisco, New York and Chicago. Other P2P projects have mostly been financed through in-kind and capital donations, although some city grants were tapped.
"I can guarantee you this would not have happened without them (Audi) stepping up to the plate," said Linda Mjellem of the Union Square BID.
The congested sidewalks on the section of Powell Street where the promenade will be installed are packed with upwards of 100,000 pedestrians on an average weekend. The area has some of the highest pedestrian volumes in the country, comparable to sections of Broadway in New York. A study conducted by the transportation design firm, Fehr and Peers, showed that 85 percent of all trips that pass through the intersection of Powell and Ellis Street are on foot.
The city conducted a three-day pilot last year, removing parking spaces that are mostly used for loading, allowing pedestrians to experience more walking space on the street. City officials admitted that pilot, which was conducted on a rainy weekend using only barricades, was not really a good example of re-purposing the street but it turned out to be a success nonetheless. Merchants became supportive of the idea and the pilot showed reduced travel times for cable cars along the popular Powell-Mason line because there were no cars or trucks pulling in and out of parking spaces.
Andres Power, the Pavement to Parks manager, told Streetsblog commercial loading will be shifted to Ellis Street, and deliveries will be hand-carted to their destinations. He said several community meetings were held on the conceptual design, which was done pro-bono by the firm Royston, Hanamoto, Alley and Abey (RHAA) and BAR Architects.
"We worked very closely with all the businesses to determine what their needs for drop-off, unloading and loading were," Manuala King, a landscape architect at RHAA, explained. "That's why the walkway is not continuous. It's broken into segments with a central loading zone in each block."
According to the press release: "The Powell Street Promenade will provide extra space for people to walk, sit at a table or on a bench, chat with a friend, or just watch as thousands of people pass by. Wood, stone, and metal trim will provide a rich visual quality to the space, softened by landscaping and pedestrian-scale lighting."
Power said all the elements that clutter the existing sidewalk -- tables, chairs, parking meters -- would be removed to make them function better with an improved through capacity.
A spokesperson for Audi, Loren Angelo, called the company's interest in the project "creative capitalism," acknowledging the irony of an automobile manufacturer sponsoring a project that reduces vehicular traffic. He said it was a way for Audi to "give back to the community" and "reduce the level of automobile traffic" by featuring a project that demonstrates Audi's "leading-edge design."
Make no mistake, though, Audi's interest in the project extends beyond philanthropy.
"We want people to understand what the product stands for, and doing something like this, making a progressive, bold statement in that market, helps gain that recognition for a broader group of consumers rather than just the design class that has tended to be attracted to the brand in the past," he said.
Power said the city will ultimately determine the final design of the promenade. He said the community has been talking for years about extending the plaza-like treatment on Powell Street between Market (where the cable car turn around is) and Ellis all the way up to Geary Street and he hopes this P2P project will further that idea.
"In my mind, this project starts to advance that discussion and will allow people to evaluate that in a lot of ways, to really make Powell Street more of a destination in itself as opposed to a place that you just walk through."
Bryan Goebel is a reporter at KQED Public Radio in San Francisco. A veteran journalist and writer, he helped launch Streetsblog SF in 2009 and served as editor for three years. He lives car-free in the Castro District.
Stay in touch
Sign up for our free newsletter