Bicycling
Green Wave Becomes Permanent on Valencia Street
6:18 PM PST on January 6, 2011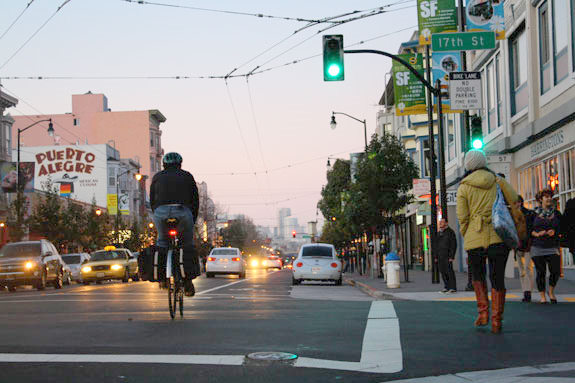 Valencia Street's nearly two-year-old Green Wave signal re-timing aimed at prioritizing bicycle traffic speeds continues to please street users, city leaders, and advocates alike. What started as a temporary pilot will become a permanent institution this week with the installation of four new Green Wave signs along the corridor.
"Green Waves are the most recent example of the SFMTA finding innovative ways to further improve cycling in San Francisco," said SFMTA CEO Nat Ford.
Following examples in cities like Copenhagen, Amsterdam, and Portland, the signal optimization keeps vehicles traveling at a steady cycle-friendly 13 mph from 16th to 25th streets while garnering benefits for all users.
"The Green Wave signals and the safer, calmer speeds are another step in the right direction for Valencia Street, which is already a thriving commercial corridor thanks to its wide sidewalks and bike lanes and plentiful on-street bike parking," said Renee Rivera, acting executive director of the San Francisco Bicycle Coalition.
All-green lights provide a great convenience for bicycle travel, effectively removing the strenuous stop-and-go movement that often encourages passing through red lights. Along with pedestrians, cyclists also experience a much safer environment as motor vehicles travel at minimally fatal speeds as well as reduced noise and air pollution.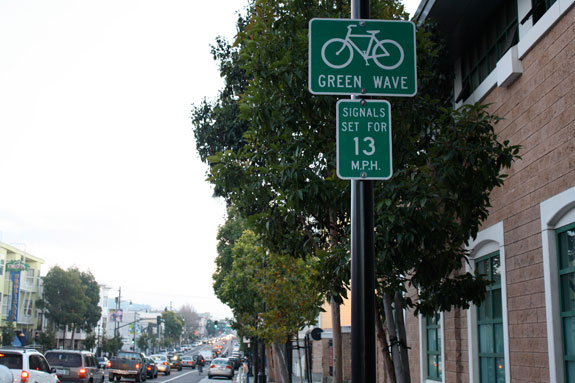 Even motorists are able to drive more carefully as well as save gas and brake wear by traveling at a pleasantly steadier pace. An SFMTA study done prior to implementation projected average motor vehicle travel times would actually decrease.
The other more widely known Green Wave is Copenhagen's Nørrebrogade, the busiest bicycle street in the Western world, carrying an average of 38,000 cyclists per day with bike lanes as wide as 16 feet. There, implementation of the green wave has also improved the flow of its heavy bus traffic.
The San Francisco Bicycle Coalition would like to some day see the increasingly popular Valencia Street become a bicycle corridor of similar significance to Nørrebrogade, with its vision for a two-way cycle track in the center of the street included in their Connecting the City campaign. With cars now traveling no faster than bicycle speeds, it would make sense.
San Francisco's Green Wave is already unique because it is the first in the world to work two ways simultaneously, something Mayor Newsom calls "another example of our leadership in providing quality cycling improvements for this community."
"Those who bike in San Francisco have seen their rides become safer and more efficient. Our continued commitment is to further the progress made and further establish San Francisco as a champion for providing multiple modes of transportation," said Newsom.
The SFMTA said it was not currently considering expanding Green Wave to other bicycling corridors but is considering 14th Street for a pilot.
Check out Janel Sterbentz's Streetfilm on Green Wave from 2009. Shortly after she wrote about Green Wave on Streetsblog, and lobbied the SFMTA with other advocates, the agency began re-timing the signals on Valencia.
Aaron was the editor of Streetsblog San Francisco from January 2012 until October 2015. He joined Streetsblog in 2010 after studying rhetoric and political communication at SF State University and spending a semester in Denmark.
Stay in touch
Sign up for our free newsletter